The no contact rule isn't really a complicated concept to grasp. You basically cut off all communication with your ex for a certain amount of time. Generally, the no contact rule occurs after a breakup. Yet, it's amazing how many people have trouble doing this correctly. Thus, this page is meant to teach you how to successfully implement the no contact rule so you can put yourself in the best position to get your ex back.
(Disclaimer- I realize that this website is meant mostly for women who are trying to get their exes back. However, this particular page deals with a universal subject that can be used by both men and women. So, if you are trying to get an ex boyfriend or girlfriend back then you came to the right place.)
Let's Cut To The Chase… Can You Get Your Ex Back With The NC Rule?
It is very possible. That is why you are here right, to get your ex boyfriend (or girlfriend) back? Here is the deal though, I realize that over time I have become the "no contact" guy since I am such a huge advocate for it. But no matter what I tell you in this article I know that there will be a certain percentage of you who struggle.
That's why I want to introduce you to one of the best resources you can find online,
You like Harry Potter, right?
Well, I wrote a book that is almost as long as the very first Harry Potter book and it talks about the no contact rule exclusively.
It answers all the hard questions.
It tells you when you can break it…
IF you can break it…
Want to Know EXACTLY How Likely You Are to Get Your ExBoyfriend Back, in Only 2 Minutes?
Take Quiz Now
How to handle it if you work with an ex…
Oh, and the GOLDEN exception.
I'll leave that one for the book to explain. Anyways, if you are interested in diving deep and learning everything there is to know about the no contact rule I suggest you check out this book immediately,
What Is The No Contact Rule?
As stated above, it is basically an agreement with yourself that you are going to cut your ex out of your life for a certain period of time. Let me put this in terms that you will hopefully make things clearer:
Doing The Following Things Are NOT Allowed
Calling your ex on your phone.
Texting your ex.
Hanging out with them.
Emailing them.
Leaving your ex notes.
Bumping into them on purpose.
How Long To Keep No Contact Going?
Believe it or not but a lot of experts debate on this subject. Some will swear that 60 days (or two months) of not contacting an ex is optimal. Others claim that 90 days (or three months) is the way to go. I personally don't agree with either of those assessments but then again each broken relationship is different and will require unique individual time frames. With that being said I believe that a minimum of 30 days is the way to go. This amount of time will give you and your ex enough breathing room to calm down and look at the situation more rationally.
Again, I cover this extensively in my book, The No Contact Rule Book. So if you want a much clearer picture of how this all works I recommend you check that out.
Situations Where It Is Impossible To Avoid Contact
There will be certain situations where it will be impossible to ignore your ex. Remember, your goal with a no contact period is not to become a jerk so there is no reason to use it that way. If you find yourself in these situations and ONLY IN THESE SITUATIONS you can break your no contact agreement but there is a certain way you have to act.
Situation 1- If you have kids with the person. No contact in this case can be tricky. Your goal is to remain calm, civil and pleasant during any interactions with your ex. However, keep any talking simple and short. If you immediately cave and start talking about your feelings not only will you turn the person completely off but having a "feelings" conversation in front of your kids probably isn't the best venue. After your interaction go straight back into no contact mode. This means no calling, texting or facebooking them.
Situation 2- If you live with this person even after the breakup. No doubt it can be really tricky to "no contact" a person when they are literally living with you. While this situation may suck it certainly isn't impossible to cut off a significant portion of your contact with them. Your goal in this case is to be a very respectful roommate. However, you also need to remember that you are creating a new life of which they are separate from (or you need to appear to be creating one.) Again, keep any conversation simple, short and pleasant.
Situation 3- This one isn't really like the other situations. Your ex may call you or show up on your doorstep wanting to collect their belongings. If this happens don't be a jerk and prevent them from getting their stuff. You should know the drill, keep any conversation short and simple. If they try to talk about your relationship don't get baited into doing so.
I Broke The No Contact Rule. What Now?

So, we have already established that in order to do a NC (No Contact Rule) correctly you are going to have essentially cut your ex out of your life for a minimum of 30 days. Now, a lot of you may be thinking that doing that is a piece of cake. If so, then you would be dead wrong. You'd be surprised at the amount of people who break on the first day. It can be especially hard when your heart is begging you to just pick up the phone and type a simple text message to your ex. Unfortunately, by breaking NC you are losing power and control over your relationship which at this stage is a very bad thing.
Besides, breaking the NC means you have to start over from day one. For example, lets just say that you advanced 15 days without even initiating contact with your ex (he/she may have contacted you but we will talk about that later on this page.) However, on day 16 you cave and contact them. Well, by doing this you are going to have to start your NC period over again FROM THE VERY BEGINNING. In order for this process to work you need to prove that you can go 30 full days without relying on your ex for a conversation.
A Stressful Choice
You may find that as you embark on this essential 30 day freeze out from your ex that they may try to initiate contact with you. If this happens I guarantee you that you are going to want to talk to them. Maybe they call you. Maybe they send you that simple one word text "hey." Whatever happens DO NOT CAVE IN if this contact comes before the allotted 30 days. Even then though, you can't begin to think about talking to your ex until you complete some of the other things outlined on this page which leads us to our next section…
What To Do During The No Contact Period
You didn't think you were just going to sit around on the couch all day catching up on re-runs of Friends during this time did you? No, I am very big into remaining active and so should you. This is a perfect time to improve yourself which is exactly what you are going to be doing during this time. You are going to become the best version of yourself mentally and physically! But first I feel compelled to mention:
Behaviors To Avoid
 Staying at home all day or refusing to go out.
Drinking too much alcohol.
Sleeping all day long.
Telling everyone you have ever known about your breakup.
Making major life decisions.
Calling in sick to work.
(The rest of the behaviors can be found in this book.)
The smartest thing that you can do during NC is to improve yourself both mentally and physically. Lets start by taking a look at how you can improve yourself physically.
Positive Physical Changes
Break-ups can happen for many different reasons. However, if you know for a fact that your ex became less attracted to you over the course of your relationship you can work to change that. When talking about physical changes during the NC period you should aim to become the sexiest version of yourself. For example, if you let yourself go a little bit during the relationship then it would be wise to use your time getting in better physical shape. Not only are the health benefits immense to getting in good shape but it can legitimately be a step in the right direction to getting an ex boyfriend or girlfriend back. Lets take a look at more positive physical changes you can make in your life:
Lose weight (if you are overweight.)
Quit smoking (especially if your ex significant other had a problem with this.)
Update your wardrobe.
Get a new haircut.
Be sure that your hygiene is taken care of.
Clean up your diet.
Treat any skin problems you may have (example: acne.)
(More chances can be found in this book.)
Positive Mental Changes
Becoming the sexiest version of yourself is only half the battle when it comes to taking a positive step towards getting your ex back. In fact, you could make the argument that the mental side of things during the no contact period is even more important than the physical side. First off, let me define what I am going to include in this section. Obviously the positive mental changes is going to cover mental aspects but it will also help you understand the importance of not falling off the map socially. Lets take a look at what some of the most important mental changes you can make are:
Prepare yourself for the fact that there is no guarantee that you will be getting your ex back.
Do some brainstorming and determine what the real reason of your breakup with your ex was.
Keep your friends close and confide in them. They are there to listen.
If your friends are going out or you are invited out, GO!
Don't be afraid to go on a date with someone new if you really want to. It's ok, this can actually help you get your ex boyfriend back.
(More chances can be found in this book.)
Why The No Contact Rule Works
In this section we are going to study some of the major benefits to implementing a NC rule immediately after your breakup. Hopefully this section will make you realize the true importance of not talking to your ex for 30 days. By now you should realize that the NC rule is important even if you aren't trying to get your ex back because it will force you to focus on the most important thing, YOU!
Right now you are crazy. Immediately after a breakup is when you are at your most… "emotional" state. Taking a break from your ex for a minimum of 30 days will give you time to calm down and think more rationally. Not only this but it will give your ex some time to calm down as well. Nothing is going to get accomplished if the both of you are constantly a word away from getting into an argument.
It's a psychological tactic to getting your ex back if you want. Think of it this way, by ignoring your ex they are going to begin to wonder why he/she isn't begging me to take them back. It's interesting, because it allows you to essentially turn the tables on them and gain control over the situation.
Instead of focusing on fighting with your ex you can focus on healing. The no contact rule isn't just a psychological tactic to getting your ex back it is also a way to ensure that you have time to properly heal. breakup up sucks no if's, and's or buts about it. With a month of free time away from your ex you can really get a lot done in the healing department.
Prevents the infamous on again-off again relationship. I am sure you have met one of these types of couples that break up every few months only to get back together again after a few weeks. Healthy relationships are not built on a shaky foundation. They are built by strong ones and the no contact period allows you the proper amount of time to start building that strong foundation again.
You might learn after some soul searching that you don't want to get back with this person again. This happens a lot more than you realize. Someone who feels so strongly about their ex goes on the 30 day freeze out period and after the 30 days are up they realize that they have no desire to get back with this person again.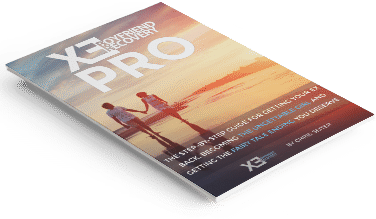 Get the
Fairy Tale

Feeling Back again with
our Step-by-Step Guide to Getting
Your Ex Boyfriend Back Learn More