EBR 062: I Unfriended My Ex Boyfriend On Facebook… What Do I Do?
"I Can't Believe I Actually Have a Chance of Getting Him Back!"
Play Podcast EpisodeOpens Up Podcast Player
It's funny, I still remember the days when MySpace was a thing.
(If you don't know what that is don't worry, I got your back)
But then Facebook came along and took over as the social media giant!
And as the years ticked by and Facebook became more and more mainstream it started to work it's way into relationships. Heck, I suppose I do owe Facebook a debt of gratitude because without it I wouldn't have met my wife.
(FYI: we met on Facebook!)
Don't believe me?
Well, here is our very first conversation ever,
Honestly it's really funny looking back at it but I don't want to get too off topic here.
As Facebook has worked it's way into dating there are certain rules that you need to abide by if you want to achieve the maximum results with it.
And that leads us to today's episode.
A few days ago a woman contacted me and asked a relatively simple question,
I have unfriended my ex on Facebook as a result of the advice of my friends but when I found your website I noticed that you advised against unfriending your ex. What am I supposed to do?
I'm not going to lie.
This is a question that I get all the time and in this episode I tackle it!
I Am Going To Coach You… For FREE!
And that's where I come in!
What if I were to tell you that I have put together an "On Demand Coaching Class" where I am going to coach you for free?
All you need to do if you want to join my FREE coaching class is click the green button below,
Yes, I Want You To Coach MeSign Up For Free On Demand Coaching
I thought would be kind of cool to show you some of the actual results women have gotten through my "On Demand Coaching,"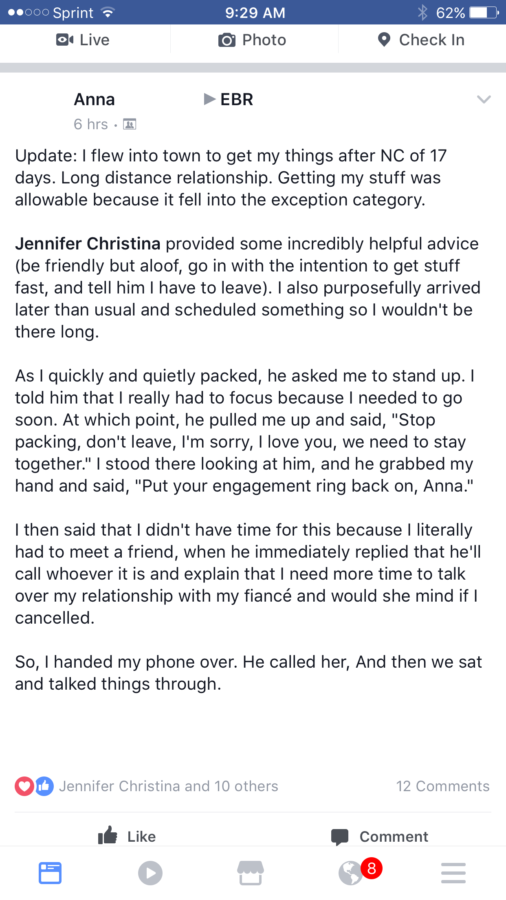 Oh, and if you were wondering "Jennifer Christina" is my wife 😉 .
This is another Facebook testimonial from someone who is on the Private Facebook Group.
I've got about 300 more Facebook testimonials just like this.
If you are interested in joining my Free On Demand Coaching please click the link below,
Video Of Episode 62 (I Unfriended My Ex Boyfriend On Facebook…)
Let me know in the comments what you think of this episode. I love getting feedback from you guys. What are we doing right? What are we doing wrong?
Please, let us know.
The Situation At Hand
The breakup was relatively recent
Anonymous (the woman who called in to the podcast) says that his reasoning for the breakup was that work was a big issue
He claims "he's feeling lost."
Her friends suggested that she should unfriend him on Facebook
So she did just that
She is currently in the midst of a no contact rule
She wonders if she should "friend" him on Facebook again
What I Talk About In This Episode
Facebook is a tool that you can use during the no contact rule
In fact, all social media is a tool that you can use
The uninformed giving advice
Taking what your friend say with a grain of salt
The stereotypes that society has about getting an ex back
An embarrassing story about me
What you should do now that you have unfriended your ex
Important Links Mentioned In This Episode
Interview Transcript:
Chris Seiter
Hey there and welcome to another episode of the exboyfriend recovery podcast.
As always, excited to have you here. I feel like a broken record every time I start one of this episodes. It's like the go to phrase. I probably should switch it up a bit huh?
Anyways we have really, really good episode playing for you today because we're going to be talking about social media which is something that's gained a lot of steam and popularity in our specific niche. So, the thing we're going to talk about specifically is Facebook and we had a woman call in and asked a really, really simple question but I have a lot to say about it.
I have a pretty really, maybe a little embarrassing story to tell you about it. So, stay tuned for that and let's just not beat around the bush today. Let's just get right to it.
Lets' hear the woman's question who called in about Facebook.
Anonymous
My boyfriend and I recently broke up because he wasn't able to be in a relationship right now due to work and work stress and saying that he's feeling lost.
As per my friend's request or suggestions, I unfriended him on Facebook. I read your article just about an hour ago about how I should not have done that. I don't even know if he and I can get back together and by the way I am doing the no contact right now.
And if there's–should I– I don't know what to do about Facebook. If you could help me, do I just let it go and re-friend him after the 30 day no contact rule? I would appreciate your guidance.
Thanks.
Chris Seiter
Alright. Well, I'm really glad you brought this question is up because it's a question that I get a lot.
As you can imagine we have a half a million people coming to exboyfriend recovery every single month and every single day we get this exact question where you have unfriended your exboyfriend on Facebook or he's unfriended you and you don't know how to go about it. So, that's what I'm going to do for you today. I'm going to tell you exactly what you should do and I also have some thoughts and like I said an embarrassing story to tell you.
So, first up, let's do a quick recap of your situation. You called in and you didn't give your name. So, I'm just going to assume that you want to remain anonymous.
You have just went through a break up so, it's a very, very recent which is an important thing to note because generally speaking the longer you are away from your break up and the longer you haven't had a real conversation with your ex, the harder it is to get him back.
He says that work was the biggest issue and he couldn't really have a relationship because of his work. He was feeling lost blah, blah, blah.
We've all heard that story and your friends suggested that you do something really interesting I suppose. I'll put it that way. Your friends suggested that you should unfriend him on Facebook. So, you did. You unfriended him on Facebook and then you read my article and you saw that I said not to do that and now you kind of find yourself between a rock and a hard place.
You don't know what to do.
Should you re-friend him? Should you wait until after the no contact rule which you mentioned that you just started to try to refriend him and you also had a really interesting question. I think really the gist of this, you want to kind of gauge your chances of getting him back. So, we'll talk a little bit about that.
Alright, so the first that thing that I want to really cover is your friends.
So, your friends gave you some very poor advice. Now, everyone knows that if you've coming to my website, reading my website, that I am big on staying friends with your ex after social media because statistics have shown that your ex will probably snoop around your Facebook or your Twitter or whatever other social, Snapchat or whatever other, Instagram– I keep thinking of them, of new social medias as I'm talking.
Well, chances are your ex is probably going to snoop around those and you can kind of control the narrative and control what he sees and that's an important thing to do because not only can you project the way you want to be projected to him. It also will give you some quiet confidence I've found but your friends gave you some bad advice and I'm really actually glad that you brought this up because this is something that I see a lot of.
I have dedicated about half a decade to researching break ups and trying to understand the male psyche and what goes through his mind during a break up and why he acts the way he acts. I suppose, if you look at it from a bird's eye view, I am what you would call a very informed individual when it comes to break ups. It's something that I deal with pretty much everyday of my life for the last 5 years.
Now, your friends do not have that ability. They are uninformed when it comes to break ups and the interesting thing about break ups is that there is always this negative stereotypes. Especially when it comes to getting an ex back. People don't want you to succeed. It's a weird thing but there's this negative stereotype behind it.
You've always heard the phrase,
"Hey, there's other fish in the sea."
or,
"Oh it's ok. You'll find another one. There are a zillion men out there."
But you, when you come to the realization that, "No, I want this one man." Your friends aren't always going to be supportive. Now, I had an interview which I'll make sure I'll write a note to link to it.
It was with a gentleman by the name of Neil Sattin. He is a professional relationship coach and I interviewed him for this podcast.
Now, the really cool thing about Neil is he is really into self-healing and he agrees that sometimes it's really important for two people to be apart in order for them to come to the realization that they need to be together.
And he mentioned that one of the best things you can do after a break up is to kind of rely on your friends and family.
And I think this is great advice but he said something and I'm really glad that he said it because I am definitely aligned with him on this. He said take everything that they say to you with a grain of salt. These are people that aren't dedicated to this area.
They aren't dedicated to breakups. They don't understand the tendencies that people tend to act out when they go through a break up and one of those tendencies and one of those stereotypes is the fact that everyone thinks that you should unfriend your ex on Facebook. Block him on Facebook but in a research and in my personal experience, this is not the way to go.
Now, you read an article where I mentioned that and I'm really glad that you had the foresight to read the article to get to the point where I did mention that. But it is very important that you not unfriend your ex on Facebook or any other social media because it is a tool for getting him back, assuming that's what you want to do. Now, your friends are uninformed.
So, here's what I want you to do, I want you to rely on them for support but when it comes to your ex in advising you, "Hey, say this." or "Hey, do this." Take everything they say with a grain of salt. This are uninformed individuals. I'm not saying that they're dumb. I'm not saying that their advice is bad. What I'm saying is they are uninformed. They haven't been doing this for half a decade and I'm trying to think of a really great analogy for you.
So,  a great analogy would be kind of like if a- if you wanted to become a professional baseball player, would you go to someone who's just been doing–just started playing baseball for a year or you would go to a professional major league baseball player? Chances are you take the advice from the professional major league baseball player and that's kind of what we're doing with here.
I'm here telling you, "Ok, not a good idea to unfriend your ex. I have experience in this. I've dedicated half a decade of my life to this art." Your friends haven't dedicated anything. They just probably have their own experience as to go off of and chances are not many of them have gotten their exes back. Now, like I said, it's not to say that they're dumb and their advice is bad. Sometimes your friends will have the greatest advice ever but just remember take everything with a grain of salt before you take any action.
Now, let's move on to what you should do about the Facebook dilemma that you found yourself in. So, you asked the question, "Ok, what do I do to remedy this situation? Should I just try refriend him right now or wait until a little bit of time goes by?" And my thoughts on this are pretty clear. You're off to a great start. You're in the midst of a no contact rule and that no contact rule usually is where you want to utilize the Facebook and all of the social media but here's the thing. You cannot take your action back of unfriending him on Facebook.
That is an action that you have basically done. You can't take it back and it is going to appear to him–because he is going to be paying attention. Make no mistake about it anonymous. If you were to refriend him during the no contact rule when you're not talking about him, it is a clear action that you are taking that prove to him that you are still thinking about him.
And one of the reasons that the no contact rule is kind of effective is it projects this persona where it appears to him like you're not thinking about him and you've always heard that phrase, "Men want what they can't have." Well, that kind of plays into that. So, it is important that you do not refriend him during the no contact rule.
Instead, here is my recommendation. I want you to eventually refriend but only after you've built rapport after the no contact rule. It's a natural way of getting him to accept your friend request. Why? Well, imagine this. Imagine you've gone through a no contact rule.
Ok so far so good right there and you've started rebuilding rapport through text messages and you're texting back and forth every single day and he's enjoying the conversations and you're enjoying the conversations. Well, re-friending him on Facebook is going to be a lot easier to get him to accept that friend request as opposed to doing it when you're ignoring him and he could still be angry at you.
Now, I promised you that I was going to tell an embarrassing story. So, here it is. I mentioned that–maybe I should back up and rephrase this. One of the things that people don't seem to believe when I tell them that, yes, your ex is going to snoop around your Facebook profile, is they believe that that's a lie. They don't believe that he is going to do that. Except research has pointed out that 90% of exes have been proven to do this, Facebook creep on you. So, I'm going to tell you a story about my very first break up and essentially what I did.
So, I was in a similar situation to you anonymous. My ex and I, even though your break up sounds a little bit amicable and mine was really, really bad. There was yelling, fighting. Nothing was thrown or anything violent like that but inside, mentally, it hurt my feelings and things have been going pretty stale between the two of us for a long time.
So, the break up was a long time coming and I remember being so upset after the break up that I decided to unfriend my ex after. Like almost immediately after the break up. And I remember thinking to myself, "I am not going to talk to her. I am not going to look at her profile or anything."
But of course, it took a full day, one full day. I lasted for one full day without looking at her Facebook profile and then I did. I looked at her Facebook profile. Essentially what I wanted to see was that she was depressed. That she couldn't live without me.
That would have given me the greatest satisfaction. And really, it was kind of nothing. She didn't update her profile for like a week or two which I supposed meant something because this was a girl who updated her Facebook profile pretty much every single day but that–even though it's embarrassing for me to talk about that.
Yes, I even stooped to a level where I unfriended my ex. It was very vindictive and the fact that yes, I wanted her to suffer and I did this to hurt her. It is something that I did. It does prove my point that exes do snoop around your Facebook profile.
So, that is going to do it for this episode of the ex boyfriend recovery podcast. If you have any question or comments, please feel free to visit the show notes of this episode and ask your questions or comments there.
If you're watching this on Youtube and you have a question about Facebook or just exes in general, feel free to comment on our Facebook profile.
We do our best to respond to every single comment that we get.
This was a blast! Thank you so much! I'll see you next time.
"I Can't Believe I Actually Have a Chance of Getting Him Back!"
With over 7 million women just like you coming to this site ever year, I've seen about every situation you could imagine. Most of the time, I can just ask a few questions about your situation and know in seconds the chances that you have of getting back together with him. I've compressed all of that wisdom into a single calculator What Are Your Chances of Getting Your ExBoyfriend Back.
Take 4 Minute Quiz
And Find Out Your Chances!