So, you want to know exactly what your ex boyfriend is thinking about during the no contact rule, do ya?
I'll admit that lately this has been a very popular topic for the Private Facebook Group.
You know, it's been really amazing seeing hundreds of women communicate in our group about their breakups. I pick up on all sorts of perspectives that I never would have thought of by myself before.
For example, one of the things that has become clear is that men react very differently to the no contact rule.
One woman can use the no contact rule on her ex and get messages like this,
Where another woman can use it and get nothing from her ex.
But in my half decade of advising women on how to get their exes back there is one thing I have learned about the no contact rule that no one out there ever talks about. It isn't so much the panicky text messages that you get from your ex during the no contact rule that matter it's whats going on inside of that head of his!
That's where this article is going to come into play.
I am going to tell you EXACTLY what's going on inside of an ex boyfriends mind during the no contact rule by using facts… pure unadulterated facts.
Wait… How Are You Going To Use Facts?

The more and more I sit back and think about what I have over the rest of my competition out there it's numbers and successes.
I am willing to pit my numbers, experience and successes over any one of my competitors out there.
What's the big advantage here?
Well, since I have had so many success stories in my time here at Ex Boyfriend Recovery (and actually interviewed the women with them here, here and here) I have noticed something pretty darn cool. The women who get their exes back ask them about their time during the no contact rule so they gain the ultimate insight into what their men were actually thinking.
After they have gained that insight they actually report back to me (because they are happy they got him back.)
Do you see where I am going here?
I am going to piggyback off of the successful women who have heard what their exes are actually thinking during the no contact rule and let you in on all of the secrets.
In other words, you are going to get insight into your own man by hearing what real men are thinking during the no contact rule.
Oh, and since I am a man I am going to throw in a few of my very own insights.
Sound good?
Let's begin!
Thought #1: She Has To Contact Me First
Out of all the thoughts I am going to let you in on today this is the one that resonates with me the most.
Why?
Well, I actually have personal experience with this.
This was the exact thought that I had during my very first breakup.
I literally remember thinking,
There is no way I am going to message here or think about talking to her. She is going to have to talk to me first.
And that's exactly what happened.
She reached out to me first and it just fed into my ego that "I was winning the breakup."
It wasn't until later that I realized that me "winning" also meant that I had lost attraction for her.
You see, I am sure if you were to ask me while I was going through that breakup if I would ever consider taking her back I would have said yes.
In fact, I seem to recall a time where I literally thought to myself,
I bet if I really tried to get her back I could… But she's going to have to contact me first.
And then it happened.
One day my phone buzzed…
I picked it up…
And lo and behold I got this text,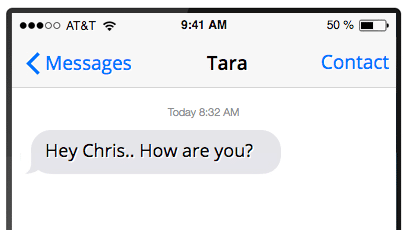 In that moment I truly felt like I could get her back whenever I wanted and in that moment I felt I had no desire to get her back anymore.
Why?
Well, there was no challenge to it.
Besides, we had a very tough relationship and it was just enough headwind to not make me take any action to rectify things.
Of course, this is a personal story from me. So, how do I know that this is a reaction other men will have outside of me?
Well, I'd like to turn your attention to "Kelly's" ex boyfriend below,
A bit of background on this one.
Kelly is actually a part of our Private Facebook Group (which is actually offered to all of my one on one coaching clients for free) and she didn't hear from her ex at all during the no contact rule. So, naturally she was wondering what he was thinking and I eventually told her the story I just told you.
This is what she had to say after she got him back and asked him what he was thinking,
I'm back with him because he said he was too stubborn but he had been waiting to hear from me and he missed me and he wanted it all to work out.
This is real proof.
Not just some story I made up.
This is a real reaction from a real man when the no contact rule is being done to him.
Thought #2: Why Isn't She Contacting Me?
Close your eyes and imagine something for a minute for me.
You and your ex go through a really horrible breakup.
(Wait… that probably already happened.)
Anyways, you go through this really rough breakup and decide that you are going to do the no contact rule on him.
Of course, your ex is of the mind that the two of you should be "friends" so he reaches out a few days after the breakup with a text message like this,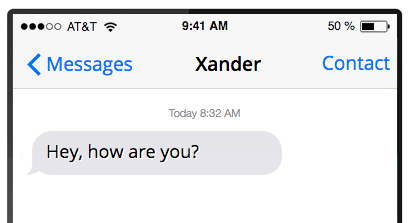 Pretty basic message, right?
So, in his head he's thinking that you are going to respond within a few minutes of him sending that text to you.
There's just one little hiccup in his plan.
He doesn't have the slightest idea that you are in the midst of a no contact period and when your response doesn't come he starts to panic and sends something like this,
You see, he figures that if he acts caring towards you that you are going to break down and respond to him. Of course, since you are incredibly intelligent you decide to ride things out in the no contact rule by not responding to him.
Of course, when that happens he gets a little angry by the fact that you couldn't acknowledge "how nice he was being to you."
That's when you start getting text messages like these,
Do you see the progression?
How it starts off innocent and then slowly but surely evolves into anger by the fact that you are ignoring him.
It's at this point where one singular thought is going to dominate,
Wait… why isn't she contacting me or responding?
Now, before I started down this path I made a solemn vow.
My Vow = Every thought that I claim a man has during the no contact rule has to be backed up by real reactions by real men.
Well, I'd like to introduce you to Kathy!
Kathy is one of the most active members in the Private Facebook Group which she got access to after purchasing my book and she's obviously dead set on getting her ex back.
Would you like to see the results Kathy is getting with the no contact rule?
Well, this is a post she recently posted to the Facebook Group,
Now, here's a bit of context.
Kathy has been in the no contact rule for about two weeks at this point and you can see how he's totally breaking down by the fact that she isn't responding to him,
She has gotten 8 phone calls from him
Out of those 8 phone calls he has left 4 voicemails
She has also gotten a lot of text messages scattered throughout the day
So, why would her ex boyfriend act this crazy?
Well, let's think about things from his perspective for a moment.
During his relationship with Kathy the two of them got into a certain routine.
He would text her…
She would text him back…
He would text her back…
And so on and so forth.
Now, here is the crazy part. Kathy told me that this routine actually continued after the two of them broke up.
It's really strange, I have never had a breakup like this before. It's almost like we are still dating but without the "official title."
It was at this point that we advised Kathy to enter into a no contact rule and that's when the fireworks began.
You see, by implementing the no contact rule on her ex Kathy has essentially interrupted the pattern that he had grown so accustomed to.
Instead of having his normal responses he is literally sitting there thinking,
Why isn't she responding to me?
And this singular thought is motivating him enough to try to do everything in his power to get her to respond.
Thought #3: She's Not Reaching Out To Me… Good! I Wasn't Going To Get Back With Her Anyways
For many of you this is your ultimate nightmare but I am going to show you something that is going to completely re-frame the way you look at a man who has this thought.
But before I do that let's talk a little bit about the state of mind a man is in who is thinking this.
So, the complete thought is,
She's not reaching out to me…. GOOD! I wasn't going to get back with her anyways.
This almost has an immature tone to it, doesn't it?
For example, because you ignored your ex he is going to say/think something to limit his potential future (being with you.)
In other words, it is a reaction to the fact that he isn't getting his way.
Anger is what usually sparks these kind of thoughts.
Think back to your relationship now.
…
…..
…….
Are you there?
Yes?
Good!
Ok, let me ask you a question.
Did your ex boyfriend ever say that he hated you or that the two of you would never be together again during your breakup?
Well, chances are that he said that during a moment of pure anger.
I mean, I don't know many things that are as painful or angering as a breakup.
Do you?
Of course, when I try to explain to women that their ex boyfriends don't necessarily mean what they are saying when they say they hate you, they are simply reacting to the emotions that they are feeling in that moment, it doesn't seem to get through their heads.
Which is why I would like to introduce you to Sarah Michelle!

Now, Sarah Michelle has a bit of an interesting story.
You see, I first met Sarah Michelle on one of my Facebook Lives within the private facebook group which she got access to after purchasing my book.
(If you didn't already know I do Facebook Lives in the group three days a week: Monday, Wednesday and Friday!)
At the time she asked her question I was really into watching another very popular "Sarah Michelle,"
Yep, Sarah Michelle Gellar (AKA: Buffy The Vampire Slayer.)
Now, if you are new to this site then one thing that you are going to learn about me very quickly is that there are two television shows that I love above all!
Show #1: Game of Thrones

Show #2: Buffy The Vampire Slayer
Anyways, I jokingly started referring to Sarah Michelle in the group as Buffy and the name kind of stuck.
Now, let's fast forward a month to when we receive this fun little post in the group,
So, not only did she find a way to get her ex back but she is actually engaged to him know.
Buffy got game!
Now, you may be sitting there wondering,
Umm… What the hell does this even have to do with him saying that he isn't interested in me?
Well, when I actually interviewed buffy about her success she said something that I thought was incredibly telling.
It was just so out of nowhere and I see all this girls on like the Facebook live, like their ex tells them, "I don't love you anymore" like, "You're too much" like, "We're never going to be together again," I heard all those things, all of them.

I heard every single one of those things come out of his mouth. When it came down to it, I found out he didn't mean any of it, none of it. And I think that's the hardest thing to comprehend, when you're going through it because I feel a lot of the girls like in the Facebook page, all the guys say that and like when you hear it, like you just don't understand at all.
Interesting, eh?
So, what Buffy is saying here is that her ex basically gave her all the common breakup excuses that you hear out there but when push came to shove she found out that he didn't mean any of them.
And I have to say that this is a common trend I see time and time again.
So, while you may initially think it's the end of the world if your ex has this thought that he isn't going to take you back I am here to tell you that it's not the end of the world.
Thought #4: I Am Going To Win This Breakup
I want to switch gears for a moment here and talk a little bit about thoughts I have had during my actual self imposed no contact rules during breakups.
You see, the way I figure it is that statistically speaking if I am having a thought during a no contact period other men are bound to have the same exact thoughts.
Sure, there may be a few exceptions here and there who don't think the same ways that I do but generally speaking I serve as a pretty good litmus test.
Now, the thing you have to understand about me (and other men) is the fact that some of us like to view breakups as a competition.
Such a male thing to do… I know.
And like with any good competition there is a winner and a loser.
I think it's important to define what the winner and the loser of a breakup are.
Winner = The person who makes their significant other fawn after them and regret their decision.

Loser = The person who fawns over their significant other and regrets their decision.
During my very first breakup I remember very clearly having this exact mindset.
I was going to do everything I possibly could to "win" the breakup or die trying.
Of course, that's when an idea sparked in my head. Care to take a guess at what that idea was?
Go ahead and reference thought #1 in this article.
….
…….
……….
Done referencing?
That was my idea.
Isn't it interesting how there is a strange synergy between thought #4 and thought #1.
If I hadn't set out to "win the breakup" I wouldn't have ever thought to "make her contact me first."
Now, I am not one for making bold statements without having statistical proof to back them up. However, if I was a betting man I think I'd end up getting rich off of betting on the fact that most men will seek to "win the breakup" after they go through one. In fact, this is a concept that I am constantly trying to explain to my one on one coaching clients so that they fully understand the mindset of a man.
Now, you may be sitting there wondering,
Why the heck does this even matter?
Well, I think it's important to understand this mindset because it will springboard a man to have so many other thoughts during the no contact rule.
Take my example above.
I probably wouldn't have ever thought of waiting until my ex contacted me first if I wasn't trying to "win the breakup."
I mean, there are so many different analogies I can draw from to prove this point.
Take any professional athlete, a profession where you get paid based on your ability to compete.
These men and women will do anything to win at their sport.
Heck, some of them take it so seriously that they cheat by using PED's like steroids.
The important thing to remember here is that competition drives them to do it.
And a man with the mindset that he is going to "win the breakup" is essentially turning things into a competition and that means you can expect some crazy behavior from him.
Keep that in mind!
Thought #5: I've Lost Her Forever
I want to save the best for last!
Out of every single thought I have mentioned in this article this is the thought that you absolutely want your ex boyfriend to have.
But more on that in a second.
Yesterday I was interviewing Anna from our Facebook group.
If you didn't already know, Anna is one of our superstar members who got her ex back,
Anyways, Anna was nice enough to agree to an interview with me where I got to pick her brain about how she used my system to get her ex back.
And during this interview she said something that really fascinated me,
"You know Chris… I asked him that if I hadn't of reached out to him after the no contact rule if we would still be together and he said no."
Now, this fascinates me because this isn't actually the first time I have heard this from a woman who has gotten her ex back.
In fact, I have been hearing variations of this type of response from ex boyfriends.
So, what does it mean?
Well, at the core it means that they had hit that point where they were wanting to hear from their exes (you) but had mentally prepared themselves to move on.
Now, maybe this isn't a revolutionary insight but I actually think it is.
I mean, it's at the point where your ex gives up on you that you can actually have a lot of success at shifting things in your favor.
I don't think it's a coincidence that almost every success story that I have talked to in person has repeated this insight from their exes.
Now, why do you think that is?
Well, I think it has a lot to do with "the unexpected."
Let's take a walk around in your exes shoes for a minute.
So, your ex hits this point in his mind where he literally thinks to himself,
I have lost her forever…
Therefore his paradigm has shifted and he has literally convinced himself of this.
(PAUSE)
I think it's important for me to remind you that you are in the midst of a no contact rule at this point.
(UNPAUSE)
After your no contact rule is finished you send your ex the following text message,
Now, this is completely unexpected to him.
Why?
Because he has literally convinced himself that he has no chance with you ever again and this text is a ray of hope.
In other words, it's unexpected and that makes it even more powerful than it would have originally been.