Today I'm going to show you exactly why guys come back when you ignore them.
In fact, the things that we talk about today have been instrumental in helping me and my team understand why "playing hard to get" works so well on exes.
And I'd like to point something out.
Everything that I'm about to teach you today is based on real life psychological research and has been proven to get results when it comes to getting an ex back.
Let's begin!
Why Men Come Back After You Ignore Them
If you're an avid reader of this site you may have heard me talk about a concept called the no contact rule.
It's one of the most popular strategies for getting an ex back and it's entire premise is based on the idea of playing hard to get or ignoring your ex. Essentially you ignore your ex for a period of time and by doing so you get all kind of unconscious benefits.
Now, when I was putting this article together I was very tempted to simply talk about a few of my success stories with the no contact rule. However, I've written about that multiple times and figured you'd get bored of another article like that.
So, I went further and compiled a list of psychological research on ignoring an ex and what benefits that can bring you.
My research was illuminating as I found three talking points to discuss with you,
How reactance plays a role
Why it's important to consider the zeigarnik effect theory
The uncertainty effect plays a huge role as well in making a man interested in you
This is going to be an exciting one because I'm going to be talking about things I've never talked about before.
Let's get started.
1. Ignoring A Man Can Trigger Reactance
This is something you'll see me talk about a lot with the no contact rule. In fact, I'd say that reactance is why the no contact rule works.
So, what is reactance?
It basically states that human beings are born with inherent behavioral freedoms and when those behavioral freedoms become threatened they "react" in a way to get those freedoms back.
When you ignore your ex you'll find they come back because they want to reacquire the freedom that they lost.
Now, if you are confused, don't be.
By ignoring your ex you are taking his behavioral freedom of talking to you away.
This will drive him nuts and will put him in a position where he'll most likely want to come back or chase you to get the freedom back.
A perfect example of reactance occurs daily in my house with my daughter.
Currently she is three years old which means that routines are very important for her. One of these routines is that she likes a hug and a kiss before she takes a nap or goes to sleep for the night.
The problem is that getting her to do it is like pulling teeth because she knows that when she has to give the hug and the kiss it's time for her to sleep and she wants to stay up and play.
So, one thing I've been doing to speed the process up is actually telling her that she'll have to go to bed without a hug and a kiss before she goes. In essence, I'm removing her behavioral freedom of getting the hug and the kiss from the equation.
Without fail she'll come running to me screaming for her hug and kiss when I do this,
This is reactance in a nutshell.
However, it's not the only reason "ignoring him only to have him come running back" works.
2. The Zeigarnik Effect Comes Into Play
The Zeigarnik Effect is something that is relatively new to Ex Boyfriend Recovery but it's something that does a brilliant job of explaining why ignoring men can be effective.
If you don't know, the zeigarnik effect states that people remember uncompleted tasks better than completed ones.
For our visual learners,
I always like to explain it like this,
Lets pretend you have an uncompleted circle,
You look at this circle and something just annoys you about it.
It's incomplete and you want nothing more than to just complete it.
Ignoring a man and having them come back is a little like that.
You see, we are drawn to people whose feelings we don't know yet.
Generally speaking when we know how someone feels it removes mystery from the equation which is fine if enough mystery has already been built but if you tell someone how you feel immediately you aren't going to be that attractive to them.
By utilizing the the zeigarnik effect you can make sense of why we are drawn to people who don't tell us their feelings right away.
Uncompleted tasks (like not knowing someones feelings) create curiosity or even sometimes obsession and forces a person to invest more time to "complete the task."
3. The Uncertainty Principle
This is really where we hit pay dirt in my opinion.
Why?
Because the uncertainty principle can directly help explain what ignoring a guy does to them.
The uncertainty principle states that people are generally more intrigued with uncertainty than certainty.
There's a reason for why scientists have determined that men and women grew less intrigued by people who responded to their texts right away as opposed to the person who didn't respond right away.
It all has to do with uncertainty.
Being uncertain on where you stand with someone creates an interesting dynamic and can even tie directly into what we just talked about with the zeigarnik effect above.
Perhaps the most interesting study I've seen on this is the rat study.
What Rats Can Teach Us About Uncertainty
Years ago scientists ran a study on rats.
Specifically trying to measure how rats responded to direct rewards.
Here's the set up.
Two rats were used in mazes.
One maze was very complex and at the end of the maze was a bit of cheese,
The second rat was placed in a maze that wasn't complex at all. In fact, the cheese was basically put right in front of the rat,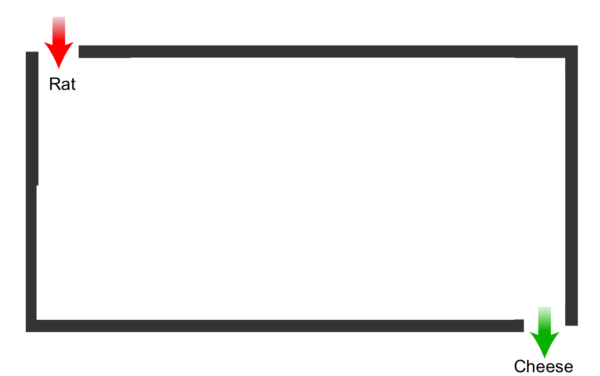 Traditional thinking would have you believe that the second the rat saw the cheese in the second maze it'd devour it, right?
Shockingly, they found that the opposite was true. In fact, the more certain the reward was the less likely the rat was to devour it.
Why?
Well, the hypothesis is that since the rat knew it could get the cheese at any time it became almost indifferent and uninterested.
Certainty breeds complacency even in rats.
Of course, when scientists created uncertainty by creating a complex maze they found that the rat devoured the cheese immediately upon finding it.
Uncertainty breeds action
This might also explain why "playing hard to get" works in humans.
We tend to cherish that which we have had to work for more than that which is guaranteed.
One Final Study Proving Uncertainty Works
The final study I'd like to talk about is a little closer to home as it doesn't involve rats or cheese.
Instead, it involves "Facebook."
Two men were tasked with rating a woman's Facebook profile on a scale of 1 – 10 with 1 being the lowest and 10 being the highest.
One man was instructed to show the women what he rated her profile while the other was told not to.
Scientists wanted to study which of the men she found more attractive.
Turns out that she found the uncertain aspect of not knowing what she was rated more attractive therefore she found the second man more attractive.
Conclusion
Let's talk about what we covered today.
Overall we learned that there are three core principles you need to look at if you ignore your ex
The first has to do with reactance
The second has to do with the zeigarnik effect which I've covered before
The final has to do with the uncertainty principle
Also, rats can tell us a lot about human behavior
Now, I don't expect you to have grasped everything I've talked about in this article. I expect there to be questions. Luckily, I monitor the comments on this website so if you ask a question you should get an answer.
Don't be afraid to comment below!