Making your ex miss you is the basic foundation of getting them back so today I'm going to tell you whether leaving your ex alone will make them miss you.
I will also share a pretty game-changing fact that links long-distance relationships and if leaving an ex alone will make them miss you so stay tuned for that.
First things first though. Let's tackle the million dollar question first.
Will My Ex Miss Me If I Leave Them Alone?
Scientifically speaking, yes.
Your ex is hardwired to miss you after a breakup.
If you're thinking "yay, that's awesome. I'm golden now", think again. Missing you won't make your ex automatically commit to you.
That's a very important distinction to understand because making an ex miss you is only half the battle. It's still super important though! We've found a lot of scientific evidence and real-life success stories that prove the connection between an ex missing you if you leave them alone.
Think of it as a series of steppingstones – if you leave your ex alone, he will remember the good times and miss you, and then he "might" be on the right track to getting back together.
I emphasize that he "might" be on the track to committing to you again because it all depends on how you approach the situation. Without proper signals and efforts from you, he'll probably just miss you and get over it.
So yeah, sorry to burst your bubble because right now you're probably thinking that the end goal is to make your ex miss you. It isn't. There's a lot that happens after that but don't worry, I'll show you the next steps by the end of the article.
The Psychology of Why Leaving Your Ex Alone Will Make Them Miss You
One of the best ways to study if leaving your ex alone will actually make them miss you is by making yourself familiar with our findings on Avoidant Exes. I recently talked about what it takes to get avoidant exes to miss you.
The reason I did that video and article was twofold:
Literally everyone on our private Facebook support group wanted to know how to get an avoidant ex to miss them
I was really curious too so I went down a deep YouTube and psychology rabbit hole to see how I could help clients crack their stubborn avoidant exes
Before we go further, you might be wondering what on earth is an avoidant ex? Well, that requires a basic understanding of attachment styles so here's a quick summary of the four main attachment style types:
Secure attachment – the holy grail of attachment styles where you are so confident in yourself that your worth is not defined by your ex/partner and you don't care whether your ex comes back.
Anxious attachment style – the most obsessive, clingy, and codependent attachment style where you constantly attach your self-worth and emotional wellbeing to your ex.
Avoidant attachment style – the most aloof and emotionally unavailable attachment style where you are afraid of getting too close to someone so you avoid deep emotional attachments.
Fearful attachment style – a rare combination of anxious and avoidant types.
People don't always 100% fit in one specific attachment style category but you probably fit more into one of those categories than others.
The same goes for your ex.
There's a pretty high probability that you're an anxious attachment style and your ex is an avoidant attachment style. What does this look like?
You, in all your anxious attachment glory, constantly get on your ex's case and try to obsessively fix things. You're probably used to blowing up their phone or maybe even showing up at their house in desperate attempts to get them back.
That kind of behavior is the exact opposite of what an avoidant ex needs.
According to Freetoattach.com people with avoidant attachment styles "want connection like everyone else but their deepest fear is that love and closeness come at the cost of freedom."1
These avoidants run from any kind of emotional vulnerability so how are you supposed to make them miss you?
By doing nothing and just leaving them alone.
Our biggest takeaway about avoidant exes is: Avoidants are free to long for an ex once that person is unavailable out of the relationship and typically out of contact.
In other words, your ex literally won't allow himself to miss you until he feels like you've let go of him. Only then will he feel comfortable enough to romanticize the high points of your relationship.
This proves that leaving your ex alone, at least in this context, is a really good idea that improves the odds of making them miss you.
Here's another interesting consideration for why leaving your ex alone can make them miss you…
The Grass Is Greener Syndrome and How It Relates to Moving On
Grass is greener syndrome – when your ex breaks up with you because they think they can do better than you.
That's usually what most breakups are – one party thinking the grass is greener on the other side and that they can find a better partner.
How can you snap your ex out of this grass is greener syndrome?
I can certainly tell you how not to do it – obsessively texting him to get back together definitely isn't the answer here.
What you need to do is leave your ex alone so he can explore other options.
I get a riot on my hands every time I say this because my clients always say, "I don't want him moving on and comparing the new person to me". I say "yes, that's exactly what you want."
The key to making an ex with grass is greener syndrome miss you is to make them regret their choices. They need to actually date other people to realize how good they had it with you.
Now is there a chance your ex might genuinely fall for the new girl and move on? Yes, that risk is always there but the alternative is being clingy and overbearing and pushing them away anyway.
Your best bet is to let your ex get over that honeymoon period with their new partner.
Once their honeymoon period is over and they get into the nitty-gritty of the relationship, your ex will start comparing that to the high points of his relationship with you. All the bad memories and fights kinda fade away and allow him to reminisce about the good times and amazing first experiences you shared.
This leads to regret and your ex asking himself "this new relationship isn't as good as I felt before." They'll start to miss you and that is bound to cause problems in the new relationship, especially if your ex starts talking to you and relying on you for emotional support.
See how basically every logical conclusion of leaving your ex alone ends up making your ex miss you? Next up let's get to the BIG discovery about long-distance relationships and making exes miss you…
What Long-Distance Relationships Teach Us About Leaving Your Ex Alone
According to a new study published by the Journal of Communication,
"Couples in long-distance relationships have more meaningful interactions than those who see each other on a daily basis, leading to higher levels of intimacy."2
Contrary to popular belief that long-distance relationships (LDRs) are too hard to sustain and eventually break up, this study shows that people in LDR actually invest more MEANINGFUL time in the relationship.
I recently talked about the importance of silence, specifically the effective silence of a no-contact rule.
Silence creates unpredictability and suspense. That unpredictability helps to break up patterns and make things more interesting.
Think about it – what does an average day look like for a couple that lives together?
Maybe watching some TV together, talking about trivial work things, and going to sleep.
Now, what does a day together look like for long-distance couples who rarely see each other or talk to each other?
Perhaps a whole day of new adventures and lots of new and exciting conversations.
See what I'm getting at here? The main difference between regular relationships and long-distance relationships is that LDRs have a limited amount of interactions and need to make the most of them.
There's a high premium on their time together so they focus on making every moment and conversation count, unlike those who see their partners as a part of their boring everyday routine.
What does that have to do with leaving your ex alone?
One of the primary reasons people break up was because of their patterns and routines. They got too complacent, safe, and boring in the relationship. Your ex probably said something like this to you, "I wish you were more spontaneous and we would do something exciting!" Then they left to find that excitement and thrill with someone else.
Eventually, if you leave them alone and give them the benefit of the time, having a conversation with you will come at a premium as opposed to their new partner who they see every day. This is even better when you get back in contact with them but limit yourself so they're always left wanting more.
This is why the first step after any breakup is a no-contact rule.
A no-contact rule is a period of 21-45 days where you purposefully ignore your ex and focus on yourself.
While a no-contact rule is a great first step, there's still a lot to be done…
We've Found That Pulling Back Alone Won't Make an Ex Take Action to Re-commit
Leaving your ex alone by doing a no contact rule is a good way to raise their ears but then you have to engage and keep their attention till they're ready to recommit.
That's where our two core concepts of the value ladder and value chain come in.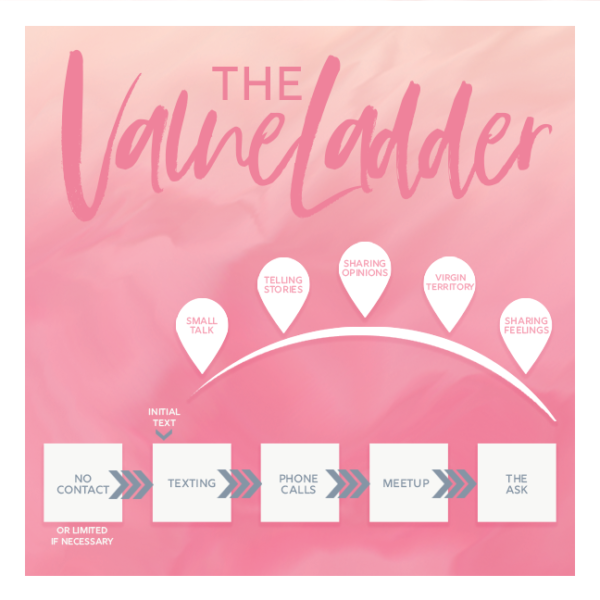 The value ladder and value chain give detailed outlines and advice about how to gradually build value over different topics and mediums of conversation.
Head over to our search bar and search "value ladder" or "value chain" to learn more about the next steps after a successful no-contact rule.
Conclusion:
Yes, leaving your ex alone will make them miss you but that is not enough to make them re-commit to you.
Leaving an ex alone by doing a no-contact rule disrupts your boring everyday routine and puts a premium on any conversations you have later on just like couples in long-distance relationships.