Today we're going to talk about why exes always seem to come back after you stop chasing them.
This topic first came up in 2015 on the second episode of my very first podcast – ex-boyfriend recovery. I've been thinking about it and studying it for the past five years, so at this point, I have a deep vested personal interest and history in the process and psychology of why exes come back when you stop going after them.
The way my podcast worked was pretty simple – I would basically allow people to call in or leave voicemails asking me their questions about breakups. Then I would sort thru and find the most interesting voicemails and spend 20 minutes answering them. Finally, I'd give a detailed game plan of what they should be doing next.
Well, on our second episode ever, we got a voicemail from a woman who was basically saying,
"I tried to get my ex back and failed. I did the no contact rule and everything by the book and still failed. So then I just moved on with my life. I stopped chasing my ex, started working on my own business, and got successful with the business. After a year of doing this, my ex suddenly calls me up and wants to go on a date. Why?"
Well, that's what we are going to explore today.
Will Your Ex Come Back If You Stop Chasing Him?
What I find really fascinating about this particular question isn't the fact that this happened, but it's the fact that this kept happening with a lot of our clients.
When we started doing success stories interviews we asked our success stories if they had experienced a similar internal mindset shift where they stopped caring about getting their exes back. They stopped putting in the effort and focused on themselves.
And when they did that, did they start to see results?
We started to see a pattern emerge:
It was often the people who could let go of their ex and stop chasing their ex who started seeing positive results.
Great – we knew that letting go of your ex was linked to re-engaging their interest. Now we just make everyone do that; it sounds simple right?
Driven By Fear
Unfortunately, we noticed that pretty much all of the people who came to our website interested in learning how to get their exes back almost always have an unhealthy obsession with their ex. They're probably checking their phone 25 times a day, hoping to get a text from their ex.
They might even be spying on their ex's social media accounts to ensure that they don't miss any updates about their life.
Research actually suggests that getting over a breakup is the exact same feeling as trying to get over a drug addiction. Scientists took people who are going through breakups and started studying the effects of breakups on the brain.
They found that the same part of the brain that lights up when a drug addict goes through withdrawals is engaged when someone longs for their ex after a breakup. So it makes perfect sense that one would obsessively stalk their ex and desperately try to get back together, but that's a huge mistake. Before we talk about why chasing after an ex is a mistake, let's look at people's biggest fear that drives them to do this.
People's biggest fear driving obsessive mentalities after a breakup is that their ex will move on to someone new.
Breaking up with your ex is one thing, but potentially losing them forever to another person is a whole other kind of hurt. Most people will go through extreme lengths to keep tabs on their ex to make sure they have not moved on.
This fear of an ex replacing them makes people obsessively stalk their ex's social media and sometimes even beg for their ex to take them back. None of that is a good look, and it will not work to get your ex back. If anything, it will probably just push your ex further away.
Why Is It A Bad Idea To Chase Your Ex?
Two main reasons.
It makes you look incredibly desperate
It makes you look reactionary
Lets me expand.
Reason #1: It Makes You Look Incredibly Desperate
Studies have been done on playing hard to get as it's one of the smartest dating techniques that you can use to not seem available.
This links back to the idea of scarcity – no one wants something that everyone has or everyone can easily get. On the other hand, think of events like Black Friday or Christmas sales, and you see that interaction with scarcity where people see great deals, and they do things like camping outside stores until they can get that scarce item. That fear of losing the scarce item drives people towards it.
So when you're consistently chasing your ex, they're going to see you as a desperate person they can have at any time they want, there's no scarcity element pushing them to get back with you right now or in the foreseeable future. you need to present yourself as a scarce idea so your ex will want you again, which is why chasing after them is a bad idea.
Reason #2: It Makes You Look Reactionary
This reason isn't as straightforward as the first one, but it's one of the first things I tell people in my program – if you're going to get your ex back, they cannot be your first priority. So what does this look like?
Let's say your ex makes some post on Facebook about going out with friends, and you angrily text them about it.
When you react immediately after your ex does something, it doesn't just make you look desperate but makes it seem like you don't have your own life. Furthermore, it gives off the image that your existence is defined by the breakup, and this is why we believe that chasing your ex is a mistake.
Now let's get to the big question:
Why Do Exes Come Back After You Stop Chasing Them?
We operated under the assumption that this phenomenon existed for years, but we couldn't quite psychologically explain it. One of the things that we're proud of on ex-boyfriend recovery is that we always try to find research or personal experience in the field to back up what we're saying.
Research and solid proof always help because it's not just enough for me to sit here and say, "Hey, stop chasing after your ex because it works." If anyone asks me the reason, it cannot just be that we've seen it work for others; therefore, it will probably work for you. We really needed a scientific reason, and a couple of years ago I conducted an interview where it finally clicked…
Truly understanding why chasing after your ex is such a mistake and why results tend to come after you have given up trying to get them back is rooted in attachment theory.
If you've been around my website or my YouTube channel for a while, you're probably getting tired of hearing about attachment theory.
However, I keep talking about it because it's so valid for the entire ex-recovery process, and despite me talking about it so many times, some people still don't fully understand its importance.
We know from research about our client base that most of our clients tend to have an anxious type of attachment style – they tend to be the ones to chase their exes, beg for them back and just act extremely needy and desperate. We also know that their exes tend to be avoidant by nature, meaning they will shut down or run away at any sign of emotional intimacy, often citing their belief that emotional intimacy will get in the way of their independence.
It's easier for those avoidant exes to just drop it and run instead of "potentially" losing their independence, so you have these two clashing attachment styles. This is oftentimes the primary reason for breakups.
So why is it that after you've given up, after you've stopped chasing after your ex that you start to see results?
A lot of work we do tries to gradually nudge your attachment style more towards a secure attachment style.
Secure attachment style means having the fortitude and confidence that you will be okay after this breakup, and it's okay if you don't get your ex back. When you operate with that secure attachment mindset and talk to your ex, they subconsciously pick up on the subtle differences and want to figure out what's changed about you. It creates curiosity and makes them intrigued enough to see you as a new person.
Then there's the concept of secure attachment gravity.
The Secure Attachment Gravity
So there are 4 main attachment styles – secure, anxious, avoidant, and fearful. We've already talked about secure, anxious, and avoidant. On the other hand, fearful attachment style is basically a combination of the worst aspects of anxious attachment styles and avoidant attachment styles. I don't really talk much about fearful attachment styles because only 7% of the population has one.
That's not a lot, so generally speaking, your ex is not going to be the exception to the rule, but here's the interesting thing when you're looking at all four main attachment styles:
Secure attachment styles act like gravity for all the other attachment styles – drawing people in and inspiring them to be more secure as well.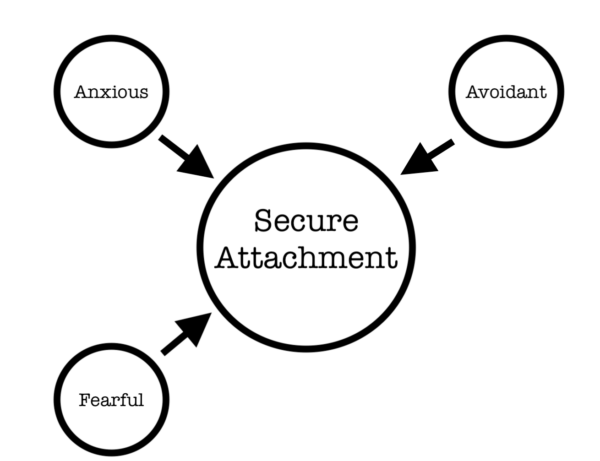 Let's pretend that you have a secure attachment style and your ex has an avoidant attachment style. Just by being with you, your ex will begin to copy or mirror secure attachment traits. It's like this gravity that pulls avoidant attachment more towards the secure attachment.
Unfortunately, most people don't get the "riding off into the sunset with newly formed secure attachment styles" ending. We often find that the biggest challenge isn't really getting an ex back; it's keeping them once you get them back.
50% of our clients who get their ex back end up breaking up again.
Our working theory behind why that happens is that we help you develop a secure attachment style, but it doesn't always stick.
Your secure attachment style pulls your ex in, but often when you get back into a relationship with them, you settle into old habits. So instead of holding onto the positive, secure attachment tendencies we teach, people start to regress back to their anxious attachment styles.
The more you go back towards an anxious attachment style, the more turned off your ex will be, especially if that's why they broke up with you in the first place. Now the biggest sign of an anxious attachment style is chasing after your ex, so you need to stop doing that if you want to adopt a more secure attachment style.
Conclusion:
Chasing after an ex is never a good idea because it makes you look desperate and reactionary.
Instead, you should go the opposite direction and adopt a secure attachment style, so you don't feel the need to chase after your ex.
Once you develop a secure attachment style, your ex will automatically be drawn to you.