EBR 057: Birthdays And The No Contact Rule
Will Text Messages Be THE THING That Gets Your Ex Back?
Play Podcast EpisodeOpens Up Podcast Player
I have been doing this for a good four years now and there is one question that I get that always kind of irks me.
It's not that it's necessarily a bad question or even that it's the most common situation people find themselves in. However, no matter what this one question seems to get asked on a daily basis.
Seriously!
So, what's the question?
Ummm Chris.. My exes birthday happens during the no contact rule. Can I break it to wish him a happy birthday?
Hmm… how can I put this…
ABSOLUTELY NOT!
I have probably told over a thousand women that over the years.
But you know what, maybe a man will soak in the information a bit better 😉 .
(Pretty lame segue, huh?)
Today we are about to make history on "The Ex Boyfriend Recovery Podcast" because for the first time ever, instead of featuring a woman on the podcast we are going to be featuring a man!
Now, the man who we are featuring wished to remain anonymous so from this point on whenever I refer to an "anonymous" I referring to the man who asked the question.
So, his situation is pretty simple,
I Am Going To Coach You… For FREE!
And that's where I come in!
What if I were to tell you that I have put together an "On Demand Coaching Class" where I am going to coach you for free?
All you need to do if you want to join my FREE coaching class is click the green button below,
Yes, I Want You To Coach MeSign Up For Free On Demand Coaching
I thought would be kind of cool to show you some of the actual results women have gotten through my "On Demand Coaching,"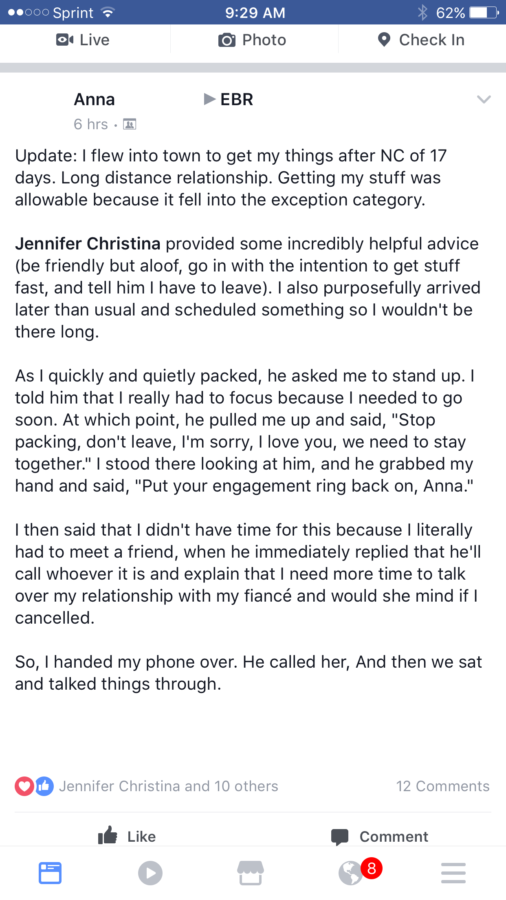 Oh, and if you were wondering "Jennifer Christina" is my wife 😉 .
This is another Facebook testimonial from someone who is on the Private Facebook Group.
I've got about 300 more Facebook testimonials just like this.
If you are interested in joining my Free On Demand Coaching please click the link below,
Video For Episode 57: (Birthdays And The No Contact Rule)
You'll notice that I have something new in front of my microphone in the video.
One of the biggest annoyances to filming these podcasts was the fact that the pop filter of my microphone obstructed so much of my face,
Well, after much deliberation I came to the realization that I was going to have to get a new pop filter that didn't obstruct my face at all. So, I went online, searched and eventually came across this bad boy,
Yay!
Now you can actually see me when I talk so I don't look like a robot.
Though now that I think about it maybe it wasn't such a good idea to show you more of my face. You'll be able to see every little imperfection or pimple I get.
OH NO!
Just kidding!
The Situation Anonymous Is Facing
He has literally just went through a breakup
He just started the no contact rule
His ex has a birthday coming up (next Wednesday) to be exact
He wonders if he should break the no contact rule (just this once) to wish his ex a happy birthday
He feels that if he doesn't, if he ignores her, that she is going to take it the wrong way and become mad at him
The Things We Talk About In This Episode
If you are allowed to break the no contact rule to wish your ex a happy birthday
The protocol to follow if your exes birthday ends on the no contact rule
The idea of making sure every action you take has a positive impact on your own situation
How an ex is going to view you saying "happy birthday" to them
Why it's a big mistake to break the no contact rule early
If an ex would ever not take you back because you didn't wish them a happy birthday
The Transcript For Episode 57
Click Here To Download The Transcript For Episode 57
Will Text Messages Be THE THING That Gets Your Ex Back?
In so many of the success stories I've heard over the years, the primary way that the couple communicated was texting. Texts are short, simple and can lead to HUGE results if you can send the right text message, in the right situation. But it all depends on the inner-dynamics of your relationship.
We've put together a quiz, so you can find out if text messages will work for your individual situation. It's a total of 19 questions, and only takes about 5 minutes to answer. Are you ready to know ?
Take 5 Minute Quiz
And Find Out Now!