Welcome to the Ex Boyfriend Recovery Podcast.
Today we're going to be talking about the rules for seeing your ex during the no contact rule.
Not a lot of people talk a lot about this, so I figured I'd give it some attention because it can be an important tactic that you use during your strategy if you have to break the no contact rule.
But first, if you haven't already, make sure you stop by my website, and take my Ex Recovery Chances quiz. It's a simple two-minute quiz designed to tell you what kind of chance you have of getting your ex back.
All you have to do if you want to take the quiz is simply go to my website, exboyfriendrecovery.com, or if you're watching this podcast episode on YouTube, simply look in the description link below the YouTube video and click on the link you see there.
The Rules Of Seeing Your Ex During No Contact
All right, so, what are the rules for seeing your ex during the no contact rule?
I get asked this question a lot, and not everyone knows how to handle the situation, so I'm going to give you a few guidelines to follow.
Four, to be exact. So, guideline number one is pretty simple.
Guideline #1: Is Your Meetup Important Enough?
Now, what do I mean by that? Well, most people, when they are confronted with a situation in which they have to break no contact, will sometimes play their cards a little too poorly.
And what I mean by that is, the number one issue that we have in my business is getting people to actually complete a no contact rule.
It's not hard to understand why, because we have found out that breakups are akin to going through a drug withdrawal.
Your body, your mind, your essence, your very soul is obsessed with seeing your ex. So it is easy to construct reasons to want to break a no contact rule simply so you can see your ex, when sometimes those reasons aren't important enough, right?
Let me give you a few examples of reasons that I've seen over the years that are important enough to break the no contact rule.
So, if your ex actually asks to exchange items with you, in this case, there's pretty much nothing you can do.
You can't sound like a rude person by not agreeing to exchange items. So, in this case, you're going to have to break no contact rule. Another really popular case in which it's okay to break the no contact rule is if your ex has important documents that you need to get to.
I had someone who I think even came onto this podcast once, who was telling me about a circumstance in which their ex had some tax documents for her father.
That seems like an important thing that you would need to get back after the breakup, so it's okay to break the no contact rule in that instance.
And it's okay to break the no contact rule to talk about your children. Now, that means you're probably not going to be doing the strictest sense of a no contact rule, you're going to be doing something called the limited no contact rule, but for now, let's just keep it very easy.
Let's say you're in a strict no contact rule, you don't share kids with your ex. These are some of the reasons that you need to be looking at that are important enough to break the no contact rule, which means it's not okay to break the no contact rule to get a single shirt that you don't care about.
I was just watching that famous Friends episode yesterday where Ross decides to break into his ex-girlfriend's apartment to get this salmon-colored shirt, and then of course his ex-girlfriend comes in with a new guy, and he's stuck there hiding in the apartment to try to get the salmon-colored shirt, and of course the girl gives the salmon-colored shirt to her date because the date spilled something on himself.
Don't be like that. It's also not okay to ask for a toothbrush back. You can go to the store and buy another toothbrush for like $5.
That's not a legitimate reason to break the no contact rule. Make sure that your reason, if you have to break the no contact rule, is important enough, and these are a few examples of things that are important.
Guideline #2: Get Your Ex To Jump Through Hoops For You
Now, the next thing you need to keep in mind is see if you can get your ex to jump through hoops for you.
What do I mean by that?
Well, there was someone once who came onto the podcast who successfully won her ex back, and she had this brilliant strategy of using game theory to get her ex to follow her from room to room to room. The idea here is, well, there's kind of a twofold idea here.
Number one is, by getting her ex to follow her from room to room to room, it creates a type of pattern of following, so it sort of establishes her as the dominant presence. He's moving with her from this room to this room to this room. The second reason is she said she wanted him to look at her butt.
So that's more of a physical direct reason, but I found it to be brilliant. And ironically, that very day during the meetup, her ex asked for her back, so, seemed to work out pretty well.
So, make sure you can get your ex to jump through hoops for you if it's possible. But when I say hoops, I'm not saying just force your ex to jump from room to room to room.
That was an idea that she had that was specific to her. Find an idea that is specific to you.
Maybe jumping through hoops is canceling at the last minute and reestablishing a new place to meet up. That would be jumping through a hoop. Basically, you need to get your ex to do something that goes the extra mile for you, but make sure it's not a ridiculous thing. Right?
Guideline #3: Look Your Best Obviously!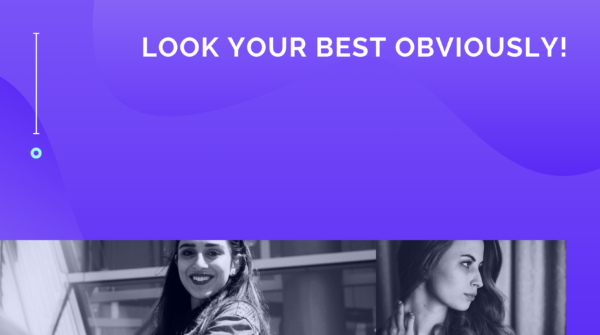 The next guideline or rule I would like you to follow is look your best.
I don't know really how much more to say it, other than make sure you're looking your best. I can't tell you how often someone will come in and look super depressed. So, the other aspect I'd like to touch on here is the fact that most people, when I talk about the no contact rule, only think about the aspects that will affect their ex-boyfriend.
But what really the no contact rule about is, yes, it's about making your ex miss you, it's about all of that reverse psychology type stuff, but it's also about resetting your own life and trying to get your life back on track a little bit, because we all know when we go through breakups, we're kind of a mess, right?
So, this is your opportunity to show your ex some of the physical changes that you've undergone, whether that's getting a new haircut, getting a new clothes, maybe you've lost a few weight in the 21 days or so that you've been ignoring your ex. This is an opportunity to put your best foot forward, and to show instead of tell your ex all of the changes that you have made positively.
Guideline #4: Leave Your Ex Wanting More
Now, the final guideline, and this is probably the most difficult thing, I think, for most women who I work with, is to leave your ex wanting more. Now, what does that mean, leave an ex wanting more? I can get all technical and talk about the Zeigarnik effect and all of those cool tactics, but here's what it means, basically.
Here's what you're trying to get. I find that we often fly too close to the sun when we meet an ex and we're not prepared for it.
What I mean by that is, you can get so sucked into a conversation because you're so in love with this person that it is really hard to peel back. What matters most isn't necessarily who starts the conversation, but who ends the conversation, right?
Oftentimes, women have been fed this false narrative of an ex has to be the one to reach out to you first, but I find the opposite's actually true. It doesn't really matter who ends up talking to you first. What matters is who ends up ending the conversation, because if you end the conversation, especially when it's getting good, and you end it at a high point, it gives your ex a reason to want to reestablish a new conversation with you. And pretty soon, if you are very consistent about ending conversations or leaving your ex wanting more… And those are two separate ideas because it's easy to end a conversation first, but your ex won't want more, so it's important to engage your ex in a conversation that he'll enjoy, and then suddenly have to leave, right?
And it's great, this is a technique that a lot of Hollywood screenwriters use. They put a ticking time bomb in the room. What I mean by that is, they establish the time is of the essence here. So let's say that you are going to meet your ex, right? And you meet your ex, and you tell him right before, "Hey, I can only stay for about 30 minutes," and you talk to your ex for 30 minutes, but a ticking time bomb has been established. It creates a sense of urgency for him to maybe want to talk to you more, and you've already got your built-in reason to leave. And the key is, if you do it right, you'll have left your ex wanting more.