Using Text Messages To Get Your Ex Boyfriend Back
Can Text Messages Work for you as a SECRET WEAPON in Getting Your Ex Back?
Using text messages to get your ex boyfriend back can be one of the most effective "recovery" tactics that one can employ. In fact, if done correctly, a text message can bring up reminiscent feelings that can set you on the right path to getting your ex back. However, there seems to be a huge misunderstanding among the women out there on how to actually use text messaging effectively. I am not going to lie to you, sending a text message is a huge risk, if done incorrectly you will decimate any chance you have of that happy reunion you keep daydreaming about. In order for this to work the landscape has to be set up in a certain way. Allow me to explain.
1 - Why Most Women FAIL When Texting
(For more in-depth information on why women fail at texting check out The Texting Bible)
Since you are all beautiful women 😉 I am sure you have had your fair share of suitors. Now, out of those suitors, throughout your years in the dating realm there has had to be one guy that didn't pick up the hints. He texted you, you ignored, he texted you again, you ignored again and so on and so forth. It usually looks a little something like this:
Essentially, this person turned into a text terrorist. The text receiver was clearly ignoring the sender but they refused to accept that fact so they kept texting until they they could get a response. Most women fail at texting their exes for the simple fact that they commit this texting sin and quite honestly it's not even their fault. Right after a break up everyone involved is out of whack emotionally and are prone to do some really stupid things. I have heard plenty of stories where women, in the heat of the moment, texted their exes multiple times, even after getting no response.
In essence, texting an ex boyfriend after a breakup is usually not a good idea. The better idea is to wait until the opportune moment where can maximize the power of the text message. First though, before we can do that, we are going to have to figure out how to create that opportune moment.
2 - Creating An Opportune Moment
(If you want to learn the in's and outs of texting an ex boyfriend I suggest you read The Texting Bible.)
This is going to sound really weird but for the next month I don't want you to talk to your ex boyfriend.
WHAT???
Yup, I know it sounds ridiculous but trust me, doing this will stack the odds in your favor in a very unique way. Did you know that after a breakup 95% of men still think about their girlfriends too much? Since I am a guy I can definitely say that this is a very true statement. The experts call this "freeze out" the no contact rule. Essentially for 30 days you are not going to talk, text, email or write to your ex. Oh, and in case you are wondering it is not going to be easy. Since you are on my site I am assuming that you are interested in somehow trying to get your boyfriend back. No matter how hard it is or how much you want to talk to him DO NOT DO IT, even if he responds you have to ignore it.
Can Text Messages Work for you as a SECRET WEAPON in Getting Your Ex Back?
In so many of the success stories I've heard over the years, the primary way that the couple communicated was texting.
Texts are short, simple and can lead to HUGE results if you can send the right text message, in the right situation. But it all depends on the inner-dynamics of your relationship.
We've put together a quiz, so you can find out if text messages will work for your individual situation. It's a total of 19 questions, and only takes about 5 minutes to answer.
Are you ready to know ?
Take 5 Minute Quiz
And Find Out Now!
3 - More About The No Contact Rule
Here is how the psychology behind the no contact rule is supposed to work. As a guy, I will admit we have a warped way of looking at things. For example, after a breakup a guy will think something like…
"Just wait, she will text me begging to come back."
Now, that is wrong on so many levels but you are going to use this type of thinking to your advantage. By completely taking 30 days to yourself without texting him or talking to him at all you are slowly taking control of the situation. Instead of thinking
"Just wait, she will text me begging to come back."
He is going to be thinking..
"Why hasn't she texted me yet? Has she moved on already?"
Do you see the power of the no contact rule now? It is basically the ultimate way to get him checking his phone every five minutes to see if today is the day that YOU will text HIM. That is how you create your opportune time to text him!
4 - Texting Strategies
(For the complete texting strategies please check out The Texting Bible.)
If you have advanced far enough to have created that "opportune moment" there is still a lot that has to be covered when it comes to texting. There is a subtle art to texting. You can't go zero to sixty in a second when it comes to this. In fact, you have to slowly lead up to the moment where he or you will hopefully go out on a date again. Allow me to explain this strategy a little more in depth.
The First Text
Have you ever heard that first impressions are everything? Well, that statement certainly rings true in this case. After basically blowing off your ex for a month straight your first text to them better have some substance to it. I always like to say that you should make your first contact text so interesting that they have no choice but to respond.
Example:
Remembering The Good Ole Days
One of the most interesting things about text messaging is the fact that every holds their texts as sacred. Very rarely will anyone ever willingly show someone their text messages. It is like their phone is their own personal sanctuary holding all their secrets and feelings about things. You are going to use this fact to your advantage.
IMPORTANT – You cannot move on to this text message until you successfully complete the first text message above.
The key with this type of text is to get your ex to remember the good parts of your relationship. The way you accomplish this is by going into great detail on one of the most positive experience that you had together as a couple. If you do this correctly you will bring up his most positive feelings about the relationship and get him thinking about you in a different more positive light. Now, while it is important that you get him to think positively about you it is also extremely important that you remain as positive as well. That means you can't get angry if things don't go according to plan. Handle every single text and interaction you have with your ex with as much grace as possible.
So, now that you have an idea of how to approach this type of a text lets look at a good example:
Is There A Place For A Jealousy Text?
This section is a little controversial, I am not going to lie. Some people have called this tactic manipulation but my job isn't to give my personal opinion on this matter it's just to give you the tactics that others have had success with. Jealousy can be a powerful motivator for a man. I remember once that one of my married friends told me something very interesting about the male psyche. He said that a man is a pretty simple creature. If he gets too used to a woman his eyes will tend to stray. However, if the woman he is dating/married to starts going to a bar and flirting with other guys he will come back down to earth and do everything that you want a good boyfriend or married man to do.
IMPORTANT – You cannot move on to this text message until you successfully complete the first text message above.
So, how does a jealous text work. Well the idea behind it is pretty simple, send a text message to your ex that could potentially get him jealous and bring up some of the lovey dovey feelings that he felt during your relationship. As a guy I can tell you that nothing makes you want a girl more than when you see her talking with another guy that is even moderately attractive. Here is how a jealousy text message would go: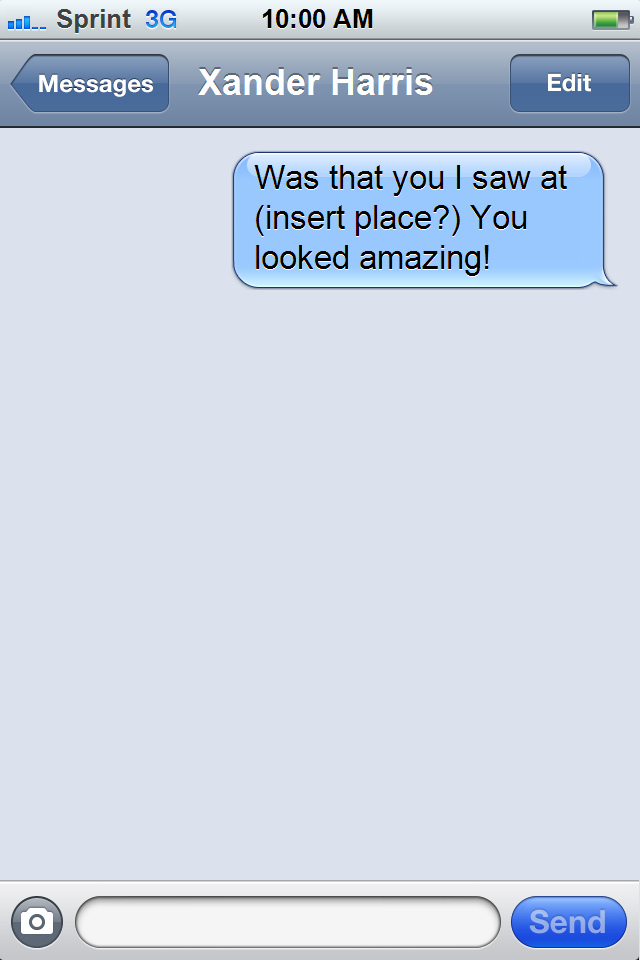 5 - Confused?
If you haven't already realized this, getting your ex back can be a very complicated process. In fact, I wouldn't be shocked if this entire page confused you. Don't worry, I got your back and I want to help you understand the best way you can get him back. There is a lot more to this process and quite frankly this page doesn't do a great job of describing exactly what you do step by step. So, if you are intrigued by this method but very confused I urge you to visit get my guide, Ex Boyfriend Recovery PRO. It may take you a while to read through the entire thing but it will break every step of the ex recovery process down for you, in-depth. It will also go into extreme detail about how you can use text messages to get your ex boyfriend back.