Today we're going to be talking about one of the most important things for you to know, learning exactly what to text an ex for the first time after a breakup.
This article is going to teach you three main things.
How the no contact rule interacts with your first contact text message
What your goal should be in your first texting interaction with your ex
Texting with the HIDE method
Let's begin.
Where Does The No Contact Rule Fit In? 
We teach a particular strategy at Ex Boyfriend Recovery and over on my YouTube channel.
It's called the no contact rule.
Stop me if you've heard this or seen this before,
For the uninitiated the no contact rule is defined as a period of time where you deny your ex any contact at all.
But how does that fit into texting?
Well, the mistake I see most people making after a breakup is that they immediately want to fix things.
In other words, they text their ex the very first opportunity they get which causes quite a few issues and more often than not you dig yourself into a hole when it comes to re-attraction.
So, rather than just texting your ex after a breakup and hoping to win him over, we recommend a period of No Contact where you're basically ignoring your ex on purpose for anywhere between 21, 30 or 45 days.
If you're curious as to why that is the timeframe I recommend I recorded an entire podcast episode about it here,
What this all means is that you are not going to be texting your ex at all until that No Contact period is over.
This might sound counterintuitive or even a bit mean…but it's a proven strategy.
If you want to know more about the No Contact Rule and how and why it works, I have lots of articles here on the site and lots of videos covering it on my YouTube channel.
Don't even think about texting your ex until you've successfully completed your No Contact period!
So, how do you text an ex once that No Contact period is over?
What are you supposed to say?
Well, the first thing you should always do is first set a goal.
The Goal Of Texting Your Ex After A Breakup
What is your goal?
Well, that's what this video is going to teach you,
A lot of people like to make a little too much out of the goal here and say "I want to win my ex back".
That's your overall main goal, but you're probably not going to achieve it with one text message.
I like to keep it simple.
Your goal is nothing more than to have a positive interaction with your ex.
Sounds easy, right? You've had multiple positive interactions in the relationship, after all.
But it's a little more difficult in these circumstances, especially if you've implemented a No Contact Rule and ignored them for those 21 to 45 days. They tend to be a little sore about that fact!
So how do you handle the interaction?
What do you say?
Well, that's where we really get to the meat of this article.
You're going to be using a special method, the HIDE method.
If you follow this to a T, you're going to have the best chance of having that positive interaction after the No Contact Rule.
Let's dissect the HIDE method.
What Is The HIDE Method? 
The hide method is an acronym I came up with after being asked by clients what the best type of text message to send an ex after a breakup was.
Simply put it stands for,
H- The Hook
I- Interests
D- Develop
E- End
If you're not confused I'd be shocked.
But don't worry, that's why I'm here to help you.
H – The Hook
One of the more difficult aspects that women tend to struggle with when texting an ex is figuring out what to say.
Oftentimes they'll use a generic 'Hey' or 'What's up?'. Something like that doesn't tend to get an ex's attention, especially if you've used the No Contact rule. You need something much more juicy.
It's all about hooking their interest and you're going to do that with a concept we call the pattern interrupt.
A pattern interrupt is anything that interrupts a normal pattern.
Your ex is almost expecting you to reach out and say 'hey what's up' eventually.
You're not going to do that. You're going to interrupt the norm.
Your goal is to send a text message to your ex and have him look at the message and do a double-take, because it's so interesting he just has to respond.
How do you do that?
You need to say something interesting and shocking at the same time.
Here are a few examples which clients have successfully used to get responses from their exes:
"You're not going to believe what just happened to me."
"I have a confession to make."
"I have a problem and only trust you to help me solve it."
Or if you're more of a "text format" type of person.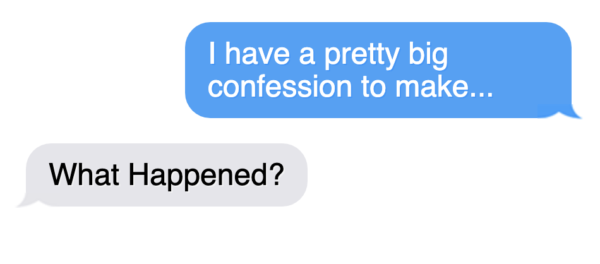 These are all great examples of hooks where you're catching someone's attention. Your ex will feel more curious and more motivated to respond if you spark their interest like this.
The last one is a great example because as well as inciting curiosity, it paints you as a 'damsel in distress' – this appeals to an ex's male pride, as if he is the only one who can help.
But there's more to having a positive interaction with your ex than simply getting a response with a great hook.
What are you going to say next?
This is where the I comes into play.
I – Cultivate Your Ex's Interests
If you've watched my YouTube channel then you've probably heard me say what I'm about to say a million times.
One of the biggest issues I see with people when they start texting again is that they tend to send messages about something they are interested in, and not things that their ex has any interest in.
There's nothing that can kill a conversation faster than talking to an ex about something he doesn't care about.
Remember, your goal is to have a positive interaction with your ex for the first time after the No Contact Rule, and one of the best ways to do that is by cultivating an interest of his and working it into your hook.
So, make a list of the things he's interested in – hobbies, projects, his work, what he likes to watch TV and film-wise. Where he likes to go, where he wants to travel, what music he's into – anything and everything you can think of.
Once you've finished your No Contact Rule period, you can check out his social media feeds and see what he's been posting about or sharing. The environment? Sport? Funny memes? Family stuff? Work-related stuff?
Whatever it is, take note of it. He's interested in it – so you could use it.
Try to think about ranking these interests. You were in a relationship with him, so you should have some idea of what's most important to him.
Then think about how you could talk about these interests. What questions could you ask him? What can he help you with?
Be aware that you should be asking for his opinions and for information you can't get from a Google search.
It should also feel fairly natural to text him about whatever it is. If he knows that you straight-up hate the TV show Friends, why would you suddenly text him about it, even if it's his favorite thing in the world?
So something where you might conceivably be a little bit interested is the best to choose.
Note that this is not the time to talk about your previous relationship with him. Don't say 'Remember when we did this/planned this/saw this together'. You can mention places you went together, or something you watched together like a TV series, but don't explicitly remind your ex of 'the good times' (or the bad!).
We call these 'memory texts' and they come later in the process, when you have built a good rapport. For now, just keep it simple.
There's a nice synergy to the HIDE method. Everything is supposed to interconnect to help you get that positive interaction.
Let's say your ex is obsessed with a certain author and the books this author writes. Let's also say you didn't generally care about this author at all, but now you've read some of their work, because you were curious about why your ex was so into them. (Or, okay, just so that you would have something to talk to him about!)
Or it's a musician, or a brand, or product. Whatever it is, you can use this example as a starter.
You use the "I have a confession to make" message.
Your ex responds, "What is it?" Or similar.
You reply, "I finally got around to reading a book by X [your ex's favorite author]. It was amazing!"
Now you've got your ex hooked into a conversation that interests him. So what are you supposed to do next?
Technically speaking, it's not been a really positive interaction until your ex feels satisfied with the conversation. So how do we make that happen?
Well, that's where the D comes into play.
D – Develop the Conversation
So you've just texted your ex about their favorite author and the fact you've read something by them.
Hopefully he's replied and maybe asked you which book you've read, or why you decided to read that author.
Now it's time to bond over your shared experience.
You talk about moments in the book, moments you just can't get out of your head, characters you loved or hated, how amazing that description of such-and-such a place was. (Hope you paid attention in English class!)
Even if you just read the book because your ex liked it, and you didn't enjoy it that much, you can find something to talk about.
The point is, you need to seem enthusiastic. For a positive interaction, he needs to match that excitement, which he can only do if you're creating a satisfying, interesting conversation.
One of the things I would recommend you do, especially if you are struggling to decide what to talk about with this book (or music, or whatever it is) is to use your trusty friend Google to see what others are saying about whatever topic you have chosen to talk about.
Check out Reddit as well. Reddit has areas created by fans of almost everything. Look at how rabid the fan base is when they talk about specific moments in a book. GoodReads is another great site for all things book-related.
People who bother to post their opinions on the internet are generally passionate about what they are discussing (whether positive or negative).
If you can bond with your ex like real fans bond over the book, or whatever else you want to bond over, it's going to develop the conversation into something your ex is going to remember and really enjoy.
Mission accomplished.
But all good things must come to an end.
One big issue we see with clients is that when they get this far into the HIDE method and get that positive interaction…they have a tendency to overstay their welcome.
They are so happy to talk to their ex, they keep the conversation going beyond that point of satisfaction.
That's where the E part of HIDE comes into play.
E – End The Conversation.
You must end the conversation at the point where you are having a positive, satisfying exchange.
Leave him wanting more.
There is such a thing as the Peak-End Rule.
Psychologists discovered some time ago that people remember experiences based on two points – the peak or the best part of the experience, and the end.
Don't believe me?
So by ending the conversation at the peak or the highest point of interest, you're going to gain the maximum benefit.
But what is the peak of the conversation?
It's the best part of the conversation, when you think, yes! He's enjoying this, and so am I!
The descent from the peak comes when you start to have to search for something to say. So far you're all tingles about how great it's going. He's engaging with you and the conversation is fun, or at least interesting.
But when you start to have to think about it too much (although of course this whole process is nerve-wracking!) that's a sign.
And if he doesn't respond in his usual timeframe, that's another really good sign that his interest is waning.
You might still have things to say, but you can save them.
If the conversation thus far has been a good one, quit while you're ahead.
And even if it's not been as amazing as you'd like, you need to recognize where that peak in the conversation is for him, not you, and exit.
Note that for the first text, you don't want to have a long conversation, and you should stick to one topic. This is all part of leaving him wanting more, and making sure you don't outstay your welcome.
But what's a great way to end the conversation?
Should you just abruptly end it and stop responding? Well, that's one way to do it, but it's probably better if you employ a more mature approach.
Have something happen that gives you a way to end the conversation.
You could say, "Oh, I forgot, I've got something in the oven! I'll have to go." Or, "My gym buddy is here, got to go now!"
It's best to make this something interesting as well – telling him you're going to the gym is more impressive than, "Oh, I have to go do my laundry."
Telling him you're going to the gym with a buddy is even better, because he's going to wonder who that buddy is…
You can even use something work-related which makes you sound busy and important: "I'm being called back into a meeting, I need to go."
Those ways of ending a conversation are a bit less abrupt than just cutting it off, but if you do want to go all out, just end the conversation by not responding.
This might be an option if the conversation hasn't gone as well as you wanted and he's been a bit less than positive, especially towards the end.
So that's what to text your ex for the first time.
But the HIDE method also works well for subsequent conversations.
It really is one of my favorite approaches to that all-important first interaction with your ex after No Contact, but also as you continue to message and build rapport.
Always remember to hook him in, talk about his interests not yours, develop the conversation into something satisfying, then end the exchange before that satisfaction level drops.
If you continue to do this, your ex will enjoy talking to you again, and he might even start initiating the conversations.
You will be one step closer to getting him back.
Thanks for getting to the end of this article! I hope you enjoyed reading about the HIDE method.
There are loads more articles on the site to help you with every step of the process of getting your ex back, and don't forget my YouTube channel as well.
If you need clarification on anything, just leave me a comment here – it's really important to me that I know more so I can help you, and I try to answer as many comments as I can.
And remember, if you want to figure out your chances of getting your ex back, take the free and simple quiz here on the Ex Boyfriend Recovery site.