Let me ask you a question.
What if I told you that there was a way that you could dramatically improve the odds of making an ex initiate contact with you.
And it's actually a lot easier than you think.
As it stands, many of us want to see our ex reach out to us first because it makes us feel powerful and today, we're going to talk about how to do just that.
But first, I'm going to dispel one of the biggest misconceptions you probably  have about how to get your ex to contact you first, and then I'll teach you what actually works to make that happen.
Let's begin.
The Biggest Misconception About Getting An Ex To Reach Out To You First
Let me start by saying something equally important as this misconception.
If any of you have read my other articles or watched my videos, you probably already know that to me, getting your ex to contact you first isn't as valuable as ending the conversation first.
But we'll get back to that because that's not what I'm talking about here.
This misconception is even bigger and something I've fallen for too.
It's the notion that giving your ex the silent treatment by ignoring them will make them contact you first.
In fact, I'm going to go out on a limb and say that you probably won't get that result at all if you ignore your ex and expect them to contact you first.
I know that probably sounds weird coming from a huge proponent of the no-contact rule, but my idea of the no contact rule has always been different than my peers.
Here's the truth;
Almost everyone I've ever met who's trying to get their ex back looks at the no contact rule the same way.
They all think about what the rule can do to make their ex contact them or miss them.
While that's a symptom of the no contact rule it's not the entire point of it.
Technically that doesn't answer our question, though – why is it that silence will not make an ex reach out to you first?
If you know me, you know that I always aim to back my claims up with facts and real-life examples.
I didn't always do this, especially when I started ex-boyfriend recovery because I relied on my assumptions rather than polling my clients to see how breakups unfolded.
My assumptions were great for writing articles but not great for helping you move forward.
So, I decided to collect hard data and challenge my initial assumption about using silence to make a man contact you.
I used my private Facebook support group for this.
This isn't a pitch, but I want to give you more context.
So, we basically have a private Facebook group for people who purchase the ex-boyfriend recovery program – my flagship course on getting your ex back or getting over your ex – so they can help and hear each other out. I often do Facebook lives (my wife and other coaches/moderators make appearances too!), and I put out several polls to get accurate information about bouncing back from real people's breakups.
My polling question regarding this topic was: "How many of you who have completed a no contact rule have had an ex contact you during it?"
The results were a little shocking to me.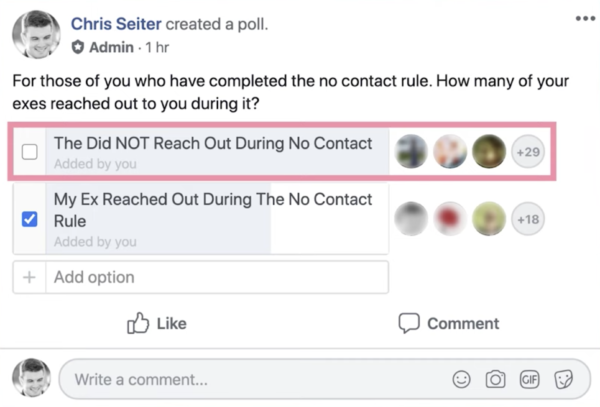 Out of 47 people that answered my poll, 29 of them said that their ex did not reach out during the no contact rule.
What does this tell us?
Almost 62% of participants in this poll did not have their exes reach out to them when they gave their exes the silent treatment.
Why?
Quite simply – I believe that men are stubborn.
This is the main reason why they don't want to break the silence during the no contact rule, and they want you to be the first to reach out.
Their ego needs to be stroked at least for a little while before they start initiating conversations.
So, How Can You Make Your Ex Reach Out To You First? 
Well, remember at the beginning of this article when I said that it doesn't really matter who reaches out first but who ends the conversation.
That's very relevant here.
You need to master two psychological factors if you want your ex to reach out to you first.
When I say you want to "master" these factors, it's not really about mastering a special technique or saying a specific thing that'll make them reach out; it's more about fostering an environment where it's natural for them to want to reach out to you first.
So, what are these two psychological factors you need to have.
First you must create a conversation that satisfies them
End conversations consistently utilizing the Zeigarnik Effect
Allow me to dive in a bit more.
Factor #1: Engage In A Satisfying Conversation 
What I'm about to say totally goes against everything you've ever been taught but I always recommend my clients to reach out to men first after the no contact rule.
Why so?
Often my go-to saying is that it's more about who ends the conversation than about who starts it, but really, what I'm not telling you in that quote that when you reach out, it then allows you to create and control a satisfying conversation.
In fact, I would actually argue that this is the number one area where people struggle.
Yeah, a lot of people (around 80% according to our research) fail the no contact rule at some point, but that's not really where they struggle the most.
They struggle to get back in touch with their ex, build rapport, and make conversations satisfying.
The trick is if you want your ex to initiate contact with you is that you need to get in a state where you guys are having consistent, satisfying conversations.
Defining What A Satisfying Conversation Looks Like
Well, satisfying conversations are different depending on the individual.
For some, a satisfying conversation is a ten-minute conversation, while for some, it's an hour-long conversation.
Read my article about the kind of texts you should send your ex to stimulate their interests and have great conversations.
The key to a satisfying conversation is always making sure it satisfies your ex and not just you!
Talk about your exes' passions to engage them on a deeper level, so they're surprised at you sharing their likes.
Now that you know you need to strike satisfying conversations; how should you end these conversations when they become satisfying?
That's where point # 2 comes in.
Factor #2: The Zeigarnik Effect
This psychological concept was created by Dr. Bluma Zeigarnik, who said that,
"People remember interrupted or incomplete tasks better than completed ones."
In other words, people are addicted to cliffhangers.
If you've ever noticed your favorite tv shows and the particular reason behind you binge-watching them, it boils down to the episodes ending on a cliffhanger – always leaving you wanting to know more.
Let's talk about Netflix because it's an odd scenario (because it releases all its content at once) that's superbly popular these days.
How many of us have gotten so sucked into a Netflix show that its 2 AM, we know we have work the next day, yet we still say those fatal last words "just one more episode."
The cliff hanger at the end of the episode causes you to watch that extra episode, lose sleep, and have a miserable day at work the next because you just HAVE to find out what happens next.
That's the Zeigarnik effect.
It interrupts the story at the most exciting part, so you think, "Hey, I wanna find out what happens next."
By the way, I'm watching this amazing show called The Last Kingdom from Netflix that does this perfectly. Check it out!
Anyways, back on topic, when we started recommending that our clients do this in conversations, we noticed immediate results!
But how do you do this with your ex?
Well, the first part is having a satisfying conversation with your ex, so he's engaged with you.
Usually, there's a point in that conversation where it becomes less satisfying and more longish and boring.
You want to make sure to end the conversation before it starts going downhill.
This is usually where there are lots of awkward silences because you've already talked about everything you could.
I tell my clients that this all comes down to a gut feeling when you think, "I don't want this to end."
That's the precise moment to end it because your ex probably doesn't want it to end either!
Of course, everyone always gets caught up in the details and obsess about specific ways to end the conversation. Here are some of the best ways.
Work has suddenly called and you need to tend to a problem
Your child interrupts the conversation (if you're a mom)
Your phone accidentally dies
The truth is that you can have a lot of fun dreaming up ides like this.
Here's the main thing, though: You want the conversation to end abruptly and prematurely because you want your ex to want more.
What happens when you combine satisfaction and the Zeigarnik effect?
Well, nothing immediately.
A lot of people expect their ex to reach out to them the very next morning to finish the conversation or to talk about something else, but it doesn't always work that way.
We've learned that if you have a satisfying conversation with your ex that you end at the high points of the conversation, it's usually not enough to get your ex to initiate contact.
What you need is to have a LOT of consistently satisfying conversations that you end prematurely because the more you develop this pattern, eventually, they'll have to interrupt and start a conversation first because they need to find out what happens next.
Eventually, they will want to reach out to you the very next day to continue a conversation. So, keep having those satisfying conversations and ending them first! That fosters the environment needed for them to initiate a conversation.
Conclusion:
Aiming to have your ex reach out to you first really isn't that important as long as you're ending the conversations at the high points.
If you keep having satisfying conversations with your ex and ending them before they get boring, your ex is bound to desire to talk to you so he will reach out first eventually.