Today we are going to be talking about why your ex isn't responding to you.
More importantly, we are going to talk about what you can do about it to change the dynamics and get your ex excited to respond to you.
Sounds too good to be true, right?
But I think as you read this article you'll learn that a lot of the reasons for why your ex isn't responding to you is self inflicted.
But more on that in a second.
For now, there are four main things I'd like to talk to you about.
4 Reasons Your Ex Isn't Responding To You And What You Can Do About It
After a lot of debate I have determined that there are really four things that I'd like this article to cover,
You've Been Labeled As The "Crazy Ex"
You Are Only Talking About Things That Interest You
You Don't Have A Hook
You Failed To Build Up Enough Excitement To Get A Response
The really interesting thing is that a lot of the clients I work with ask me this question and after working with them and dissecting their situations I notice that a lot of the reasons their exes don't want to talk to them are due to self inflicted wounds.
The four "reasons" above are those wounds.
Allow me to elaborate.
Reason #1: You've Been Labeled As The "Crazy Ex"
When I was 20 years old I met a girl.
That's the start of every great story, isn't it? 
Anyways, the girl "kind of " caught my interest but I wouldn't go as far as saying that I was captivated with her.
It was one of those situations where you meet someone and you think to yourself,
She's interesting…
At that point I had been through enough heartbreak to know that you don't go "all in" on someone unless you know there is a strong chance of your feelings being reciprocated.
A week is all it took for me to realize that this girl was crazy.
Now, people throw that word around but no one really defines it so I'll be the first to attempt.
Crazy = Emotionally Unstable Stalker
Picture this,
And multiply it by one hundred.
This girl that I met was that crazy.
I knew her for a week and she already thought she had claim to me.
I'll never forget the day I realized that she was emotionally unstable.
She got angry at me for not responding to her fast enough.
Bear in mind, I have known this girl for a week.
Anyways, it's not like this was the first time I had ever witnessed this behavior so I texted her this to be open and honest with her,
It backed her off immediately.
In fact, she became very apologetic and her behavior was a bit better for the next week or so. However, one thing I've learned about humans is that change is difficult to enact.
Usually what happens when someone decides to "change" is that they do… for a short period of time and slowly get back to their old habits.
Anyways, a week goes by and she pulls the same old song and dance again.
This time I was less forgiving and blocked her.
I told you this little story to give you insight into one of the reasons your ex may not be responding to you.
If you've done something that proves you are emotionally unstable that can sometimes be enough to make someone avoid you.
Reason #2: You Are Only Talking About Things That Interest You
I've been coaching people through breakups for almost seven years.
You tend to learn a lot when you focus on something for seven years.
For example, one thing I wasn't counting on was learning how self interested human beings are.
Take my clients as an example.
Most of them come to me because they want their exes back.
They want their exes back because it'll make them feel better.
It's all rooted in self interest.
That's pretty easy to understand but let's look at something as seemingly insignificant as having a conversation with someone.
I'm about to admit something that is probably going to get me in trouble later but that's just how much I care about you guys 🙂 .
I love my wife more than anything.
However, when she starts talking about projects around the house or things that aren't really interesting to me I can zone out a bit.
Why?
Because it's not overly interesting to me.
It's not that I find her boring or anything like that it's just that when a conversation gets boring I can zone out.
This is the exact reason I see so many people fail when they text their exes.
People like to attack the problem in their own way with their own blinders on.
By doing that they fail to realize that their exes don't really care at all what they are talking about.
Reason #3: You Don't Have A Hook
A few weeks ago I created a YouTube video where I was talking about the importance of having a hook when you text your ex,
In that video I talk about this idea of how "great hooks" combine two concepts,
Curiosity
Self Interest
When I first started Ex Boyfriend Recovery I falsely believed that all you needed to do to get an ex to respond to you was create enough curiosity.
But curiosity alone isn't enough to get someone to respond to a text for example.
Especially if that someone wants nothing to do with you.
That's where my little speech on self interest above comes into play.
If you craft a text that really hones in on your exes self interest you are likely to get a response.
The problem is that out of every coaching client I've ever had none actually do this.
I can't tell you how many times a client will come to me complaining about the fact that their ex isn't responding to their texts only to learn that the texts they sent were basic one word "reach outs" like this,
You're going to need a better hook than that.
Reason #4: You Failed To Build Up Enough Excitement To Get A Response
Throughout the history of Ex Boyfriend Recovery and my coaching business there have been two consistent strategies that I employ.
The No Contact Rule
The Zeigarnik Effect
For this reason I'd like to zone in on the zeigarnik effect because it is very relevant.
To begin, the zeigarnik effect states that people remember uncompleted tasks better than completed ones.
I've often cited the zeigarnik effect as a reason for why hollywood shows like Game of Thrones are so popular.
It's because there is no immediate resolution and we have to wait another week to see what happens.
That uncompleted tasks annoys and excites us.
If you are trying to get your ex back and you come at this process by being boring or unmemorable in your interactions your ex isn't going to want to talk to you.
Think of it like this,
Let's pretend this is what the average conversation with your ex looks like.
Notice that at the beginning the conversation builds up in excitement until it inevitably peaks and then as time wears on that excitement lessens.
Most of the clients I work with tend to end conversations here,
Now, at a glance that may not seem like a big deal but what if I were to tell you that it actually is.
You aren't giving your ex enough of a reason to get excited about talking to you again.
You aren't taking advantage of the zeigarnik effect.
By ending the conversation here,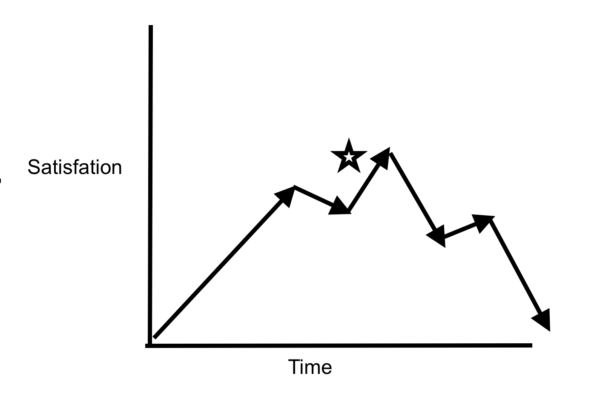 It actually becomes much more memorable.
You are ending the conversation without resolution.
Your ex craves resolution.
Here's another little thought experiment to illustrate this point.
Let's say that I were to walk into your house and leave the door open.
I stay there for four hours and the entire time the door is open.
All throughout my stay one singular though occupies your mind.
I wan to close that fuc*ing door…
Why?
Because it's an uncompleted task.
The same principle applies to your ex.
Give them a reason to be excited to talk to you.
Now, that also leads us to another interesting question.
What happens if your conversation looks like this?
In other words, what do you do if your conversation never gets off the ground?
Well, then your problem isn't so much that your conversation is going on too long but that it's not interesting enough.
In this particular circumstance the reason your ex isn't responding to you is probably because you aren't doing enough in conversation to hold their interest.
You aren't making them excited to talk to you because your conversations are boring.
My recommendation in this case is to actually check out my book so I can help you spice up your conversations.