One evening, after a very long and trying day at work, I decided to sit down and watch some TV.
You know, like a regular person would do to unwind after a stressful workday.
As I flipped through channels trying to find something that I wanted to watch, I stumbled upon an NBA game.
Now, I'm not much of a sports fan but my sports fanatic ex boyfriend was, and it kind of rubbed off. He was into every kind of sport; golf, hockey, basketball, baseball, football.
You name it, he's probably played it.
Being the big sports fan he was, he rooted for the one team that represented his hometown of Houston, Texas.
And who was playing that night's NBA game, you ask?
If you guessed his team… you would be right.
The Houston Rockets!
Such luck!
They were playing some other team I've forgotten. But let's be real, it's not that important. What's important was that the Rockets were playing and all I could think about was my ex boyfriend.
It had been one month since our breakup. I had just completed my No Contact period of my Ex Boyfriend Recovery process, and I hadn't messaged my ex boyfriend since before that.
So, as I sat there on my bed watching the Rockets lose this playoff game to team whoever, my heart sank for two reasons (aside from the fact that the Rockets were losing):
having been influenced by my ex's love for this team made me feel like it was my own team losing

all I could think of was,
"I wanna text him about it. I want to ask him what he's thinking about this game and the Rockets' chances at the playoffs now. I want to text him…I want to…I want to…but…"
After every breakup, thoughts tend to cloud our heads. If we are being honest, most of those thoughts tend to trail back to your ex boyfriend.
Even something as trivial as seeing flipping past a team playing on TV or binge-watching "Strangers Things" would just about set you off because your mind is saying, 
"We used to watch that show together…"
But I digress. After all, I'm not writing an article about what triggers your emotions after a breakup.
Today I want to talk about the desire that comes after that initial thought, the question that makes you ask,
"Should I text him or not?"
You are likely familiar with the silent debate that happens every time you pick up your phone… and then set it back down… only to pick it back up five seconds later.
Or it could be an actual debate that you have with friends or family about whether you should text him or not.
No matter what, though, when you do pick up that phone, you set it down again when you think of what external influences have said to you:
"Girl… don't do it. Just don't."

"You guys broke up for a reason. Don't invite that mess back into your life."

""Well…don't get mad if he doesn't reply, then. You only brought this on yourself."

"It's over. Let it go."
No matter who is speaking sense to you…
your best friend

your sister

his best friend

his sister

the girl who is serving you today's coffee

your dog

even you talking to yourself
…they all seem to tell you the same answer that you don't want to hear.
You'd ask just about anyone just to hear the words you always want to hear.
"Yes! Text him RIGHT NOW!"
The truth is, deciding whether you should text him or not can be one of the most trying decisions you will face while going through the EBR Program.
Why?
Well, it can make or break you because it is one of those first steps that you take after No Contact. Knowing when it is right is not always easy.
So let's talk about some of the situations you may find yourself facing.
Should I Text Him First?
After breaking up with my previous ex boyfriend, I went on a few dates to help me get over him. I remember one guy in particular who I had a one month fling with. I say "fling" because we were just casually dating and never set any labels what we were doing. Towards the end of this fling, this guy had stopped being responsive and what went from daily morning texts and continued conversations from the night before slowly becoming nothing.
When I realized what was happening, panic set in and that's when I asked myself, Should I text him first?
You're probably feeling that way about your ex right now, aren't you? You're sure whether or not to text him. In fact, the only thing you are sure of is that you do want to text him.
I get it. I really do.
We all feel that way at some point. And whether you should text him or not depends whether or not you've completed your EBR process. That is if you've read the Ex Boyfriend Recovery Program, implemented a full No Contact, and you're now contemplating your first text draft.
You might be wondering,
"Why do I need to read a book and go through a 'process' before texting him? I should be able to text him whenever I want! This is ridiculous. You sound just like all of my friends and family."
Hey, I'm still on your side, ace!
The reason I say that it depends on your situation is that I highly encourage you to complete the EBR process first before sending out a text. That way, your texting conversation will end successfully with your ex thinking, 
"Man, my life is missing something and I think it's her."
With every article I write, I always like to highlight the benefits of going through No Contact, but instead of doing that here, I will just leave another article I wrote about it here, "The No Contact Rule Is Killing Me."
By letting you read that on your own we can move on and talk about what's really important,
how you're feeling right now

how to handle it in a way that will work in your favor
See, being a contributor AND a member of the EBR Facebook group, I've seen instances of girls jumping the gun and texting their exes before they've started or completed No Contact.This leaves them back at square one, hurt that things didn't pan out the way they hoped.
No Contact allows you and your ex time to heal from whatever split you up in the first place. If you haven't allowed yourself time and distance from your ex you're running the risk of ruining any chances of getting back together.
Simply put, if you haven't gone through No Contact, PUT THE PHONE DOWN!
Don't worry… I'm not saying you can't text him ever. I'm saying you can't text him now.
However, If you have gone through No Contact… that's a different story.
Once you finish No Contact you reach a stage in the process I like to call reconnecting.
Basically, you should be feeling better about yourself and the stage of life you're in after making it through No Contact and using that time to become an Ungettable Girl. 
If this is where you are in the EBR Process, then yeah, it's alright to text him. Just make sure you are following the guidelines laid out for you in the Ex Boyfriend Recovery Program and The Texting Bible.
We also have an article about "Keeping Your Ex Engaged While Texting." This is a good source of information to read BEFORE you try and text your ex to make sure you get the best results.
Each of these includes example texts have been shown to be successful for the women who've implemented them in their own strategies.
For more examples on how to send a text to and carry on a conversation with an ex, you can refer to this podcast article.
Basically, to wrap up this section, as long as your situation is one where you're now an Ungettable Girl who's successfully gone through No Contact…
well… you can go on with your bad self and text him already!
To be clear let's put it like this…
Question: Should I Text Him?
Answer: Depends on the situation. If you have successfully completed No Contact and have read the material on texting your ex, then yes. If not, no.
Should I Text Him Again?
Let's say you decided to text your ex for the first time. Maybe You had one solid conversation with him maybe not. Either way, you haven't heard from him since. Now you're at a crossroads wondering whether you text him again, right?
If we are being honest, you probably started wondering this at about 10 or 15 minutes after you sent the last text you sent, didn't you?
At this point, I'd suggest waiting a day or two before texting your ex again. Maybe even wait three days to keep him on his toes!
After that, honestly, there is no hurt in texting again – especially if his response was positive.
On the other hand, if your conversation was uneventful and left you with the impression that you were more invested in the conversation than your ex was, you should definitely wait a while before you send him another text. I'd suggest several days to a week, so you seem more cool and collected and less likely to overwhelm him.
You should definitely read The Texting Bible if you hadn't before your first text. This will assure that you send a text that he can't help but respond positively to.
If your texting streak is strong with him, he will naturally be expecting to hear from you.And when that expectation isn't satisfied right away, the tables could be turned and he will be the one picking up the phone and be debating if he should text you or not.
Question: Should I text him again?
Answer: Stick to playing it safe and wait a few of days. If he responded negatively or didn't respond at all to the last text, give it a week or so.
Should I Text Him If He Has a New Girlfriend?
I'm going to keep this section short because I think the scenario speaks for itself.
Look, I understand that you want to reconnect with your ex whether you know if you want to get back together with him or not yet. But you have to be extremely careful in this situation.
Normally, I would encourage you to go out and get what you want. But, I would never encourage it at the expense of someone else's happiness.
In this case, I would say that you should text him ONLY if it is absolutely necessary.
Like, if you need something that you can only get from him; belongings you left at his place, approval to cancel joint accounts, something involving a child or a pet that belongs to both of you, etc.
If you have a desire to text him outside of these limits, remember to be sensible and sensitive.
Keep any conversation with your ex, who is already dating someone else, platonic and light. No subtle flirting or planting ideas in his head. 
You don't want to ruin his relationship. Then, he would blame you for it. Why would he ever want to get back with you after that?
Letting him make that call on his own is important.
Not to mention, how would you feel if your boyfriend kept getting messages from his ex? Not good, right?
Question: Should I text him if he has a girlfriend?
Answer: If you are using the Being There method, then you should be following the guidelines in that section of the book. Otherwise, the only reason you should message and ex who has a girlfriend is if there is no way to avoid it.
No, this does not mean make up an excuse to text him. If there is another way… use it.
Should I Text Him If He Hasn't Texted Me Back?
So, you got brave and sent a text and your ex had the audacity not to text back.
Girl, I have been there.
The real question is… how long has it been since you sent it?
A few minutes?
And you're already Googling what to do? Calm down and give it some time before you go panicking. I'd still read this article though. It's full of good stuff.
A few hours?
Dude, he has a life too. He's probably out living it. Don't flip out just yet.
More than a day?
Okay, reading this article isn't an overreaction.
Control Your Emotions
I hate to throw it in your face, but you guys aren't together anymore. You're broken up. So, unless you have a pretty good friendship with your ex, you're not gonna be texting each other every day.
It's a bit unrealistic to do so, and your ex will have other priorities in his life now that come before texting you. So, you shouldn't get too mad or too upset about it because you're living different lives now.
So before you react, remember to keep your cool and stay calm.
Know WHEN To Text Him
Assuming after you read this article you decide that you can text your ex again when he hasn't responded yet, then you should be mindful of his schedule.
I'm not saying be a stalker and text him at six in the morning when you know he is just getting up. That's weird.
Instead, shoot over a text at six in the evening, when he is off of work and probably numbing his mind with social media.
This assures that you are not driving yourself crazy thinking that your ex is blatantly ignoring your texts when in actuality he's just at work… you know… working.
Change Up Your Talking Points
I've met girls from the EBR Facebook group who've implemented a texting calendar, which they followed using the model in the Ex Recovery Program. Some of them used it just to track when they texted their exes (every other day, every two days, etc.) Others used it to track that, as well as who texted first on each day, so they can keep up a pattern and not text first too often.
Both were helpful in their cases, but the most successful implementation of the calendar was from one girl who used it on another level. She used the calendar to track:
When

messages were sent

Who

sent them

The Topic of the conversation that day.
By doing that, the girl was able to see what topics her ex was most likely to respond to. Then she used that information to create conversations that lasted a while versus those that just seem to fall short.
Follow her lead and try to change things up in your next text message!
Question: Should I text him if he hasn't texted me back?
Answer: Be patient. Learning how to control your emotions is paramount.
Tip: Whenever I would send an ex a text, I would turn my phone on 'Airplane Mode' so that I wasn't constantly checking my phone or worrying about when he would text.
Instead, I just went on with my life, and an hour later, I'd turn my phone back on and lo and behold, he'd message me back!  
If that doesn't work he doesn't text back after two days to a week, go on a short NC period of a week or so, and try again. You can't go wrong with a little No Contact for a while!
Should I Text Him If He's Mad At Me?
If your ex boyfriend is mad at you and you're wondering if you should text him or not, I still would suggest texting him… after giving him enough time to let the anger subside.
Now if you are really asking,
"Should I text him and apologize?"
Then no.
You shouldn't.
After No Contact you have a fresh start. There is nothing that will ruin it faster than bringing up past transgressions.
I know, I know… there isn't an exact indicator of how long your ex will stay mad at you. There's simply no way of knowing when you can text him. But if he was angry with you right after the breakup, then obviously texting him a week after breaking up will not be enough time. Use common sense.
I'd suggest going through a 30 or 45 day No Contact, depending on the severity of the disagreement, which would give you both time to heal before you send a text.
Question: Should I text him if he is mad at me?
Give it time. A long No Contact is ideal for tough situations like this. That's it. There is no solution for anger better than time. And don't ruin the good will you've gained by bringing up an old fight or whatever he is mad at you about. It's tricky, but you should only talk about those things if he brings them up. And even then, you should keep it simple.
For example: You guys have been chatting for a second and he says, "So we're just going to pretend that never happened?" you shouldn't explain your point and start an argument over it. What you should say is, "Oh yeah, I completely forgot about that. I could've handled that better. I hope we can put it in the past." OR "I'm glad you brought that up. Obviously, I feel really strongly about that, but I could have handled it better or been more patient. It isn't something we need to talk about right now, but if you want I'd be happy to explain my thought process on that another time."
You see? You aren't admitting that you are wrong. You aren't accusing him of anything. There is no real blame being tossed around. AND you are setting it aside for another time so it doesn't derail the two of you getting reacquainted.
Should I Text Him If I Haven't Heard From Him in a While?
The last time I sent my ex a text was at the beginning of November when the World Series was happening. Yes, new season, new sports playoff series.
If you recall, the Houston Astros were facing off against the LA Dodgers for the World Series. If you recall even more from this article, the Houston Astros is my ex's team. He even used to have their flag hanging in his closet in his old apartment. Well, if you know that then you also remember that I am not into sports. When I do watch sports, I simply cheer on teams from California because where I'm from. So, naturally, I adopted the Dodgers as my own.
During a particular game in the Series, my ex had posted his excitement of the games on his Instagram. We hadn't talked since August, which isn't a long period of time, but it was the longest I'd gone without talking to him since my No Contact.
Again, I debated whether or not to text him. This time, however, I ultimately decided I would text him.
I tried to be funny in this text, so I sent him something along the lines of,
"Ah man, I can't watch this game because I have to work! But I hope your team loses! Just kidding. Good luck."
Luckily for me, I really did have to work, so I wasn't concerned with checking my texts to see how'd he reply. After my shift, I checked my phone and he did reply about how the game was emotionally charged, but it was a good game anyway. I was happy that he texted back, but even happier because the Dodgers managed to win that particular game.
The moral of this story is, even if a lot of time passed you and your ex by, you can still text him. Just be mindful of what you do send him. It would definitely be a little weird to just send him a simple "Hey" message because he might've deleted your number  He may also need to be reminded of who you are. A lot can happen in a long time.
In this case, a good memory text would be good to send. Memory texts usually involve telling your ex about how you encountered something that made you think of them as the subject. Sending a memory text would mean something more and would elicit more a response from your ex than one that just simply says
"Hi."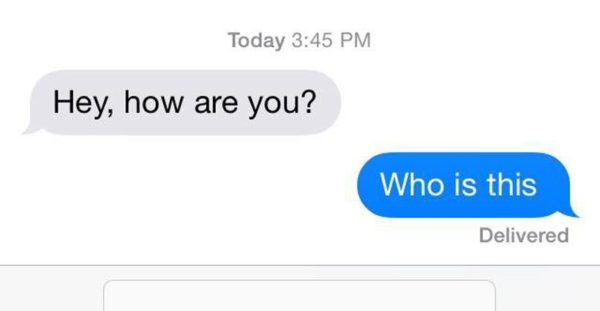 I mean, think about it. It's been a year or two since your ex would be hearing from you. Do you think he'd simply reply to a "Hey" out of the blue on a random Tuesday in July?
Probably not.
He'd probably be more interested in replying to a text that went along the lines of,
"Hey, remember when we went on to that roller rink just because we'd thought it'd be cheesy but we ended up having fun instead? Well, I fell on my ass trying it again today, but it made me think of you!"
It shows that even after all that time, that memory is still a dear one to you while also showing him that you were thinking of him. It opens up a conversation avenue for you both and since it's a light, funny topic, he'll probably take the bait and reply to you.
Question: Should I text him if I haven't heard from him in a while?
Answer: Yes. Definitely. But only if you have read the EBR information so you don't send something that will work against you in the long run.
The Takeaway
Going back to the initial story about wanting to text my ex about the Houston Rockets' loss to that team in the playoffs, I eventually did manage to text him. I waited a while to gather what I would say before I texted it took me several drafts and sent him this:
"Hey, so I was watching the Houston Rockets game and I thought of you automatically! WHAT is going on with them?"
He responded with a laughing emoji and telling me that they were having a rough playoff season, but most people from Houston take more pride in football and baseball over basketball anyway. So no, he wasn't hurt at all.
The takeaway here is that, yes, you can text your ex. But no – you can't text him for just any random reason and if your current situation doesn't call for it.
If it's a particularly difficult situation – one where he has a girlfriend or if he's mad at you – then take some time before you reach out to him. Give him the space you both need. If you still haven't done No Contact, then now is the time. Here is a video that explains what No Contact is featuring our fearless leader Chris.
When you do text him for the first time, remember to send him a good first text to get his attention and to keep the conversation going. If there is a lull ever in the conversation, take another shorter No Contact period, and try again.
Texting is the gateway to getting your ex to open back up to you. If you follow the rules and practices in the EBR process, you'll be successful in no time.
Okay, so now that you have an idea of how to handle the desire to text the ex… let's talk about your specific situation. I want you to tell me about the circumstances surrounding your breakup. I also want to know what you have done since then and what you think your next move should be. Then, our experts will work with you to decide what will be your best next move.