Today I'm going to show you exactly how to decode mixed signals you may be getting from your ex.
In fact:
All of the "mixed signals" I'm going to be talking about today is coming directly from our clients exes and our findings based on them.
Let's dive in.
Why Is My Ex Sending Mixed Signals?
Your ex might be sending you mixed signals because they are experiencing confusion about how to handle the breakup. They aren't sure exactly how they are feeling yet and want to keep their romantic options with you open in case they decide they want to come back.
The challenging part about all of this is that mixed signals come in many shapes and forms.
Today we are going to highlight some of the most common mixed signals exes will send your way and hopefully shed some light into what's going through their head.
You're going to learn,
Why your ex is hot and cold
Why they are angry with you (when they were the ones who actually broke up with you)
Why they say they care but don't want to commit
Why some exes are caught in an on again/off again loop
If your ex is playing mind games with you
Why they ghosted you for months and then suddenly flirt with you
Why they may want to meet up after they broke up with you
They say they want to be friends but treat me like a romantic partner
Things seemed to be going so well and then they suddenly stopped talking to me
Why your ex tells you they aren't ready for a relationship only to move on to someone else
How to tell if your ex is pretending to be over you
Let's begin!
Why Is My Ex Hot And Cold?
Let's start first by defining what "hot" and "cold" behavior actually looks like.
Generally speaking "hot" behavior is when your ex does something nice that makes you believe that they want you back.
Some of the most common examples that we've come across include:
Texting you that they love you
Texting you that they miss you
Setting up a date to see you in person
Flirting with you in a way that makes you think they are going to come back
Of course they don't come back. They are nice to you at first and then they do something mean that makes you think they don't want you at all.
Some of our clients in the private Facebook support group (which you can gain access to through our products) have lovingly referred to this concept as rubber banding.
So, what's going on here?
Why is your ex giving you these complicated mixed signals?
Simply put, they are experiencing the pendulum swing of emotions that go in tandem with a breakup.
I highly recommend you watch this interview I did with our Head Coach, Anna Gonowon.
In it we talk a lot about this concept of nostalgic reverie and why your ex is basically hardwired to care about you.
Nostalgic Reverie is basically a more complicated way of talking about this Disneyesque version of a powerful moment in your relationship with your ex.
What tends to happen during those "hot" moments with your ex is that they are trapped in a bout of strong nostalgia and often communicating with you in this positive way because of it.
However, after a day or two goes by and that nostalgia wears off they aren't looking at that powerful memory or moment in the same way and the allure kind of wears off.
They look at the nostalgia as a lie.
Hence, them being mean or "cold."
Now, don't let this discourage you because we have found it's incredibly normal for them to have these bouts of nostalgia/false nostalgia.
The fact that they are having this internal war is almost always a good thing from the perspective that they care about you.
Remember, the opposite of love isn't hate, it's indifference.
Why Are They Angry With Me When They Broke Up With Me?
Perhaps the biggest advantage Ex Boyfriend Recovery has over its competitors is me!
Ok, that sounded incredibly arrogant but hear me out.
Not to toot my own horn but one of my biggest strengths is that I can serve as this pseudo bridge to help you understand the paradoxes your ex will put forth.
Having your ex be angry at you when they broke up with you is at the height of those paradoxes.
What the heck is going on here.
Well, once again I'm going to recommend you check out this amazing interview Coach Anna and I did on anger because ultimately that's what we are studying here with this mixed signal.
So, the interview is basically over an hour and we cover all kinds of amazing things relating to exes getting mad or angry at you.
But perhaps the biggest "a ha" moment came when we discussed the source of all aggressive behavior.
As strange as it sounds there's almost this addictive quality to anger.
This seductive power.
Take a situation where your ex says,
"You're stupid"
Hurtful, right?
But what they are really implying is that,
"They are smart while you are stupid."
Their anger allows them to take control of a situation which is personally validating for them.
Ultimately, by being angry it allows them to feel good about themselves.
Essentially it's a convoluted coping mechanism.
And if you operate with this knowledge your ex being angry at you for a breakup that they initiated begins to makes sense.
Rather than owning the fact that the breakup hurts more than they expected it to they decide to cope with the pain by blaming the source of the pain, you.
My Ex Says They Care But Won't Commit?
So, your ex told you that they miss you.
They told you they love you.
They told you that they still care about you deeply but that commitment never seems to come.
Worse, when you push them on it they crawl into their shell and avoid you altogether.
What the heck is going on here?
I've been no stranger to the notion that most of the exes we encounter here on Ex Boyfriend Recovery have avoidant tendencies.
In fact, a recent poll in our private Facebook group proved just that with over 80% of participants admitting their exes were either avoidant or fearful.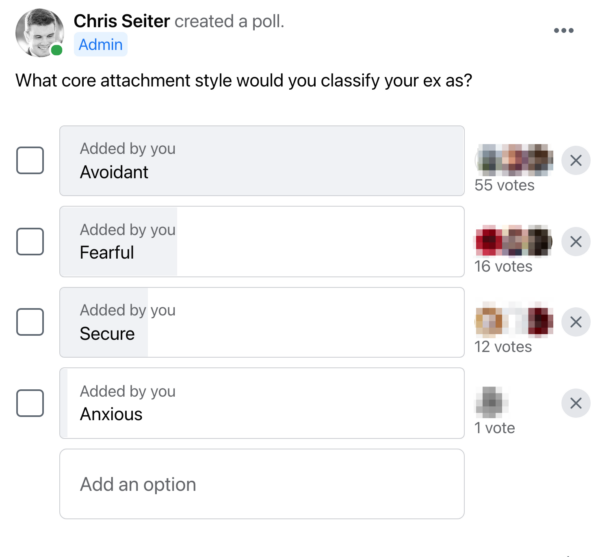 The thing that is often lost on people when they first start learning about attachment styles is how avoidant people tend to operate.
What they value more than anything is their independence.
And I think there is a key to understanding this particular mixed signal in that independence.
An avoidant will often crave intimacy but the paradox occurs when that when they get too much of it they run citing an attack on their independence.
What we know about our average client is that they tend to have anxious tendencies which is essentially the polar opposite of an ex with avoidant tendencies.
The two don't play well together with the anxious person often craving intimacy too much and the avoidant person craving independence.
So why then is an avoidant saying,
"I miss you…"
"I care about you.."
And seeming to contradict that statement by keeping you at arms length.
For that we need to pull from what we know about the timing of when this mixed signal occurs.
Remember above when I said that a common misconception is that avoidant people do crave intimacy but often their own need for independence outshines that craving for intimacy?
It essentially becomes the self fulfilling prophecy where the avoidant will,
Crave intimacy
Get too much intimacy from their partner
Feel their independence is threatened
Push their partner away
Then feel bad about themselves and wonder whey they can't ever find anyone.
Then start the process over again
Getting stuck in this victim circle basically explains why they are saying they care about you but never committing.
The moment they are craving intimacy tends to be when they contact you with the,
"I love you…"
"I miss you…"
"I care about you…"
And when you respond normally they freak out because they feel their independence is being threatened.
So they push you away.
My Ex And I Are Constantly On And Off Again
Remember in my explanation above about "Hot and Cold" exes I talked about nostalgic reverie and how that plays into the hot moments?
Well, that concept comes back into play here.
On again/off again relationships are quite literally the bane of my existence.
I've been incredibly blessed over the years with a lot of different success stories.
Unfortunately, roughly half of them break up again after getting back together and they enter the viscous cycle that is on again/ off again phases.
What's going on here?
Well, sometimes that nostalgic moment your ex has is so all consuming that it creates this mini honeymoon period where that's all they think about for weeks to months at a time.
Ultimately that nostalgia for "the way things used to be" is so strong that it causes them to ask for you back.
However, they get a rude awakening when that honeymoon period wears off and they realize that things won't ever be the way they used to be.
Now, that doesn't mean they can't be better, they can.
But often times what happens during on again/off again relationships is you have two people who are the exact same two people they were during the last breakup getting back together again and repeating history once more.
Albert Einstein had it right when he said,
The definition of insanity is doing the same thing over and over again and expecting a different result.
Ultimately something needs to be change on the next go around.
Luckily, we specialize in that.
My Ex Is Playing Mind Games With Me
Another strange form of "mixed signal" your ex will engage in is that of the mind games they can play with you.
Now, "mind games" come in many shapes and sizes.
There are mind games that an ex will play when they want you back and games they will play when they are unsure if they want you back or not.
We will be here for hours if I started writing about each and every game we've seen an ex play over the decade we've been at this so here's what I'm going to do instead.
I'm going to direct you quickly to the articles and resources we've created that cover these.
If you're interested in learning about the mind games an ex will play if they want you back then I suggest you watch this,
If you are interested in learning about the mind games an ex will play if they are unsure whether or not they want you back then watch this,
Let's move on.
My Ex Ghosted Me For Months And They Flirted With Me
Here we have a really interesting mixed signal.
You have an ex who ghosts you and then months later suddenly comes back and begins flirting with you.
Now, I suppose that is the extreme version of this. In most cases your ex won't ghost you all the way.
I've always gone to extremes when considering an ex who "ghosts you" as someone who will cut you out of their life, pretend you don't exist and never talk to you again.
That's technically not what's happening here.
Instead it's almost like your ex takes a mini no contact rule out on you and then after enough time has gone by gets back in touch with you which of course confuses the heck out of you.
However, we think we understand why this mixed signal exists.
Lately I've cited attachment styles a lot.
Specifically how we believe that most of your exes are going to exhibit avoidant tendencies.
The key in understanding this mixed signal lies in their avoidant nature.
According to Free To Attach, Avoidants are free to long for an ex once that person is unavailable out of the relationship, and typically out of contact so they are untouched by actual engagement.
In other words, your ex will not begin to actually miss you or have that nostalgic reverie until enough time has gone by that they think you've moved on.
So, when your ex ghosts you, that nostalgia kicks in eventually and then they get back in touch with you or are more responsive towards your reach out attempts, hence the flirting.
Why Would An Ex Want To Meet Up After Breaking Up With Me?
I struggled on whether to include this on the list at all. After all, I actually don't consider this to be that much of a mixed signal but people were actively searching for it and asking about it so I decided to include it.
How does this work?
Well, your ex breaks up with you and seemingly wants nothing to do with you when all of a sudden they want to meet up with you.
Most of the time we see this happen after you've used a no contact rule on them.
In other words, either during no contact they'll reach out to you asking to see you or immediately after you get back in touch with them they'll do it.
They want you to skip the value ladder.
Of course, I've seen this mad rush to see an ex in person before its time go both ways.
Most of the time it blows up in our clients faces.
The ex was craving the intimacy that suddenly stopped upon the breakup and once they get it again reality doesn't quite live up to expectation and it reaffirms their decision to break up with you.
This is often where we will have someone come in and ask our support group why an ex who asked them on a date suddenly disappeared.
Simply put, you gave them what they were looking for on their terms instead of yours.
An action that seems like it would raise your value in their eyes has the opposite effect.
Now, I'm not going to lie, there have been some success story outliers that have had success by breaking all of the rules.
It's important to understand these are the exceptions and most often not the rule.
My Ex Says They Want To Be Friends But Treat Me Like A Romantic Partner
For me personally perhaps the most difficult thing about going through a breakup was the sudden change in routine.
I'm a slave to my routine and I'm not a huge fan of change so as you can imagine well I didn't deal very well with my past breakups.
Turns out, I'm not the only one.
Most exes won't exhibit this mixed signal but the ones that do are likely going to be just like me.
They'll be the ones to break up with you.
They'll say they want to be just friends.
But the things they say and do don't quite back that up.
They constantly flirt, maybe even kiss you.
Oh, but you're just friends.
What the heck is going on here?
Two possible explanations exist that makes sense to me.
Your ex wants to keep you on the hook while they explore other options
Your ex believes moving on from you is important but unconsciously they can't help themselves.
We've already discussed the first possibility in a different mixed signal so let's focus on that second one.
After every breakup a battle exists within your ex.
The battle to do better than you.
Sometimes they can find someone better than you but most of the time they don't.
So, what happens if they don't find someone better than you?
Well, that's where regret kicks in and they actively begin to do things to indicate that they miss you.
Things Were Going So Well And Then My Ex Suddenly Stopped Talking To Me
This mixed signal is perhaps the bane of my existence.
So, how does it work.
Well, your ex is talking to you and things seem to be going well but then all of a sudden they disappear.
Essentially they are talking to you and then ignore you.
Why?
There could be numerous culprits.
Though most of the time simple tactical errors are behind it.
So, we teach a concept called The Value Ladder here at Ex Boyfriend Recovery.
Basically it's this very simplistic view of how you should be communicating with your ex.
Ultimately there are five methods of communication you can have with your ex.
Social Media Means (posting things through social media that they see.)
Text Messaging (Texting your ex)
Phone Calls/Video Chats (Just like it sounds)
Meetups ( In person interactions where your ex isn't sure if you are on a date or not)
Romantic Dates (In person interactions designed to be romantic)
The value ladder is designed to be climbed.
Essentially you don't move up to a new method of communication until you have built sufficient value on the one before it.
This is the single biggest tactical mistake we see our clients making.
After they complete a no contact rule they go too fast too soon. Sure, your ex seems to play ball at first but eventually if you push the boundaries too soon it scares your ex off.
My Ex Told Me They Aren't Ready For A Relationship But Then Move On To Someone Else
I believe we call people hypocrites who do things like this.
You know, they say one thing but do another.
If your ex tells you that they aren't ready for a relationship during the precipice of a breakup what they are really saying is that they think they can do better than you.
After all, this is what all breakups boil down to at their core.
It's a crude way of looking at it but it certainly helps explain this particular mixed signal, doesn't it?
You shouldn't be shocked that your ex is trying to find someone better than you.
The best thing for you to do is control the factors you actually have some control over and that's how you respond.
Make your ex regret their assumption.
There is no one better out there for them than you.
How Can I Tell If My Ex Is Pretending To Be Over Me?
A few months ago I filmed this beauty,
In it I cover the ten signs that your ex is pretending to be over you.
1. You Believe They Are An Avoidant Attachment Style
2. The Couple Routine Never Really Changes
3. They Are Always Stalking Your Social Media
4. They Are A Little Too Forceful In Convincing Everyone That They Are Over You
5. They Fish Around Your Sphere Of Influence
6. They Refuse To Pick Up Your Stuff
7. They Are Insanely Hot And Cold
8. They Remove All Your Couple Photos Except One
9. They Send A Spy After You
10. They Go On The Rebound Really Quickly
Now, while I would love to sit here and give you an in-depth analysis of each one of the signs I've already done that via the video and the accompanying article that goes with it.
So, check those out.