Hi Guys!
My name is Amor and I am the virtual relationship specialist for Ex Boyfriend Recovery.
In other words, I answer all of your comments and help Chris create content for the website. When Chris hired me and I first started answering comments for EBR (example below.)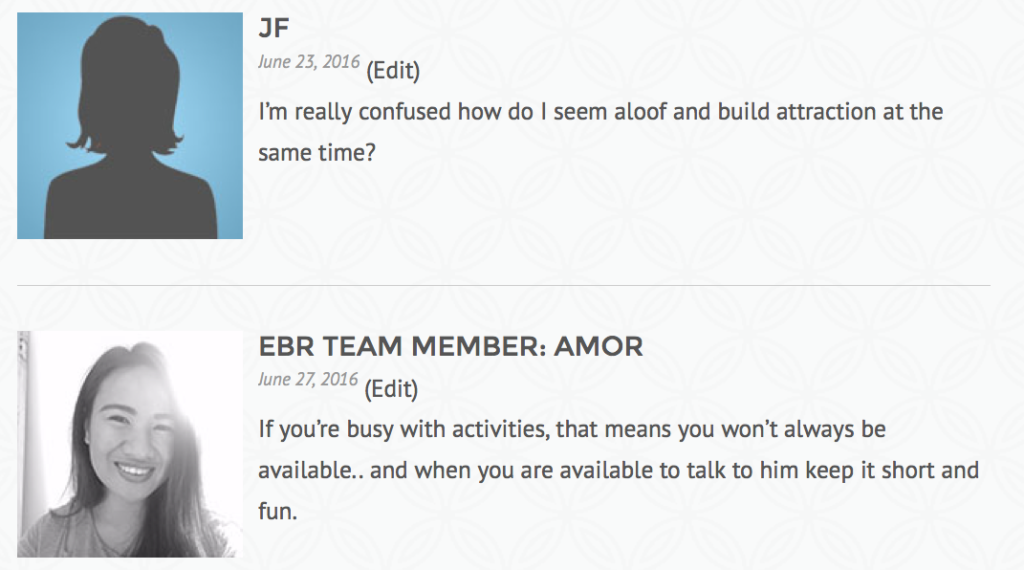 I constantly found myself wondering,
"I wonder why this person's boyfriend broke up with them?"
The truth is that I wanted to know because I wanted to avoid the cause because I am in a relationship too.
But as time went on and I interacted with thousands of commenters I came to understand that there are no hard rules with relationships. However, if you look hard enough you can find commonalities.
And that's what I wanted to write about today.
I wanted to talk about the most common reasons that I have seen for why a boyfriend breaks up with you.
It's funny, sometimes the same reasons for a breakup came from the same exact scenarios it just happened that they were from different commenters. I even ended up asking one or two of them if they are the same person, but it turns out that they just made the same type of mistakes and ended up in the same situation.
So, here is how this page is going to work. I have compiled the top ten most common reasons for a breakup that I have encountered in my time with Ex Boyfriend Recovery. However, when I was running this article by Chris he was adamant that everything that we posted to the site had to be the best in the world.
Therefore, he suggested that in addition to giving you the most common reasons for a breakup I should also give you what to do if you find yourself in that particular situation.
That Chris…
He always makes me do more work. I guess that's why Ex Boyfriend Recovery is beloved by so many people though.
Let's not get off topic.
You are probably dying to see the reasons, right? Well, prepare your heart for a bumpy ride because I know that even though you are excited some of these reasons are going to cause you just a pinch of pain too.
Let's go!
Part One: The Most Common Reasons For Why He Broke Up With You
Like I said above, I have compiled the 10 most common reasons for why your ex boyfriend broke up with you.
Some of you may be sitting back and wondering if there is a specific reason for why I ordered the reasons in this way.
No…
Please disregard that type of thinking.
I just started brainstorming and jotted reasons down as I went.
I guess what I am trying to say is that there is no rhyme or reason for why these are ordered the way they are.
Ok, enough talking.
It's time to teach!
Reason One: His "Feelings" Aren't The Same Anymore
I can't tell you how many times I have seen this. In fact, I think that I've seen this so many times that I think this is the new "It's not you, it's me."
I am getting visions of George from Seinfeld,
If your ex boyfriend said any of the things below then it's a pretty safe bet that you have fallen into "reason one."
"The relationship is not the same as before anymore."
"You changed a lot, and you're not the person I used to love."
"I just don't feel "in love" anymore"
"I still love you but I'm not in love with you."
"It doesn't feel right anymore."
The truth is, is that there are a lot of reasons for why a person might change their feelings but I figured this might be easier if we stay in the spirit of the article and tackle the most common reasons for why an ex boyfriends feelings changed for you.
Complacency
You've heard of the honeymoon stage, right? It's the first stage of a relationship. It's when everything feels right and nothing could go wrong and you agree on pretty much everything!
I am pretty sure Chris has talked about this a lot and has even recorded a podcast episode of it.
Well, complacency is what happens right after "the honeymoon period."
Initially I thought that having a man be complacent would only happen during a long term relationship but it actually starts when the honeymoon period ends. Its right when you start to get comfortable around each other, and you stop going the extra mile to impress him. So, of course when you get to that comfortable stage of the relationship you start to show more of who you really are.
Now, I know what you are thinking,
"So, are you saying I can't be myself anymore Amor?"
Not exactly…
Let me be more specific, so you don't get confused. .
I work at home. So, I don't have much of a reason to fix myself up.
(Sometimes I look like a lioness with my uncombed big messy hair!)
(Fun Side Note: When I first started working at home, my boyfriend used to tease me that I can stop bathing because I don't have anywhere to go now! (Don't worry I didn't stop taking a bath!)
But I did stop combing my hair!
I stopped putting make up on
Wearing good clothes
I could go on but I think you get the idea
I became the very definition of complacent.
And since I work at home, I began asking my boyfriend to spend all of his available time with me. So, we would only watch TV when I didn't have to work and if he wasn't  available I would just sleep.
Okay, maybe that's an extreme example but sometimes in order to illustrate a point you have to be extreme.
Here are a few more relatable ones:
When you go to the same place every time, because you had so much fun there the last time you went and it begins to get old.
When you do the same things for him all the time because you think it makes him happy.
And on the flip side when you stop to do the things that you used to do to attract him.
So, those are just some of the things I could think of but I think you get my point.
Reason Two: You Just Aren't A Good Match
Here's a question for you,
Is there really such a thing as not being a good match for your ex when in reality both of you fell in love with each other at one point during your relationship? Isn't that the very definition of being a good match?
It's a very hard question to answer but I think most of the time people who realize that they aren't a good match for their significant other didn't get to know each other well enough before they jumped into a committed relationship.
Heck, sometimes it's also because one of them entered the relationship for the wrong reasons in the first place (see rebound) and eventually they came to their senses and realized they aren't a good match for their current significant other.
Now, I imagine at this point you are probably sitting back wondering,
"Amor, I don't quite get it…"
I completely understand your confusion. So, in an effort to clear up some of that confusion here are different examples illustrating what I am trying to say about being a mismatch with your ex.
Scenario 1: Your Values Don't Match
Let's pretend that you used a dating app and ended up dating this guy.
As time goes by, you begin to discover traits about him that you he didn't exactly display during the "get to know you phase." Eventually you discover a few things about him that you don't like but when you weigh it on your handy pro's and con's chart,
The good outweighs the bad.
So, you continue dating.
But then that fateful day happens where you discover the one trait about him that is the deal breaker.
Maybe he likes kicking puppies or something like that.
Do you let him go or not?
You let him go, DUH!
You aren't a match anymore.
Scenario 2: Feeling Like You Are Not Enough

Believe it or not but I actually encounter a lot of this.
Most of the time, the other person doesn't deserve the partner they have. For example, let's say that you felt this extreme pressure to be a certain way because the guy you are dating has these HUGE standards and if you don't meet these standards he is going to feel that you aren't enough for him.
I'll give you an example.
Actually this example is from a comment that I answered story and truthfully it sounds like it would make a great Hollywood movie.
At first, I couldn't believe the choices she made but hey, on some level I understand where she is coming from. We're all human and we make mistakes.
Oh, and if this person is reading and worried about their identity being outed I want to assure you that I didn't name you and I made your story sound as vague as possible for your protection.
Are you ready for the story?
One day a girl meets a guy that she is very interested in. He is everything that she wants in a man. He is successful, has a degree and his family life is incredible. So, after meeting him she decided that she was going to tell a little white lie.
She told him that she was successful academically and had a degree (she didn't have one.) She also neglected to mention that her family life was not the greatest.
The truth is that he had very high standards for women.
And at first, he liked her because he thought she had this degree and when he would close his eyes he could see a good future for the both of them.
Now, here is where things get crazy. The girl was currently in school studying for her degree and in her mind if she could just hold the lie long enough to finish her degree he wouldn't ever find out that she lied. Of course, you probably know what happened next. The whole situation got caught up in a series of lies and eventually the guy found out.
But here is my question to you. Who do you think is really at fault here?
The girl, because she lied?

OR

The guy, because of his expectations?
Another very common example of this, and I think you girls can relate more to this one, is when a guy says that he's not good enough for you.
For example he will say something like,
"You will find someone better. I'm just not the guy for you."
But honestly who is he to tell you that he's not the one for you? Ultimately it's your decision to decide for yourself who is right for you.
Don't worry we'll get to that later.
Reason Three: A New Chapter…
I know what you're thinking,
Amor, what do you mean when you say "new chapter?"
New chapters are life changing events that happen in our lives. Most of the time they can be very exciting but sometimes you come across a "new chapter" that is a bit sad.
This begs an interesting question,
How do you actually identify a new chapter in life?
"Would him getting a new girlfriend be considered a "new chapter?""
Yes it would.
Him getting a new girlfriend is considered a life changing event.
"Ok, well what if he got a new car?"
Hmm… technically this is an event that will change his life but getting a new car doesn't really change much about his day to day routine, it just makes some of it either faster or more efficient.
"Moving to a new house?"
Yes, I would consider this to be a "life changing" event. In fact, this is a life changing event that is happening for Chris, the founder of Ex Boyfriend Recovery.
As I am writing this post he is traveling across The United States with his wife to settle into his first home.
(Make sure you congratulate him in the comments. I'll earn some extra brownie points.)
Of course, this is Ex Boyfriend Recovery so we are going to discuss life changing events that directly affected your breakup with your ex boyfriend.
I've listed the most common ones that I have seen while answering comments below,
Graduating From School (Or Transferring To A New School)
Ahh graduations.. It's the one event that makes you feel like a "grown up" and gives you a huge sense of accomplishment. And let's not forget the fact that it's a very exciting event for couples too!
Actually all this talk about graduations reminded me of a story between me and my boyfriend.
I haven't told anyone on Ex Boyfriend Recovery this before but I actually went to college with my boyfriend. The college we ended up attending was only a two year university and after we both graduated we were faced with a decision.
Should we continue our education or should we try to enter the workforce?
Ultimately I decided that I was going to enter the workforce while my boyfriend decided that he was going to finish out his education.
We had both come to a crossroads and we took opposite paths,

Truthfully I was so envious when he went back to school while I went on to work at a mall as a cashier.
Not that I'm ashamed of the cashier job. I just came to the realization that I really wanted to finish school.
But I was also very happy for him too.
Of course, the one thing I didn't count on was the fact that some of our school friends teased us by saying things like,
You guys are probably going to breakup…

How can a relationship last if you don't get to see each other that often?
I'm not going to lie, it was hard.
We weren't in a long distance relationship "per se" but our schedules barely matched.
My work became extremely stressful (I'll tell you all about that in the career section!) while he was having fun at school.
Eventually I would always find myself comparing my work schedule to his school responsibilities and I became a little resentful that he was having an easier time than I was.
The truth was that we had different priorities and we were kind of living in different worlds. Ultimately we were always fighting because we didn't quite understand each other anymore.
But I really do feel like those trials and tribulations with him made me so much more sympathetic to what you guys are going through.
For example, I am constantly reading stories where a couple breaks up because the two members of the relationship graduated high school and decided to attend different colleges.
This is the most common scenario I have been seeing lately,
You and boyfriend are so happy because both of you are graduating. He's not showing any signs of having a problem with you or the incoming new chapter in your lives.
And then during vacation, you spend almost every day together.
He's all sweet.
Planning out exactly what you guys should do while you're apart. How you can make "the long distance relationship" work. Yada, yada, yada.
And then, in the blink of an eye when both of you are about to go to college he breaks up with you.
Why?
Because he sees (and he says) that in the future (in college) your relationship probably won't work because of the distance and both of you might meet other people.
Side Note: Most guys won't even say all of this. Deep down they don't want to hurt your feelings because they know that the truth will probably hurt you on a very deep level and you may feel like he led you on (which he kind of did.)
Another very big life change can revolve around career and business.
Career and Business
Your career is arguably going to be the biggest part of your life.
But can it really be an underlying reason for a breakup?
Of course!
I would like to continue the story I started telling you above.
Do you remember how I told you that my boyfriend and I had to take different paths?
I went to work while he decided to continue school.
The truth is that I had to find work so I could help my family with household expenses.
I remember there were actually times where I cried a lot because of the sheer stress of the job I had found. But it was made even worse because I couldn't see my boyfriend who I was deeply in love with. I only had about 1 to 2 days off a week.
And I always spent my first day off catching up on sleep because I always felt extremely sleep deprived. And here is where things get tricky. Sometimes my work would schedule my second day off three days after my first day off. So, what do you think I did with that day off?
I slept!
The Result = I did not get to see my boyfriend at all….
Now, I know what you are thinking,
Amor, being a cashier at a mall is kind of an easy job.
Not true… malls in my country are the "go to" place for everyone. It's a little insane how much traffic would go through there
So, while I was working there my boyfriend and I didn't get to see each other at all.
And I feel like this is a common issue for people who have a career.
According to this article from Business Insider;
The average person spends 90,000 hours at work over their lifetime.
And that might not be the most shocking statistic cited.
According to the article a couple in which one partner spends 10+ more than usual at work, divorce twice the average rate!
So, when your boyfriend would constantly say to you that he is extremely stressed from work. There are certain times where that could be a valid gripe.
But when I did my research it wasn't really the work itself that was causing the problems. It's the simple fact that one party in the relationship is overworked.
Though I would like to say it's also my personal belief that most of the time the environment at his job can be a cause of stress too.
Look, here is what I am getting at.
The more stressed your boyfriend becomes in his job the more stress it will put on your relationship.
I have experienced this phenomenon myself and I can tell that just by reading and replying to hundreds of comments every day that you are experiencing it too.
Oh, and don't even get me started on a mans fear of losing his job.
Fear in and of itself is enough to cause a breakup.
Family Matters
For those of you wondering when I refer to "family matters" I am not talking about the famous 90's TV show with Steve Urkel.
When I refer to "family matters" I am referring to life changes involving your family. And the truth is that life changes revolving around your family can be extremely difficult to deal with. Not just because when there's a change it's big by nature but it's also due to the fact that it doesn't just involve you and him, it involves the other members of the family too.
But I think the smartest way to start this off is by talking about being a parent.
I'd specifically like to focus in on these two areas,
When you have a newborn together
When one of you has a child outside of your relationship
If you are wondering about my personal life I am actually not a parent yet.
Well, that's not exactly true.
I'm a "fur" parent.
Fur Parent = Being A Parent To Dogs And Cats
But even though I love my cats and dogs of course, the responsibilities don't compare to having a child.
Let's talk about newborns.
When You Have A Newborn Together
At first, I was going to add being pregnant as a reason but we already have a separate article for that so I figured I would just leave that article to explain everything.
Anyways, when I was in high school I met three life changing people. These three women would go on to be my best friends in the whole world. We did everything you can imagine together. But one day that all changed.
Care to take a guess at what changed it?
It was actually when one of our core group found out she was pregnant.
We were ready to adjust and all. There would be no more late nights with her for a while. Actually now that I think about it we haven't had any late nights with her ever since she had the little one 🙁 . But I remember that the last time I talked to her she mentioned something that I thought was interesting.
She mentioned that she thought her husband had undergone some changes himself as a result of the baby being born.
She is a working mom. So, when her daughter was born she took maternity leave but had to go back to work early (I think only about 3 months after the birth.) She shared that while she was at home, she felt empty. Not just because she was used to working but because she feels she has to have this other world completely separate from being a mom.
Don't get me wrong, she's a very good mom.
But what I gathered from her little pow wow was that sometimes mothers can forget that they're not just moms. In other words, human beings are much more than just parents, they have their own hobbies, schedules, aspirations and most of the time you share those things with your husband or boyfriend.
But when you become a mom you are forced to put some of those hobbies or aspirations aside.
Such is motherhood…
It's easy to forget that you're a wife or a girlfriend too. You have other duties as a woman.
You're not just a mom.
When One Of You Have A Child Outside Of The Relationship
It always breaks my heart when I read a situation in the comments where an ex boyfriend says that his child doesn't approve of the relationship or when his child is too young to understand and he chooses to breakup with her.
Unfortunately this can happen a lot when your relationship is the new chapter in that child's life and that child sees you as a threat to his/her relationship with his/her parent.
What are you supposed to do in this situation?
Do you convince him to stay and wait for the child to get used to you or do you just accept the fact that his child may never approve of you?
Though I will say that this is generally a rare reason for a breakup.
Actually, the more common reason revolves around when you are the parent of the child and your ex boyfriend suddenly realizes that he can't be a father to your child yet. In other words, he isn't ready for a bigger commitment.
And here's where things get tricky.
Most of the time during the breakup talk he won't even hint that this is an underlying reason that makes him want to break up with you.
Harsh, huh?
Reason Four: Social/Societal Differences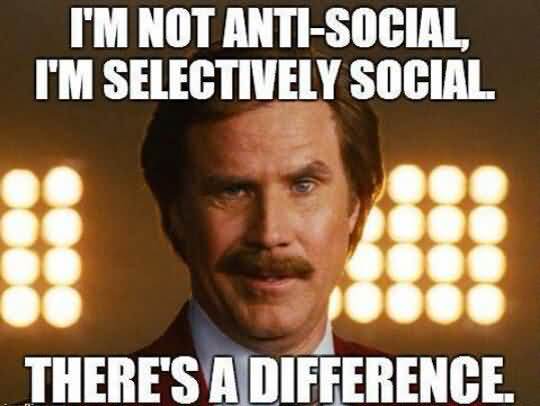 With this section there are two "reasons" that I really want to talk about.
Cultural differences
&
Financial differences
Let's start with cultural differences,
Cultural Differences
Do you have the same feeling that I do when I meet foreigners?
I want to understand the way they act. I am fascinated by what they eat and what their traditions are.
Ultimately I think it's awesome of how different they are from me.
But when you're in a relationship….
That might be a different story. The differences can be cute but sometimes it can be a major problem.
Let me give you an example, in the Philippines filipino children are expected to live with at least one of their parents when they can't take care of themselves anymore. It's a taboo to leave parents in an old persons home unless the circumstances are better for the parent to stay in one.
In this case, let's pretend that you are dating someone from the Phillipines and you aren't familiar with this cultural difference. All you want in the world is to move in together with your boyfriend but that just became impossible when his mother fell ill and he moved in with her to take care of her.
It may be petty on your part but you begin to resent him and this causes a lot of friction in your relationship.
Oh, and we haven't even scratched the surface yet.
There's actually a more obvious a problem.
What if the problem is your race? What if your ex boyfriend breaks up with you just because his family doesn't want you because you're not the same race as them.
Actually I commonly see this with Indians and Asians in the comments. Indian and Asian parents prefer their child to marry whom they choose but sometimes tradition gets in the way.
Financial Status
Hey it's the 21st century, can a guy really break up with you because you have a higher salary than him?
You may not know this about me but in addition to answering comments on Ex Boyfriend Recovery I am also in charge of answering comments for Chris' other site, Ex Girlfriend Recovery (it's very similar to this one except it's focus is around helping men.)
Anyways, the other day I was reading through the comments there and I came across something very peculiar.
A man actually broke up with his girlfriend because she was making more money than him (which he regretted doing.) Yup, apparently she likes to live a lavish life and he got insecure because of that.
And then I read another comment almost identical to that one. This one said,
"I broke up with her because she's so successful in her career. I want to establish myself first before we get married but now I realize I made the wrong decision."
That's word for word what he said by the way.
But let's go a bit deeper with this.
Let's say, hypothetically, I earn more than what my own boyfriend earns and it's not a problem with him. He's open to that since he's not unemployed. It just so happens that I earn more than him.
I can buy whatever I want, do whatever I want and go whenever I want without needing a man to pay for me.
But somewhere I'm not sensitive enough about how he manages his finances and to what he feels about our pay differences. And since I know he doesn't earn much I pay for everything when I want to go someplace with him and I don't mind, really!
In fact, I insist I pay.
And then eventually I sense that I'm hurting his ego. So I offer that we split pay instead.
We do this all the time.
And then all of a sudden, after a long time together he suddenly says he's not for me.
I did everything not to hurt his ego so why did he break up with me?
That's a question that many women are wondering and one that we are going to finish answering before when I start talking about the solutions to all of these reasons for breakups.
Religion
Actually I just included this because it is one of the big societal differences but we already have an article about this for you.
Check out the religious differences article!
Reason Five: An Accumulation Of Disagreements
The truth is that I think this reason is very obvious which is why I am not going to dive too in-depth for you here.
But before I move on I do want to address a question.
By accumulation of disagreements, do you think I mean all the fighting that happened at the end of the relationship or an accumulation of all the fights that piled up throughout the duration of your relationship?
Honestly, I think it's both.
"Wait… Wait… How can a fight during the first year of our relationship matter when we have been together for three years years now?"
Well, was the fight that you had during the first year of your relationship a recurring topic?
Have you really addressed the problem when it happened and had a solution for it or did you just fight about it and then over time decide to forget about it because you can't handle being separated or "at odds" during that time?
Reason Six: The Relationship Is Moving Too Quickly
Sometimes it's funny how a girl quickly assumes that a guy is a commitment phobe when the guy breaks up with her at the start of the relationship.
If this is what you believe consider this,
What guy in the right frame of mind would want a breakup in the middle of the honeymoon period right?
Everything is just so right and romantic!
The commitment phobe kind of guy?
Not really…
Sometimes we don't notice that we're expecting things too early in the relationship.
Like sleeping with him on the first date and then expecting him to introduce you in the family in the next week?
Like wanting to talk or text all day long and then after one day of him not texting that much, you go berserk asking him why and what happened to him?
These are the kind of things that scare men off.
Sometimes it's beneficial to let things unfold naturally and not rush them.
Reason Seven: Cheating Or Lying
"Betrayal is the worst … and the key to moving past it is to identify what led up to it in the first place." — Charles J. Orlando
I love that quote. It gives you hope when you make a mistake.
One of the worst parts of my day is when I see a lot of comments from women saying that their boyfriend broke up with them because they lied a lot or even cheated.
Most of the time the cause of the lie is to fit what they think what their boyfriend wanted to hear or see from them.
And of course with cheating well, who wouldn't want a break up after somebody cheated on them?
Reason Eight: Losing Your Own Individuality

I have a question for you.
How do you know if you are loving too much?
Personally, whenever my boyfriend gets too lazy to go to work and he says he just wants to stay with me because he's so happy in the moment.
I get mushy!
Hahaha!
Of course who wouldn't be right?
But believe or not, I don't want him to skip work. We've been together for seven years and I know, it will not be fun the whole day because I will keep feeling guilty because he will either lie or file a leave of absence which he can't use for anymore.
So, I always sing this song as a joke to him:

"I was standing all alone against the world outside
You were searching
For a place to hide
Lost and lonely
Now you've given me the will to survive
When we're hungry, love will keep us alive."
When I get to the last line, he always smiles and then he gets up.
Oh by the way, if you don't know that song, its "Love Will Keep Us Alive" by The Eagles!
When you always put off what you want to do for him and when you set aside your own dreams for his, that means you are losing your individuality.
Sometimes it's ok to put aside what you want so he can do what he wants but that should be a temporary thing. Like eating at his favorite restaurant with him once or twice, even if you hate the food there.
But let's say he says that you should avoid your friends because he doesn't like them even if he doesn't have a valid reason for forbidding you, then that's completely different.
Reason Nine: Grass Is Greener Syndrome
Do you know what GIGS is?
You don't know?
Man, you better put your reading glasses on and read some more of this site.
GIGS = Grass Is Greener Syndrome
It's when he sees someone that he thinks is better than you. In other words, he thinks he the grass is greener on the other side.
But is it?
Well, sometimes it is and sometimes it isn't. You should really read that article I linked to above.
Reason Ten: Distance
I am going to hit you with some extreme honesty here. I don't ever want to be in a long distance relationship.
In my opinion, this is actually one of the situations that has the slimmest chance of success.
But that's my own opinion.
Our research has proven my opinion wrong. In fact, we have seen quite a few long distance relationship successes in our time.
So, it's important to keep that in mind when you are struggling with this situation.
Part Two: How To Solve Each Of The Problems Above
This is where things are going to really start to heat up.
You see, part one of this article was all about explaining the top reasons for breakup. But Chris was adamant about the fact that everything we post to this website has to be the best in the world.
And that's how part two of this article was born.
He suggested to me that instead of just ending the article after I have listed of all the common reasons for breakups I should dive even deeper and talk about what people should do if they find themselves on those type of situations.
In other words, I am going to teach you the solutions to the problems I presented above.
Let's start from the beginning (again.)
Solution One: His "Feelings" Aren't The Same Anymore
Actually this falls in the "general breakup" category. As we discussed above, being complacent is the cause of this happening. Generally, the no contact rule will help you a lot but not just because you stopped talking to him.
It's actually what you do during the no contact rule.
Aside from improving yourself.
Go to the places that the two of you talked about going but never quite had the time to go.
Go with your friends and then start doing activities that the two of you talked about but never quite had a chance to do.
And post these experiences on Facebook, it will help him to remember the good times, miss you and wish he was there with you.
You have to start living life the way you wanted to when you were still together. You have to be the person or the kind of partner you planned on being while you were with him.
Not just because you wanted to impress him but because that's what you really wanted. Generally I have found that women put those kinds of things on hold because of schedule, money, or just being plain being lazy.
"But Amor… wouldn't he think that I'm already moving on? Because I'm doing all of these type of things alone?"
Yes, he will think that…
"Wait, then wouldn't he just want to move on himself too?"
Well, I'm assuming he's not an alien and time for him runs the same speed as time for you. Hehe! Just kidding!
If he is affected, that means he's probably going to miss you. That means he can get angry, but if you're not fueling that anger by talking to him, he might realize that you have the right to do the things you always wanted to do because you're single and you're a human.
Solution Two: You Just Aren't A Good Match
When a guy says,
We're not a good match…. We aren't meant to be.
It can really hurt because it makes you feel like there's something wrong with you but please don't take it like that.
Let's go back to the scenarios I gave:
Scenario one: Your Values Mismatch.
What if something that you hold near and dear to your heart is something that's NOT important for the person you love?
For example, I like dogs and if my partner doesn't like them, then we are probably going to have to have a serious talk.
In this particular case, you need to assess if there's a "work around" for the situation. I would probably ask him what he doesn't like about dogs and what we can do about it.
If he says, he's allergic to them, then I'll groom them constantly to avoid pet dander and get a house that they can have their own space so he doesn't have to be around them all the time.
But It's an entirely different story if he hurts animals. Of course even if you don't like animals, a person shouldn't be like that. You should observe him more because they say it's a sign that he will hurt people someday too or he already did.
In essence, he doesn't have to love my dogs, he just has to respect them and let me love them. I can work with that.
But personally, I'm blessed that my boyfriend loves animals too.
It's actually one of the first requirements that I had. Hehe!
But I am getting way off topic here.
What I am really trying to say is that you have to remember what your core values are.
What are your deal breakers?
Think of it like this. If if you marry him, you will probably live with this person for the rest of your life.
Imagine that.
Let's say he finally changes at the age of 90 but you married him at 30, can you handle 60 years of waiting for him to change?
Scenario 2: Psychological Mismatch.
Like I said earlier, most of the time a mismatch can happen from how we think.
If the case is that you think you're not good enough for him, that's actually easier solve.
Just build your confidence.
It's good that you know there will always be someone better, because that's true. But it's different if you think you will never be enough for him.
And take note of the word never. Because as I said, there has to be a balance.
If you think you'll always be enough for him, you'll be complacent with the relationship and take him for granted.
If you think you'll never be enough, you'll be insecure and then a lot of other problems will stem from that.
So, have your own life.
Build your confidence.
And whoever you are, as long as you're being true to yourself, he will accept you.  It's better to lose somebody because you're being truthful than keep them because of a lie.
But Amor… What do you do if he says, he's not good enough for you?
Well, the first thing you have to find out is "why?"
Is it because of what you always say?
Is it because of your differences socially, financially, characteristically?
Is it because of what recently happened in your life? Like a graduation?
He's just using this reason as an excuse for the real reason.
Solution Three: A New Chapter…
When it comes to this solution there are actually three new chapters that I would like to focus on,
Graduating/Transferring To/From A School
Career And Business
Family Matters
Let's start from the top,
Graduating/Transferring To/From A School
I have found that the most likely reason for your ex boyfriend to break up with you after graduating from school is either the grass is greener syndrome or distance being involved.
Both are actually discussed as one of the "common reasons" but we're going to focus on the more obvious reason in this case.
Your ex boyfriend might have broken up with you because he thinks he needs to experience life and he might meet a better person. This is whether he moves away to a college or not.
So, what would you do if you found yourself in this situation?
You need to agree with him and let him be at first. In other words, start an "active no contact."  If you had a long relationship he will probably miss you but don't let that fact go to your head. Make sure you really focus on improving yourself.
He probably doesn't expect you to just accept his decision so do the exact opposite of what he's expecting.
Engage people with what they expect; it is what they are able to discern and confirms their projections. It settles them into predictable patterns of response, occupying their minds while you wait for the extraordinary moment — that which they cannot anticipate. – Sun Tzu (The Art Of War)
Career And Business
Let's say that the cause of your breakup is his stress with his job. One of the biggest mistakes you could make would be to beg for him back. In the end, he will just associate you as another stressor in his life.
Generally speaking all he is going to think about during this time is getting rid of everything that stresses him out.
Promising him you'll change while he's breaking up with you will not change his mind either because all he wants to do is detach.
So, let him be.
Let him have a breather. Even if it's from your relationship.
Think of it as your way of helping him have less responsibilities/stresses for a moment.
Does that mean every time he's stresses you're going to break up?
No.
But you can't make the same mistakes that you did when he broke up with you.
Let's be honest, you became one of his stressors because you kept demanding his time or demanding a reply from him which I suppose is understandable. But as you can imagine it can be extremely difficult for him to see you in an attractive light when you just keep stressing him out.
Family Matters
The two situations I wanted to talk about here revolve around children.
Having a newborn
Having a child outside of the partnership
Let's talk a bit about newborns.
As I've said above I've never actually been a parent. So, I'm not going to pretend I know how it feels. But I definitely can see how hard it is.
In my culture, it's not uncommon for the family members like parents or siblings to help out in taking care of a newborn.
Now, what do I mean by that? Well, I mean that they help out because most of the time the parents are working so grandmas/grandpas, aunts or uncles can take care of the baby in the morning and then the younger siblings help out after their school day is over.
If it's a still a baby that needs care almost 24/7, then everybody in the family will take turns to help put the baby to sleep.
Here's my point, most of you are hands on moms and dads and don't have a lot of people to help out which leaves one of both of you burned out.
Which inevitably leads to taking care of yourself.
And then because of a lack of sleep you often fight with your partner too.
My best friend who's already a mom often tells me that she really has to separate being a mom and a wife.
When you're very good at being a mom, that doesn't necessarily mean you're being a very good wife. Going out with just her husband alone is very essential.
But what I was shocked with was when she said that we, her friends, are a part of making her married life successful too.
Whenever she goes out with us, either once a week or twice a month, and we do new things, it keeps her in check. She's being reminded that she's an individual. Not just a mom and a wife.
It makes her husband miss her.
If your partner already broke up with you because he said you had just become so stressed out lately and both of you were always fighting then it's pretty obvious that you shouldn't fight your way to getting him back.
That will just confirm that he made the right decision of breaking up with you because you kept fighting with him, even at the end.
Relax and then focus on getting balance during on active no contact.
That way both of you can get breather.
Solution Four: Social & Societal Differences
The key to handling this heavily revolves around adjusting and compromising. Most of the commenters that I encounter who have social and societal differences are based out of India and their parents forbid them from marrying a foreign partner.
So, I did some research.
There's actually a law:
The Special Marriage Act: By law a foreigner is allowed to marry an Indian.
So, the problem is actually just traditional. Sometimes it's because the parents are afraid that you might not respect what they believe or that you will drift apart from them.
If both your boyfriend and you are young, then all you can do honestly is to be patient.
Situation Five: An Accumulation Of Disagreements
The name of the game here is to do an "active no contact."
Reset the way he thinks about you and definitely don't get into a fight with him again.
You have to establish that you're not contributing to the habit of constant fighting. So, that means you have to remain calm when you eventually do talk to him again no matter what.
Situation Six: The Relationship Is Moving Too Quickly
Would you like to know what kills attraction?
Being afraid of losing the person you want. When you are afraid you become more demanding. And when you're rushing things it's often because you are concerned the attraction might die down. In all, you find yourself trapped in this never ending circle where you are aren't giving him any space.
So, here's my advice to you.

Don't rush things.
Why do you think art can't be rushed?
It's because, art is from the heart.
When you're rushing is, it's not authentic.
Just like what you feel you're trying to do more for the relationship when you're just starting it.
It won't be as authentic as it can be when you're taking your time and letting things unfold naturally.
So, relax.
Let him be the one to wonder what you might be busy with today.
Solution Seven: Cheating
To be honest… we have written a lot of articles about cheating,
So, I'm going to get straight to the point here.
A lot of perseverance and patience is going to be needed because if you are going to have any chance of getting him back you need for him heal first and to get his trust back.
Oh, and it's important to keep in mind that begging is not option.
That means, don't send multiple apologies. Apologize sincerely one time but don't keep saying sorry and saying how you regret what happened or how you'll never do it again.
Just start to be a better person.
Change the image he has in his mind of you by starting to change yourself and your life and of course avoiding any jealousy moves.
And then you have to let him have space to heal of course. He won't listen to you if he's still angry and hurt. You have to let time pass for him to be able to forgive you.
Solution Eight: Losing Your Own Individuality
Here's The Short Answer: Be "The Ungettable Girl"
As I've said above, being afraid to lose the person you love kills attraction. And attraction is essential for a long term relationship and for both of you not to get bored in that relationship.
A lot of times when I read the comments I see women who want their exes to stay so bad because they love him so much. In their minds he's the best thing that ever happened to them but when you reach that point it's not love anymore.
It's a need.
Don't forget there are two people in this relationship, you and him. If he's so great, be great too. Give equal value.
Let's say he stops doing all the things you loved about him and just wanted to be with you at home and watch TV all day long. Would that be exciting over a long period of time?
Nope.
Yeah, it's cute for a day or two but your whole life is not a vacation.
Situation Nine: GIGS
It hurts when the reason he broke up with you was because he thinks he can find someone better.
It's important to keep in mind that it's not all of your fault when it's not.
Most of the time this happens when the relationship hits a rough patch and then he leans on somebody else.
If that's the case, you have to stop the cycle of fighting first by doing an active no contact rule.
If he's already moved on to the other girl or broke up with you to be with you then work on being a better version of yourself that you were during the relationship while you are in the middle of no contact..
Take note, better than who YOU were in the relationship. Not just better than other girl because you can't control the other girl.
Situation Ten: Distance
So, if you haven't read Chris' article on Long Distance Relationships I recommend that you take some time and do just that.
If you did then you would know that,
Money
Time
And a plan to be together someday
Is the key to making a long distance relationship work.
You should aim to at least see each other once a month and if you can't do that you have to have a plan on when you would be together someday so, you have something to hold on to.
Because you have to keep in mind that whatever you are going through together now, it's just temporary.
As I've promised I'll share a story with you of a boyfriend-girlfriend couple who went into two years of a long distance relationship together.
It's actually my cousin and his now wife.
My cousin went to the United States to work as a nurse but he's actually a US citizen because he was born there but he grew up in the Philippines and his girlfriend (now wife) is also a Filipina. So, his girlfriend was left here while he traveled there. The deal was that he would get her after he has saved up enough for her ticket fare and also if she gets approved for a petition when they get engaged.
Since it's not cheap to travel from the United States to the Philippines, he could only fly back either once or twice a year. Their solution was to communicate a lot on Skype when they couldn't see each other in person. Though now that I think about it what made it work was that they still had their own lives throughout the day and they had a lot to share with each other once they Skyped.
My cousin still sent gifts for every occasion, they also tried to do things on Skype that they would normally do in person like watching a movie together, eating together, etc.
So, aside from having money, time and a plan, it's important that you have something exciting to share with him.