What's up Ex Boyfriend Recovery nation?
In episode 29 (this episode) we are going to be talking to Brandiwine, a woman who is wondering how she can get her ex back if he is angry with her.
Check it out,
Like always, here is a quick recap of the situation Brandiwine is facing,
Brandiwine's Situation
She was with her boyfriend for 16-17 years (on and off)
They have hooked up a lot during this time
Things ended when she said and did things that she admits were uncalled for
She saw someone to get help to work on her issues
It's been a year and a half since the breakup
She wonders how to approach the situation since her ex is so angry at her
What I Talk About In This Episode
Astrology! (Hint Hint I am a Taurus)
What anger does to men.
Blocking
When emotions run high logic runs low.
George Carlin,
Important Links Mentioned In This Episode
The Rules Of Dealing With An Angry Ex Boyfriend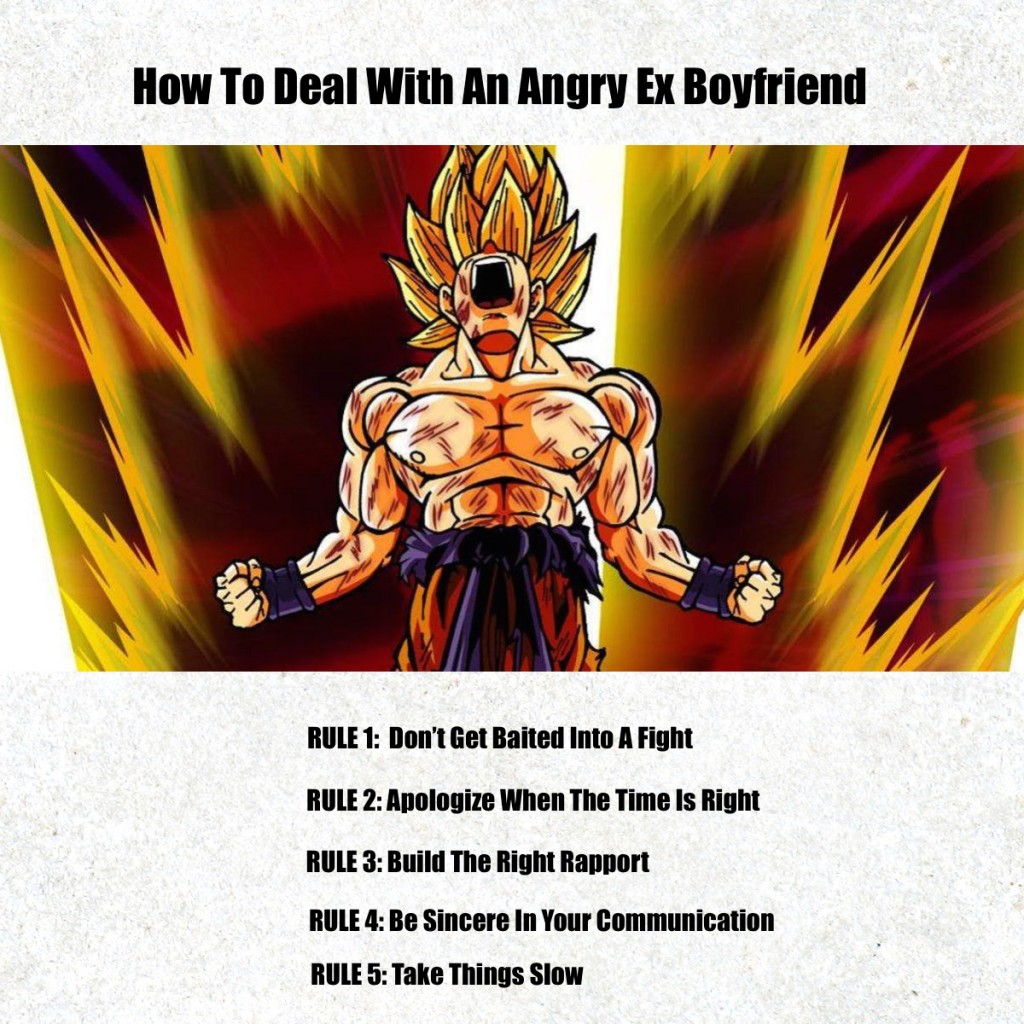 Rule 1: Don't Get Baited Into A Fight
Too often I have seen an ex boyfriend hit the wrong note of an ex girlfriend and a fight occurs because of it. Remember, a breakup is one of the most emotional things that a human being can go through so don't take what your ex boyfriend says too personally and certainly don't let him bait you into a fight.
Rule 2: Apologize When The Time Is Right
Brandiwine needs to make sure she apologizes to her ex boyfriend at the right time. In the episode I talk about how apologizing after a breakup is a mistake because an ex boyfriend is not ready to accept an apology.
Instead, it is a better idea to utilize the no contact rule to let enough time go by so he is in a place to be accepting of your apology.
Rule 3: Build The Right Rapport
Explore this site or grab my E-Book. There is a lot of ideas and strategies that I teach around how to build the right type of rapport.
Rule 3 and rule 2 actually go hand in hand because in order for you to apologize to your ex boyfriend properly you have to build enough rapport.
Rule 4: Be Sincere In Your Communication
For those of you who are reading this.
I want you to do me a favor.
Instead of talking to your ex boyfriend like you want him back talk to him like you would anyone else. Talk to him without any extracurricular intentions.
Rule 5: Take Things Slow
This is pretty self explanatory.
Make sure you take this entire process very slow.
Slow and steady wins the race.
Podcast Transcript
Welcome to Episode 29 of the Ex-Boyfriend Recovery Podcast. Lately my wife and I have been talking about something pretty interesting. That's astrology signs. I don't believe in astrology signs. I don't think it's real. But it is interesting to look at the qualities that follow along with each sign.
I'm a Taurus. They are stubborn, loyal, jealous and possessive. They give good advice and they have a temper. We can go down the list for me. I can be stubborn at times but I don't think I'm that stubborn. I'm open-minded and willing to change if I see something worth changing for. I would say that I'm half and half there. I am very loyal, so that's true.
I can be a little jealous at times. I don't think I'm too possessive. I'm sure I can get possessive at times, but who doesn't? Everyone gets a little possessive here and there. I would say that I'm midrange there. Do I give good advice? You tell me. You're listening to this podcast for my advice, so I guess that's true.
When Taurus get really angry and are pushed to the breaking point, they have an anger that's like a raging bull's anger. I would say this is definitely the case for me. I don't get angry very often. I haven't had that type of anger in years. But when it does happen, I will admit, the bull comes out.
That's a perfect segue for today's episode. We're going to be talking about how to approach an ex-boyfriend if he's angry with you. We're going to hear from a woman named Brandywine. Let's hear from her now:
"Hey, Chris. This is Brandywine. I've been in an on-and-off relationship for 16 or 17 long years. We take a break here and there and see other people. But when we're both single, we will always hook up. Here's my issue. I completely screwed up this time. I said and did some things that were totally uncalled for. It was out of 16 years of the same old bull and frustration.
Through it all, I managed to get some counseling and found out that I did have some issues going on. I have addressed those and I am in a better place. It's been a year and a half since I talked to my ex. However, during our last fight, he blocked me from all of his social media pages and changed his phone number.
My question to you is, I know how to get in touch with him through his family, but what can I do to make this situation better, to at least get our friendship back if we don't get everything that we had back? I completely apologize for my half. I'm not expecting an apology from his half. But I miss my friend. I need some kind of resolution to this feeling that I'm having. It's awful. It's miserable. I've been going through this for a year and a half. I'm ready to talk to him about how we ended things and let him know where I was coming from with that. Can you please respond? My name is Brandywine. Thanks."
Hi, Brandywine. Thank you for commenting on the Ex-Boyfriend Recovery Podcast. Wow, 16 or 17 years of an off-an-on relationship is crazy. There are marriages that don't even last that long. I'm sorry that you've had to go through that. That seems like quite the roller coaster ride. I can imagine you're feeling quite uneasy about this. Let's see what we can do about giving you more stability today and hopefully getting back on speaking terms with your ex-boyfriend.
Let's recap your situation. You've been in an on-and-off relationship for 16 or 17 years. Whenever you're both single, you always seem to hook up. You're always together even when you're not together. You did and said some things that you think were wrong. You sought help for that. You worked on your own issues. It's been a year and a half since this breakup occurred. He's blocked you. You said or did some things that probably made him upset or angry. You're wondering how to approach the situation with an ex who is this angry at you.
George Carlin said, "Here's all you need to know about men and women. Women are crazy and men are stupid. The main reason women are crazy is that men are stupid." I've found this to be quite true in my own life. A lot of times, women aren't as crazy as men make them out to be. The main reason women are crazy is because men do some stupid things.
I would have to say, Brandywine, even though you admitted that you have some issues, if you're in a relationship for 16 or 17 years without a ring or a deeper commitment, that is bound to make any woman crazy. Don't be so hard on yourself. I think you got strung along here by your ex-boyfriend. It has made you a little upset and crazy. There's nothing wrong with that. That's completely normal. Don't be so hard on yourself for that. That's my first piece of advice to you.
Let's focus our attention on your ex and anger. That's what this episode is all about. This episode is all about how to navigate the situation where you've made your ex so angry that he doesn't want anything to do with you.
What happens when an ex-boyfriend gets overly angry? The first thing that comes to mind is that they will block you. That seems to be what happened in your case. You either did or said something that made him so upset and angry that he blocked you. In his head, he was thinking, "I want nothing to do with her anymore. She's done with me."
The good news is the fact that you have been in this on-and-off relationship with him for 16 or 17 years. That is a long time. I don't think after you've been with someone that long that it's just over completely. I don't think he can just get over you completely by blocking you. Something always seems to keep him coming back to you for more.
The good news is that I don't think you'll stay blocked from him forever. This may just be the down in the roller coaster of love. Hopefully, we can keep the roller coaster going up so you can get some good things happening for you. When an ex gets angry, he will block you.
Another common trait that angry exes have is that they say things that they don't mean. This is a universal truth. It's true for me. It's true for all men. Speaking personally, when someone makes me so angry, I seem to say things that I don't mean. The last time was a couple of years ago. I definitely said some things that I didn't mean. Luckily, that was to my father so we patched things up relatively quickly. There is the phrase, when anger runs high, logic runs low. When emotions run high, logic runs low. That's very true. You always seem to say things you don't mean when you're overly angry at someone.
A lot of times, women come to me and say, "My ex-boyfriend said this or that." I say, "Hey, chill out. He was angry when he said that. He didn't necessarily mean it." I was thinking about this in the car the other day. When an ex-boyfriend comes up to you and says, "I never loved you," that's not true. He's just saying that because he knows it will hurt you, because you hurt him.
Let's say that you had a good relationship. If you go back to the beginning of your relationship when you were in the honeymoon period and you were kissy and lovey, you were saying, "I love you." He was experiencing love. Maybe five years down the road, he's saying, "I never loved you." That's not true. At one point, he did. His feelings just dipped down a little bit. When people get angry, they say things they don't mean. That's a universal trait among humans.
Here is another universal trait. Logic does not work when you're talking to an angry person. The last time I got into a fight was probably with my wife. Believe it or not, she tried to use logic on me. I just wasn't having it. Maybe that's because I'm a Taurus and I'm stubborn. I was sticking to my guns. Eventually, I do see the logical argument, even when I'm wrong. But it takes some time. I have to calm down a little bit.
If you're dealing with an angry ex, try not to use logic on him. You need to wait until his emotions calm down. I'll get to that in a second.
Let's talk about what you have to do to get an ex to stop being angry at you. I thought about this for a long time. I sat in my chair for 10 minutes, pondering, "What can you do to make an ex-boyfriend stop being angry at you?" There are only two things that I could think of.
Number one is time. Enough time has to go by for him to get over it. This is true with me. It's true for exes, too. You cannot talk to me when I'm angry. You cannot reason with me. It takes me time, especially if it's not solved talking-wise. Eventually, I'll come back and say, "I'm sorry. I really didn't mean what I said. I regret this. I feel horrible about it." That only happens with time.
This is why the no contact rule is such a good idea if you're trying to get back with someone who is super angry with you. The biggest mistake women make is that they're super desperate. They try to get their ex back immediately after the breakup. I understand this. I understand the temptation for this.
The problem with that is you are trying to get your ex-boyfriend back at a point in the situation where he is most angry. A breakup is one of the most highly emotional times that a human can go through in a relationship. You are trying to get this person back to you. You are trying to convince this person to come back into your life, to make their life a part of yours at the most highly emotional time.
It doesn't make any sense. That's why people continually fail. The no contact rule allows time to go by. You can re-approach the situation at a time when you have a much higher likelihood of getting through to that person. That is just one of the hundreds of reasons that the no contact rule is such a good idea.
Brandywine, it's been a year and a half since you've talked to your ex-boyfriend. You've done the no contact rule and then some. I don't think this is a problem for you. I'm talking to the general audience here. This is for the people listening who are trying to get their ex-boyfriend back and they know for a fact that he's angry. Don't make the mistake of trying to get him back immediately after the breakup. That's not going to work.
Remember, he's at this angry point. You're not going to get him back when he's at an angry point. Most likely, the chances are highest to get him back when he's not angry, when he has mellowed out and calmed down. That's usually after the no contact rule. This is after some time goes by. The number one way to stop an ex from being angry at you is time. Enough time has to go by.
The second way is when he gets his way. A perfect example of this is a baby. Let's say that you feed a baby a cookie. The baby loves that cookie. Then you give the baby another cookie. Right before he or she is about to bite into it, you take it away.
The baby throws a temper tantrum. It cries. It yells. It becomes a nuisance, all because it's angry that it didn't get the cookie. The two ways you can get this angry baby to stop crying and yelling are to leave it alone and let enough time go by or give the cookie back. The baby gets his way. When the baby gets his way, it stops crying and eats the cookie.
The same principle applies to men. If you let enough time go by or give your ex-boyfriend what he wants, he will stop being angry with you. But I don't recommend giving your ex-boyfriend what he wants if it's not something good. Sex is a common thing that comes into play here.
Some men get angry at you for not sleeping with them after a breakup. They only stop getting angry if you sleep with them. Some women fall for this trap. Don't fall for this trap. Just use time. Those are the two ways you can stop an ex from being angry at you.
Let's look at your situation, Brandywine. Let's come up with a game plan or the rules of approaching your ex. I'm going to give you five rules that you need to follow to maximize your chances of, not just getting him back but getting back on speaking terms with him, and increasing your chances of winning him back in the future.
These rules aren't as in depth as you would probably want. I don't have enough time in my schedule to give you the real in depth game plan that I'm assuming you would want. I would recommend picking up my book, Ex-Boyfriend Recovery Pro, to get a game plan that you can follow. For now, let's go through these rules of approaching an angry ex.
Rule number one is not to get baited into a fight. This is a common mistake that I see women make continually. Their ex-boyfriend says something to them that hurts them. What do they do? They retaliate. A whole new fight gets started. That's not what we want to happen here. Remember, the object of this game is not to get into a fighting contest with your ex. It's to build attraction and reignite the feelings that will cause your ex to come back to you.
Don't get baited into a fight. If your ex-boyfriend says or does something that makes you hurt or angry, don't retaliate. Maybe just ignore him. Sometimes I find that walking away from a situation is the best thing you can do, especially when you're angry. Then reevaluate it later. Rule number one is not to get baited into a fight.
Rule number two is that, down the road, you can apologize for your part. You mentioned that you wanted to apologize or talk about your perspective of the breakup to your boyfriend, Brandywine. I think that's great, but you need to do it at the right time. When is the right time? After enough rapport has been built and you've primed him enough to react positively to your apology.
What's more likely to happen—an ex-boyfriend accepting your apology after you've primed him, built some rapport and you're on decent terms or an ex-boyfriend forgiving you right after a breakup when you haven't done any of those things? You increase your chances of the apology mattering more by building rapport with him.
That is step number three. Build the right rapport. There is a right way and a wrong way to do things. Visit my website. Grab the book. There is tons of information in these places on how to build the correct type of rapport.
Let's move onto step four. Be sincere when you talk to him through texting or phone calls. An ex-boyfriend can tell when you're trying to win him back. Men are not stupid, even though George Carlin thinks they are. When it comes to this stuff, men are not stupid. We understand when we are trying to be won back. If you're sincere in how you're talking to him and you don't want to win him back, you're just having a sincere conversation with him, things will go better with him. You will increase your chances of building the right rapport that you need, not just to apologize to him, but to get back on speaking terms and potentially win a date that can lead to a reconnection.
Step five is to take things slow. The biggest mistake I see women make is that they rush things. They want this process to happen sooner than it's ready to happen. Some women, right off the bat, ask for a date. No. That's a mistake. You need to slowly build attraction before you ask for that date. You'll increase your chances of getting a date 10 times more if you build the right rapport.
It's not just texting him, "Hey, let's go out for a cup of coffee," or "Hey, I'll buy you a beer," or "Hey, let's go out and have dinner and a movie." No. These things don't work. You need to build attraction to earn the date. Take things slow, Brandywine. I know you've been waiting a year. I think you can take things slow because you've been in no contact for so long.
You've taken necessary steps to improve yourself, look at your own issues and improve upon your values. I think you are a patient person. You're just going to have to be extra patient. The temptation is going to be there for you to ask him out on a date. If you do this process right, he will be the one asking you out on a date. That's powerful because you know he wants to see you.
That concludes the five rules of approaching an angry ex. I would add, do not sleep with him until he commits to you. It's as simple as that.
That is Episode 29, how to deal with an angry ex-boyfriend. I hope you enjoyed this episode and my goofy astrology thing at the beginning. If you have an astrological sign and want to share it or say how accurate it is about you, feel free to comment in the show notes of this episode. You can find the show notes at www.ExBoyfriendRecovery.com/episode29.
Brandywine, thank you so much for recording a voicemail. If you have any more questions, just comment on your episode here. For those of you listening, thank you so much. I've had a great time recording this podcast, teaching you and explaining things. Thank you for listening. If you haven't already, it would help me if you would hop over to the iTunes page. I'll link to it in the show notes. Leave me an honest review. If you didn't like it, leave a review and let me know. If you liked it, great. Leave a review and give me five stars. All I ask is that you're honest. Thank you so much for listening. I will see you next week.