Today we're going to be talking about why your ex has gone silent on social media.
Of course, answering that is a little like trying to read tea leaves in a storm. The patterns are elusive, constantly shifting, and influenced by many unseen factors.
Nevertheless, I have come up with eleven core reasons for why I believe they've suddenly disappeared on social media.
Emotional Healing: They might need time and space away from anything that reminds them of the relationship, including posts or pictures on social media. A break from social media can provide emotional distance.
Feedback Loop of Pain: Seeing updates, especially if they're related to new relationships or outings, can be painful for both parties involved. It's easier for some to disconnect than to witness or be the cause of someone else's pain.
They Want To See How You'll React: Sometimes, especially if the ex has been super active lately with your posts, I've noticed that they will go silent on social media to see how you'll react. It's the whole playing hard to get approach.
Moving On: Silence could also indicate they're focusing on a new chapter of their life. This might involve new relationships, experiences, or personal growth journeys that they choose to keep private or separate from their past.
Recommendation from Therapist or Counselor: A professional might have advised them to limit social media usage as part of their healing or mental well-being strategy.
Their Sphere of Influence: Friends or family might have recommended a social media detox or might have shared stories of their positive experiences without it.
Your Sphere of Influence: In some cases, there might be concerns about online harassment, stalking, or unwanted messages from their ex or their ex's friends.
Gaining Perspective: They may want to evaluate the relationship from a distance, without the influence or noise of social media, to get a clearer understanding of what went wrong.
Taking Control: By choosing when and how they re-engage with social media, they are reclaiming control over a situation where they might have felt powerless.
They Think This Will Help Them Win The Breakup: They've adopted a mentality where the first one to "contact" is the the one who loses the breakup
Avoiding Drama: Keeping a low profile can help in avoiding unnecessary drama or confrontations that can be triggered by posts, comments, or even likes.
Let's dive in!
1) Emotional Healing
So, I know I've talked a lot about this before but typically when you go through a breakup this is what happens to you neurochemically,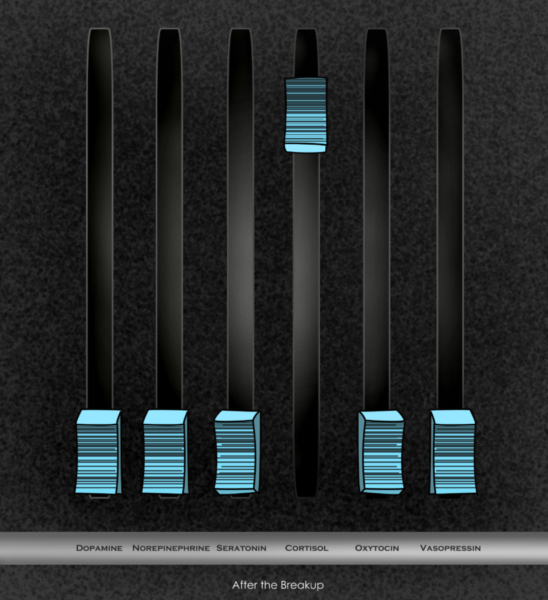 Do you see that big spike?
That's cortisol,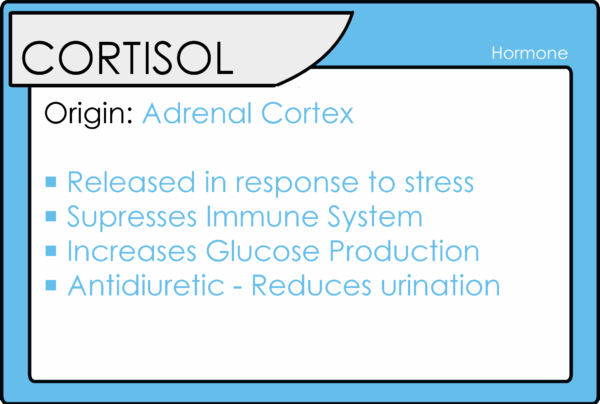 It's also known as the stress hormone. The more you engage with social media, the more cortisol stays triggered and the more you stay stressed. So, some exes, inherently understand this and look to detox themselves from social media.
Typically it can offer them the following benefits,
Protection from Triggers: Social media platforms are treasure troves of memories. From shared photos to status updates about special moments, almost every scroll has the potential to reopen wounds. Going silent can be a defense mechanism to avoid these triggers.
Creating Emotional Distance: Engaging on social media often means staying connected with mutual friends or getting updates about your ex. Silence can help create the emotional buffer needed to heal without the interference of fresh updates or news.
Avoiding External Pressures: People on social media, sometimes unintentionally, can be judgmental or inquisitive. By staying away, one can avoid unsolicited advice, prying questions, or the often unhelpful "There are plenty of fish in the sea" type of comments.
Self-reflection and Growth: Healing requires introspection, understanding what went wrong, recognizing one's own mistakes, and growing from them. This introspective journey is deeply personal and can be distracted or skewed by the noise of social media.
Mental Well-being: Constant notifications, the need for validation through likes and comments, and the general pressure to appear "okay" can be mentally draining. Silence offers a break from this cycle, enabling a clearer mental space to process emotions.
Avoiding Impulsive Emotional Posts: In moments of vulnerability, it's easy to post content that one might later regret – be it out of sadness, anger, or any other emotion. Going silent can be a conscious choice to prevent such moments.
2) The Feedback Loop Of Pain
I was watching a Netflix show a few months ago called Painkiller.

It's about the opioid pandemic. There's a really interesting monologue that Matthew Broderick, who stars in Painkiller, gives.
He argues that all of human behavior comprises two things: pain and pleasure.
Run from pain. Embrace pleasure. Run from pain. Embrace pleasure, over and over again.
His argument was that this is how human beings operate.
We avoid things that hurt us and run towards things that make us feel good. In a certain way, that element is at play here. Except, sometimes what separates human beings and makes them truly great is their ability to change.
So, let's play devil's advocate. Let's say you have an ex. And that ex is constantly on social media. They come on social media and see your post, and it causes them pain. They think to themselves, "I just want this to end." Then the next day goes by, and they can't help themselves. They check social media again and feel incredibly pained when they see a photo of you.
Over and over again, they come on social media and start associating these negative feelings with your posts and behavior because they can't handle seeing you happy away from them.
They realize they're caught in this feedback loop of pain.
They go on social media, see a post from you, and feel incredibly pained by that post. They think, "I never want to feel this way again." But they're inevitably sucked back into social media because they can't help but wonder.
If this is happening, sometimes they'll identify this pattern and realize they need to take a break from social media because it's literally driving them insane.
3) They Want To See How You'll React
I've noticed this is actually quite common for exes who've been incredibly active on social media, especially with your posts.
We see this frequently with our clients going through the value ladder process who've reached the texting phase.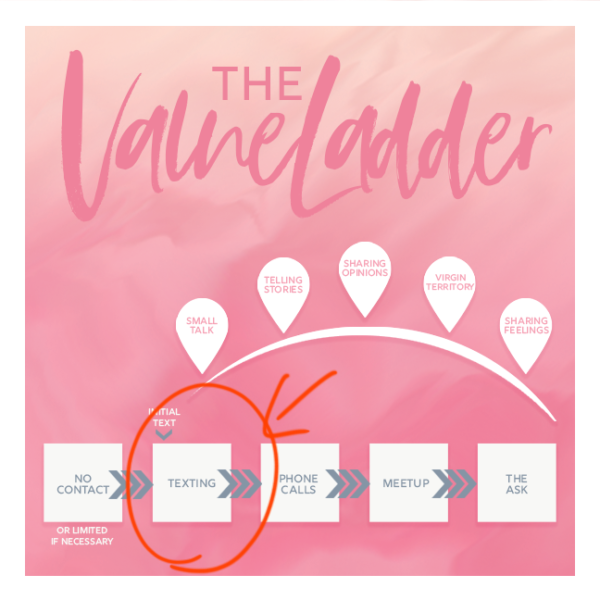 They wonder how their ex will react. Essentially, it's the "playing hard to get" tactic.
By removing themselves from the equation, they aim to gauge your interest. Will you notice their absence and reach out?
This behavior isn't limited to breakups though.
I've done this myself, not with an ex, but to ascertain the feelings of someone I had a crush on. Engage in lively conversations and then suddenly disengage to see if they were genuinely interested in me.
The thought process behind this is simple: by doing so, I can measure their investment level. If they pursue me, it means I'm significant to them. But in my experience, the predominant stereotype seems to be that men should do the chasing.
So, while engaging in enjoyable texting exchanges, the moment I'd go silent or play hard to get, they'd perceive it as rejection. Consequently, they'd also pull back, expecting me to initiate. This often led to a standoff where neither side would budge, and no progress was made.
4) Moving On
Silence could simply suggest they're focusing on moving forward.
This might mean entering new relationships, exploring different experiences, or embarking on personal growth. They might prefer to keep this evolution private, separate from their history.
This often occurs when exes transition to a new relationship.
For instance, when I met my wife and realized there was something unique about her, I didn't want to jeopardize our growing bond.
Thus, I ghosted other girls I was conversing with and removed them from my social media accounts. I wanted to ensure my future wife wouldn't see other women flirting with me, potentially causing friction.
Was this the ideal approach?
Perhaps not, but in that moment, that's how I chose to act. This is a behavior we frequently observe in exes who find someone new. To safeguard their budding relationship and not let past memories interfere, they might delete pictures, unfriend you, or disengage from your online activities. This is often to avoid any complications with their new partner.
Now, here's a silver lining.
When I convey this to my clients, many of whom are keen to reunite with their exes, it often sparks concern. The fear of becoming an afterthought looms large.
However, based on my observations, this distancing can inadvertently intensify the ex's feelings of missing you.
It might sound counterintuitive, but often, especially with exes exhibiting avoidant attachment styles, they need to perceive that you've moved on. This new relationship phase is usually filled with the euphoria of the honeymoon period.
But that doesn't last indefinitely. Over time, curiosity reignites, leading them to revisit your social media profiles.
5) Recommendation From A Therapist Or Counselor
Therapists and counselors are trained professionals who guide individuals through emotional challenges, helping them develop coping mechanisms and strategies for mental well-being. Here's why they might recommend a hiatus from social media post-breakup:
Avoiding Comparison: One of the most common detrimental effects of social media is the tendency to compare oneself with others. After a breakup, seeing an ex-partner moving on or appearing happy can be devastating. Therapists might suggest a break to avoid this comparison trap.
Limiting External Validation: Many people seek validation from the likes, comments, and engagement they receive online. A therapist may recognize a client's dependency on this external validation and recommend a break to help them find self-worth from within.
Controlling the Narrative: Counselors understand the importance of controlling one's own healing narrative. Social media can sometimes distort this narrative with opinions, rumors, or even the portrayal of one's own past relationship. A hiatus can help maintain an authentic personal narrative.
Reducing Anxiety and Overthinking: Notifications, messages, and the potential for online confrontations can heighten anxiety. By recommending a break, therapists aim to reduce these anxiety triggers, allowing the individual to focus on healing.
Encouraging Presence: Therapists often emphasize the importance of being present and mindful. A break from the constant barrage of updates and notifications can help individuals stay grounded in the current moment, facilitating a deeper connection with their feelings.
Promoting Real-Life Connections: Counselors might recognize that an individual is substituting genuine, real-life connections with digital ones. Recommending a step back from online platforms can encourage them to seek support and companionship in the physical world.
Preventing Digital Exhaustion: Overconsumption of digital content, especially emotionally charged content, can lead to mental fatigue. A therapist may see signs of this exhaustion and suggest a break as a way to rejuvenate mentally.
6) Their Sphere of Influence
I've introduced a concept called the sphere of influence.
Essentially, it represents the individuals surrounding your ex, whose perspectives significantly influence their decisions and feelings.
In the illustration on my website, your ex sits at the center, encircled by multiple concentric circles.
Each circle or sphere indicates varying degrees of influence.
Typically, those closest to your ex, such as friends, best friends, lovers, and family members, exert the most sway. As the circles radiate outward, they might include individuals like work colleagues and acquaintances.
If those within your ex's sphere consistently advise them to disconnect from you on social media, it can persuade your ex to act accordingly.
What's intriguing about the sphere of influence is its dual nature. It can either be an asset or a liability. While their sphere might encourage distancing from you online, your own sphere of influence can exert a unique, contrasting impact on them.
7) Your Sphere of Influence
So, regarding your sphere of influence, particularly if they didn't get along well with your ex, your ex might genuinely fear harassment, stalking, or unsolicited messages from members of your circle.
Sometimes, you'll notice your ex doesn't just disconnect from you, but also cuts ties with your friends and even blocks them on social media.
To illustrate with a personal anecdote:
After my first breakup, which I've mentioned previously, I would receive these late-night calls. I was almost certain they were from my ex's friends, though I couldn't confirm. They'd disguise their voice, hurl insults, then hang up. This lasted for weeks. Once, while I was in my room, I received one such call, with the caller tauntingly asking if I liked what they did to my car. Peering out of my window, I noticed a yellow residue around my car. They had smeared it with mustard.
This just goes to show the lengths to which some might go to harass or intimidate. In such situations, your ex might block you or your friends on social media out of fear of similar events.
8) Gaining Perspective
In the aftermath of a breakup, clarity can often be obscured by a storm of emotions, external opinions, and reminders of the past. Social media, with its constant updates and the ever-present lens of public scrutiny, can further muddle this landscape.
Choosing to step back from these platforms allows an individual the space and silence needed to introspect. By distancing oneself from the online realm, one can better discern the nuances of the relationship, the dynamics that led to its conclusion, and the lessons to be drawn from it.
This self-imposed isolation fosters an environment where thoughts can be processed without the echo chamber of social media, leading to genuine insights and a more grounded understanding of the relationship's trajectory.
In essence, going silent on social media becomes a conscious act of seeking clarity and cultivating personal growth.
9) Taking Control
Breakups often leave individuals feeling adrift, with emotions of powerlessness and loss of agency being common aftermaths. The decision-making ability can seem compromised, as the narrative of one's personal life might seem dictated by the relationship's ending.
By consciously deciding to step back from social media, individuals are making an active choice in how they wish to present and engage with their world. This act, simple yet significant, allows them to dictate the terms of their online presence and interactions.
It becomes a symbolic gesture of regaining autonomy, not just over their digital life, but also over their emotional and mental well-being.
In a world where control often feels fleeting, especially after a personal loss, such decisions act as anchors, grounding individuals and reminding them of their capacity to steer their own course.
10) They Think It'll Help Them With The Breakup
They believe it'll help them "win" the breakup.
Frequently, when studying exes deeply affected by a breakup, even if they initiated it, I've observed a prevalent mindset: the desire to "win" the breakup.
The general belief is that the first one to reach out is the "loser" of the breakup. Does this always hold true? From what I've seen, no, but it could dominate your ex's thoughts.
Drawing from my own experience, post a breakup during my early college years, I was consumed with this notion. After parting ways with my ex, I was determined to emerge as the "winner" by refraining from contact.
My sense of triumph was cemented when she reached out to check on me after a hurricane hit my area.
While she had genuine concern, I, unfortunately, responded with aloofness, a reaction I now recognize as unjust.
But, my intent here is to offer a window into the mindset of some exes. If your ex subscribes to this "breakup competition," their silence on social media could be a strategy to ensure you make the first move.
11) Avoiding Drama
In the hyper-connected world of social media, even the smallest interactions can be magnified and misinterpreted, leading to unforeseen repercussions.
After a breakup, emotions are already running high, and the digital landscape, with its myriad of observers and commentators, can easily become a breeding ground for misunderstandings and conflicts.
A casual comment, an innocuous like, or a seemingly harmless post can be misconstrued, twisted, and taken out of context, giving rise to unwanted drama.
Moreover, friends, acquaintances, or even distant observers might feel compelled to take sides, offer unsolicited advice, or indulge in gossip, further fanning the flames.
By keeping a low profile, individuals can navigate this delicate period without the added stress of online confrontations or the anxiety of constantly second-guessing their digital actions.
In essence, staying silent or reducing online visibility becomes a protective measure, a way to maintain peace and prioritize one's emotional well-being in an environment that can sometimes be unpredictably volatile.