We are about to venture into new territory here.
This website is filled with "guides" on the exact steps to getting an ex boyfriend back. I talk about stuff like the no contact rule, what to say to your ex to make him want you, how to rekindle his feelings for you, etc, etc.
I think you get the idea.
Whenever I write something new for this site I am looking for new topics so I can expand your knowledge on the mind of a man. Of course, as this site gets bigger and bigger I can have trouble coming up with good ideas. So, sometimes I take a step back and look at the weakness of this site.
I ask myself something like:
"Ok, what haven't I covered yet?"
Well, as I have been made painfully aware, recently, one aspect of the ex recovery process that I have failed to go into great detail on is what to expect when you get your ex boyfriend back. Sure, I have written a guide on how to keep your ex boyfriend but I haven't really told you what it is like to actually get him back.
What This Guide Covers
This guide is going to assume that you have succeeded in your quest to reclaim your ex boyfriend (more on that later.) It is going to specifically focus on the emotions that will go through your head and his head during the new relationship that you have rekindled.
Will this guide help you keep him once you get him back?
It can help but I didn't really create it for that. Instead, I wanted to make you aware of the emotions that you and your new boyfriend (previously your ex) will experience when you get into a new relationship and how you can deal with those emotions.
Here is a birds eye view of what I will be going over in this guide:
How to get your ex boyfriend back (see the next section.)
The fallout of getting an ex back.
A secret, that's not really a secret that no one realizes.
What goes on in your ex/new boyfriends head.
How to keep your ex/new boyfriend intrigued in a relationship.
Texting and calling your new boyfriend.
And much more!
Lets get started!
How To Get Your Ex Boyfriend Back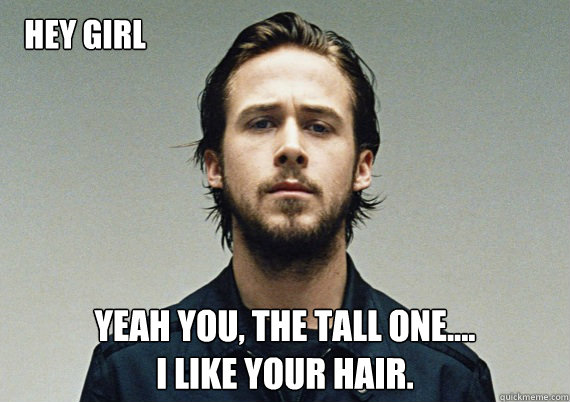 I am well aware that probably 90% of the people reading this guide haven't gotten their exes back. I actually prefer this.
A good friend of mine said something incredibly insightful that I thought was perfect to use for this guide.
"One of the problems with people is that they never get advice BEFORE their problem occurs. They get advice AFTER it already happens."
I suppose in this case there technically isn't a problem but after you read this guide you are going to know exactly what to expect when you succeed at getting your ex back (positive thinking remember 😉 .) Of course, before any of the stuff I talk about here can be used you actually have to succeed in getting your ex back.
So, how do you do that?
Well, getting an ex boyfriend back is actually an incredibly complex subject. If I were to tell you everything you needed to know to succeed it would probably take me a month to finish this guide. So, let me make this extremely easy for you.
I wrote a book detailing every single step that you need to implement to successfully get your ex boyfriend back. My book, Ex Boyfriend Recovery PRO has received high praise from many of you and I promise you won't be disappointed with it.
Essentially, everything in that book is almost like a requirement to reach the point where the stuff I talk about on this page can be implemented. Again, I can't recommend Ex Boyfriend Recovery PRO enough. Click on the link below to learn more about what the E-Book will cover.
Would You Like To Learn More About Ex Boyfriend Recovery PRO?
Lets move on to the beginning of what you can expect when you get your ex boyfriend back.
The Secret That No One Realizes Until It's Too Late
I want you to be prepared.
Part of my reasoning for creating this guide was so that you know exactly what it is like to get an ex boyfriend back. Part of this type of reasoning relies on me being completely honest with what I have seen hundreds of women experience who have actually succeeded in getting back with their boyfriends.
Well, what I have seen might scare you a little bit.
All of the other ex recovery relationship "experts" out there are afraid to tell you the truth. So, rather than be completely honest with you they keep a secret. Luckily for you, I am about to expose that secret.
You want to know what it's like when you get an ex boyfriend back right?
It's HARD WORK!
Your Fantasies Lie To You
Whenever I meet a pretty girl I often find myself thinking about her.
(It's nothing sexual… god, get your mind out of the gutter 😉 .)
I think about whether or not she could fit into my life. I think about how we would interact and what a simple date would be like.
Anyways, when I think of you I imagine that is how you probably felt about your boyfriend when he was your ex. You probably had all these daydreams and fantasies about how great things would be if you got him back. Those fantasies are probably even more intensified if you do something like the no contact rule.
They feel good right? Having those fantasies probably reinforce the idea that all of this trouble to get him back is worth it.
Well, the reality of the situation is that if you do get your ex boyfriend back it isn't going to be all dandelions, candy canes and ice cream. No, it is going to require both of you to put some hard work in to make this thing work.
Most women are under the impression that the second they get back with their ex boyfriends everything will just suddenly become easy. I am here to tell you that, that is not the case.
Why Most People Fail At Keeping Their Relationship Together
(Would you like to learn the EXACT steps to getting an ex boyfriend back?)
It doesn't take a genius to realize that relationships take work.
Of course, most people who I encounter tend to forget this fact. Yes, a relationship is supposed to be fun and leave you with a sense of fulfillment but maintaining that relationship to ensure it can last the test of time is going to take hard work. FOR BOTH PEOPLE.
Therein lies the problem.
A relationship is a two way street. In other words, you can be the best girlfriend in the world. You can fulfill him mentally and physically but unless he is there to pull his weight in the relationship things probably won't go well.
Relationships take an equal amount of effort from both participants.
Trust has to be exhibited from both of you which could be a problem because a previous breakup can cause all sorts of trust issues.
Jealousy needs to be held to a minimum. Now, I am not saying that you can't be jealous. You are a human being and human beings get jealous. All I am saying is that you can't let it consume you and be a lightning rod for the problems in your relationship.
You have to constantly be mindful of what your boyfriend likes and how to keep him fulfilled in all areas.
The point I am trying to arrive at here is that if you think a relationship is a cakewalk then you are dead wrong and you need to change your mindset immediately.
Of course, I still haven't addressed the real elephant in the room. If you are doing an amazing job of "pulling your weight" in the relationship but he is doing a poor job pulling his then the relationship is destined to fail. Yes, I understand that you two really like or love each other. However, that fact alone isn't enough to create a successful relationship. Work has to be done from both sides and that includes his side.
So, how are you supposed to maximize your chances of your ex boyfriend pulling his weight in a relationship?
Understand That This New Relationship Will Have To Be Different
If there is one thing I am really good at when it comes to relationships it would have to be that I am an excellent communicator. I think a part of me was always this way but now that I have seen so much through Ex Boyfriend Recovery I make it a point to communicate to the best of my ability in every relationship I am in.
Of course, and I mean this with the greatest respect to my fellow "bros," I am probably one in a million.
Most men don't talk about their feelings. They are scared to. They don't talk about their fears, insecurities or thoughts. This can lead to a lot of emotional problems in relationships because women are the exact opposite. They almost find it therapeutic to talk about everything.
So, the question on the table is:
"How are you supposed to get a guy to communicate and pull his weight in a relationship?"
The first little nugget of knowledge I would like to give you is to not assume that he understands he will have to pull his weight. Look, when you deal with men you almost have to talk to us like we are little children. Remember, we aren't good at picking up your hints but we are good when you tell us exactly what you want.
This is where the communication bit comes in.
Talk to us like a five year old.
I want you to have the following conversation with your ex/new boyfriend
You: Hey, can I talk to you about something?
Him: Sure!
You: I think this relationship needs to be different than the last one. We both know that, that didn't end very well and I want this new relationship to last.
Him: You are right. What do you have in mind?
You: You know how much I love you right? Well, I think both of us should work really hard to make this relationship last. I am willing to put in the time to make this work. I want you to know that this relationship is my number one priority right now.
Him: Me too! I am going to make sure this relationship works this time around. I love the way I feel when I am around you.
You: I know it is not going to be a cakewalk but I know that if BOTH of us put in the work we can make this last :).
One of the most annoying things to me about women is the fact that they are never direct. Let me give you an example. There was one girl who I really liked a few years ago that always kept saying things to me to try to test if I liked her or not. She would say stuff like:
"Didn't you think that was a really fun class?"
I think it might be important to the story that I mention that I met this girl in a college class. Whenever she would say that to me I would talk about how I thought the class was great and how the material was interesting to me. What this girl really wanted was for me to say was something relating to her.
Something like:
"Yes! You made it so fun that I wish we could have stayed there another hour."
How in the world was I supposed to know that? I thought she was talking about the class.
Anyways, I want you to notice how direct the fake conversation above was. There were no games and both people said what they wanted to say.
The moral of the story?
Be direct!
Lets move on.
The Two Outcomes Of Getting Back Together

(Before any of the stuff on this page applies to you, you have to get your ex boyfriend back. Find out how with Ex Boyfriend Recovery PRO.)
I have been a witness to many couples getting back together. Some of those relationships are still going to this day and some of them have ended. The point I am trying to make here is that I am in a very unique position to tell you what I have seen when couples do get back together.
I entitled this section "The Two Outcomes Of Getting Back Together" so you are probably wondering what these two outcomes are right?
Firstly, I would like to say that there are probably thousands of things that can happen during a reconciliation. The two things that I will be talking about here seem to be the most frequent things that occur. So, what are these elusive outcomes?
The Mini Honeymoon Period
The Fallout Period
The thing I found most interesting about these two outcomes is that they are almost exactly the opposite and while one is definitely better than the other one neither really guarantees a long lasting relationship. So, keep that in mind while you read through this entire section.
Lets start with the most positive outcome of a reconciliation.
The Mini Honeymoon Period
You are aware of what a honeymoon period is right?
It is basically this period of time when you get together with someone new where everything is pure bliss. There are no problems and both people in the relationship are completely happy. One thing that I see quite often from couples who get back together after a breakup is that they can go through this mini honeymoon period.
What is a mini honeymoon period?
Well, essentially the definition is exactly how it sounds.
Lets say you got back together with your ex boyfriend and entered into a mini honeymoon period. This is essentially the same thing as the honeymoon period but the big difference here is that it won't last as long.
Why won't it last as long?
That's an interesting discussion. Throughout this site I have established multiple times that I have this theory that everyone is obsessed with new things.
New cars.
New shows.
New episodes.
New computers.
You get the idea.
Well, when you get back together with an ex there is a sense of newity (that isn't even a word but I don't care.) The newness you will feel with him will create this honeymoon period but the reason it won't last as long is that you have already been with him before so that sense of newness fades into normality.
It is almost like the ultimate contradiction.
On the one hand the two of you are back together so that creates a feeling of newness. However, on the other hand the two of you have already dated before so you already know what it feels like to be with your ex so that newness tends to fade faster than normal.
Do you kind of get it?
The Fallout Period
This is the more "negative" consequence of getting back together from an ex.
Sometimes things aren't always as fun as the honeymoon period when you get back with a boyfriend. Sometimes the fallout that is left over from your breakup will carry into the new relationship that you are trying to establish with your boyfriend.
I would like to take a moment to further describe the fallout period.
The Fallout Period- A period of time after you get back with an ex where things seem kind of weird and awkward. This is usually caused by the emotional fallout of your breakup.
It's not your fault really.
I blame Hollywood. Most women are obsessed with watching these chick flicks where everyone gets a happy ending or where the couple who FINALLY gets together has this super intense lovey dovey moment. This has created unrealistic expectations.
Don't get me wrong. I am not saying that it is impossible (look at the honeymoon period above.) However, the reality of the situation is that if you get back with an ex it can be a little dark.
If you really sit back for a moment though it makes sense.
Imagine that you and I dated (yes, I am using this analogy again so deal with it 😉 .) Of course, we broke up and the breakup didn't end well. You said things that really hurt me and I said things that really hurt you. Since this is me we are talking about you wanted me back desperately and you managed to convince me to take you back. When we got back together things aren't the same. It feels a little…. awkward.
This would be the fallout period in full effect.
The things you said to me during our breakup are running around in my mind and the things I said to you are running around in yours. Communication isn't really all that great and things are just different.
Most women who experience this end up emailing me something like this:
"Chris I need your help ASAP!!! I just got back with my ex using your advice but now things are different. I don't really know how to explain it other than the fact that he is very distant all the time and I just have this feeling in my gut that something is wrong."
The fallout period….
How You Can Combat The Fallout Period
(Anyone who gets this reference deserves a hug!!)
When most women experience the "fallout period" they immediately panic.
I understand why too.
It's like this. You worked so hard to get your ex boyfriend back. You did the no contact rule, you ended conversations first, you planned dates, made moves, etc.. etc. After all this work you finally succeeded in re-igniting a connection within your ex boyfriend. The two of you get back together and you are expecting fireworks. That is what's supposed to happen right?
Well, when it doesn't and you are greeted with the fallout period you immediately start to panic because that is not the way this is "supposed to go."
The thing about combating a fallout period is to not panic. Yes, things aren't as good as they can be but I am going to show you right here and now how you can overcome one.
Understanding What Your Ex Boyfriend Is Thinking
Ah, another section on the complicated mind of a man.
More specifically, what your ex boyfriend (or new boyfriend) is thinking during the fallout period.
The first thing I think we need to talk about is the fact that throughout your new relationship it is unavoidable that he is going to be thinking about the old one. What will he think? Well, I guarantee that it won't be very good things.
Maybe he is still stuck on some silly comment you made out of anger during the breakup. Perhaps he is thinking about a certain way he was treated by you during his old relationship or maybe he has serious doubts that this new relationship can last.
He will be thinking these things at some point during the fallout period. That is probably the closest thing to a guarantee that I can give you.
It is important to understand this fact but don't let it upset you.
Why?
Because deep down somewhere in your mind you have thought the same thing too. So, instead of being a worried mess lets do something proactive to PROVE to your new boyfriend that his concerns about you are ridiculous.
How To Overcome The Negatives In His Mind
How are you supposed to overcome negative thoughts about you?
Well, with the power of love of course!
I know I am usually not one to get all lovey dovey in my guides but since we are talking about what it is like to get an ex boyfriend back it was a foregone conclusion that I had to pull out all the stops on this one. In my opinion, there are two ways to overcome all of your exes concerns during the fallout period.
Address & Prove
Make Him Fall In Love Again
Lets take a moment to explore each of these ways.
Address & Prove
To this day it is mind boggling to me how poorly most couples communicate.
Either the guy has concerns and won't say anything about them or the girl has something bothering her and she won't speak up. Every day I am bombarded with comments and questions regarding breakups. So, essentially I see how poorly people communicate on a daily basis. Sometimes I just want to put a couple together and knock their heads together like this:
WAKKKEEE UPPPP!!!
So many problems that couples have are because they refuse to communicate. I want you to put an end to that trend.
What were the three BIG negative thoughts that I said most men have during the fallout period?
Resentment towards something you said (out of anger) during the breakup.
Upset over the way he was treated during the relationship.
Concerns that the relationship WON'T last.
I think deep down all women who find themselves in the fallout period know that these are the concerns that their guy is having but they do nothing about it.
LAZY!
What you need to do is address the thoughts above and prove that things will be different this time around.
Yup, it isn't enough anymore to just talk to your ex (currently new) boyfriend about his concerns for the future or the way he was treated. You actually have to prove you mean what you are saying when you say "things will be different this time."
Make Him Fall In Love Again
Yes, it's that stupid thing again, love.
If there is one movie that EVERYONE can watch over and over again it would have to be The Princess Bride.
I mean, this movie literally has it all.
Sword fights (check)
Giants (check)
Miracle workers (check)
Revenge (check)
Inconceivable!!! 😉 (check)
True love (check.)
I think I will leave it up to Wesley (aka: the dread pirate robins) with his thoughts on TRUE LOVE!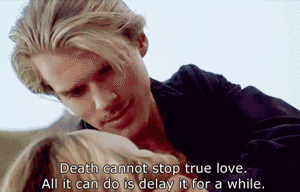 "Ok, ok we get it Chris if we can make a guy fall in love with us all over again the fallout period will cease to exist."
If you are caught in the fallout then that definitely means that your ex hasn't let his guard down completely yet. If you were to… say, make him fall even deeper in love with you than he already has that guard will vanish.
But how do you do that?
A friend of mine said something to me pretty recently that really resonated with me.
She told me that:
"They say the way to make a person fall in love with you is to experience new things together. That act of experiencing something new will bring the two of you closer together in a way that no one else can compete with."
Not only was it a really cool quote but I think it is actually true.
What if you and your ex just did all sorts of new things that you haven't ever experienced before? What if you were to make each of those experience special for him? I am talking about the type of special that he can't get out of his mind for years. The type of special where he literally thinks about you every second of the day!
Need ideas?
Well, you could always storm a castle and break up a wedding 😉 .
How To Keep Your Ex/New Boyfriend Intrigued In The Relationship
(Learn how to get your ex boyfriend back with my E-Book.)
One of the beautiful things about this site is the fact that you can (for once in your life) get a mans perspective on pretty much everything you have ever wondered about relationships.
I have a feeling that a lot of women (who aren't even trying to get their ex boyfriends back) are going to be extremely interested in this section because I am going to be giving you my perspective on how to keep a man intrigued in a relationship.
So, buckle up because this is going to be one heck of a ride!
The Chase
Men love the chase.
In fact, "the chase" is one of the reasons why some men prefer to stay single over being in a relationship. But we aren't talking about those idiots today are we? No, we are talking about the men who have taken a leap into a relationship. In other words, the actual MEN out there in the world.
One of my favorite things to do is to surf YouTube for funny pranks pulled on people. One day I came across one of the most interesting pranks I have ever seen.
The prank was relatively simple. A guy tricked his girlfriend into walking into a pile of green goop. Well, after the goop attack and consumed with anger the girlfriend marched over to her boyfriend to give him a piece of her mind. When she found him he was on one knee ready to propose!
I thought it was awesome.
A moment of pure anger was replaced by a moment of pure ecstasy. However, it was what she said next where I had the problem…
"I'M ENGAGED… I'M ENGAGED… in your face all you single ladies because I'M ENGAGED…"
Seems like a relatively harmless comment right?
I mean, this is probably one of the happiest moments of her life so we should give her a pass right?
Well…. ya I will give her a pass but I want you to read the quoted material above a few times. It's almost like she is saying "game over!" or "I won so everyone else can suck it."
The biggest misconception that I see with women is that they think that when they get a boyfriend (or get married) that all the hard work is done…
I am sorry to break it to you ladies but if you really want to keep your man intrigued in the relationship then you still have to put in the work.
Well, really what I want you to do is not make things so easy for him all the time. In other words, I want you to still make him chase you while in the relationship BUT you have to do it in a specific way.
The Rules Of The Chase In A Relationship
I really don't know any of you personally but I care for you.
I know that is a weird thing for me to say but I really do. Everything that I have accomplished through this site is because of you. So, the best way that I feel I can give back to you is through my own experiences in my life. In other words, the things that women have done to me to make me incredibly interested and chase.
Obviously you are in a predicament here because you are dating someone and he can't really "chase" you because… well, you are dating him.
That is why I have come up with the following rules for you to follow.
Rule 1- You Can't Play Hard To Get Too Much
Look, the idea here is to leave a guy intrigued and sometimes you have to play hard to get for that to happen. Well, I would beware of doing this too much because if you play too hard to get in a relationship your boyfriend is going to think that even though he is dating you he can't have you the way he needs in order to feel fulfilled because you are playing hard to get.
Rule 2- Always Remember That Men Need To Feel Admired BUT Not TOO Admired
I am a guy so I can tell you this with full confidence.
I love hearing compliments from people. However, I love to hear compliments from women more than anything. It really feels good. But if I hear too many compliments from the same person too many times then the compliments become kind of stale.
It is ok to compliment your boyfriend but don't do it too much. Make each one of your compliments mean something.
Rule 3- Don't Spend All Day Every Day With Your Boyfriend
This is probably the hardest rule to talk about because so many women have trouble with it (especially on this site.)
How can I explain this to you best. Hmm…
My family used to have this tradition that every summer we would go on a vacation somewhere. Unfortunately, that tradition seems to have been killed… What the heck family?
Anyways, I digress..
We would go on these vacations together for about 2 weeks. That meant that for 2 weeks straight I would be with my family all day every day. Now, I love my family to death and I am usually super excited about spending time with them but after a while it can get kind of old. I found that I would be extra irritable and I would be ready to have some alone time and see my friends.
When you spend too much time with a boyfriend I think that this effect can come in to play.
I think most men need a little space but that is not the real reason I created this rule.
Lets pretend that you and I are in a relationship. If we spent every moment together the chances are high that I will grow less and less intrigued in the relationship. However, if you worked really hard to make every moment with me count, you left me wanting more and you gave me enough time to miss you then all of a sudden you hold my attention easily.
The two main factors that come into play here are:
Leaving your man wanting more.
Giving him time to miss you.
But how do you do those two things in a relationship?
I am so glad you asked!
Giving Him An Emotional High And Making Him Miss You
(If you want to learn more tricks like this I can't recommend my E-Book, Ex Boyfriend Recovery PRO enough.)
I would like to talk about this section in two different ways.
I know that is a strange thing to say right off the bat but in my mind there are two big ways that a couple can communicate and use this particular method. I would like to cover what you should do for each of those ways.
So, what are the two main ways that this particular method can be used?
Through text messages.
Through phone calls.
Lets recap for a moment what this section is going to be all about before I start going through each of the "methods of communication."
The Recap
The point of all of this is to keep your ex/new boyfriend intrigued in his new relationship with you. Everything that I discuss in the following sections of this page is going to be working towards accomplishing that.
Specifically though, the method that I am going to be teaching you is actually quite easy (as long as you have some discipline.)
Step 1- Create an emotional high within your boyfriend.
Step 2- End the conversation prematurely after you get your boyfriend to an emotional high.
Step 3- Let him miss you a little bit.
Step 4- Rinse and repeat.
Lets talk about how to use these steps for each of the three methods of communication.
Text Messages
This method works extremely well for texting.
In fact, I have had this exact method used on me by a woman before and let me tell you that it works like gangbusters.
An interesting fact about me is that I can sometimes be very quiet about what I am feeling on the inside. On the outside I can look like everything is fine but trust me a lot is going on in the inside emotionally. I think most men are wired this way to be quite honest. So, just because they look like they aren't feeling something on the outside that doesn't mean they aren't feeling anything on the inside.
For example, when a girl once used the method I am about to describe to you on me my emotions were a roller coaster. I remember our conversation would progress and then she would say something that really made me happy. Of course, every time it seemed that I got to an emotional high with her she would just stop texting me back for a little while.
Maybe she had a meeting. Perhaps she just got busy and couldn't text me back or maybe she was doing this on purpose because she knew it worked. Whatever the case let me tell you it really worked.
Here is what was going on in the inside of my head.
I think the best way I could describe it would be using the "agony & ecstasy" terms.
She would leave me with an emotional high through text messaging and I would feel complete ecstasy and happiness. Of course, the conversation would soon end with her and I would be left with agony. It is one of those things where you are constantly checking your phone hoping that SHE would be the one who would text. Every time you received a text message that wasn't from her you were almost angry at that person for texting you.
I don't know how this girl did it but somehow she timed exactly when my agony was about to turn into anger and that was when she would text me back finally. Of course, the moment I would see a text from her I would run around the room in complete ecstasy again.
Do you see how this works?
Ecstasy to Agony to Ecstasy again. Then you just rinse and repeat.
Lets talk a little about how we can create that ecstasy within your boyfriend.
Creating That Emotional High With Text Messages
This is the important stuff so listen up.
Creating an emotional high in your boyfriend is all about the lead-up and the payoff. A lot of things have to happen for this to fall in place so I will try to explain it the best way that I can.
The first thing I want you to do is to make a pretty neutral comment that can be kind of sweet. The idea here is to set up your text so you can give him a string of compliments in the future (and probably get a few yourself in the process.)
Here is an example of a nice little text you can send to set things up.
(Side Note: This is assuming the two of you were talking about him waiting for his friend somewhere.)
Once he responds to this text message it is time to set up the big pay off. The key to leaving a guy with an emotional high is the fact that you can't be too complimentary. In other words, you can't just send him a compliment text every other text message. You just need to softly sprinkle them here and there. Sure, you give a compliment but he should give one back. That is the way this is supposed to work. BUT DO NOT OVERDO IT.
So, what is the big payoff "compliment text" that I keep talking about?
The thing you have to understand about men is that we all love to feel wanted. In other words, the more we feel wanted the better we feel about our lives.
Take me for example.
If a girl (that I am interested in) gives me a really good compliment then I walk around the entire day thinking to myself "I am THE man!"
That is what you are trying to accomplish here. You want your boyfriend to feel like that throughout the day without him thinking that you are laying it on too thick.
Here is a good example of a compliment text:
I realize I came up with this text on my own but I swear to god if a woman (who I was dating) said that to me I would be walking around all day thinking I am the greatest thing to ever walk the earth. The most beautiful part about it is that the compliment seemed so natural.
Of course, here comes the hard part.
This is the part where you have to show discipline and pull the rug out from under your man for a second.
After you send a text like the one I gave in the example above you have wait a minimum of 3-5 hours to reply to his response.
Remember, the text above is supposed to incite ecstasy and you not responding for 3-5 hours will incite agony.
The agony is really important so it cannot be skipped.
Phone Calls (Facetime/Skype)
Is it just me or have you noticed that no one talks on the phone anymore?
In fact, I have heard of couples (people who are actually dating each other) that don't even talk on the phone. They just text.
I think that is disappointing because I love talking on the phone and talking on the phone is a step above text messaging.
Of course, there are disadvantages to talking on the phone. For example, the majority of people aren't very quick on their feet so they end up saying something that is viewed as unattractive to the other person. Luckily for you, this guide is geared towards women who have already gotten their ex boyfriend back which means you don't really need to worry as much about how you are perceived.
So, in that sense you have already "won."
I guess the question on the table right now is:
"How can the emotional high/missing method be used in a phone call?"
Well, what you have to do on a phone call is very different from what you have to do in text messaging.
In text messaging I talked about the agony and ecstasy effect. With phone calls it is all about leaving your guy wanting more so what you have to do is completely different.
The Thing I Noticed About Phone Calls
I have done my fair share of talking on the phone to girls in my life.
No matter what, with every single girl I have ever talked to on the phone I have noticed something.
There is almost like this set amount of time where you can talk to a girl before the awkward silences set in and you can't think of anything else to talk about. I am the type of guy who likes to talk so awkward silences annoy me and I feel forced to fill them by talking.
What you don't want to do is get caught in the trap of the awkward silences.
I know it can be really hard to talk to a guy on the phone and make a conscious choice to hang up prematurely but that's what needs to happen.
Let me make this simple for you.
Just going on the knowledge you have what do you think is better:
Ending a conversation when the awkward silences have set in?
or
Ending a conversation on the phone where both people hit their emotional high point?
Which one of these choices do you think leaves a man wanting more?
If you guessed "ending a conversation on the phone where both people hit their emotional high point" then you are spot on.
The key to keeping a guy intrigued in a relationship when you talk on the phone is so simple. In fact, any woman has the power to pull it off. The reason most women don't is because they don't have the discipline to consciously say
"We have to hang up now."
Those six little words could be the difference between keeping a man intrigued or making him think that this phone call is boring.
Oh, and did I mention it always leaves a guy wanting more?…