Your ex traded you in for an "upgraded" model.
What should you do?
Well, that's what we're going to be talking about today.
Of course, When I say upgraded I mean that your ex began a relationship with someone you believe is better than you.
Someone you find intimidating based on looks, success, personality, or for some other reason.
This can be an especially hard pill to swallow if you want your ex back.
So, let's begin by clearing one thing up — upgrading is a matter of perception.
This feeling occurs when you have a negative view of your own value and an inflated view of someone else's value.
Neither perceptions are based on reality. So, today, we are going to guide you through your own misperception and share our best strategies for handling the "upgraded" girlfriend situation.
What To Do If You Believe Your Ex Upgraded
The fact that you believe your ex has upgraded to a newer, better version of you should be a red flag.
It is for me and I'll tell you why.
When a client tells me their ex upgraded and asks me what to do, I immediately know the issue.
They have a gigantic confidence issue.
The "upgraded" concern, however, also tells me more about the exact work we need to do together and the best approach this client can take to potentially get their ex back.
It starts with building confidence.
Let's Talk About How To Develop Confidence
I tell clients in this situation that there are three layers to confidence.
Oftentimes experts will tell us that confidence is important, but they do not tell us how to increase it.
Today, I'm going to tell you how you can increase your confidence, by talking to you about the three layers of confidence.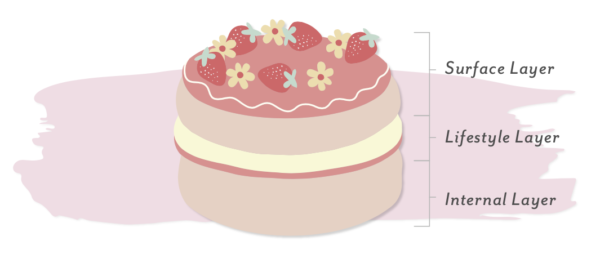 Surface Layer
Lifestyle Layer
Internal Layer
While we often hear that confidence comes from within, it can also be built by working from the outside in.
Let me explain.
The internal layer of confidence is absolutely the most important to develop, but also the most difficult to build.
This is why I recommend that clients work on developing the first two layers of confidence in order to strengthen the third internal layer of confidence.
Let's explore each layer in more detail:
Layer #1: Surface Layer
This is the most superficial layer of confidence.
When I talk about developing the Surface Layer of Confidence, I'm talking about presenting yourself confidently.
The goal with this layer is essentially for you to act and carry yourself confidently.
Layer #2: Lifestyle Layer
The Lifestyle Layer of Confidence is where things really start to get interesting.
The Lifestyle Layer is about living and projecting a confident lifestyle – from your hobbies to what you share on social media to the company you keep.
This layer is all about developing how others perceive you.
Working on the first and second layer of confidence can have a massive impact on developing the third layer of confidence.
Layer #3: Internal Confidence
The Internal Layer of Confidence is about truly embodying confidence and truly believing in your own value.
It is basically knowing that no matter what life throws your way, you're going to be OK.
Developing the Internal Layer of Confidence can be especially difficult for our clients who are focused on getting their ex back, because it requires them to abandon the belief that life will only be OK if they get their ex back.
Developing The Internal Layer Of Confidence
We already talked about the trickle-down effect that requires you to develop the Surface Layer and the Internal Layer in order to strengthen the Internal Layer.
If you want to directly work on the Internal Layer, it requires one thing – for you to face your greatest fears.
Oftentimes, for clients who want their ex back, their greatest fear is seeing their ex with another woman.
In your case, this fear is coming true. Lucky you!
To overcome this fear, you need to start visualizing yourself coming out on the other side of this situation OK. Every day, practice this visualization of you overcoming this situation victoriously.
While this ritual may seem awkward at first, it is actively strengthening your internal layer of confidence.
So, now that you know and believe you are going to be OK regardless of the outcome, let's look at the facts.
The Rebound Effect
It's common for people to feel and act irrationally when their ex moves on to someone new quickly.
You may be wondering, is this a rebound relationship or something that will last?
In my experience, there are two pieces of criteria that will help you to determine if it is truly a rebound relationship.
Criteria #1: How Quickly They Moved On
If your ex began this new relationship within a month of your relationship ending – especially if you had a long-term relationship – it's very likely it is a rebound relationship.
On the other hand, if your ex moved on three or four months after your breakup, it's a little less likely for it to be a rebound relationship.
Criteria #2: How Long They've Been in the New Relationship
If your ex's new relationship lasts longer than six months, it's beginning to turn into something more serious and is less likely to be a rebound relationship.
The other things to keep in mind when it comes to rebound relationships is the "honeymoon factor".
Many people do not realize there is this invisible sliding scale in an ex's mind that is comparing an old relationship with a new relationship.
In the beginning of a new relationship, an ex is often comparing how he feels about the new girl with how he felt about you toward the end of your relationship.
The problem is that no one really has a great ending to their relationship. So, when he compares his feelings at the end of your relationship to his feelings at the beginning of this new relationship, his perspective is going to be skewed to favor the new relationship. This is because he is in the honeymoon period of the new relationship!
What is important for you to keep in mind is that eventually the honeymoon period will end and that's when the real comparison will begin.
This is why we recommend that clients do not take rebound relationships too seriously until they last six months or more.
But what should you do if your ex has upgraded to someone new and their relationship lasts longer than six months?
When The "Upgrade" Isn't A Rebound Relationship
If your ex's relationship with the "upgraded" girlfriend is not a rebound relationship, it's times to transition to what I call the "Being There Method".
We actually stumbled upon the Being There Method while working with a coaching client years ago and we have since corroborated it with science and countless success stories.
Years ago, when we first started ExBoyfriend Recovery, clients would come to us with these stories of their ex "upgrading" to a new relationship. They would ask us what to do and we did not know.
That is until we tried a new approach with one of our coaching clients in this situation. After an extra long period of no contact, we had this client "friend-zone" her ex boyfriend and suggested that she just be there to help him emotionally.
Not knowing the outcome of this experiment, we sat back to watch and were amazed out the result. We found that this approach actually triggered the insecurities of the new relationship.
The new girlfriend felt insecure about our client remaining in contact with the boyfriend and this insecurity worked to our client's advantage.
After this experience, Psychology Today released an article that corroborated this method.
One of my favorite quotes from this article reads:
"The more frequent the contact with an ex the less satisfied participants were with their current relationship."
This means that if your ex is consistently in contact with you, it's a great indicator they are not as happy as you think they are in their new relationship.
Another favorite quote from this article reads:
"The research shows that maintaining contact with exes is pretty common. Bu whether it indicates a problem with your current relationship most likely depends on why you keep in touch."
This last quote basically tells us two things:
It's Common for People to Remain in Contact with an Ex
What Matters More Than Anything is WHY They are Contacting You
If you notice they are contacting you for emotional support to talk about their current relationship or about topics maybe should be reserved for their current relationship, it's a good sign they are not really satisfied with their "upgraded" relationship.
Your goal with the Being There Method is to get them to contact you a lot and to rely on you for emotional support.
That's it!
And by doing that, not only will it get your ex to realize how unhappy and unsatisfied he is in his current relationship, but it can tap into the insecurities the new "upgraded" partner has about him talking to you.
I realize this sounds morally gray, but we have found this to be the most effective strategy in your current situation.
Now, is this the healthiest approach to relationships? Absolutely not. But it's not my job to play ethics with you.
It's my job to tell you what will work to get your ex back and the Being There Method works better than anything else.
Enter The Dating Scene
Once a week, I post a new YoutTube interview featuring one of our success stories.
In these interviews, I ask our success stories all kinds of questions about how they got their exes back.
I don't really care if they followed my program exactly, I care about what they did that worked.
Ultimately, I'm looking for patterns.
In previous articles I shared one pattern that I have noticed about the concept of not caring if you get your ex back.
A second pattern I've noticed from these interviews is this concept of the fear of loss.
The Fear Of Loss
The fear of loss concept basically means your ex, deep down, has a fear of losing you or missing out.
When your ex sees you with someone new, this fear is triggered.
One of my favorite success story interviews occurred last week with a woman who was in this "upgraded" situation where her ex moved on to a new girl.
This client not only followed the Being There Method, but she also moved on and dated someone new.
These two approaches together helped her to get her ex back.
So, does this mean you should completely move on to someone new and approach every dating relationship as the new potential love of your life? No, definitely not.
But dating someone new gives you the opportunity to do two things:
#1: Distract Yourself
Let's face it, seeing your ex with a new "upgraded" version of you is difficult, but dating someone new can actually be an excellent distraction to keep you from obsessing about their new relationship.
By focusing on your own life and dating someone new – even if it's not the best date – it can actually help to take your mind off of your ex.
#2: Make Men Fall Over Themselves for You
The second thing is it gives you the opportunity to basically practice the ability to make men fall all over themselves for you. Dating and attacting someone new is excellent practice for getting your ex back.
You don't have to fall in love with someone new, but maybe you will. That's just an added bonus.
Conclusion
So, just to recap, if your ex traded you in for a new "upgraded" model, here is what you should do:
Work on Your Own Internal Confidence
Implement a Being There Method
Go on Dates with Someone New
Regardless of the outcome, each of these steps benefit your own personal growth and development, which is sure to get your ex's attention.