You are making a mistake…
In fact, you are all making mistakes. I can't tell you how many times a day I read something in the comment section of this site and just sigh… Well, perhaps sighing isn't quite accurate, I think I cringe more than anything. To me, making a mistake is like hearing nails screeching down a chalkboard.
I will say that I understand why you are making mistakes. I get that you are in a very vulnerable and confused state. I also get that you really want your ex boyfriend back and that is the root cause of many of the mistakes you are making. However, there is something that you need to understand now. The more mistakes you make in your campaign to get your ex back the worse your chances become of actually being able to get him back. I like to compare it to a bank account. Any time you do something productive and positive towards getting your boyfriend back you add money into your "relationship bank account." Of course, every time you make a mistake you are taking money out of that account and if enough mistakes add up the entire account will be gone forever.
What This Page Is About
So, I want to do something special today, something that I have never done before. I am going to be writing about every single mistake I can think of when it comes to getting an ex boyfriend back. It is going to be long, in-depth and maybe a little bit hard to hear. I am not going to just stop there though. I am also going to give a "quick fix" to every mistake so you know exactly what to do if you have made that mistake. Here is how the format of this page is going to work:
I will give an in-depth description of the mistake.
Then I will give you a "quick fix" for the mistake.
Mistake #1- You Have Become A Text Gnat

Ah the texting GNAT…
One of my funnest little creations that I talk about extensively in The Texting Bible.
When I was about 12 or 13 years old my family took a trip to Big Bend National Park. I remember walking on a trail there and I kept feeling something, almost like a feather, touch my ear. I kept slapping at my ears to get rid of the feeling but it never stopped. I soon realized that, that feeling wasn't caused by a feather, it was caused by gnats. The persistent bugs never stopped buzzing around and it annoyed the heck out of me.
A text gnat essentially does the same thing except with text messages. The TG (text gnat) has many forms. Allow me to introduce you to some of my favorite TG's.
The Bulk TG
The Send The Message Over Again TG
The Angry TG
The "Quick Fix" For Text Gnats
(If you want the full way to overcome being a text GNAT please check out "The Bible."
There are a couple of ways you can fix this problem. First off, it is really important to understand that if you have been an excessive text gnat then your ex boyfriend is going to view you as needy and desperate which are not good qualities to have. The only way that you can shake the needy and desperate persona is to enter into a no contact rule for 30 days. This should be enough time for everyone to calm down and for him to view you as a normal human being instead of a "crazy ex girlfriend."
Another quick fix that you will have to implement is to work on the one text rule. From now on any conversations you enter into via text messages you should have this format:
This way you ensure that you can't fall back into your text gnat ways. Notice how clean this format looks and I promise you when it comes to attracting and re-attracting guys, less is more.
Mistake #2- You Have Become A Call Gnat
I don't have to explain this one do I? A call gnat is essentially the same thing as a text gnat except instead of texting we are dealing with someone who constantly calls their ex. I understand that after a breakup you want answers. I understand that when you want those answers quickly you end up calling and talking to your ex. What I don't understand is why you feel the need to call him 5 times a day if he is ignoring you.
Ladies I am going to let you in on a little secret here, he got your call and he IS ignoring it on purpose. Quite frankly, I think he has every right to do so because women who call that many times a day are generally not stable at that particular moment. I am a guy and let me tell you that it would really creep me out if an ex did this to me.
A lot of times what I see happening is that text gnats will turn into call gnats after their texts aren't answered. It is a case where one leads directly to the other.
The main problem that I have with CG (call gnats) is that what they are doing is really verifying the exes decision to not want to be with them. With every call they make their chances drop. Now, if you have been a CG and you are freaking out right now I want you to take a deep breath because it is possible to recover from this.
The "Quick Fix" For Call Gnats
Obviously the quickest fix is to stop calling him so much. However, since I am assuming you have already committed the "call gnat sin" we have a different set of problems we are dealing with here. Since you have already spammed his phone with calls he thinks you are.
Crazy
Desperate
Needy
And a tad psycho
Well shucks, that is a lot of headwind to be dealing with huh? The only way to shake these thoughts he is having is to fall off the map for a while. Again, I would like to recommend the no contact rule for 30 days (you will notice that the NC rule can fix a lot of mistakes.) However, eventually there is going to come a time where you are going to want to talk to him again after the no contact rule. When this time comes I recommend leading off with a text message as that will be perceived as less threatening. Using text messages you can work your way up to calling him again.
Mistake #3- The Cardinal Sin Of Showing Up Unannounced
Oh boy, where to start with this one…
Ok, how about the fact that it can be extremely creepy for a guy if an ex girlfriend shows up unannounced declaring her love for him in person. I blame this one on Hollywood and all the romantic comedies with happy endings. You know, a few months ago I was dead set on the fact that women understood that all the romantic movies that have happy endings weren't really realistic. Deep down I figured that women were smart enough to understand this. While I still believe most of you are I had a visitor to this site change my mind a little bit.
She was under the impression that big romantic gestures like showing up, unannounced, and holding a radio over her head playing a love song would actually work. (see mistake #6)
Well, I hate to break it to you but this isn't Hollywood and rarely does showing up unannounced making a big romantic gesture ever work. In fact, if a girl did that to me I would be completely creeped out. I have had a lot of girls do things like that and every time it creeped me out beyond reason.
Now, I know what you are thinking right now.
"But… I made a romantic gesture… are my chances over?"
Actually no they are not. However, you harmed them a lot.
The "Quick Fix" For Showing Up Unannounced
My best friends parents told me a really funny story once. Actually, my best friends dad did but it had to do with him and his wife. So, my buddies parents were high school sweethearts. They went to different schools but they ended up dating for about a year. When senior year came around my friends dad wanted to play the field a little bit so he ended up breaking up with his then girlfriend (later his wife.) He immediately started dating someone else and it drove his ex girlfriend (now his wife) absolutely crazy.
In fact, it drove her so crazy that she followed him around in her car every time he took the new girl on a date. She showed up unannounced on his doorstep a couple of times and did everything that you aren't supposed to do. He laughs about it now but at the time it really creeped him out.
Now, the moral of this story is that those two not only ended up getting back together but they ended up getting married. I don't care what you say it is completely possible to rectify a crazy situation with proof like their story.
Of course, that doesn't mean it will be easy.
Again, I want to suggest no contact to you for about a month and a half. Hopefully this will let enough time go by to shake the "crazy girlfriend" status that you are currently listed under.
Mistake #4- Sleeping With Your Ex Boyfriend
There are really two variations of this mistake.
Breakup sex.
Sleeping with him after the breakup.
I am going to be covering both of these mistakes and giving you in-depth details on why I personally believe they are not a good idea. Lets start with the breakup sex first. I guess I have never understood the concept of breakup sex. Well, I take that back, I understand why people do it but I have never understood why they fail the see the problems with it down the road. First off, if you truly want your ex boyfriend back but you had breakup sex with him then you have some obstacles to face in the future.
One obstacle is the fact that he is going to view you as a booty call from here on out. This is bad because  you are always going to be wondering in the back of your head if what he is saying to you, post-breakup, he really means or is just a line to get you in bed. Another common issue with breakup sex is that it hinders your healing process. I realize that this is a site dedicated to helping women get their exes back. However, sometimes things just don't work out and if that happens in your case you are going to have a lot more trouble coping with the loss of him if you had breakup sex.
I had a woman contact me the other day detailing her story to me. She told me about all the horrible things that her boyfriend did to her and asked me if she had a chance to get him back.
"Has he shown you any sign that he is interested?" I asked her.
"Yes, we had breakup sex!" she replied.
Ok, I wouldn't exactly call that a sign because in essence all you are doing is setting yourself up for friends with benefits territory.
This brings us to our next topic of discussion, sleeping with your ex after a breakup. This has many of the same sins as breakup sex except there is one difference. If you do this then you aren't set up to be in friends with benefits territory, you ARE in friends with benefits territory. You see, after breakup sex the two of you go your separate ways and maybe some day down the road your ex will proposition you to be FWB (friends with benefits.) However, if you end up sleeping with your ex after the initial breakup then technically he has already propositioned you and you have already agreed so welcome to FWB territory.
The "Quick Fix" For Sleeping With Your Ex Boyfriend
Well the quickest fix I can think of is to NOT sleep with your ex boyfriend during/after the breakup. However, I am assuming that if you are reading this and are really interested in this particular section that you have already committed this mistake. Of course, if you haven't committed this mistake then give yourself a pat on the back and move on to mistake #5. So, how does one approach a situation in which you have essentially been labeled as FWB? Well, the first major change you are going to have to make is to stop sleeping with your ex.
Think of it like a test. If your ex boyfriend is a real scumbag he won't ever talk to you again and you will know for sure that he was only in it to get laid and doesn't care about you or your feelings at all. I suggest implementing the NC rule in this case as a way to stop yourself from sleeping with your ex again. It won't be easy and will take a lot of discipline but hopefully it can shake that FWB label off.
Mistake #5- Begging For Your Ex Boyfriend Back
I want to tell you something about men that you maybe didn't know. I am going to create a hypothetical situation to prove my point. Lets pretend for a moment that I am put in a room with ten women. Each of these women are absolutely beautiful. Essentially, it is the ultimate male dream to be surrounded by this many drop dead gorgeous women. Nine of these women (all of equal looks) try to win my heart by begging and pleading to be with me. So, I am in paradise right? I mean, I have nine beautiful women crawling on their hands and knees to be with me.
Ah, but what's that in the corner? Why isn't that one girl begging like the rest? Why am I drawn to her? She is the same "looks wise" as the other nine but I am drawn to this one.
Men always want what they can't have. We don't want the girl that we know we can get. Instead, we want the girl that we know we can't get.
If you beg for your ex boyfriend back you probably won't get him back. In fact, I think that the only way that begging ever works is if the ex boyfriend/boyfriend wants you to beg because it makes him feel better and more powerful. However, in my experience dealing with the many visitors to this site begging doesn't work.
The "Quick Fix" For Begging For Your Ex Back
Stop all those pathetic phone calls and text messages. We aren't replaying the plot here of When Harry Met Sally here. This is real life remember? So, there is a lot that you have to do. First off, I want you to read this section of the website so you know exactly how you are supposed to text an ex to get him back.
Now, you were the one who begged for him back. He is expecting you to call him and do everything that a crazy ex girlfriend is supposed to do. However, you aren't going to do any of those things. Once again, I want you to enter into the NC rule as this can shed your crazy ex girlfriend persona.
Mistake #6- Making The Grand Gesture
I am giving you permission to blame Hollywood for this one. Actually, a lot of my favorite movies have a guy at the end making some grand gesture professing his love to the girl. I mean, who can hate "When Harry Met Sally, Say Anything or 10 Things I Hate About You?" In "When Harry Met Sally" (SPOILER ALERT) Billy Crystal races through the city on New Years Eve, finds Sally and delivers one of the most memorable "love speeches" of all time, he ends up getting the girl. In "Say Anything," John Cuscak holds a boombox over his head (seen in the picture above,) he ends up getting the girl. In "10 Things I Hate About You," Heath Ledger ends up signing to the girl in front of the whole school and ends up getting her.
I am sorry to break it to you but real life isn't anything like Hollywood. If you are thinking about making a grand gesture hoping that it will finally be the thing that gets your ex boyfriend running back into your arms then you will probably be really disappointed. First off, in all of the movies I mentioned above it wasn't the girl that made the grand gesture, IT WAS THE GUY. Now, while girls may find grand gestures fascinating and romantic, guys do not. Let me put it this way if a girl were to make a grand gesture my first thought wouldn't be "OMG, how sweet and romantic." Instead, I think it would go something a little more like this, "this girl is psycho."
Men aren't wired the same way that women are and that is an important fact that you need to understand. No big romantic gesture is going to bring him back. In the history of running this site I have never heard a case where a big romantic gesture has worked (for a girl.) Do you think you will be any different?
The "Quick Fix" For Making The Grand Gesture
Unfortunately, I have had experience making big gestures personally and I have witnessed countless others do the same. Like I said above, they do not work. One of my friends made the romantic gesture of buying her ex boyfriend a $500 guitar. He ended up accepting the guitar and never talking to her again, talk about cold huh? So, the quick fix to making a grand gesture to your ex boyfriend is to not do it.
However, in the event that you have already done it then I suggest you enter into a no contact rule immediately though the standard 30 days won't be enough for you. Instead, I am going to be recommending that you enter into a 60 day no contact period and work on contacting him and repairing things after that time frame is up.
Mistake #7- Getting Angry And Starting A Fight
When emotions run high, logic runs low. Someone once told me a long time ago that the more you care about the person romantically the angrier you can get over the smallest little things. I don't think there has ever been a truer statement to be honest. It seems that the more involved with the person you are, the more you care about them and the angrier you can get over the dumbest little things.
I am not going to lie to you, I have been in some shouting matches in my time. At my core I am probably one of the most laid back men on the planet but if you put me in a relationship with a girl I truly care about then I think it would be naive of me to say that I would still be pretty laid back all the time when it comes to every little thing. The ante is upped during a serious relationship and as a result tempers can be upped as well. Getting angry with an ex boyfriend is just going to come with the territory. However, if you want that ex boyfriend back then you are going to have to avoid a fight at all costs.
So, why is it a mistake to get in a fight with an ex boyfriend? Well, for one it is going to make him angry at you and push you farther from your goal of getting him back. But I honestly believe that it is the little comments that can be said during these fights that cause the most damage.
"He really thinks that about my mother?"
"She really thinks I have a small… "
Ok, you get the picture. Fighting with your ex is bad. Lets take a look at how you can fix this mistake.
The "Quick Fix" For Getting Angry And Starting A Fight
Any time you have ever had a fight with a boyfriend in the past I want you to think real hard about what eventually fixed the fight.
I am betting that it was simply: time.
Sure, he may have apologized and you felt better but it wasn't until enough time passed that you truly got over it. We are going to apply the same logic here. One thing that we do know is that with enough time tempers will subside. So again, I want you to implement the no contact rule (I sound like a broken record huh?) This time just implement it for 30 days and the time apart should heal all the emotional wounds that you both caused each other during your fights.
 Mistake #8- Becoming A Recluse
Breakups really suck. I have been through enough in my time to know that much. However, it isn't the actual act of the breakup that hurts the most. It is the time immediately after the breakup that hurts. You sit alone in your room for hours going through what went wrong, how you could have done better and then all of a sudden it hits, the heartbreak. I have found that women have a lot of ways of dealing with this heartbreak. Some will go out on a drinking binge, others will try to sleep with the closest guy they can find and then you have the recluse.
This whole section is about women who have become a recluse after the breakup.
So, lets start by defining what a recluse is. When I hear that word the first thing I think of is someone who is afraid to go out in public, sits inside all day and has no social life. So, from this point on that is how we are going to define a recluse. Ok, if you have yet to leave your room after your breakup with your now ex boyfriend I think it is about time we change some of that behavior. The fact of the matter is that you can't get him back by being a recluse.
The "Quick Fix" For Becoming A Recluse
This may sound a little harsh but you have to hear it..
"Get off your butt, stop feeling sorry for yourself and start to do something with your life."
The more pathetic you become (and if you are in recluse mode you are pathetic) the less attracted he will be to you. You want him back, we have established that much, but in order to raise your chances of accomplishing that you are going to have to take matters into your own hands. Again, I would like you to enter into a no contact rule. However, I also want you to go out with your friends, have fun, stop crying, stop whining and by golly stop feeling sorry for yourself. You need to have some actual fun and quit your moping around.
Go out to parties, meet new people, heck even go on a few dates. You will think me for it later trust me!
Mistake #9- Giving Ultimatums
This one is a pretty big mistake in my opinion. I have seen a lot of women try the ultimatum tactic and fall flat on their faces. How this typically works is an ex boyfriend will feel unsure if he wants to come back to his ex girlfriend. The girlfriend, sensing this, creates a deadline or ultimatum by which he has to come back to her by. The idea is to create a sense of urgency within an ex which will hopefully get him running back into your arms.
DO NOT DO THIS EVER.
As a guy I know what it feels like to be given an ultimatum by a girl and let me tell you that nothing makes me madder. Oh, and in case you were wondering I am not alone here. Men liken ultimatums to a woman trying to control his life. We can put up with a lot but when it comes to women controlling our lives that is where we draw the line. So, while you may have initially thought that the ultimatum would be a good thing that would get him to crawl back it will likely have the opposite effect and severely damage your chances.
The "Quick Fix" For Giving Ultimatums
How do you take back an ultimatum? I mean, you have already said it, it is already out there. So, how are you supposed to take it back? Well, you really can't. You said it so it is out there. All you can really do is damage control post ultimatum. I think a good place to start is by sending a text message to your ex like this: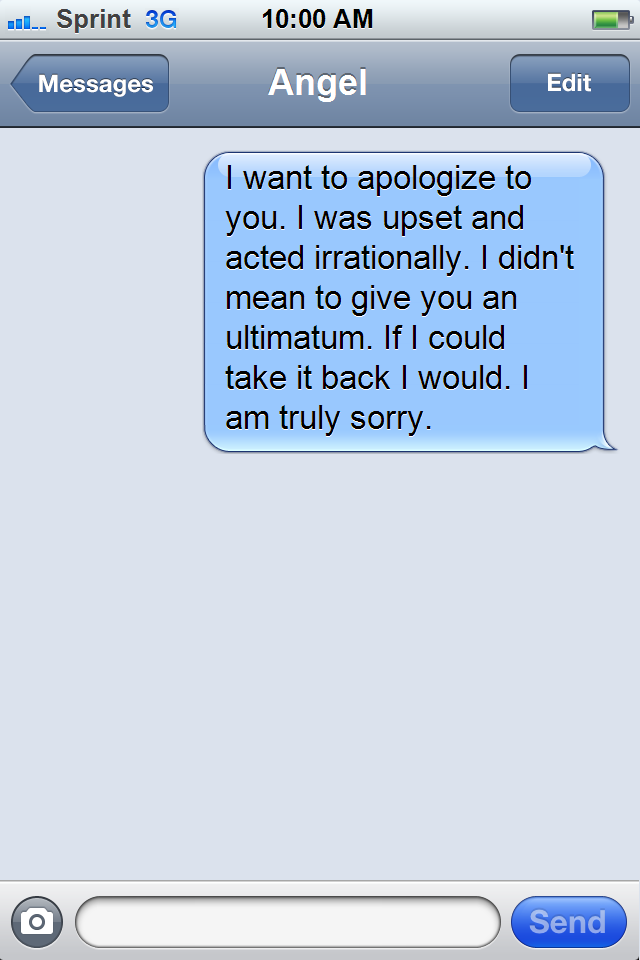 Sending a text message like that still won't clean up all the damage that was caused by the ultimatum but it is certainly a great start. After you send a variation of the text above I would like you to enter into a no contact period for 30 days. Hopefully that will give you and your ex enough time to look at the situation rationally and be able to recreate a connection with each other.
Mistake #10- Writing A Letter/Email Declaring Your Love
I really should have put this one at the beginning because I see a lot of the visitors of this site committing this "sin." So, why is writing a letter or email bad? Well, the act of writing a letter or email isn't bad at all. What we are really concerned with here are the contents of that email or letter. If you have written a long sappy letter/email declaring your love to your ex then you may be in trouble. I am going to explain why you may be in trouble in a moment. However, first I do want to say that I understand where your head is at when you were writing this letter. I know exactly what you were feeling because I have been there.
I have written a lot of letters and emails in my time that have gotten pretty sappy. I think anyone who has been dating someone has written letters like that before. What is interesting is how people respond to them. For this section I have divided people up into three different categories.
People who are "talking."
People who are in a relationship.
People who are exes
I am going to take a moment and quickly describe how the people in the three categories above will perceive an email or letter declaring your love for them.
People Who Are "Talking"
If you send an emotional letter/email to someone you are just "talking" to they will probably be weirded out. Obviously, it would be way too much way too soon.
People Who Are In A Relationship
If you send an emotional letter/email to someone who you are dating then they will be very receptive of it. In fact, the only time I have ever had success sending letters like that are to women who I was dating.
People Who Are Exes
Let me put it to you this way, if you are sending a letter like this to your ex it probably won't end well. I have had friends that have literally laughed behind their exes back after receiving a letter like this. Please, don't give your ex ammunition to laugh at you.
The "Quick Fix" To Sending An Email/Letter Declaring Your Love
(Disclaimer: The only time that I condone emails is if your ex has blocked you on all other forms of communication. However, you can only email him after you complete a 30 day NC rule.)
Obviously, the quickest fix is to NOT send an overemotional email or letter trying to fix things with your ex boyfriend. However, I really want to focus on what to do if you have already sent a letter like this. Similar to ultimatums, once you send a letter or email like this there is no taking it back. If you remember above, I recommended that you apologize for sending your ex an ultimatum. I DO NOT recommend apologizing for sending a letter or email. Instead, I want you to distance yourself from it.
How do you distance yourself from something like this?
Simple, we turn to our handy dandy no contact rule! Speaking of the no contact rule…
Mistake #11- Breaking Your NC Period
I sound like a broken record on this page a bit don't I? No contract rule this, no contact rule that. The truth is, the no contact rule is probably one of the single most important tactics that you can employ after a breakup. However, in order for the no contact rule to work to it's fullest extend you are going to have to NOT break it.
Make no mistake about it, completing a 30 day freeze out of your ex is not going to be an easy task. In fact, I would say that most women who have tried the NC rule have made mistake #12. Your ex will test you in ways you cannot imagine. Here are some of the most common scenarios that cause women to break their no contact rules.
Their ex contacts them during the 30 days.
It is their exes birthday.
Their ex hijacks a friends phone and calls them.
An ex shows up at their doorstep.
Their ex doesn't contact them (prompting them to get impatient and text their ex.)
The "Quick Fix" To Breaking Your NC Period
This is going to suck but realize that in order to have a good chance at getting your ex boyfriend back you are going to have to prove you can go 30 days without communication. So, in the event that you break the no contact rule you are going to have to start over from day one. That means if you were on day 29 and broke the no contact rule then you are going to have to start all over again.
The end lesson here, don't break the no contact rule.