Typically, there are three outcomes to a break up, you can initiate the break, he can initiate a break or you can both agree that you need to go your separate ways. This page is going to focus solely on the women who initiated the break up. So, the ideal person for this page would be a woman who wants to get her boyfriend back after breaking up with him. Before I get going there are a few things that I feel are really important to mention. First off, while I am going to do my very best to give you a winning strategy for getting your ex back I am not going to be able to cover everything that needs to get covered.
Don't worry though because I put together the best free page on the internet that will literally break everything down for you step by step and teach you how to get your ex boyfriend back. Oh, and FYI, it is going to take you about 30 minutes to read it completely from start to finish (that is how much effort I put into that thing!)
Common Reasons YOU Broke Up With Him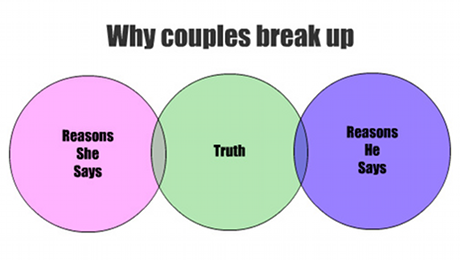 There are a lot of different reasons that women break up with men (some being their fault.) I feel it is important to understand these reasons because it will let you know if your ex is really worth trying to get back. I want you to understand that I am writing pages for this website not because I want to make money, but because I want to help you and sometimes helping someone is telling them that their ex is not worth going back to. So, here is how this is going to work. I am going to list some of the most common reasons that women break up with their boyfriends and give my thoughts on each of them. Lets take a look at our reasons:
You believed that the other fish in the sea were better.
You were worried they were cheating on you (but they weren't.)
They actually did cheat on you.
As time went on you became less and less attracted to them.
There was a huge fight that resulted in a breakup.
You thought you could do better.
At one point of your relationship you thought you could do better. However, after the breakup you realized that you didn't have it so bad with your ex significant other. This is a theme that is all too common among women so it is nothing to be ashamed of. While certain people might want to make you feel bad for feeling this way I actually applaud you. I think everyone deserves to get the best they can in the relationship department. Now, I will say that if your ex treated you poorly (ex: physical abuse, mental abuse) please do not go back to them. However, if they treated you ok then this is an easier reason to recover from. In fact, some of your ex boyfriends might welcome you back quite quickly but don't expect things to be smooth sailing right out of the gate.
You were worried they were cheating on you (but they weren't.)
Look, I can massage your ego as much as possible to soften the blow on this one but you messed up. It never feels good to get blamed for something that isn't true, especially from someone who is supposed to have your back. Nevertheless, you are going to have to work on your jealousy issues. I am not saying that you are wrong for being jealous. Actually, being jealous is natural and everybody who is in a serious relationship will feel it at some time. However, you are going to have to do a better job on dealing with it in the proper way.
They actually cheated on you.
I am going to be straight with you, a lot of "experts" out there are going to preach forgiveness and I agree with them to a certain extent but I disagree with the ones who don't acknowledge that chances are, you aren't going to have a happy ending with the person who cheated on you. So, I am not going to say anymore than this: I don't like cheating but if you are considering getting back with this person figure out if his cheating was an isolated incident or has happened frequently. Has he cheated on other previous girlfriends? If so, it is a pattern.
You became less and less attracted to them.
Have you ever heard the phrase, familiarity breeds contempt. That is exactly what happened here. You were in a relationship so long with a person that everything they did (what they wore, how they talked, how they yawned) just got on your nerves and made them less attractive to you. So, you broke up with them but soon realized that they were the best boyfriend you ever had and you need them back ASAP. It is going to take some work but you can definitely salvage the situation.
There was a huge fight that resulted in a breakup.
If you have spent any time reading this site you may have noticed that I put together a page about legitimate reasons for wanting your ex boyfriend back. On that page I noted that one of the best reasons for wanting your ex back is if your relationship ended abruptdly or impulsively (as the result of a big fight.) Fights aren't ever a fun experience. However, you definitely have a shot at getting him back.
Is Your Reasoning For Wanting Your Ex Back Ok?
Now that I have listed some of the most common reasons that caused you to break up with your boyfriend it is time to do some soul searching and figure out if it is ok for you to actually take steps to getting him back. In case you are wondering, I would not recommend that every woman visiting this site go back to their boyfriend. In my view, it is all about your happiness and sometimes going back to your ex, while it could make you happy in the short term, isn't always the best choice. So, the next big step I want you to take is to take out a piece of paper and write a detailed explanation on why you want your ex back.
Writing this explanation down is important for a number of reasons. First off, it might allow you to take a more objective look at yourself. I know that when I write down an explanation like this, take a break, come back and then read it, I can sometimes have an epiphany like "what was I thinking." Secondly, it is going to force you to figure out if you wanting your ex back is just an impulse at this moment or a much deeper feeling. Again, I highly recommend that you check out the legit reasons for wanting your ex back article. That page pretty much sums everything up.
The Get Your Ex Back Strategy
A few months ago I had an idea. You see, at that point I was getting a lot of emails from women every single day asking for step by step plans to get their exes back. While I would have been happy to help them out getting your ex boyfriend back is such a complicated subject that there would be no way for me to describe, in detail, how to do it correctly in a short email. So, I came up with an idea.
I was going to create a step by step guide that I could point to any time someone wanted the exact process of getting an ex back. Well, the guide took two months for me to write but I am so happy I did it because it has helped so many women already (seen here.) You can check out the guide below!