Your ex boyfriend lied to you…
Maybe he lied to you about something big or maybe he lied to you about something small. It really doesn't matter. The fact is that he lied to you. Now, later on within this page I am going to talk about the different degrees of lying (white lies vs bad lies) but for now I want you to get two simple facts through your head.
All men lie.
All women lie.
If you don't understand these facts then I am sorry but you are on the wrong page because I am purely dealing with the truth here. Humans at their core are liars. Heck, I have told a lot of lies throughout my life as have you. I mean, when was the last time someone asked you "hey, are you ok?" only to have you say "I'm fine" when the truth is you really weren't. The point I am trying to get at here is that most people want to figure out what an ex lying to them means. However, that is the wrong question.
The right one should be:
"what caused your ex boyfriend to lie?"
That is really what I am going to dissect on this page but before I can do that I think it will be best to actually define what a lie is.
The Definition Of A Lie
(To learn more about how lying can tie into getting your ex boyfriend back please visit this link.)
I know what your thinking.
"Are you crazy? I don't need to know what a lie is when I already know what it is."
Just indulge me for a few minutes and I promise you won't regret them.
I am giving you the ultimate advantage! Think about this for a moment. I am a guy who has dated. I know how men think (I am one.) So, literally this page is the ultimate guide to understanding why men lie. I can guarantee that you will have a very hard time finding a page with as much insight into the male psyche as this one has. With that being said when I talk about "defining" what a lie is I am not talking about the dictionaries definition (or Wikipedia's definition.) No, I am talking about MY definition.
I swear I am not trying to sound arrogant or anything like that but since this is my page I kind of want to do things my way. So, what do I consider to be a lie?
A Lie- A fact (that you know to be true) that you will consciously hide from another person. Lies can be broken up into two categories. White lies and bad lies (which will be talked about in the next section.)
One of my favorite stories to tell was the time that I got away with a lie to my mother (but felt so bad about it that I ended up blowing the whistle on myself.) When I was in grade school, at the end of the year, all of the classes would make us complete a final exam for that class. There was one particular day where I slept in a little too late and missed my History final. In my mind, I determined that I could make the final up the next day. So, rather than call my mother to take me to school (since I missed the bus) I ended up just playing video games in my room (remember, I was 13 years old at this time.)
Anyways, about an hour into my video game session I began to hear something outside of my room. I slowly tip toed out and to my horror there was my mom going out the front door. Turns out there was some type of repair man that was supposed to repair something at our house and my mother had come home to be there. I quickly ran back into my room and hid under the bed.
My plan- to wait it out and stay hidden until she left.
"Oh, but what if she doesn't leave? What if she is here for hours? What if she comes into my room and sees me hiding under the bed? How do I explain that?"
Ok, new plan- I "finished" my final exam and they gave us a half day (meaning they let us go home early.)
So, essentially I lied my butt off. I remember going down the stairs. I remember acting like everything was fine. But mostly I remember how bad I felt about lying. I knew something was true and I told a lie to hide that fact. I'll finish the rest of the story later on in this guide. For now, lets move on and explore a more interesting topic.
White Lies Vs Bad Lies

All lies can be placed into two different categories. Yup, you guessed it:
White Lies
Bad Lies
Within this section we are going to take a look at the definition for both types of lies. I would like to start with white lies first!
White Lies
Believe it or not a lot of people are split on what they consider to be a "white lie." For the purposes of this guide we are going to assume a white lie is:
White Lie: A harmless lie, usually with good intentions meant behind them.
Here is a list of examples of some of the most common white lies:
Oh, I love that gift!
Who hasn't gotten a stupid gift for Christmas? In general, I consider myself to be a very easy going person. As a result, I kind of want everyone to be happy by default. This is kicked on overdrive around Christmas time (especially during gift exchanges with extended family.) I can tell you that I act super pleased and excited whenever a receive a gift even if I think it is dumb.
What are you talking about? I am 28 years old!
Honestly, I don't have a huge problem with this white lie but I know plenty of women who do. I have actually met women who lie to me about their age because 28 or 29 sounds better than 30. I consider this to be a harmless lie and while it is technically a "lie" it isn't really hurting anyone in the process.
I was awesome in High School! I pitched a no hitter!
I am sure women tell this white lie too but I know from experience a lot of men will tell this white lie. This is a way to boost their self esteem and make them seem more "cool" to women. How do I know this? I played baseball in high school and while I don't like to brag I am not going to deny the fact that I was really good. I was a pitcher and I ended up pitching a perfect game. For a pitcher a perfect game is like hitting a home run every time you come up to bat. Anyways, a few years ago someone I know told me that he was a good high school baseball player in high school.
Every time I would see this person he would just brag about how he was so great at baseball. Well, one day an opportunity arose for us to play in a co-ed softball league. Now, softball is a really easy sport for me because I played baseball in high school. However, this "bragging" friend of me pretty much sucked at it. It became apparent after a few games that he was simply feeding his ego by telling himself this white lie that he was a good baseball player in high school.
Bad Lies
Now that you have a better idea of what a "white lie" is I would like to move on to the more serious kind of lie, bad ones. So, what is a bad lie? Quite simply it is:
Bad Lie: Relationship affecting type lies. Deception about a very serious topic.
Here is a list of examples of some of the most common bad lies:
Cheating
To the best of my knowledge I have never been cheated on. So, I can't imagine what it must feel like to be cheated on. Cheating is the ultimate deception or the ultimate lie (if you will.) One thing I have learned from women that have cheated who have visited this site is that the guilt is almost unbearable. In fact, in most cases the guilt is so bad that you are forced to come clean. Now, I don't want to dive too deep into this one because I will be talking about it a lot more in-depth later on in this guide. For now, just understand that cheating is a common "bad lie."
Lying About Feelings
I did some external research for this post. In my research I asked a few friends to tell me what they thought the worst lies a man can tell them is and this was one of the most common answers I received. In the United States the average life expectancy hovers around 78-79 years. That means that you have a total of about 28,500 days to live and hopefully have a fulfilling life. Now, I don't know about you but someone who wastes your time lying about their feelings towards you is a very annoying thing because they are taking precious days out of your life.
So, not only will you be emotionally hurt because someone lied about feeling something towards you but they will also be wasting YOUR time. Talk about a double whammy of a bad lie.
Saying Sex Meant Something To Them When It Didn't
This is another type of bad lie. Contrary to popular belief sex means something. How can it not? You are giving your mind, body and soul over to someone and trusting them to take care of it. Sex is the ultimate form of expression that we as human beings have and yet there will always be people that take sex completely for granted.
This is a touchy subject for me because I know a lot of men who jump from girl to girl. I am definitely not a fan of that approach. Think of it like this. If a man jumps from girl to girl each girl is going to build a connection with that man (unless of course she just wants a one night stand but we are going to assume she doesn't.) The connection that each girl built is going to be shattered when she finds out that the guy only slept with her because he wanted a quick "lay."
The feeling that follows for a woman who has a connection shattered when she sleeps with a guy can only be rivaled by cheating.
A Truthful Insight Into Liars

(For more insight into your ex boyfriend please check out Ex Boyfriend Recovery PRO)
I would like to shift our focus back to your ex boyfriend. After all, the real reason you came here is to dissect why HE lied. The thing to understand about ex boyfriends and lying is that not all of them are created equal. How do I know this? Well, I have (sadly) some incredible insight when it comes to men(ex boyfriends) and lying.
A lot of you really like my stuff. You come to Ex Boyfriend Recovery because you think I have the most truthful and helpful insights into the male brain online right now. Before I wrote this website I made a promise to myself. I was going to tell you everything. I wasn't going to hold back because if I do then you may miss something that could help you understand your boyfriend. That makes the next thing I have to tell you very hard to say.
I am a liar.
I have lied to women about some pretty bad stuff. While I have never cheated on anyone or anything like that I can honestly say some of the lies I have told would shock you. Heck, I think back to them to this day and feel embarrassed still. Don't worry, I will spill my secrets later on in this guide. For now, I want to give you some insight into your ex boyfriends (and men in general.)
All men are flawed. Myself included.
I am not particularly fond of the fact that I am flawed but I know I am. You see, the thing about me (and most men) is the fact that we are all perfectionists to some extent. For example, the only way I will go up and talk to a girl is if I know for a fact that I look how I want myself to look.
Now that is an interesting topic, looks.
Women tend to be insecure about their looks. However, I think that men can be just as insecure (if not more.) Throughout this site I have established that men can be very visual in nature.
"Hey, hot girl behind you dude don't turn around"
I can't tell you how many times I have had that phrase muttered to me. Here is where things get interesting though. Since men have an idea of what they consider to be "hot" they also apply that own idea to themselves. So, because they are so visual they notice their looks a lot more. Add in to the fact that pretty much no one is perfect looking and you get some pretty insecure guys.
Now, I bet you are wondering where lying comes into the equation. Well, generally men who lie do so to make up for these insecurities. For example, I once lied to a girl about how tall I was when she told me that she only liked tall guys. While I certainly did it to impress her I also did it because her mentioning she liked tall guys made me insecure about the fact that I wasn't as tall as some other guys out there.
FYI: I am 5'9″
The Underlying Reason For An Ex Boyfriend To Lie
Everyone talks about the lies but you know what they never talk about? The actual reason for the lie. I find that a much more fascinating topic to study rather than the lie itself. With that in mind, this section is going to be all about the underlying reasons for an ex boyfriend to lie to you.
AKA: The most important section throughout this entire guide!
He Doesn't Want To Hurt Your Feelings
I suppose you could categorize this reason under a white lie. Though, there are some cases where this can be used as a reason for a bad lie as well. The important thing to grasp here is that men and women are very different. When I was around 17 years old I discovered a simple fact. Women tend to drop hints throughout a conversation to test you/allude to what they want.
In other words, you guys speak in riddles whereas men don't. Now, assuming your ex boyfriend was smart enough to figure the "riddle/hints" of women then he would know to always be on lookout for these riddles. For example, any time a woman says:
"Does this dress make me look fat?"
You answer no!
Why would you do that? Well, because not only does it hurt a woman's feelings but there is a meaning behind that question. While maybe some women may really want to know, I think the vast majority want to know what their man thinks about their weight.
Lets take a step back and focus on the "sparing your feelings" part of that statement for a minute. I can think of a lot of lies I  have told to women simply to spare their feelings. Usually these were women I cared about. As a result, it would hurt me to see them hurt. However, there was also an element of selfishness to it. Yes, I cared about these women. Yes, I didn't want to see them hurt. But there is something you have to understand about me and all men. Our most favorite thing in the world is to be admired. Not just by you but by the entire world.
In order to be admired we know that we have to be liked by people. In order to be liked by people we know that we have to be on good standing with them. I don't know about you but making someone upset or angry usually puts them out of good standing with you. So, the element of selfishness creeps in is the fact that we don't want to hurt a woman's feelings because it will put us out of good standing with them.
A few years ago I was friends with a girl who had a pretty big crush on me. Unfortunately, I didn't feel the same about her. Eventually a point came where her feelings boiled over and she put me on the spot:
"Look, I really like you and want to date you but if I am wasting my time here just let me know."
To my great shame I lied to her:
"Right now… no, but maybe in the future"
(The truth was that she had no shot ever in the future. I just felt bad and wanted to not see her crushed.)
I lied for two reasons.
I didn't want to hurt her feelings.
I was enjoying the attention and I didn't want it to stop. AKA I didn't want to stop being admired.
He Is Scared Of Your Reaction
Last week I wrote this post. In it I talked a lot about women and emotions. Essentially, I described how men fear women's emotions because they don't know how to deal with them. It's funny, I run a website read by thousands of women who are clearly in an emotional state. Each day I receive hundreds of comments, emails and Facebook messages from women who are very emotional.
I am a guy. So, do I fear these emotions?
Absolutely I do!
People call me an expert and I hate that word. The truth is that I am not a whiz when it comes to relationships. However, I am a whiz when it comes to understanding men and that is where my insight comes in handy. So, here is my big insight. Men are scared to death of you overreacting, making a scene or getting too over emotional.
It is entirely plausible that a man will lie to you to prevent an "over reaction" from happening.
I want to tell you a quick story so you can really grasp this point.
About four years ago I was dating someone. Now, I will be the first one to admit that I was not perfect in the relationship (neither was she though.) While I do feel bad about that I think that by telling you this story (from my perspective) I can give you an interesting insight into men.
Anyways, I was dating this girl and I knew for a fact that she was very uncomfortable with me even talking to other girls. Now, I do want to state for the record that I have never cheated in my life and I never will. However, I will also admit that I am a very friendly person by nature and enjoy talking to a lot of people. This can sometimes rub women the wrong way and I understand that fact. Anyways, I knew I had to be very careful about talking to the girl that I was dating about my interactions with other women.
"What did you do today?" She would ask.
"Oh, nothing much!" I would say.
The truth was I was dying to tell her about this interesting conversation I had in class with the girl that sat next to me but I knew if I did that I wouldn't be able to make it out of the day alive. You see, even the mention of another girl would cause an overreaction and I did not want that.
So, I lied to her as much as I could to prevent this overreaction.
Looking back I should have just been up front and honest with her. Her issues with me even talking to another member of the opposite sex was a definite slap in the face saying that she didn't trust me. But thats another story.
There Is Upside
If you are confused then don't worry. Everything will become clear in a second.
Whenever a lie is told it is usually told to prevent something that YOU don't want from happening. Lets take the example in the section above. I lied to my ex girlfriend because I didn't want her to get angry/upset at the fact that I talked with another female. The upside for me lying to her was the fact that I wouldn't get in trouble and I could stay on her good side.
With every single lie ever told there is an upside.
Lets go with something really drastic now. Lets say your ex boyfriend cheated on you. What would be the upside to lying about that to you? Well, as you remain ignorant to the situation he can continue sleeping with the new girl and you at the same time (not together hopefully.)
With every lie there is upside. Always remember that fact.
He Wants To Impress You
I alluded to this reason above in the "white lies" section.
Would you like to hear something really interesting about men?
Their need to impress you actually doesn't go away when they date you. In fact, I think in some cases it can be even greater. While there will always be exceptions to every rule I think that for every man having a girlfriend who admires him and believes he is the greatest thing to ever walk the earth is pretty important.
At least, that is what I thought in my last relationship.
It is a given that you want to impress a pretty girl that you aren't dating but I found it even more interesting that I found myself with a need to impress a girlfriend that I had already "gotten." As a result, I would kind of "stretch" the truth a little bit about any major achievements in my life.
Anything that would make the girlfriend basically think I was the second coming I would lie about. Now, I am not saying I was a compulsive liar but I would extend the truth a little bit any time I could get extra boyfriend points. Being admired by a girlfriend can be absolutely intoxicating so you can understand the compulsion to keep adding on to your lies.
Think of it like a drug. Once you start it is hard to stop.
Playing The Victim
Alright, this is the one I really wanted to talk about it. In fact, this little nugget of knowledge is the reason I decided to write this post. Buckle up because this is going to be really disturbing to talk about for me and a little disturbing for you to listen to.
Some men will lie because they like being the "victim."
Why?
It's complicated and the only way for me to properly explain it to you is by giving you some insight into my experience with "playing the victim."
Here comes the disturbing part.
I once played the victim to a girl I had a crush on in high school.
Why?
Because I thought it would make me sound cooler (I was 15 years old so I was pretty much an idiot.)
I completely made up something that wasn't true to get someone to feel sorry for me. Again, I have no clue why. If I am being completely honest it is to this day the worst lie I have ever told (way worse than my amusing little "missing the final" story I still have to finish 😉 .) The reason I feel this way is because I made up something completely not true. I made up an entire alternate reality to make a girl feel sorry for me.
The lie?
I basically told this girl that things at home weren't great with my parents when they totally were. Trust me, my parents are probably the kindest and most caring people you will ever meet. However, for some sick reason I felt the need to fabricate some lie so I could get this crush to feel sorry for me.
Again, 15 year old idiot at the time.
The Truth Is Embarrassing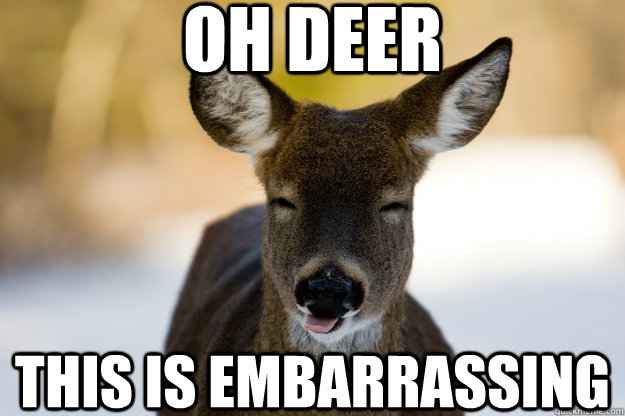 Unfortunately, this is another "lie reason" I have experience with.
Whats that popular quote?
The truth will set you free
Well, for some men the truth is something that they want to beat over the head with a baseball bat and put in the trunk of their car (never to be found again.) We live in a society where things like peer pressure and survival of the fittest are still very much alive. Lets tackle the survival point first.
Men are like animals. We travel in packs and pick on the weakest member of the "herd." Essentially, we are all bullies. However, as we become adults the "bullying" becomes less physical and more mental. Ok, lets say a group of men are going out on the town for a night of fun. There are five members in this group. It just so happens that one of the members of this group is a virgin. This member knows that he will be perceived as weak if any of the other members find out (since they are all not virgins) so he lies about it.
The truth is embarrassing to him.
Now, lets take the same situation except lets mix the group up a little bit. There are still five members in this new group (3 are male, 2 are female) except instead of "going out" they are all going to play a friendly game of truth or dare. Now, my thoughts on truth or dare are pretty simple. It is the ultimate peer pressure game ( ;). ) When a girl member of the group asks the virgin member of the group what age he lost his virginity at (after he picks truth) the virgin member is faced with an interesting decision. Does he lie or does he tell the truth?
I am betting that almost any guy who was faced with the virgin's position would lie. It is just the nature of men (or humans for that matter.) We all lie when we deem the truth to be too embarrassing.
The Mindset Of Your Ex Boyfriend During A Lie
(For more information on the mindset of your ex boyfriend please check out Ex Boyfriend Recovery PRO)
(Hey, who doesn't love the princess bride?)
In this section of the guide we are going to take a step deeper into the "lying" rabbit hole and examine some of the possible mindsets that an ex boyfriend can have when he lies to you. This is another one of those types of sections that can potentially get under your skin. So, if you are easily annoyed by some of the stuff I am talking about here…. well, maybe this isn't the section for you.
With that out of the way I want to take a moment and examine some of the main points I am going to be discussing here.
Double Standards.
The Guilt Of Lying.
Confessing.
Alright, I am tired of rambling with the set up language lets get down to business!
Double Standards
Our society is kind of screwed up. Nevermind politics, I am talking purely about the sheer amount of double standards enforced. Immediately, the one that pops into my mind is the fact that it is acceptable for a man to have sexual partners while it is unacceptable for a woman to.
This particular double standard is interesting to look at from an outsiders perspective because there is a lot to learn. For example, if a man sleeps with multiple women he is treated like a hero amongst other men. On the other hand, if a woman sleeps with multiple men she is called a slut and shunned from society.
Can you say unfair?
Of course, this is coming from a society that teaches women that anyone seeing them in their underwear (bra and panties) is bad. Meanwhile, if you go to the beach you see multiple women in bikinis. The ironic part is that THEY ARE BOTH ESSENTIALLY THE SAME THING!
Sorry I got a little off course there.
So, is there a double standard applied to lying when it comes to your ex boyfriend?
You bet your butt there is!
You will find that some men can justify any lie they tell. Heck, that bad lie I told a few sections ago I justified as "I need to do this to make her feel something for me." Yet, whenever I would catch my ex girlfriend lying to me all I would see was RED for the next few days.
It was unfair. Here I was lying and getting away with it and any time she told a small little tiny lie I would flip out on here.
Now, there is something I want to point out here. A lot of the "double standard" is going to depend on how mature your boyfriend or ex boyfriend is. In my case I was not very mature. I really didn't know how to handle the feelings I was feeling and as a result I did some really stupid things that hurt my own relationship.
Will Your Ex Boyfriend Feel Guilt When Lying?
There is a lot to talk about here.
First, I would like to answer the guilt question I posed above. Does he feel guilt when he is lying to you?
It depends….
It depends on a lot of factors.
Is he a compulsive liar?
Has he convinced himself to "never tell you?"
Rationalizing the lie?
All of these factors play a distinct role in the "guilt" or "un-guilt" he will be feeling. I want to take a moment to really go in-depth on all of the points I talked about above.
Is he a compulsive liar?
Do you know what the definition of compulsive is?
Compulsive- A very strong desire or obsession to do something
In other words if your boyfriend is a compulsive liar he can kind of "get off" on lying. Think of it like a drug. A drug addict will keep taking drugs because they are addicted. A compulsive liar has an addiction to lying. So, the question now becomes will a compulsive liar feel any guilt about lying.
Look, I am not pretending to be some sort of psychological genius. I am a guy trying to make sense of the world and relationships just like you. However, when confronted with this question I can honestly say that I DO think someone who is a compulsive liar can feel guilt.
Lets take the drug addict comparison I made above. Someone who is an addict can be aware that their behavior is wrong. They probably go to sleep at night very conflicted because of this fact. I mean, they know deep down that taking the drugs they are taking is not good for them but on the other hand they are addicted and can't stop. I think in a way a compulsive liar can feel the same type of guilt about their lies.
Now, that doesn't mean that their behavior will stop but it probably does mean that their is guilt involved.
Has He Convinced Himself To "Never Tell You?"
I can say that I have personal experience with this point.
I have created lies before that I have promised to never tell a girlfriend. While I am not proud of this fact I am also not afraid to talk about it because I feel it will be a fascinating study for you to hopefully understand more about your ex boyfriend. So, the question we are studying here is if he will feel guilt if he decides to "never tell you" his lie?
Yes!
However, another important point needs to be raised here.
How good is he at keeping secrets?
Just because he has decided that he will never tell you he lied doesn't mean he will keep his word. In my experience, secrets have a way of becoming easily exposed. As humans, we are a little hypocritical. We all hate drama (or we all say we do.) However, deep down there is always a part of us that enjoys the interesting twists and turns it can bring.
Why do you think we love crazy T.V. shows so much?
All it takes is one big fight for his lie to be exposed. Maybe he gets angry and is fishing for hurtful things to say and it just so happens that, that hurtful thing was that lie he has been keeping hidden.
Now, there is always another side of the coin to explore when it comes to stuff like this. What if he decides to take the lie to his grave? What if actually does it?
If his mindset is like that then he will feel guilt for sure. However, you probably won't have the faintest idea he is feeling guilty. People who are good at keeping secrets tend to be good at suppressing guilt and other emotions.
Confessing
Why not just confess and get the lie out in the open?
It sounds cliche but really you do feel so much better when you do this!
This reminds me, I haven't finished my lying story yet have I?
Lets do a quick recap:
I slept in.
Missed my History final.
My mother came home.
I told a lie to her about a "half day."
She totally bought the lie. I was in the clear! HOME FREE!
Oh, but it gets better. My mother then proceeded to give me this speech about how proud she was of me. How she was so happy that I was doing well in school (I wasn't exactly a model student at that time.) Now, at that age one of my favorite things to do was order pizza. She had suggested to me that as a reward "I should order a pizza."
This was getting ridiculous. She was laying on the ultimate guilt trip. A speech and then a pizza. Was this some sort of mom trickery? Did she know I was lying?
No, there was no way. I sold that lie perfectly.
I ordered the pizza and that was when it kicked in. Have you ever seen those cartoons where there is an angel and a devil on someone's shoulder? Well, I was having one of those moments.
The Devil: Dude, just play it cool. She has no idea. You can take the test tomorrow and she won't have any clue. Plus, PIZZA!
The Angel: This is not the right thing to do. Look how sweet she is. She doesn't deserve this type of treatment. YOU NEED TO TELL HER.
Eventually the overwhelming guilt kicked in. I grew a pair and fessed up!
The reaction from my mom was exactly what I expected. Yelling, yelling and more yelling. Oh, and I also had to cancel the pizza order. Let me tell you, THAT was an interesting conversation. When it was all said and done she ended up driving me to school. It was lunch time when I got there and guess what they were having? PIZZA!
My mom can be scary when she is angry but my father could be even scarier. I feared the moment he found out but he never did. While I was wrong to lie to my mom she appreciated the fact that I confessed and did the right thing. As a result, she never told him.
She explained to me that the only reason she didn't tell him was BECAUSE I did the right thing.
So, I guess confessing a lie has it's advantages!