In today's post I'm going to show you exactly how to go about getting your ex back if they won't talk to you.
In fact, if you stick around until the end you're going to learn.
Why is your ex refusing to talk to you?
On average, how long will they go without talking to you?
Is it possible to get an ex back without talking to them?
How do you get them to talk to you again?
Let's dive right in
Understanding Why Your Ex Is Refusing To Talk To You
There's nothing worse than an ex who won't talk to you when you really want them back. I mean, how do you get someone back without any conversation?
So today, we're going to take an in-depth look at why your ex is refusing to talk to you.
There are two main reasons why an ex might refuse to talk to you:
They are hurt from the breakup
They want to win the breakup
They're Very Hurt From The Breakup
Most people roll their eyes when they hear this because about 85% of our clients were broken up with, so it's hard to fathom why an ex would be hurt if they decided to break up in the first place.
But we have found through studying both sides of the equation that regardless of who initiated the breakup and who was broken up with, both sides will experience pain, sadness, depression, anger, bouts of nausea, and other unpleasantness that comes after a breakup.
So even if your ex broke up with you, it is highly probable that they are upset.
They're probably still holding resentment in their mind for whatever actions you took that caused them to want to break up with you.
They Want To Win The Breakup
When I was in high school, I experienced my very first breakup. I broke up with her, and after the breakup, I thought I had to win the breakup. In my mind winning the breakup meant I wasn't going to contact her first. So I literally did not contact her for months because I was so stubborn that she would have to contact me.
She eventually did, and I of course thought I won the breakup. I didn't.
Usually in breakups, there are no winners or losers. Now for those of you sitting there thinking, "my ex couldn't do that to me. We were almost engaged, he loved me more than anyone else", I would say despite how much they loved you or how great the chemistry was, we still see this stubborn concept of wanting to win the breakup.
One of the first success stories that I ever had the opportunity and pleasure of interviewing on my YouTube channel was a woman named Jessy.
Jessy basically got her ex back and is now currently married to him. When I asked her about her experience during the breakup, she noted that her ex never actually messaged her during the no contact rule.
Of course, I probed and asked if she ever found out the reason after getting back together.
She said that he was stubborn that she was going to have to be the one to reach out to him first, AKA he wanted to win the breakup.
So now we know why exes may not talk to you, let's move on to the next question:
On Average How Long Will an Ex Go Without Talking to You?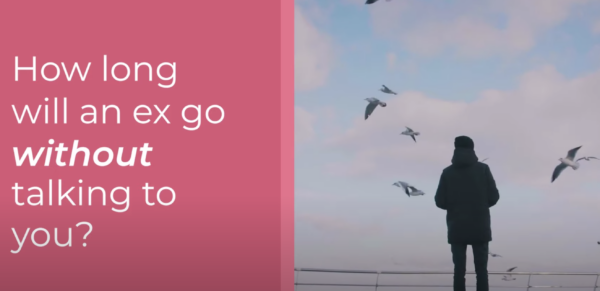 I've been fascinated with this concept ever since I started ex-boyfriend recovery, specifically about how exes react to being ignored in a no contact rule. Our initial assumption was that when you ignore your ex on purpose during no contact, they will reach out to you even more to get your attention.
However, we saw that it doesn't necessarily work like that in real life.
Firstly, you're missing the whole point of no contact if you go into it thinking that the only reason is to make your ex miss you. Secondly, that doesn't always happen, so you might be setting yourself up for disappointment.
I polled our private Facebook support group of dedicated people who did coaching with me (or one of the other ex recovery coaches), or they bought our ex recovery program and asked them one simple question: "how often did your ex reach out to you during no contact?"
We found that 65% of people said that their ex did not contact them at all during no contact.
So there's basically a 65% chance that you won't hear from your ex during the no contact rule.
Now you might ask how long this will last?
Typically, it lasts just as long as your no contact rule.
Your ex's ego or pain will not let him reach out to you first, so they'll most likely wait out your no-contact period to see if you reach out first. Now there's a 35% chance they'll reach out during no contact, but those aren't exactly betting odds.
Let's say you're done with no contact, you reach out to your ex, and they still ignore you. On average, how long will they repeat that pattern?
I think the answer to this question depends on your ex's attachment style. We know from people who have avoidant attachment styles that they're not going to give themselves permission to miss or even talk to an ex until they feel that that ex has completely moved on. So however long it takes you to move on from your ex, or at least put out convincing signals that you've moved on – that is the window of opportunity when they're most likely to reach out.
I'd love to sit here and say there's a 25 day period after which your ex will stop ignoring you. The truth is it's purely dependent on your unique situation.
So this leads us to another interesting question:
Is It Possible to Be Successful in Getting an Ex Back Without Ever Talking to Them?
No.
You will not be able to get your ex back if you don't talk to them. Our program depends on the ability for you and your ex to share empathy for one another. You both need to understand where the other person is coming from and the only way this is possible is if you're able to actually communicate with them.
So let's tackle the big question now:
How Do You Get Your Ex to Talk to You Again?
There are three big factors you can implement to raise your chances of having your ex talk to you again.
The foundation of the no contact rule.
Not going too fast too soon (value ladder)
Not expecting too much from your first contact text message.
Let's dive into each.
Factor #1: Implement A Foundation with The No Contact Rule
A lot of people fail at the no contact rule because they fundamentally misunderstand the purpose behind it. They think no contact is a magical rule that's going to cause an ex to wanna reach out and talk to you, but I have proven there's a 65% chance that is not going to happen. What you should be doing during no contact is creating a foundation so you can feel like you're moving on from your ex.
This hits on three concepts:
you're have to internally feel like you've moved on,
you're have to externally project that you're moving on,
you're have to change your paradigms philosophically to feel like you don't want your ex back anymore.
They can't be your first priority anymore when you do talk to them
The second factor is also related to the first one because a successfully executed no contact rule can give you the ability to refocus your life and stop making your ex your first priority. Most of the people who successfully get their ex to engage with them have done a period of no contact where they're not focusing on making their ex miss them. Instead, they're focusing on ensuring that they get over their ex by that time they actually try to reach out to them.
I'm about to say something controversial; it doesn't matter if your ex hasn't contacted you after the breakup; what matters is if you're the one to reach out first and end the conversation first.
This is especially hard for my female clients to hear, but it's so important. If you just sit around waiting for your ex to contact you, then that probably won't work. You actually have to do something to try to engage them in a conversation. The key is to reach out to them on your own terms but only when you are over them, and they're no longer your first priority.
I know it seems counterintuitive to get over your ex and then want them back, but therein lies the powerful paradox. You HAVE to be emotionally secure enough to feel you'll be okay with losing your ex because people tend to have much better results and confidence levels after that point.
Factor #2: Not going too fast too soon (value ladder)
A lot of people tend to go overboard and overcorrect after a breakup, especially those with anxious attachment styles. I can almost guarantee you that going too fast too soon will just creep your ex out and make them retreat further away from you.
That's why we have this tried-and-tested, carefully crafted system of the value ladder.
The ex recovery process always starts with a 30-45 day no contact rule where you can ignore your ex and focus on yourself. However, that time is usually tense for people who spend it obsessing over their ex.
So when it ends, they overcompensate, and instead of having small conversations, they try to jump back into dates. That kind of rash behavior will almost always blow up in your face because you're expecting immediate results.
Instead, we recommend gradually working your way up the value ladder by starting off building value with texting, then phone/video calls, meet-ups, romantic dates, and finally getting back together.
You need to take your time building value at each rung of the value ladder so you don't mess it up by going too fast too soon! The value ladder is a perfect way to temper your expectations and really lay the groundwork for a new relationship.
Factor #3: Not expecting too much from your first contact text message
A lot of people misunderstand the point of the first contact text message after no contact.
They go overboard and have an outpour of emotions or ask their ex out on a date. The first contact message is meant to open up a line of communication – that's it.
This message should not carry the weight of getting back together because it's too early for that. You're only trying to capture your ex's attention and get a neutral to a positive response.
Sure there are techniques to crafting a first text message like having a hook, tapping into your ex's hero complex, and having an interest-based conversation but all that doesn't matter as much as having realistic expectations.
The first contact text message merely serves to establish that the two of you can talk in calm terms.
What matters isn't who starts the conversation; it's who ends the conversation
This is related to my controversial statement from earlier that I believe you should be the first to reach your ex. Our female clients usually have a problem because they've always been socialized to see men as the initiators in a romantic relationship.
I'm here to tell you it doesn't matter! You already have history together so there's no reason to be apprehensive in reaching out first. Plus, according to our research, it doesn't really matter who starts a conversation but who ends it!
Think about it – if you and your ex are having a fantastic conversation and then you abruptly end it at the high point and leave them hanging, are they going to be thinking about who reached out first?
No, they'll be too occupied thinking about where you went, why you're ignoring them, or whether you're talking to someone else.
Conclusion:
Your ex may be refusing to talk to you because they're hurt or they're trying to win the breakup. Either way, you cannot get them back without talking to them, so here are 5 tips to get them to talk to you again:
The foundation of the no contact rule,
They can't be your first priority anymore when you do talk to them,
Not going too fast too soon (value ladder),
Not expecting too much from your first contact text message.
What matters isn't who starts the conversation it's who ends the conversation.