Believe it or not but there are actually a lot of different ways to discover why your ex boyfriend may be ignoring you. Here at Ex Boyfriend Recovery I am sad to say that I see a lot of this (ex boyfriends ignoring their ex girlfriends) thus it would be an understatement to say that I am experienced at diving in to the male mind and dissecting it. Oh, and it also helps that I am a male myself so I kind of know what I am talking about ;).
In this article I am going to be helping you understand why your ex boyfriend is ignoring your numerous attempts to reach out and contact him. However, I don't want to stop there. I want to give you a few steps going forward that you can implement to improve your chances of getting him to speak to you.
The #1 Mistake Women Make After A Breakup
Have you ever seen the movie Jaws? In the movie John Williams composed a score for Steven Spielberg that has gone on to become a classic.
Da Da…. Da Da… Da Da Da Da Da Da…
Ok, you get the picture. Anyways, any time women call, text or show up unannounced to their ex boyfriends house I picture that music playing. Men can sense desperation and your desperate activities are the equivalent to blood in the water for a shark. Except I would say in this case instead of you ex "being the shark" he is getting the heck out of dodge and running the other way. In the end, it all boils down to what behavior is attractive and unattractive to men.
The number one mistake that women make after a breakup is becoming to needy or desperate. I really want you to understand this section so I am going to define common desperate actions that ex girlfriends take and look at them from a males perspective.
Texting Way Too Much
I talk about this extensively in The Texting Bible…
Just sayin…
If you have read my site then you would know I am a big fan of texting to get an ex boyfriend back. That means that there is a time for texting but right after a breakup is not ideal. The problem that a lot of women make is they turn into what I like to call a text gnat. Essentially, this is a person who texts multiple times, even though they don't get a response. I took the liberty of locating a text gnat for you so you can better understand what I am talking about here.
Check it out below: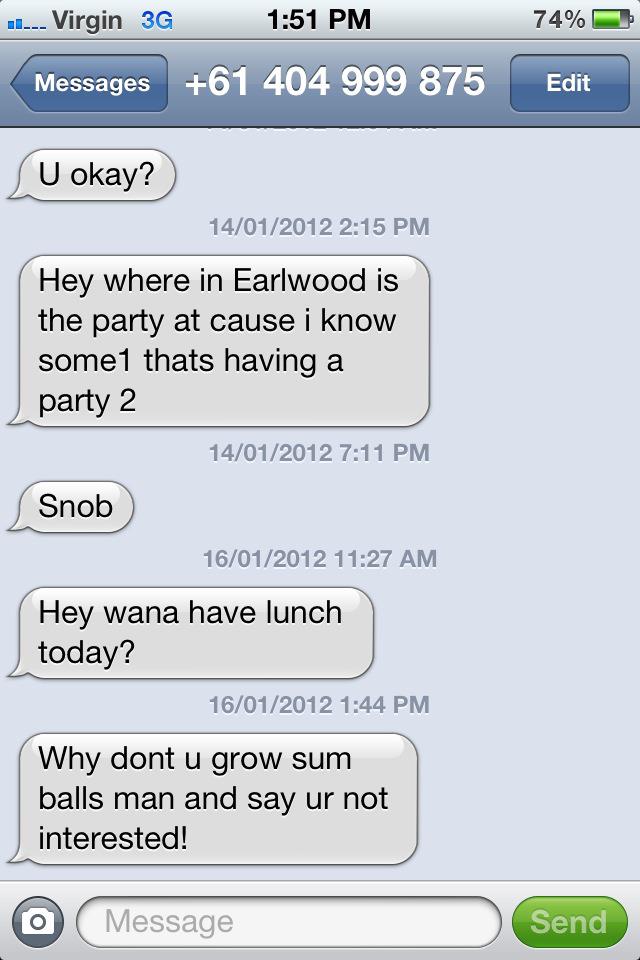 Essentially, the form of a text "gnat" message goes like this:
The main problem here is that if you are sending that many messages without any responses it makes you look totally desperate. To give you perspective, here is how a real conversation should look:
(For more text examples check out The Texting Bible)
I want you to really notice here that in this example the other person is actually engaged in the messaging and that means it is ok to keep messaging them without seeming desperate or needy.
Now, since you are reading this page I am betting that you are seeing more of the "text gnat" example above. I want to take a moment and explain to you just how harmful that line of messaging can be.
The Male Perspective On Texting Too Much

I am not going to pull any punches here so make sure you brace yourself. To a guy attention is flattering. I am not going to lie, I love getting attention from women, nothing feels better. However, when I get too much attention from them (in the form of texting) it becomes a complete turnoff.
The question you are probably asking is "why?"
Actually, it is quite simple. A girl who has to message someone that much is displaying two qualities that are a turnoff to every human being on this planet. For one, she can be way too overemotional and emotions scare guys to death. I understand that women are emotional by nature but when you show that much desperation, guys begin to get really scary thoughts. Let me give you a real example.
I remember a long time ago I was "talking" with this girl and she ended up sending me a total of 22 unanswered text messages. Now, personally speaking at first it was kind of flattering. However, once it reached that level I began to have a lot of scary thoughts.
"What if she tracks me down and tries to hurt me?"
"What if she hurts herself?"
"I hope I never see her in person again."
The second really unattractive quality that women can display when texting too much is the fact that there is no chase involved. Call me old fashioned but I like chasing after girls. The best way I can describe this phenomenon is by comparing it to a video game. The best part of a video game is the act of trying to complete it. However, if someone were to give me all the cheat codes to the game it no longer becomes as fun. Sure, it may be a little fun at first but eventually when the cheat codes make it that easy to complete I will lose interest.
The same can be said with desperate women who text too much. It is like they hand you a cheat code and you lose all your interest after a certain amount of time.
Calling Way Too Much
I hope you read the section above because this one is almost exactly the same except you are dealing with calling instead of texting. So, the other big mistake that women make that can cause their ex boyfriend to want to ignore them is spamming his phone with calls.
I used to think I was alone in this but I soon learned that other guys are exactly like me. A guy has to be in the right mood to talk on the phone. I am a mood person by nature. If I am not in the mood to go out and see people one day then I will not do it. The same goes for phone calls. Sometimes I just don't want to talk on the phone. If I am in that kind of mood then trust me, you aren't going to get me to talk on the phone.
Ah, but now enters a crazy girl (no offense) that just calls you ten times a day. Not only will it creep me out on a level I have never known before but I am really not going to pick up a phone now. You see, calling adds an element that texting does not, the human voice.
With the human voice we can tell when someone is upset, angry or happy. You can tell all of that over the phone (and with a text you would have no clue.) I wanted to point this element out because I feel it adds to the fact that he may be ignoring you.
Generally speaking, someone who is calling you a lot (back to back to back.) Has two types of news.
Really incredibly news
or
Really emotional and bad news.
Since you are an ex girlfriend of his I am betting that your call is going to be filled with emotion and bad news. Why on earth would he want to take your call and face that?
The Male Perspective On Calling Too Much
Sadly I have personal experience with a girl calling too much and I can tell you there is nothing more unattractive and annoying. I think back and those experiences and just cringe because that is how uncomfortable they made me. Given a choice between someone texting too much vs someone calling too much I would always choose texting too much. Unfortunately, a lot of times what happens is when you get a girl who sends a lot of unanswered texts that leads to her calling way too much.
Part of the problem that men have with women calling too much is that they know if they pick up the phone they are going to have to talk to a really emotional human being and while some men will get off on it most of us despise it.
Writing A Long Letter Or Email Declaring Your Love
In my best selling book, Ex Boyfriend Recovery PRO I warn women NOT to do this.
To me letters and emails are the same thing. The only difference is that it takes longer to respond to one. I wanted to include the "love letter/email" because I see a lot of it on the site through interacting with you. Want to know what I have learned? It rarely ever works.
Again, the one thing that all of this stuff (texting, calling, letters, emails) have in common is the fact that they are all actions taken out of desperation and que the Jaws music!
What is more desperate than a long love letter or email?
In many cases it could have the opposite effect you were hoping. You see, most women send out letters with the mindset of "this will finally make him understand." However, the mindset that most men have is "this girl is creeping me out." I don't know about you but if I had that mindset I am not going to really take a love letter or email seriously.
The Male Perspective On Emails/Letters
Unfortunately, I don't have much personal experience with ex girlfriends writing me too many letters or sending too many emails.
NOBODY LOVES ME…
No just kidding, just kidding!
The closest thing I have to it is passing letters back and forth with a girlfriend in High School which is what I would hardly call "experience" (I was young and lets be honest, in high school you don't know what you are doing half the time.) Nevertheless, I can tell you about some of my male friends that have received letters from exes and how they reacted.
One of my best friends in the world received on of these "lay it all on the line" letters and quite honestly he laughed. He didn't laugh to her face, he laughed behind her back and even showed me the letter making fun of some of the heartfelt words that she had said. Now, if she had tried a different approach she would have had him on his hands and knees begging for her back (I know my buddy, trust me it is possible.) However, she tried the desperate approach and this is what happens when you go full on desperate, you get laughed at behind your back.
Do not be one of those girls please!
More Common Reasons That Men Ignore Women
In the section above I talked about some of the main reasons that an ex boyfriend would ignore his girlfriend (desperation, neediness that whole thing.) I am not going to lie to you, in 85% of the cases everything I discussed above is the main reason that he would want to ignore you. This section is the extra 15% that I didn't cover.
He Is Doing It On Purpose To Punish You
Some men have a really warped mindset. If they don't get their way in a relationship (or even after one) they will find ways to manipulate you emotionally. Usually you hear stories about women doing this to men but it can go both ways. One way that exes know they can get under your skin is to simply ignore you for a couple of days. Now, I do want to point out that this is essentially the same thing I recommend doing with the no contact rule. However, there is one major difference. When you do something like the no contact rule you really don't want to ignore your ex boyfriend, you want to give him time to calm down and also improve yourself in the process.
When men start ignoring you on purpose it is coming from a place of rage just because they know it will punish you. How would I know that you ask?
The Male Perspective On Ignoring To Punish
I am ashamed to say that I have used this method once before. It was in my very first relationship ever and as you can imagine, that version of me was not a great guy. Anyways, I didn't like the way the relationship was going so I ended up ignoring my girlfriend for an entire day. I didn't do it because I needed a break or a refresh, which I think would be ok, I did it from a place of anger to punish my girlfriend. I was literally delighted when she sent me ten texts back to back asking where I was. I watched as she worried about me and as she apologized for anything that she did wrong (she did do something wrong but FYI but ignoring her was not the way to deal with it.)
It is not something I am very proud of and I would handle that situation completely differently now but I wanted to prove to you that deep down all men are capable of something like that so it could be a reason that he is ignoring you.
He Is Using The No Contact Rule On You
This one is really rare. It is so rare in fact that I have never encountered it before. Essentially how this works is that your ex boyfriend is using the no contact rule on you on purpose. It is one of those rare cases where you kind of want him back and he kind of wants you back.
I made a joke on this site one time in the comments. It went something like this: "wouldn't it be funny if you were no contacting your ex while he was no contacting you because you both wanted each other back?" For some reason my joke stuck with me because the more I thought about it the more I realized that this is entirely possible. Like I said though, it is really rare.
The Male Perspective On The No Contact Rule
I think in 95% of the cases a guy is not going to use the no contact rule. I don't think I can be included in the "get your ex back" conversation because I know so much about it. For example, if I wanted a girlfriend back I would know exactly what to do. So, this is one case where I am the exception to the rule and my insight kind of suffers because of it.
All I can tell you is that it is highly unlikely (but still likely) that your ex is ignoring you for this reason.
He Really Doesn't Want To Talk To You Anymore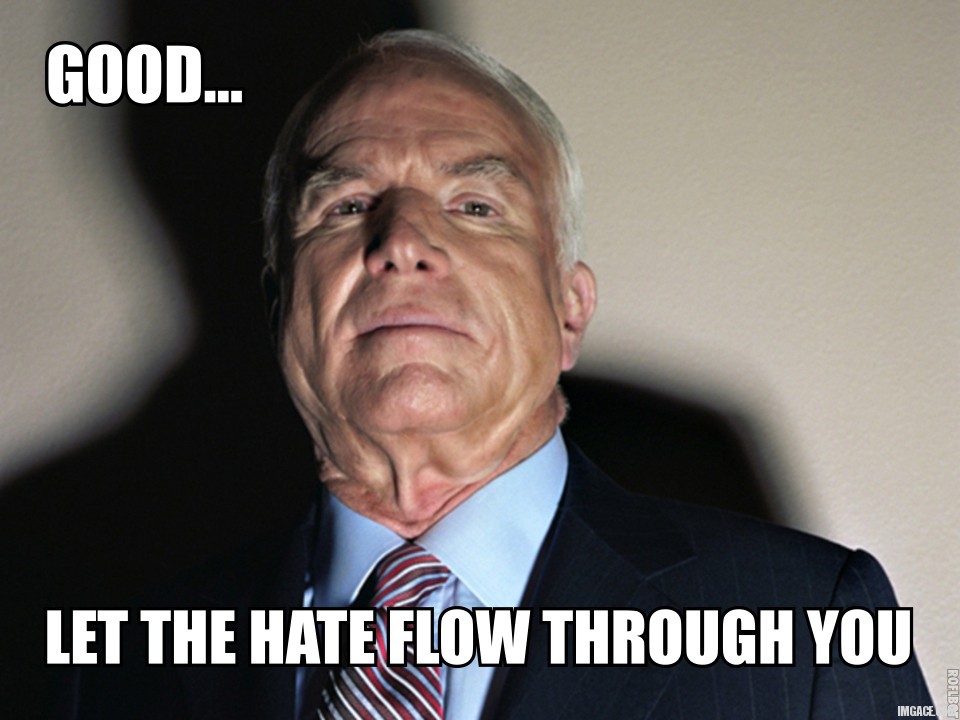 I didn't create this site to get your hopes up by feeding you false logic. Actually, the true story behind me creating this site was I typed "how to get your ex boyfriend back" in Google and thought to myself "I can totally do a better job than these jokers." One thing I do pride myself on is the fact that I don't pull punches with people. I tell them like it is and sometimes that means facing truths like this:
It might be possible that your ex boyfriend wants nothing to do with you anymore which is why he is ignoring you.
It is unfortunate but it could be the truth. Women who wind up in situations like this have typically wronged their ex in horrific ways. I have a buddy whose wife actually cheated on him eight different times with eight different men. Now, I don't know about you but I don't blame him for wanting nothing to do with that girl.
Anyways, the real warning sign that you can use to figure out if this is the reason your ex is ignoring you is to think back to your relationship and figure out the ways in which you wronged him.
The Male Perspective On Him Ignoring You Because He Wants Nothing To Do With You
Realistically, the only way I would NOT talk to an ex girlfriend is if she wronged me in a horrible way. Of course, I said that above but I failed to go into the actual ways in which women can wrong men. If a woman did any of the following things to me I would seriously consider cutting her out of my life.
Cheating on me (one strike and your out with me (most guys aren't like that though.))
Lying to me multiple times (I understand that everyone lies but if it is frequent occurrence like every single day then I will not be happy about that.)
Manipulating me.
How To Get Your Ex Boyfriend To Notice You Again
Lets be realistic here. It is highly unlikely that your ex is going to drop off the face of the earth and never contact you again. Yet, every single day I get a question in the comments saying something like:
"What if he never contacts me again?"
or
""He didn't respond to my text message. My life is over…"
I can honestly say that in all my time here at Ex Boyfriend Recovery I have never encountered a situation where an ex boyfriend never talks to an ex girlfriend again. I mean come on, your ex is going to eventually contact you. The real question though is how he contacts you.
The Good, The Bad and The Ugly
When your ex finally does contact you he can contact you the good way, the bad way or the ugly way (see what I did there 😉 .) I am going to take a moment to explore each one. Lets start on a positive note with "the good" first.
The Good
If he messages you and doesn't completely hate you then that is good right? Well, there is slightly more to it than that. You want your ex to message you and remain positive in his interactions. I would classify the message below as a good response from an ex boyfriend.
The Bad
Essentially any type of communication where he is really dismissive or short with you. You see this a lot with one word text messages like "no," "cool" or "ok." Check out the example below:
The Ugly
Getting a response like this from an ex boyfriend can be heart shattering. An ugly response isn't one where he just dismisses you it is one where he also disses you. I gave you a perfect example of an "ugly" response below:
(For more text message examples visit this page.)
The Key To Getting A "Good" Response
So, by now I am hoping you have realized that when you and your boyfriend get in touch again you want it to be on "good" terms. What if I told you that I have found a way that allows you to accomplish that while remaining in control? Do you think that would be something you would be interested in?
I can hear the harmonious sound of yeses all around!
The No Contact Rule = Less Desperate
The first step to getting your ex boyfriend to respond to you in a positive manner is to implement the no contact rule. This accomplishes a number of things. First off, remember way back when I talked about how desperate women are the number one turnoff that makes men ignore their exes? Well, by implementing a NC rule you can shed that "desperate" persona that your ex has you classified as. It also can work as a table flipper. What do I mean by this?
Simple, men are a lot like dogs in that we like our routines. Honestly, taking a step back I think my whole life is made of routines. I get up, start work, go for a workout then keep working. It is an endless routine but it doesn't end there. Routines are a common occurrence in our relationships as well. If you acted desperate your ex would have gotten into the routine of ignoring you because you were desperate. So, when you stop acting desperate he is going to perk his head up and try to sniff out the reason why you stopped being desperate.
This is exactly what you want him doing because it will change the dynamic. Before it was you scrambling around for his approval. By essentially implementing a no contact rule you can get him to scramble for your approval instead. In the end though, the NC rule can do wonders for shedding your "desperateness and neediness."
Generally speaking, I tell women to stay in the no contact rule for thirty days. That means you have to make it thirty days of not calling, texting or emailing him. Do you think you can do that?
What Do You Say To Him
You have been on the offensive before in sending text messages but he ignored them all. This time things are going to be different though. If you have successfully completed the no contact rule for thirty days then you are going to go on the offensive again but this time you are going to do it my way.
I want you to send him a text message. But not just any old text message this one has to be different.
The first thing I want you to realize is that the general texts that you are used to sending aren't good enough. The experts will tell you that you have to send interesting texts that will capture his attention. Of course, I like to take it a step further. I like to tell my visitors that any text you send him has to be so interesting that it would be impossible for him to ignore it. That is a lot of pressure but I don't want you to sweat it. I have a variation of a text that I love to use.
Actually, to be honest, I have never talked about this text before so this is the first time I have ever made it live. I would like to introduce you to..
The "You Aren't Going To Believe What I Just Saw…" Text
This is a text message of my own creation and it is kind of complicated so listen up. Our ultimate goal here is to not just get a response but to get a "good" one. Initially, when you send this text message out you aren't going to get a positive response right off the bat. I would say it is normal to receive a neutral response. The beauty of this text though is that it sets you up for a positive response.
So, the first step is to send this text message to him:
Notice how this text message is intriguing as it just begs for him to respond to it with a "what?" or "what did you see?" At this point you are going to step on the breaks. The initial "what I saw" text you just sent him is just a test to see if he responds. If he does respond then you are going to take out a stopwatch or phone and wait between 30-60 minutes.
Why would I want you do do that?
Because, it kicks the tension up a knot. I want him to check his phone every five minutes waiting for your response. It is the equivalent to having an audience on the edge of their seat waiting to find out what happens next. You are trying to do that but to your ex boyfriend.
Once you wait the 30-60 minutes it is time send the next part of the text message. I want you to think back to your relationship together. Think back to an innocent but fun memory you had together then I want you to send him something like this: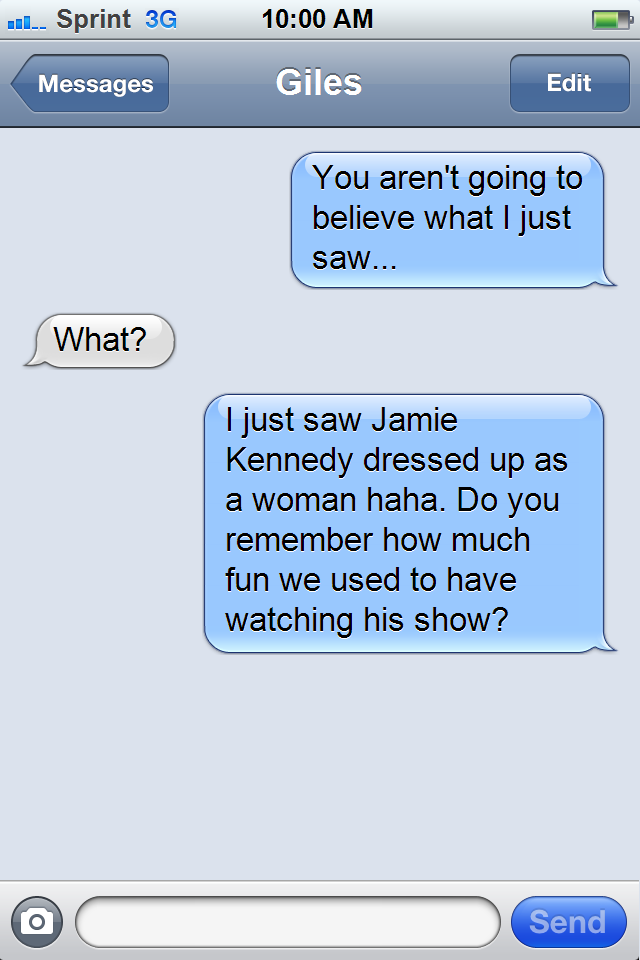 Take notice how I included an innocent but pleasant memory from a past relationship in this example. This is important because it will bring up nostalgic feelings in your ex and he can't help but want to respond positively!
Now, once he does respond positively you have accomplished your mission and he isn't ignoring you anymore!