Ah, it's the age old question of unfriending an ex after a breakup on Facebook.
Should you do it?
Or
Should you not do it?
Well, that's what we are going to explore today.
Now, I want to start off by saying that you aren't alone in asking this question. In fact, I must get this question or a form of this question every single day in my private support group helping women through breakups.
No seriously…
Check it out,
Pretty crazy, right?
And these were queries just from the last two days (like I said this is a question that gets asked every single day.)
But you know the thing that really struck me about these people asking these questions.
It's the fact that most of them were on the other end of the spectrum when it came to unfriending on Facebook.
Rather than being able to ponder what to do about unfriending their ex after the breakup their ex boyfriend had initiated a preemptive strike and unfriended them first.
So, while I was going to just focus this article on whether you should unfriend your ex on Facebook I decided to also include what to do if HE unfriends you.
In other words, this article is going to have two parts,
Part 1: Should You Unfriend Your Ex Boyfriend On Facebook Or Other Social Media After A Breakup

Part 2: What To Do If Your Ex Boyfriend Unfriends You First
Are you ready to jump in?
Yes?
Let's go!
Part One: Should You Unfriend Your Ex On Facebook Or Other Social Media?
Well, ultimately this is a question that depends on your overall goals with your ex.
The way I see it is that when it comes to a breakup with an ex you have two choices,
You can choose to try to get them back
You can choose to try to move on and get over them
Now, I am not going to lie to you.
Most of the women who end up on this site are definitely in the "I want him back category" whereas a small segment just want to "move on."
However, every once in a while you will get someone who straddles the line of wanting him back and wanting to move on.
Have you ever seen those swinging pendulums?
They just swing back and forth between a fixed point.
Well, that's how I kind of view those women who swing back and forth between wanting their ex back and then cursing him and wanting to get over him.
It's my experience that these are the types of women who have the most difficult time with the breakup because they can't ever seem to make up their minds on what they want.
Now, you may be sitting there and wondering why I am bringing this up.
Well, it's because in order for this article to be very helpful for you, you need to have your mind made up on what you want.
Unfriending an ex makes a very bold statement but if you go back and forth between unfriending him and then refriending him you are going to kill any progress you can potentially make.
Get it?
So, let's cut right to the heart of the matter.
If You Decide That You Want Your Ex Back Should You Unfriend Them?
What I am about to say may very well be the most important thing I say regarding Facebook and other social media when it comes to reconnecting with an ex.
Facebook and social media is a weapon and you definitely need to be using it to raise your chances of success.
Studies have found that on average 90% of people will check an exes Facebook after a breakup.
In other words, there is a 90% chance that your ex will come snooping eventually and you need to make sure that when he does he sees you having the time of your life.
Now, lets hit the pause button and talk about the importance of this for a moment.
Why is it important that he sees you having the time of your life?
Well, I have long been a believer that men have this very strange belief that if THEY broke up with you then they think that it makes them better than you for some reason.
They can literally convince themselves that this is you after a breakup,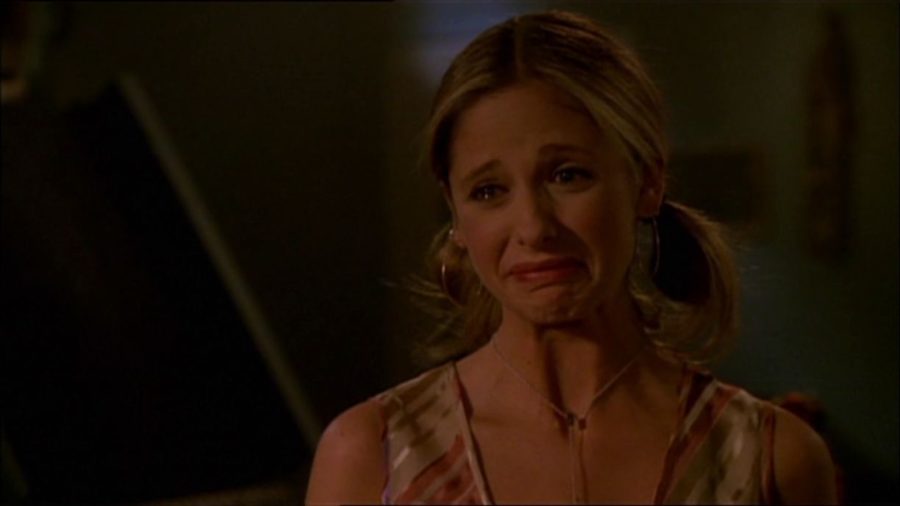 They think that you are crying over them and eating ice cream in a corner.
So, when they hop on Facebook to see that you are actually having the time of your life,
It does something interesting to their perception of you.
Instead of thinking of you as this weak woman who can't get over a breakup they start to realize that maybe they didn't mean as much to you as they originally thought.
If there is one universal truth about men it's the fact that we all want to feel wanted by woman.
Take that away from us and we become like putty in your hands.
Now, lets switch gears for a moment and answer a pretty big question.
If You Decide You Don't Want Your Ex Back Should You Unfriend Them?
There is no easy way to say this so I am just going to spit it out.
Getting over an ex isn't as easy as you think.
How do I know?
Well, I understand the body chemistry behind it.
But before I get to that I have a question to ask you,
Do you think that it is easy for a cocaine addict to kick the habit completely?
Usually not.
I mean, I have heard some crazy stories about addicts robbing their own families just so they can find money for a "fix."
Now you may be sitting there and wondering why I am bringing up such an "off limits" subject since it has nothing to do with a breakup.
Well… not so fast.
Did you know that the part of the brain that becomes active when you are going through a severe heartbreak is the same part of the brain that becomes active when a drug addict is going through withdrawal?
In other words, you are experiencing a lot of the same physical manifestations that you would if you had a drug problem.
Now, I have been doing this a very long time (half a decade to be exact) and I have found that the best way to get over a breakup is to limit your temptations.
We live in a world where we can literally check up on our ex in a matter of seconds through Facebook.
And even though checking up on our exes through Facebook seems like a small thing (and it is) it can balloon into a big thing that can prevent you from getting over him because you are engaging in your addiction.
Now I am going to say something shocking to you.
Are you ready?
I don't think you should unfriend your ex on Facebook.
I THINK YOU SHOULD BLOCK HIM!
This way you limit his avenues to talk to you and it's a way that you can stop yourself from constantly getting addicted to seeing what he is up to.
Part 2: What Should You Do If Your Ex Boyfriend Unfriends You First
And now we switch gears and start talking about what the heck to do if your ex boyfriend unfriends you on Facebook.
Before we get into the nitty gritty I do have one little statement to make,
Going forward I am just going to operate under the assumption that you want your ex back.
After all, if you really were trying to get over your ex you wouldn't care at all if he unfriended you, would you?
Ok, so the biggest mistake I see women making now-a-days when this happens is that they react in a crazy way.
Take one of the questions I posted above at the beginning of the article,
(Side Note: This is a real comment from a woman in our Private Support Group.)
This is a prime example of reacting in a crazy way.
Think about it for a moment.
Your ex boyfriend unfriends you and you are so hurt by it that you directly confront him to ask him way.
Does this seem like desperate behavior to you?
The answer is YES!
Look, in these kinds of circumstances it's important to not react.
However, it's also important to immediately set a goal.
And in this case your goal is to get your ex to "refriend you"
So, how do you make him do that?
Well, I am a big believer in the rungs of the ladder approach to getting an ex back.
You see, a surefire way to ruin your chances of getting your ex back is to try to do everything all at once.
Re-connection rarely happens that way.
Instead, a smarter approach is to slowly but surely work your way up the re-connection ladder.
So, maybe it looks a little something like this,
(For a more complete look at our process for getting an ex boyfriend back check out Ex Boyfriend Recovery PRO.)
Do you see how it works.
In little bite sized steps you slowly work your way towards getting your ex to to become your friend again on Facebook or other social media platforms.
Now, I know you are probably sitting there thinking,
Ya, I get it but how do I ask him?
Honestly I don't think you have to.
It's all a matter of timing.
Consider this for a moment.
Lets say that your ex boyfriend unfriended you yesterday and you were to immediately try to refriend him the very next day.
What are the chances that he would accept your friend request?
Probably very low, right?
Now let's say that it's two months later and you and your ex have been flirting a lot recently.
So, you decide to send him a friend request.
What are the chances that he would accept it now?
Much higher, right?
Timing matters when you try to get him to refriend you.
Now, would that be the exact way I would go about recommending one of my clients to send a friend request to an ex?
No…
I'd probably recommend them to qualify the friend request.
How To Qualify A Friend Request To An Ex
What I am about to teach you here is really ninja so listen up.
No, not like that.
It's important that you don't friend request an ex out of the blue. That is very weird and bound to get ignored.
Instead, what you want to do is qualify the friend request so that it makes complete sense to him when you send it.
Imagine that the two of you are texting back and forth and you text him this,
After sending that text you wait for exactly three minutes and then you text him this,
Now, the genius behind this method is that you are the one leading him into doing it.
Of course, this method will only work if you time it properly.
In other words, you can't try this method if you aren't in a good place with him. If he still hates your guts then forget it you need to first work on getting him to not hate your guts.
The other catch is that this method only works if you have something super interesting to share.
In the example I decided to choose something funny because that is what would appeal to me but it works even better if it appeals to his interests.
For example, if you know that your ex is really into movies and his favorite movie just announced a sequel then it might be a good idea to send him something around that.
Generally the better your "bait" is it'll start a new conversation in a new medium and it can be exciting for both of you!