So you regret breaking up with your ex, and you want to figure out how you can get them back.
Well, you've come to the right place because this article is your quick introduction to our tried-and-tested philosophy of getting an ex back. Our techniques are based on thousands of real-life success stories, so you're about to learn exactly what patterns work in real life and how and when you can implement them.
Now I've spent a lot of time talking about the exact strategy for getting an ex back throughout my website and YouTube channel.
In fact, I recently updated our 24,000-word in-depth guide on how to get your boyfriend back that covers all the strategies I will mention today. You can always hop on to that guide if you still need details after going through this article.
How You Can Get Your Ex Back If You Regret Breaking Up With Him
Our ex recovery strategy has been revised and refined over the past ten years, but ultimately it all revolves around these three essential parts to the process:
No contact rule period
The value ladder
The value chain
It's perfectly normal if you don't know what any of those mean at this stage; I'm going to break them down for you in order…
The No Contact Period
The no contact rule refers to a period of time where you cut off all conceivable communication with an ex after a breakup.
The intent of this tactic should NOT be used to make your ex miss you but instead should be used to rebuild your own life so that you outgrow your ex. By doing this, the no contact rule can have the added benefit of making an ex miss you.
So no contact includes not initiating any contact with your ex and not responding if they contact you either (unless it's a legit emergency).
We usually recommend three time frames for a no-contact rule:
a 21-day rule
a 30-day rule
a 45-day rule
Discussing exactly what timeframe works for your specific situation is out of the scope for this article, but feel free to go to our website Ex-Boyfriend Recovery and do your own research to figure that out.
One of the best things about our program and YouTube channel is that we get to interview lots of success stories of people who have gone through our program and gotten their exes back.
These interviews help us determine which strategies truly work in real life and which strategies sound good in theory but don't always pan out. It also allows me to pick up on certain patterns that I may not have considered when I originally created the strategies I'm discussing today.
One of the most prominent findings that we've found has to do with the intent of the no-contact rule. Many people enter the no contact rule with the intent of making an ex miss them, which rarely works. There can be several reasons for this, such as how this intent prevents personal growth or encourages anxious attachment behavior that can drive exes further away.
So what do success stories do?
Successful people utilize the no contact rule to focus on themselves and outgrow their ex instead of desperately trying to make their ex miss them.
Think about it – the more you focus on yourself, the more attractive you become to your ex (and everyone else around you!)
So the most essential part of the no contact rule is the intent and mindset behind it.
Let's say you've mastered a no-contact rule where you focused on yourself, and you still want your ex back; what next?
The Value Ladder
The value ladder is all about building value via the four methods of communication that you will through as you advance through our process.
Here are the four methods of communication:
Text-based communication: This includes direct text messages, iMessage, or use of any other instant messaging apps such as WhatsApp, Facebook messenger, or Instagram DMs, etc.
Phone call-based communication: This includes any conversation you have using your phone or the internet, such as direct phone calls or video chats, etc.
In-person meet-up-based communication – This stage includes non-romantic meet-ups where you both spend time together in person. These meet-ups are not considered dates, though.
In-Person Romantic Based Communication – This is the next step of in-person communication – a date where romance is assumed.
These steps seem pretty logical as each step involves more contact and exposure.
The key to a successful value ladder is to follow the method and build value on each step before moving up. Sometimes people get over-confident and skip steps in the middle, and then it just becomes awkward. Imagine skipping the meet-up stage and going directly to a romantic meet-up when you both were clearly not ready to physically react around each other.
So think of the value ladder as a literal ladder – you're not allowed to move on to the next rung of the ladder until you build sufficient value on your current rung.
Trying to skip steps or rush steps almost never works out, so trust us when we say that you need to take your time working on each step before you advance.
Sometimes this might mean texting back and forth for a month before your first phone call, then another month of building value over phone calls and video calls, followed by a few casual meet-ups, so you're well-acquainted with each other before advancing to the romantic meet-up stage!
Now here's the beautiful part about this strategy: if you're able to successfully climb the ladder in the way I'm suggesting, it's almost guaranteed that your ex is very interested in you. How?
Well, if your ex is willing to let you climb that ladder and access more of their life, they're certainly warming up to you.
Now that you know the four methods of communication let's move on to the actual content of the conversations that helps you build value on each step of the value ladder.
The Value Chain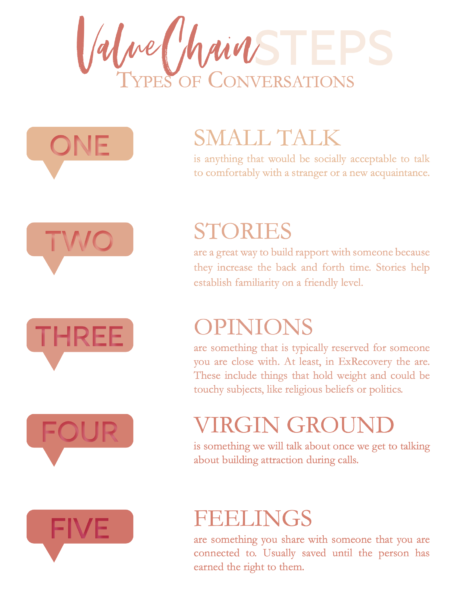 Where the value ladder is all about building value through the methods of communication, the value chain is all about building value through the actual conversations.
Five specific conversations build up a value chain:
Small Talk – The type of conversation that you can have with anyone. Non-controversial but also lacks depth, think of talking about the weather or recent sports events, etc.
Telling Stories – Usually, you will only tell stories to colleagues, friends, and loved ones. You won't be telling stories to strangers. There isn't a lot of depth to stories, but there are cases where there can be if you're clever.
Sharing Opinions – You usually only share your opinions (in person) with friends and family who you know quite well. There are some cases where you can share your opinions online, but I don't count these because you are usually hiding behind a keyboard.
Virgin Ground – This is when you or your partner discuss something that you've or they've never told anyone before. It's a sign that they trust you more than the average person.
Sharing Feelings – "I love you," "I miss you," these are great examples of feelings being shared.
Okay, so you know about the 4 steps of the value ladder, and you know the 5 types of conversation of the value chain, now let's put them together.
You should spread out each of the types of conversation as you ascend the ladder.
So when you're in the texting phase, you typically have small talk or tell stories. Sometimes you may even advance to sharing opinions over text. However, you need to be at least at the phone call stage or really deep into the texting phase that you begin searching for that virgin ground.
The virgin ground is really the setting stage for how the rest of your ex recovery journey will go because I've never seen anyone get to the virgin ground stage and not get their ex back. It's uncharted territory that unearths a new dimension to your conversations and relationship.
The Importance of Virgin Ground and How to Get There
As I've already said, I have never seen anyone reach virgin ground and not get their ex back because it's such a huge milestone.
Why?
Well, when you're harboring something internally that you have never told anyone else or only a handful of people, it's super hard to pry it out of you.
You need to have a lot of trust in someone to tell them something you've never told anyone before, so it's the ultimate test of whether your relationship is ready for that next level. If your ex feels ready to share a secret with you, it's a great sign that they're on the cusp of getting back together with you.
But how do you build up enough trust to achieve virgin ground?
The biggest advice I can give you here is to stick to the basics – slowly ascending the value ladder and value chain simultaneously. If you try to jump around to rush to virgin ground without putting in the basic foundations of trust, you probably won't get your ex to open up.
Another key to remember is that virgin ground and sharing feelings should NOT be done through text messages. Texts are the most impersonal method of communication, and you can't always get your emotions across text, so it's best to save these deeper communication types for higher levels of the value ladder.
Ideally, you'd breach virgin ground in person, but at a bare minimum, you can also do that over the phone after months of being in a long-distance situation. Also, if you're months in, let your ex take the lead in breaking their virgin ground, and don't push them into it.
Just because you feel ready to share something new with your ex doesn't mean they feel ready too. So give your ex the time, respect, and space they need before they can share virgin ground or feelings with you.
Conclusion:
There are three tenants to getting an ex back if you regret breaking up with them:
The no contact rule – a period of time where you ignore your ex and work on yourself.
The value ladder – The 4 types of communication methods you must incrementally climb and build value on, including texting, calling, in-person meet up, and romantic in-person meet up.
The value chain – The 5 types of conversations you must gradually weave into your value ladder steps, including small talk, telling stories, sharing opinions, virgin ground, and sharing feelings.
The biggest thing to remember on this ex-recovery journey is to take your time and trust the process! These steps WORK for real people and will work for you if you give them a fair shot! To learn more about these steps and scenarios associated with each one, read the complete guide on how to get your boyfriend back.