Today I want to share with you five ways you can make your ex want you back after a breakup.
First, I need to be honest.
Too often when I create videos, articles, or podcasts, I feel a bit derivative.
I am talking about the same concepts over and over again.
So, I thought an interesting way to discuss this topic was to pull from real life examples of five people who used our strategies to get their exes back.
One of the things I'm most proud of is the private Facebook group I established for members of the Ex Recovery Program to interact with others experiencing a breakup.
In this group, members can partner with each other to provide breakup support and encouragement.
This group is also an excellent opportunity for my team to communicate and learn from clients.
What began as a fun idea to create a members-only Facebook group quickly evolved into a valuable resource for our team.
By listening and talking with thousands of members who are going through breakups, we learn what's working, what isn't working, what to say, what not to say….. everything you can imagine about what is working well in the breakup scene today.
Today I'd like to give you a glimpse inside the group and share five real life success stories from members of our Facebook group.
After years of interacting with thousands of members in our Facebook group, we've noticed five reoccurring trends that have led to happy new beginnings for countless clients.
Let's talk about these concepts in-depth
Trend #1: The No Contact Rule Works Really Well
The No Contact Rule may seem like the original gangster of getting your ex back, but it still holds a lot of power today.
Just look at what this success story had to say about it:
"After my ex broke up with me two weeks ago, I can say that we are now back together. He initially broke up with me because he was moving back to Sweden with his family for college and was having doubts about the long distance. He said he wasn't ready for a relationship. There were no warning signs before he broke up with me and he immediately blocked me everywhere. I kept messaging around the clock for 5 days until he angrily told me to leave him alone and said he didn't want to be with me. I then found the ExBoyfriend Recovery Program, however, and went into no contact after that. I was 6 days into no contact when my ex reached out and apologized for his behavior. We agreed to talk as friends, but he said he wouldn't be ready to date for a while. However, two days later he revealed how much he missed about our relationship, how much he still loved me, and that he never wanted to leave me."
In this success story, I want you to notice two things.
First, the No Contact Rule worked quickly in this situation.
Generally speaking, we recommend three different no contact time frames:
A 21-day rule
A 30-day rule
Or a 45-day rule
Depending on your specific situation.
However, we have noticed that it's so effective that it can get faster results.
What I mean to say is, if your ex contacts you after 14 days to say, "Let's talk. I miss you. Let's get back together," it is worth ending the No Contact Rule to have that conversation.
I will admit that this member's scenario is a bit on the rare side.
Nevertheless, as you read through the other success stories I am about to share, you will notice that each one went through a period of no contact.
I wanted to highlight this scenario, however, to show that it not only works, but can also work extremely quick.
So, if you are on the fence about the effectiveness of the No Contact Rule, look no further for proof than what I just shared.
Trend #2: Conversation Mediums Matter
One of the things that separates me from my coaching peers is the concept of the Value Chain and the Value Ladder.
Basically, these two concepts refer to when and where you have conversations with an ex after the No Contact Rule ends.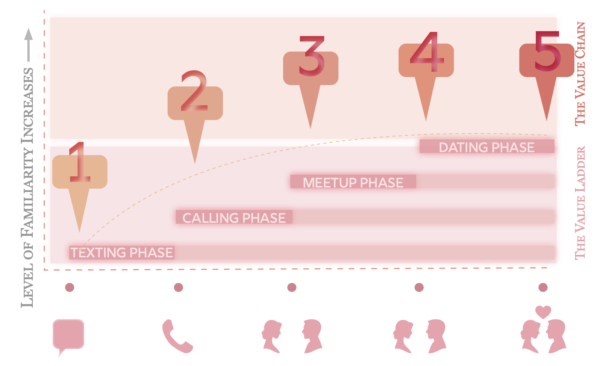 This is exactly what this next success story highlights well:
"Hello ERP! I got him back! It's early days yet, but we transitioned while on vacation from texts to calls to video calls. He eventually told me he loves me, missed me a lot, and thought about me the whole time we weren't talking. He said he wants to be with me, but I played it cool because right now we're still LDR and the same issues will come up if I jump back into things, but it feels so good to be in control!"
I want to highlight the first few sentences of this particular story, because it really shows how this member effectively applied the concept of the value chain in communicating with her ex.
If you read further, you'll notice that she followed the No Contact Rule too, but her work did not end there. After the No Contact Rule ends, you will have to transition and build value. She started with text messages and transitioned to phone calls.
Then from phone calls, she transitioned to video calls, before moving to in person interactions.
This member completed this stair-stepping method almost perfectly and it worked.
It seems crazy, right?! But it can all fit together in a relatively seamless way after the initial No Contact Rule foundation is applied.
Trend #3: Achieving The Ungettable Mindset
After you begin applying the No Contact Rule, your work has only just begun.
This is not a time to sit and wait for your fortunes to turn and your ex to come to his senses.
I recommend that members use the period of no contact wisely and actively on themselves.
That's right, you shouldn't be focused on your ex at all. This is all about focusing on you.
As I started recommending this concept to clients and seeing the positive results, I named this strategy the Ungettable Girl.
It's basically about striving to become the girl that every man wants, but no man can get.
This is something this next member's success story explains so well.
"So, my ex told me yesterday that he wants us to get back together! Ever since I broke my 21 day no contact by two days, my ex has been texting me every couple of days saying that he can't stop thinking about me and all the UG (Ungettable Girl) things I told him he needed to do to change and be better. He proceeded to pour out all of his feelings and explain what he did to make us break up. He never felt breaking was the right thing to do, but the only thing he could do because he felt like a failure and pushed me away because he didn't want me to see his weakness. Surprisingly, I can honestly say I feel like I am in a great place mentally, emotionally, and physically coming into 4 weeks after breaking up. I am feeling really UG and I don't need him or feel emotional over him anymore."
There are two things I want you to notice about this success story.
First, she followed the No Contact Rule and, while she ended it a little early, he asked for her back.
And second, he asked for her back because he noticed the amazing difference in her and he grew to feel regretful about their breakup.
And that's the point.
The No Contact Rule gives you chance to become the Ungettable Girl.
Most women think,
"Oh no! I'm going to get all this time to myself and become super depressed thinking about him all the time".
But the successful women do the exact opposite.
They make him regret the breakup by moving on with their lives and doing things that make him feel left out.
That is part of being an Ungettable Girl.
If you want the longhand explanation of the Ungettable Girl, check out my book "Ungettable: Becoming the Woman Every Man Wants".
You can purchase it on Amazon for only $19 and read start to finish the complete game plan on how to become ungettable.
Trend #4: Moving On Without Moving On Really Can Work
It's no mistake that I mention the next trend of "moving on without moving on" after discussing the Ungettable Girl.
They are related, but this concept is a bit more difficult to explain.
Essentially, it's the idea of giving up on your quest to get your ex back.
This, ironically, often leads to your ex coming back into your life.
It's probably the weirdest trend I've seen and one that's difficult to fully explain, other than to say it is a mindset shift.
When you begin to mentally move on and give up on chasing your ex, they tend to sense it and start chasing you.
This is something our next success story highlights well.
"Hi everyone! I haven't posted on here at all yet, but reading success stories, especially when I first joined, always helped so I wanted to share my own! I joined near the end of my no contact and honestly I thought that my case was a lost cause because he told me all the lines: we're never getting back together, it just didn't work out, blah, blah, blah.
Fast forward a month later, he had not reached out at all and when I first started texting him he seemed to respond positively at first and would become short. So I actually decided to just move and I didn't want to chase after someone. Well, something happened, and I had to talk to him and since I decided to move on I deleted his number and had to talk to him in person. It was so awkward, but I kept it short, told him what I had to and left. Immediately after I left he started texting me and really opened up about his feelings. We saw each other a couple days later and I had not intention of bringing up any relationship talk at all but he brought it up, apologized to me, in detail about EVERYTHING."
The important part of this story is how this member mentions moving on.
She essentially gave up trying to get her ex back and was happy.
Then, when she was in touch with her ex again, the most amazing thing happened, and he began to see her in a new light.
So, when I tell people to move on without moving on, this mindset shift is exactly what I mean.
We see this trend work repeatedly through the comments we receive on our Facebook, website, and podcast pages.
All I can say is that moving on without moving on actually seems to work.
Trend #5: Sometimes Going On The Rebound Can Work Too
The final trend that may make your ex want you back is going on the rebound.
That's right, I said rebounding.
Weird stuff starts to occur when your ex moves on to a new girl and you move on to a new guy.
Usually, this causes an ex to start paying attention. So, while we realize dating someone new can be difficult, it is also an effective strategy.
Let's hear from a member who successfully followed this trend:
"Me and my ex broke up in May and it wasn't easy to say the least. We worked together as well, and my boss even put our desks next to each other to see if we would have drama (cruel I know). It was rocky for me at first. I fell into depression very rapidly. After some time, I began to pick up. I made new friends, found new hobbies and each day I grew stronger. He could see that everyday through work and social media, even to finding out I had been on a date. We slowly became friends again. Last night, he asked me on a date. This is what we both want. We both had rebounds during the breakup and decided it wasn't what we wanted. The best thing anyone can do is work on yourself. The positivity can do more than you can imagine."
So, why does moving on to someone else work?
Why does going on the rebound – meaning, your ex going on the rebound and you going on the rebound – seem to work?
Well, I think this relates directly to the Grass is Greener Syndrome.
Most of the time, when you break up with someone or they break up with you, there is one primary reason.
You think you can do better.
Often, however, when you go out and see if you can do better, the next person just doesn't measure up.
You see, sometimes it's important for your ex to move onto someone else, and sometimes it's important for you to move onto someone else, as well.
The simple truth is that when our clients begin dating someone new, an ex takes notice. This is why our jealousy techniques, while subtle, can be so effective.
Don't just take our word for it, though.
Listen and learn from countless members, like the ones above, who have successfully applied these trends to get their exes to want them back.