At one time or another in their lives every girl has chased a guy only to realize that this drove him away farther.
And, at one time or another, in their lives every girl has stopped giving a men the time of day only to find that he comes crawling back the second she turns away.
I mean I am constantly hearing No Contact Success Stories (If you want to read some just click on this link) that feature these questions:
"Why do guys always come back after you get over them or after they think you've moved on?

"Why do guys always come back after they dump you?"

"Why do they always seem to come back when it's too late?"

What is it about giving them space that makes them come back?"
I know… right now you're like…
I mean everything in you is telling you to chase him right?
So, what gives?
To women this logic does not make much sense. Women want men to fight for them, they want to feel wanted. So when we break up with a man this is how we tend to react, by making them feel how much we want them.
In fact, we make them feel it so much that we smother them in it and they feel like they can't escape our love.
No man wants a yo-yo. That is, they don't want something/someone that comes right back to them every time they throw it/them away. Every time he pushes you away and you force yourself back in it decreases your value and makes you seem a little more desperate.
What Men Want Is The Chase
Men are driven by competitions and this applies to love, as well.
In order to have value you need to make him feel as though he has earned you, make yourself seem like a prize that he needs to work for.
You might ask what is the best way to accomplish this?
And the answer is by ignoring him.
This can be effective in all sorts of different situations. Including recent break ups, new crushes, and yes, even if your Ex was the one who dumped you to begin with.
Yes! It IS possible to get him to come back even after he dumped you.
Let's talk about what he's thinking when he realizes you are ignoring him.
If prior to finding the EBR guidelines you had been pestering your Ex, or any love interest for that matter, then they will have grown to expect hearing from you multiple times a day. They may even get some pleasure at ignoring you and watching you get increasingly upset by it.
Imagine with me now…
One day you just stop. You disappear from his notifications with no explanation. It may take him a little while to notice but eventually it'll dawn on him.
Once he notices he will try to draw you back in.
Phase One: The Investigation
He may start sending little mean-nothing texts. Things like this:
"Hey sorry I didn't reply yesterday, I was busy."

"Have you seen my blue shirt anywhere"

"What's the password to the Netflix?"

"Hey. What's up?"

"I saw your mom today"
The list goes on and on but what all of these texts have in common is that at the core of them, they mean nothing. Very little thought has gone into them and he doesn't really care about the conversations that they could start. He is just trying to figure out where you went.
Phase Two: The Reaction
Once he reaches out and hears nothing back from you he will react in some kind of way. This could look different depending on what type of personality your guy has.
Here are a couple of possibilities:
Anger
"Okay, guess you're ignoring me now. That's pretty mature"
Jealousy
"Guess you must have moved on now.. Hope you're happy"
Cluelessness
"Hey." "Hi" "Hello?" "What's up?" "How you been"… etc, etc
Fishing For Pity
"Thought I meant enough to you to at least get a text back.. guess not."
It's Fine, Everything Is Fine
"You must be pretty busy, that's good. I'm happy for you. Really"
Panic
"Why aren't you texting me back?" *Calls 12 times" "HELLO?!"
Mock Silence
"……." "..??"
Actual Silence:
All of these reactions are different but all of them, except possibly the last one, have the same end goal. They are looking for you to react. All of these different responses are playing on your emotions to trick you into responding to him. As your guy tries to process how this change in your behavior affects him, he may send any combination of these texts.
For example:
"Hello."

"Hi?"

"Okay, guess you're ignoring me now. That's pretty mature."

"….???"

"Thought I meant enough to you to get a text back… guess not…"

"Why aren't you texting me back?" *Calls twice*

"Fine. Don't text me back. I don't want you to anyways."
As you can see he transitioned from clueless to anger to mock silence to fishing for pity to panic then back to anger again.
These reactionary reach out attempts may come all on the same day, they may come spaced out over the course of many days, or they may not come at all.
Here is a quick example of a message that my Ex sent me during my no contact period. This text was sent towards the end of the no contact period and there were numerous other texts both before and after this one which took the form of every single one of the types listed above.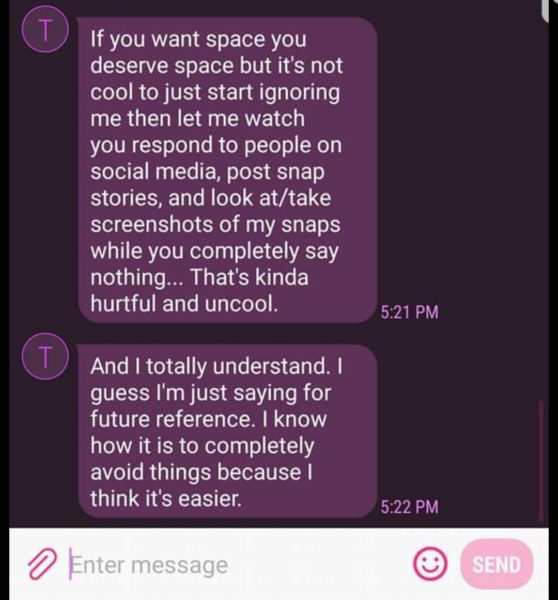 Important note: This Ex broke up with ME and turned me down multiple times when I asked him to get back together.
If your Ex does not reach out at all do not panic. Some men are more composed than others and some men are just plain stubborn. If he does not reach out it DOES NOT mean that he isn't thinking about you.
During this period of reaction your guy is starting to wonder what you are up to. He grew so used to having you there whenever he wanted you and now you have taken that away. In a sense men are like little kids… They only want something once you make them realize that they can't have it anymore, or worse, that someone else might get it.
While you are ignoring your ex, continue to work on yourself and post about it on social media where either he or his sphere of influence (his friends and family) will see it. The happier and healthier that you sees you becoming, the more frustrated he will get that you aren't giving in to him.
Phase Three: Regret
Once it hits him that you might not care about him anymore he will begin to wonder if losing you is really what he wanted and what was best for him. Feeling like this is going to freak him out.
Men don't like to feel vulnerable or afraid and once again, he could react to these feelings in a couple of different ways.
He may continue to reach out as if nothing is wrong
After I initiated no contact on my Ex he continued to text me telling me about funny things that happened or about something that our dog had done and did not acknowledge the fact that I was not responding to him. Every now and then he would say something like "I know you are ignoring me but…"
He May Lash Out
If you have ever been ignored by somebody that you care about then you know how frustrating it is. Your Ex may lash out and say some pretty cruel things. Hurtful as it may be it is important not to take them personally and to maintain your calm.
He May Act Out
During my no contact period with my Ex we still lived together. One night I came home and he had drank five or six shots of Jamaican spiced rum and was stumbling around the house. When I continued to ignoring him despite this he grabbed his truck keys and announced that he was going to the store. Fearing that he would get hurt I frantically called several of his close friends and asked them to check in on him. If you find that your Ex is posting on social media about strange things that they have done or if friends tell you that he has been acting odd lately try your best not to react to it. In my situation once my Ex realized that I was still worried about him he stopped showing interest in me again (more on that later)
He May Vanish
I read somewhere once that the best way to protect your heart is to pretend that you don't have one. Once your Ex realizes that you are ignoring him and that it scares him, he might disappear in order to protect himself.
During all of this time you will not just be ignoring your Ex and obsessing over he reacts to it though, right? RIGHT?!
No, you'll be working on yourself. Continue to develop your health, wealth, and relationships and don't be afraid to humbly flaunt your "new you"
If part of your self-development is to go on dates with new men take a tasteful photo of the dinner setting with the guys hand just visible in the corner of the frame. Small gestures such as this will drive your Ex crazy thinking that you are moving on.
But what makes them seem to come back right when you start to move on?
Phase Four: Action
Men are not going to take action until they feel like they have no other choice. It is not until your Ex thinks that he really, truly, is losing you that he will try to stop it.
Now that your Ex has realized you are ignoring him, has realized that his mean-nothing texts aren't working, and has realized that he is afraid of actually losing you and not getting you back- he will take action.
It may start out small so the important thing is not to get sucked in too quickly. Giving your Ex the satisfaction of knowing that you still care about him after all can undo days and weeks of ignoring. It only takes one small reply, one small slip up for your Ex to realize that he still has you in the palm of his hand.
SIDE NOTE:
The general rule is not to reply to your Ex unless he explicitly asks for you back.
As in, actually says,
"I want you back."
A second rule is not to reply until your Ex has sent you SEVEN positive reach out text. Positive. Not neutral. These are texts like:
"I miss you."

"I've been thinking a lot about you."

"You look beautiful in that new picture you posted"

One or two of these types of messages is not enough. There needs to be at least seven to show consistency.
What You Should Take Away From This Article
Now where were we…
In the beginning of this article we mentioned how men like competition. What men do not like is when they lose a prize that they wanted or when someone else seems to be winning.
They love a competition but they hate to lose.
Treat yourself like a prize and your ex will see you that way too.
If you have stuck to your no contact successfully and have been working on your health, wealth, and relationships then your Ex is going to be thinking that he has lost you and this will lead him to take action and reach out to ask you back. Just like my Ex did here:
This is a man who swore up and down that he could not handle the stress of a relationship.
He said over and over that he "needed" to be single.
And yet, thirty days of silence resulted in this text.
Looking back on this conversation now, I wish that I had not responded to his text quite as quickly as I did but I got the reaction to the No Contact period that I was hoping for.
A final important thing to note is that, like we mentioned, some men are more stubborn than others. Just because your Ex does not reach out first means nothing.
Going back to the competition reference, giving in to you and contacting you first would be a sign of weakness to your ex and may be seen as "losing".
If after the no contact period you have not heard from your Ex, reach out to him yourself and start the texting phase of the no contact process. Follow The Texting Bible guidelines and try not to come on too strong.
In the meantime, here is a video that covers the things you should DEFINITELY avoid going forward.
Alright, so now that you have all of the information to understand WHAT makes your ex come back. I want to hear about your specific situation.
In the comments below tell me:
About your breakup? Do you know the underlying cause?
What actions have you taken? Have you made any of the Biggest Mistakes Women Make When Trying To Get An Ex Back?
After Reading this article, and (hopefully) the rest of the EBR Material, what do you plan on doing moving forward?
Once you give us this information, our experts will help you figure out what the next best step is for you personally.
Let's go!