My intention is to make this the most comprehensive list of signs that your ex can't stop thinking about you.
The best part?
I'm going to be providing proof of real life examples, stories or statistics that back each of my signs up.
In short, if you're wondering if your ex is still thinking about you after the breakup then you came to the right place.
Let's begin!
7 Signs That Prove Your Ex Can't Stop Thinking About You
For the record, I'm aware that technically there are more than seven signs that can show if your ex is still thinking about you. However, I picked these seven because they are the most common I am seeing and there is some way of measuring them.
In short, here are the things you need to be looking out for,
They Will React To You In Some Way On Social Media
They Ask About You When They Run Into Mutual Friends
They Log Into Any Shared Accounts
They Change Their Social Media Behavior Completely
They Try To Get In Touch With You At Weird Times
They Keep Showing Up At Places You Frequent
They Hold On To Some Of Your Items After The Breakup
Now comes the fun part.
I'm going to take each of these signs and talk a little bit about what they mean and provide my evidence for why they are a legitimate sign that you need to be watching out for.
Sign #1: They Will React To You In Some Way On Social Media
In 2012, Veronika Lukacs, a student attempting to complete her masters thesis stumbled across some fascinating findings about Facebook.
She was trying to determine how often exes would "facebook creep" on their exes.
Facebook Creeping = Basically stalking your ex indirectly on Facebook
Lukacs, found that 88% of the subjects she interviewed admitted to creeping on their exes. Essentially this means that there is a 9 in 10 chance that your ex is going to keep an eye on you in social media.
I've found through working with clients that reacting to you on Facebook isn't the only thing they can do.
It can also extend to other forms of social media.
If you notice your ex liking your photos, commenting on your videos, watching your snapchat stories.
Basically reacting to you in some way, shape or form.
It's a good indication that they are thinking about you.
Sign #2: They Ask About You When They Run Into Mutual Friends
When I was 18 years old I went through my very first breakup.
I went through a wide range of emotions,
But there is one memory that I still think about to this day.
Let me give you some background.
Throughout my relationship with my ex all I would hear about was how she used to have a crush on a "certain guy."
Honestly, there is nothing more aggravating than someone telling you that they used to have a massive crush on someone else,
Oh, but she doesn't have a crush on him anymore now that she met me.
Sure….
Anyways, we eventually broke up and lo and behold whose the first person that I hear she dated after me?
You guessed it.
"That guy."
Anyways, the memory that really sticks out to me when I think back to my time after that breakup is when I was hanging out with my best friend at his place one day and he got a call.
It was a little mysterious because he just got up and left to go take the call outside.
I figured it was some girl he was working on getting.
Turns out it was my ex.
She called him to vent, because she couldn't call me, about the fact that I was a much better boyfriend than "that guy."
Of course, the second he gets off the phone he runs in and tells me who it was and it made me feel excellent because I knew after all this time she was still thinking about me.
Sign #3: They Still Log In To Shared Accounts
We tend to share certain things when we get into a relationship with someone.
Usually those things include,
Netflix
Hulu
Pandora
Spotify
Amazon Prime
You Get The Picture
Some of these things will actually notify you of when someone accesses your account.
For me it would be Netflix.
I actually share it with my parents and my brother.
They mooch off me 🙂 .
But I love them so it's ok.
But if I look at my recent history you can see everyone who accessed my account and what they watched. All the arrows below are what my parents watched,
You probably see a lot of kids shows on my Netflix account.
That is because I have a three year old.
Anyways, you can perform this little test on your ex and see if they are logging into your account.
You just know that if they are logging into your account they have to be thinking of some of those times that you watched Netflix together.
You have to run through their mind at least once.
Sign #4: They Change Their Social Media Behavior Completely
This one is probably my favorite sign because it's completely underrated.
Human beings are often defined by patterns.
We establish certain patterns in almost every aspect of our lives.
The foods we eat.
The workouts we engage in.
The people we talk to.
There is a certain pattern to almost everything we involve ourselves in. When a pattern is broken it often means something significant happened to cause the break.
Your ex has a certain social media posting pattern.
If they change that patten dramatically then you know you are the catalyst and they are thinking about you. Why are you the catalyst? Because they just went through a breakup with you dummy.
Let's say that your ex is an established poster on Facebook.
He or she averages a good post a day but after the breakup they don't post for a few weeks.
This is a sign that they are hurt by the breakup and don't have the desire to post.
In other words, they are thinking about you.
On the flip side, let's say that they are not a frequent poster on social media and yet their posting becomes much more significant after the breakup. It's almost as if they are trying to prove something to you.
These are signs that they are thinking about you.
Sign #5: They Try To Get In Touch With You At Weird Times
If you read my book I often say that the battle for getting your ex back doesn't really happen in the things you say or do. It happens when your ex is left alone to their own decides.
When they have time to sit, think and process.
Speaking personally, it's impossible for me to process emotions until I actually have time to sit and think for a few days.
This is why I love books and movies so much.
One that make you feel.
That touch something primal.
Something you can't quite explain.
When I first watched Interstellar I couldn't immediately explained why I was so moved by it.
But after a few days I realized that it was this scene right here that got me,
It really does a great job of highlighting the sacrifices being made for the survival of our race.
It's powerful.
But I didn't come to that conclusion immediately.
It took a few days of processing and thinking about it.
Here's my point.
If you start noticing you are getting calls from your ex at weird times in the morning or at night it could be a sign that they are in deep in thought processing.
In other words, they are thinking about you.
Sign #6: They Keep Showing Up At Places You Frequent
Let's say that you go to a party and you notice your ex is their.
It's awkward, right?
You don't really know what to do or what to say. In fact, this exact scenario is something I talk a lot about with my coaching clients.
It's possible that seeing them at this party is a coincidence.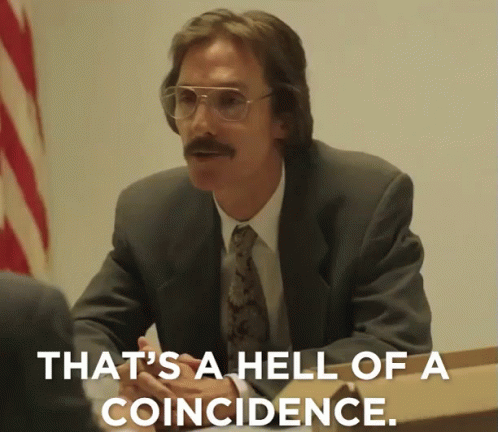 But then you see them again at a different party the next week.
You see them while you are working shopping in a shopping center near your work.
It doesn't seem like that initial party was a coincidence anymore, does it?
Here's my point.
If your ex starts frequenting places that you frequent more than once.
Chances are, it's not a coincidence.
Sign #7: They Hold On To Items Of Yours After The Breakup
This is actually a scenario I talk a lot about in my book.
Basically what do you do when there are items to exchange with your ex?
What does it mean when they give you back everything except that one thing.
Is it significant?
Are they just a freak… hoarding it like Gollum?
As weird as this sounds I have known some exes to hold onto items of yours on purpose so they have an excuse to see you again.
The thinking goes like this,
If I hold onto this item I can just pretend I forgot to give it back and I'll get to see them again
All of this being, of course, proof that they are thinking about you.