The no contact rule is one of the essential elements in winning your ex back, so naturally, the first text after it holds a lot of value.
We will discuss a good first text to send to your ex to maximize your chances of getting a response.
The best way to exemplify this is by looking at real-life scenarios based on our coaching clients and our private Facebook support group that have used successful first contact text messages after the no contact rule.
First and foremost, we must understand what the no contact rule is and why it is such an important technique to use before you text your ex or before responding to their pending text messages.
The Importance Of Completing A No Contact Rule
So, what is a no contact rule?
Well, I'm glad you asked.
By definition, the no contact rule refers to a period where you cut off all conceivable communication with an ex after a breakup. The intent of this tactic should not be to make your ex miss you but instead should be used to rebuild your own life so that you outgrow your ex. By doing this, the no contact rule can have the added benefit of making an ex miss you.
Before talking about the first text, we need to understand why it is so important to complete a no-contact rule since most of our program is designed around this rule.
We have received many arguments against the no contact rule, and we seem to understand why. Most people view the no contact rule as this manipulative strategy that you are using to make your ex miss you and get a reaction.
However, the way we approach the no contact rule is not so much about your ex, but mostly about you and the internal philosophical change you will go through during this period.
The text messages we are going to talk about are done only after the philosophical shift takes place.
What is this philosophical change?
The philosophical change we are talking about is in the definition of the no contact rule. It is to get you to a place emotionally where you are willing to outgrow your ex.
A common saying, 'if you want to get the guy, you have to be willing to lose the guy,' perfectly exemplifies this strategy.
You have to get to a place emotionally where you are okay with failing. It shouldn't bother you as much as it once would have. You can only achieve this by cutting all conceivable communication with an ex, and you also have the tiny added benefit of it being a bit like reverse psychology.
More than anything, we have noticed a trend among our successful clients that they basically get over their exes. So, before you even consider texting your ex, you must outgrow your ex during a no contact rule.
This leads us to the next big question:
Should You Reach Out First Or Wait For Them?
The advice that might sound a little controversial to you is that it does not matter who reaches out to who after the no contact rule because you will eventually reach out to your ex no matter what.
Most of our clients are women since they are more investigative about such issues online, but this advice applies to both men and women.
Last year, we asked one simple question of our private Facebook support group that encompasses over 6200 members. How often during the No Contact Rule did your ex reach out to you?
Shockingly, 63% of our respondents said that their ex did not reach out to them during the no contact period at all.
Therefore, we think time matters a lot in the circumstances like this. Letting enough time go by that your ex gets over you does exist. This is why we do not want you to sit on your butt and wait for them to text you even after a no contact rule. We encourage you to take control and text them first after the no contact rule.
Now we're going to get to the fun part and look at real-life examples of first texts after a no contact rule that received a positive response.
One of the cool elements of our Facebook group is albums where you can view successful first contact messages after a no contact rule. People who sent an ex a text message after a no contact rule and got a positive response are filed away in this album.
Let's analyze the elements present in a successful first contact text message.
Crafting A Successful First Contact Text Message (Based On Real Life)
We are then going to compare these elements to real-life text messages sent by our clients. There are 4 elements that you need to think about before sending an ex a text message after a no contact rule:
Pattern Interrupts
Curiosity
Damsel in Distress
Interest-Based
Let's dive deeper!
Element 1: Pattern Interrupt
The first element is called a pattern interrupt.
The text message that best exemplifies this from a client was when they texted their ex "you literally won't believe what I just saw" and got a response.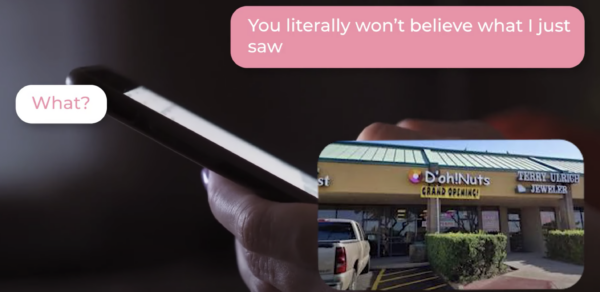 Why does this work?
Why did this get an immediate response from the ex?
The pattern interrupts in this text interaction is pretty obvious.
You haven't talked to your ex in over a month because of the no contact rule, and all of a sudden, you text them something exciting and out of the blue.
You will find a commonality in most of these texts because they will contain multiple elements that we will be using. The above text works well with the pattern interrupt element, as your ex's day is interrupted by your text.
However, there is an embedded element of curiosity in there, too, with the "you literally won't believe what I just saw" phrase. Your ex becomes curious and wants to know what you saw.
Another element present in this text is the interest-based element, as the doughnut or 'doh-nut' place resonated clearly with an inside joke these two had, so it sparked conversation.
This text had an extremely strong pattern interrupt, but it also embedded curiosity and interest-based well, so it makes for a great example.
Element 2: Curiosity
An example text from a client of ours with this element is "so have you heard the news?", to which the ex-responds with "??" and then "well?." Bam! Instant curiosity.
Another classic example of a curiosity-based text was "I have a confession to make," which made your ex go crazy with all the overthinking about what you might say.
The problem with this text is that it might make your ex think negatively about you.
An important thing to keep in mind is that you are sending this text message after a long period of not talking to them, so your ex is already on edge about what your text will be about.
The curiosity text plays to that fear a little bit, so it's crucial to strike a balance with what you say.
Element 3: Damsel in Distress
An example text is "I have a question, and I only trust you for the answer"
The damsel in distress text message is essentially where you act like a damsel in distress in front of your ex.
You show your ex that you need help on something, and your ex is the primary person that would provide this help to you.
This especially works well when you embed the element of curiosity.
The element of curiosity in this text is "I have a problem, and I only trust you." Not only is your ex looking at you as a damsel in distress, but he is also curious about what the problem is that you need help with. This creates enough interest to engage you, which leads to a conversation.
You want to allow your ex to show off their knowledge by helping you. This makes them feel good about themselves and feel good about helping you, leading to really subtle feelings.
This is the key to the damsel in distress text message, which was the most used element in our clients' first text messages after a no contact rule. By embedding this element, you have a high chance of a positive and successful response.
Element 4: Interest-Based
A good example from a client is "I need your expertise" or "I'm having a debate at work. In your opinion, who's more likely to win the OU vs. Texas Tech game."
This is undoubtedly one of the best text messages of the bunch because we can see the entire context.
It starts with an obvious damsel in distress text and immediately after our client engages their ex in their knowledge and interest. It is something that their ex is passionate about, and they are not so much.
This gives the ex a chance to show off their knowledge and help you. The client then ending the conversation abruptly, also leaves their ex curious.
Please notice how many elements are being embedded in this conversation.
The first text is obviously a damsel in distress – curiosity-based text. It is then followed up by interest-based text. Finally, the mere fact that she is texting her ex is a pattern interrupt.
This is why it is the perfect example of someone who used all four elements to ensure that this conversation with their ex after a no contact rule results in a positive response.
Conclusion
We've extensively discussed how a no contact rule is pivotal after a breakup and for you to feel better. You must differentiate between making an ex jealous and outgrowing them to feel better yourself.
Clients often discuss the right time or way to reach out to an ex, but they often miss out on the important step of the philosophical change that must happen before that.
This philosophical change only takes place once you outgrow your ex, which exemplifies why the no contact rule is an important technique.
When you go through outgrowing an ex, you should text them if they haven't reached out to you because you eventually will anyways.
Once you have decided to text them, you must think of the essential elements to respond positively after a no-contact period.
These are:
Pattern Interrupt: Your text is likely to interrupt the current pattern of their life where they are not used to talking to you.
Curiosity: Your text must contain an element that incites some form of curiosity in them, so they engage more.
Damsel in Distress: You can act like you need their help, so they feel important and encouraged to help you and feel good about themselves too.
Interest-Based: A text about something their passionate about or interested in makes them want to engage in the conversation more.
Example texts from our clients discussed above show you how to sync these elements in your texts perfectly. It is important to note that the more elements you embed in your texts, the higher chance of you getting a positive response.
The most important thing to remember is that these techniques will only work once you have properly completed a no contact rule and the philosophical change within you. You must outgrow your ex first to talk to them as a secure person. Only then will all these strategies work in your favor.