What if I were to tell you that there are five big signs you need to keep an eye out for that will tell you that your ex feels guilty.
Would you believe me?
Probably not but today we are going to be exploring what these five signs are and how you can diagnose them.
First things first though, I want to be clear that in the grand scheme of things there are probably more than four signs that prove your ex feels guilty but I just wanted to focus on the five on this page because they are the most common that I see from working one on one with clients.
You ready to rock?
5 Signs That Your Ex Feels Guilty

What is guilt in the context of this article?
Put simply,
Guilt = Feeling Bad For An Action You Took
Typically, guilt in this instance can be mistaken for regret and I will admit that they are closely related. In fact, often it's the feeling of guilt that can lead us to regret our current path.
However, guilt tends to occur before regret.
It can often be identified within exes by these five signs,
Diagnose The Three Reasons People Tend To Feel Guilty
Their Social Media Behavior Changes Dramatically
Being Abnormally Quick To Anger
Your Ex Becomes Very Moody
Your Ex Becomes Very Avoidant
Let's take a minute and discuss each of these signs.
Sign #1: Diagnose The Three Reasons People Tend To Feel Guilty
Here's a general rule of thumb when it comes to guilt.
There are typically three reasons or categories that can answer the "why" of why people feel guilty.
You knew better…
You caused hurt, harm or injury
You disappointed someone
View these three categories as "the rules of guilt."
Essentially your ex can't feel guilty unless he or she falls into one of these categories.
And that's what makes breakups such a prime candidate for guilt.
Chances are your ex can feel guilty for causing hurt, harm or injury because of the breakup.
So, here's the interesting thing you need to take into account.
When I work with clients to determine if their ex feels guilty for their part of the breakup they tend to bring their own emotions into the equation.
The feel hurt so they automatically assume that their ex knows that they hurt them. It doesn't always work that way.
The Nature Of Self Interest
Being in charge of Ex Boyfriend Recovery has been a really interesting experience. It has given me a lot of insight into the human condition. Specifically how people react when they go through an extremely difficult time in their lives.
If you were to ask me what is the biggest takeaway I've gotten from being in charge of this website for half a decade I'd tell you that it's an easy question to answer.
Nine times out of ten people will do what's best for them. Humans are very self interested creatures.
In other words, it doesn't really matter how you feel.
What matters is that your ex recognizes that they are in the wrong.
Without that, they probably won't be feeling guilty.
Sign #2: Their Social Media Behavior Changes Drastically 
Sign one was all about diagnosing guilt.
Essentially, trying to figure out if your ex was feeling guilty.
With this sign we are going to switch gears and assume your ex already feels guilty and look at one of the behaviors they will engage in.
Guilt can often cause people to react in strange ways.
One of the strangest reactions I've seen is that it will cause an ex to change their social media behavior drastically.
Let's say that throughout your relationship your ex wouldn't like any photos or posts on your Facebook profile.
However, after the breakup they change and it seems like they go overboard liking and commenting on everything you post,
This can also go the other way.
If your ex was very active on Facebook and would constantly give you attention and then after the breakup that stops it could also be another sign that they are feeling guilt.
Here's the interesting misconception I see people having all of the time.
We tend to operate under the assumption that if our exes feel guilty it must mean they want us back.
I'd make an argument that guilt has nothing to do with a reconnection decision.
I feel guilty for how I treated my ex but that doesn't mean I'm going to go beg for her back. Quite the opposite, I just look back at that experience and say,
Going forward, I'm going to do better.
That may be bleak for you to read BUT read on nevertheless, because I will be talking about how you can get your ex back if you are interested in that.
Sign #3: Being Abnormally Quick To Anger
For this sign I have to tell you a story.
For my tenth birthday my parents got me a pair of walkie talkies.
At the time, this was a big deal to me.
You have to remember, this was before cell phones were even in existence or if they were they probably looked like this,
As a child I couldn't believe I had these magical toys that allowed me to talk to my friends whenever we'd go out and play.
I got one glorious weekend playing with those walkie talkies before I took them to school.
Excited to show off my new birthday present I had the misfortune of showing them to a boy named Wesley.
Upon seeing my new walkie talkies he made all kinds of promises.
At first he told me that if I gave them to him he'd take them home and extend their range for me,
A few days go by and every morning I'd run up to him and ask him if he had my walkie talkies.
Every morning he'd have a new lie to tell me.
It even got as far as him promising me that he was going to install a television into the walkie talkie,
This was a big promise to make to a ten year old.
I can't tell you how many times throughout the day I would daydream about what it would be like to have a television installed in my walkie talkies.
Every morning would come, I would ask where my new walkie talkie was and Wesley would find a way to hold me off.
Eventually my incessant asking got on his nerves and I was met with anger every time I would ask.
You have to understand that I had never encountered the concept of lying in my life up to that point. It was a first for me.
The funny part is that he stole my birthday present from me and then had the audacity to grow angry with me for asking for it back.
He was clearly in the wrong and every time I would ask for it back it would be a reminder of what he did.
As a result, he lashed out with anger.
Scientists have found that this is a very common type of behavior within people who feel guilty.
They are quick to anger.
So keep an eye out for this with your ex.
Oh, and Wesley if you are out there I want my walkie talkies back and there had better be a damn television in them.
Sign #4: Your Ex Becomes Very Moody
For this sign I'd like to tell you another story.
Something that is happening right now in my life.
I don't know if you've noticed but I've been working overdrive lately producing a lot of articles and pretty much a youtube video per day.
The whole process can take me anywhere from 4 to 5 hours a day.
It's exhausting work.
I know that doesn't sound like a lot but this is 5 straight hours.
Often, there isn't even a break and it's a little bleak doing the same thing over and over again day after day.
Don't get me wrong, I'm not complaining too much.
I love what I do.
But I do often feel guilty because doing the daily tasks prevents me from getting other business stuff done.
Important things like spending more time with my clients.
Doing a Facebook Live for my facebook group.
And a bunch of other things that aren't worth mentioning.
This guilt makes me moody when I do get breaks because I feel like I can't get everything I need to get done.
My wife even mentioned to me yesterday that she thought I was being extra moody and after thinking about it I realized that it stems from not getting everything done that I was supposed to.
Keep an eye out for moody behavior within your ex.
Sign #5: Your Ex Becomes Very Avoidant
Time to tell another story 🙂 .
Ok, with sign four I mentioned that when I don't get all of my work done I can get moody.
Often it's because I feel like there is unfinished business and the walls are closing around me.
Where things get complicated is that often when I do find time to work on those tasks that are making me moody I can actually avoid them.
It's a weird self fulfilling prophecy,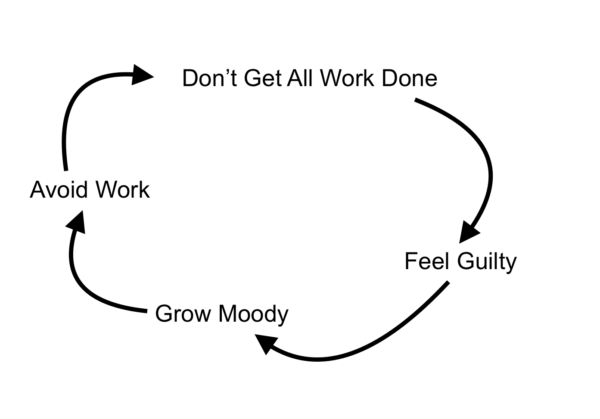 I know…
I know…
It seems really dumb when it's all mapped out like this but I think I avoid the extra work sometimes because it makes me feel bad.
Remember my good feelings/bad feelings theory?
Where people are drawn to things that make them feel good and and avoid things that make them feel bad
That extra busy work makes me feel guilty which makes me feel bad so I avoid it.
Do you see where I'm going with this?
If your ex thinks about you and feels guilty then they may avoid you.