It's always a daunting task to try to get an ex back who lost feelings for you.
Your memory is plagued with these moments where the two of you were inseparable.
Whispering "I Love You's" at every conceivable moment.
But things are different now.
Your ex may have told you to leave them alone.
That they hate you.
That they never loved you.
It's devastating.
You may have even believed them but I'm here to tell you that if you want your ex to regain their past feelings for you there are three concepts I need you to understand.
That's what this article is about.
3 Concepts To Help Make Your Ex Have Feelings For You Again
Having an ex lose feelings for you sucks.
But that's only because you are a little ignorant about how it all works.
I mean, how many people actually sit down and think about the inner workings of their feelings when things are going well?
In my experience with working with hundreds of clients it's rare.
But what if I were to tell you that there are really three key concepts you need to understand to "spark feelings" again?
Would you be interested in reading about that?
First Understand The Good Feelings Vs. Bad Feelings Theory
Second Understand The 11 Factors Of Love
Finally, Understand Story Theory
I don't expect you to understand what any of these things mean.
That's why I am here.
Concept #1: The Good Feelings Vs. Bad Feelings Theory
Let's set aside the "big picture" question of your ex losing feelings for you for a moment and simply talk about human beings in general.
I started this website back in 2012 when I was 22 years old.
I'm 28 now.
In those six years I've witnessed fascinating and horrifying things.
I've coached people at their best and also at their worst.
If you were to ask me what I've learned in my tenure here at Ex Boyfriend Recovery I'd simply say,
Human beings are drawn to things that make them feel good and repel things that make them feel bad.
I've never met one sane person where this hasn't been the case.
Essentially it works like this,
Here's where things get fascinating.
Even if we understand on a logical level that something is "bad" for us we can still be drawn to it if it makes us feel bad.
All that matters here are feelings.
So, when we look at the question at hand I think there is a misconception that goes on in most breakups.
People think that feelings are lost.
I'm not sure it works that way.
The peak-end rule states that human beings remember an experience based on two distinct points,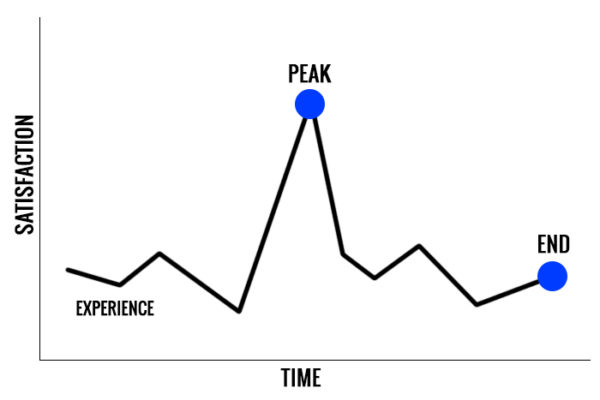 The peak, which is the most intense and satisfying part of the experience and the end which is the closest part of the experience for us.
Most people who experience breakups have pretty bitter feelings by the end.
If that is all your ex remembers when they look back on their time with you then it would make sense your ex would run away from you because they run away from things that make them feel bad.
I'm not sure it's a relevant question to ask,
"Why did my ex lose feelings for me?"
More accurately it's all about then running away from something that makes them feel good.
Remember this concept because you'll find that it's an important "through line" for everything that we talk about from this point on.
Concept #2: The 11 Factors Of Love
Around three months ago I filmed an important video for my YouTube channel where I talked about the concept of love and how it really worked.
I explain that what we perceive as "love" is nothing more than a set of chemicals being released by our brain.
So, it stands to reason that if we can understand the cause of these chemicals we can come close to "reverse engineering" love and it can help us big time create those "good feelings" we want so badly.
Upon some intense research I identified eleven factors that make a difference at creating the following chemicals,
Dopamine
Norepinephrine
Serotonin
Oxytocin
CRF Hormone
CRF Receptors
Vasopressin
All of these chemicals have been associated with love.
What helps create these chemicals is the following eleven factors,
Similarities
Familiarity
Desirable Characteristics
Reciprocation
Social Influence
Fulfilling Needs
Environment
Specific Cues or Particular Features
Readiness
Alone Time
Mystery
Now, usually what I do for articles is go above and beyond when it comes to explaining things so I'd typically take each of these eleven factors and explain what they were all about.
But I'm not going to do that.
Why?
Well, if you look above you'll see a video entitled "11 Ways To Make Your Ex Fall In Love With You Again."
I literally explain each of these eleven factors in detail in that video.
I don't want to be derivative.
Here's what I will do for you.
I've explained this concept of the eleven factors many times to my clients and have witnessed them create lists like this,
Where they list out all the things they think they have done with their exes and highlight the areas that they need improvement on.
I think you should do the same thing.
And to make your life easier I've created a pdf version of this list for you to print out and do just that.
Download The PDF 11 Factors Of Love Checklist Here
Let's move on and talk about another really cool concept.
Concept #3: Story Theory
Stories are addicting.
There is nothing more powerful and captivating than a good story.
Movies…
TV Shows…
Comic Books…
Books…
These are all vehicles in which you can consume or tell a story.
One thing that always remains the same is the story itself.
A great story has certain elements that make it great.
And I think my biggest issue is that when I work with clients they fail to understand that they are literally in the midst of creating a story with their ex.
The ending hasn't been written yet but with each passing day it gets closer.
If you want your ex to feel good and be drawn to you then it's important to understand something I like to call Story Theory.
What Is Story Theory? 
Have you ever read a book that was so addicting it plagued your thoughts throughout the day and you couldn't think of anything else.
All you wanted to do was just to continue reading the book.
I have and let me tell you that this feeling of "being addicted and consumed" by a story is very similar to love.
It's always how I personally reacted when I've come across someone that I've fallen in love with.
What if these two concepts were mutually exclusive?
What if understanding the keys to a great story helped you better understand how to make your ex have strong feelings for you?
I've been doing a lot of thinking at what makes a story great lately and think I've settled on something revolutionary.
Great stories create multiple emotions.
Most stories go "all in" on one type of emotion.
Take "horror movies" for example.
If you take an awful movie like Leprechaun and look at its many problems,
The one thing that really sticks out is that all this movie does is try to scare you.
That is it.
Look, I like being scared as much as the next guy and I think many movies can do this easily but does "being scared" equate to a great story?
In my opinion, no.
If I look at my favorite stories they always seek to create multiple emotions in me or when they do go all in on one type of emotion they do such a good job at it that it's all I can think about.
Most of my favorite stories,
Make me laugh
Make me cry
Make me scared
Make me angry
Make me shocked
Make me giddy
They try to run the spectrum of emotions and it makes me feel alive.
I get to experience emotions I rarely do in my everyday life and that is something I appreciate.
Life is all about living.
All about feeling alive.
Here's my point.
If all you are doing when you are with your ex is making them feel one thing you are setting yourself up for disaster.
Instead, when they are with you they need to feel alive.
They need to run the spectrum of emotions excluding bad feeling ones.
That is the one fly in the ointment when it comes to story theory.
For me, I like going to a movie that makes me feel sad. I like connecting with a character that much.
But in real life, making your ex feel sad goes against the good feelings vs. bad feelings theory.
So, to compensate you will need to only focus on positive or exciting emotions.