Today I'm going to answer one of the most asked questions in our community.
How does a dumper feel when you use a no contact rule on them?
After all, if your ex broke up with you and you want them back you might think they wouldn't care if you ignore them but that's almost never the case.
I've always found that in these situations it's incredibly useful to look at how they feel based on how they act.
So, How Does The Dumper Feel If You Use No Contact On Them?
I know, "actions speak louder than words" is the most cliché thing I could say but I truly believe that actions go even beyond what someone says to you.
Generally speaking, someone's actions are going to be informed by what they're thinking and feeling, even if they don't say it.
This is an incredibly important thing to understand because if you're looking at the psychology of a dumper when you use a no contact rule on them, we first need to understand the type of individual they are.
The best way to understand your ex is to find out what their attachment style is.
Let's Talk A Bit About Attachment Styles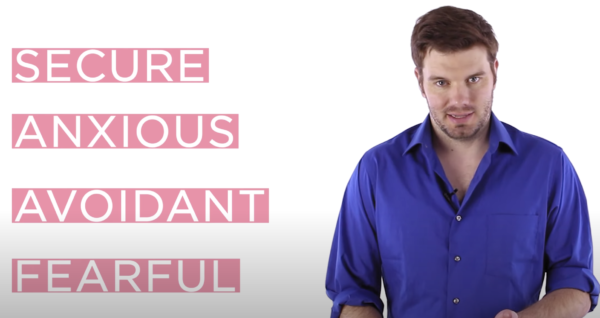 I've been talking a lot about attachment styles recently on my website, YouTube channel, and even podcast and that's because attachment theory really is one of the most character-revealing concepts that drive human behavior.
Once you properly determine your ex's attachment style you can make a much more educated guess of how exactly they will react to a no-contact rule against them.
The four major attachment styles:
Secure
Anxious
Avoidant
Fearful
Secure attachment
The golden standard of attachment styles that everyone should strive towards. People with secure attachment styles are confident in themselves and don't base their self-worth on others.
Anxious attachment
Anxious attachment is characterized by a deep-seated need to be emotionally connected to someone at all times. People with anxious attachment styles often lose their individuality in relationships as it all becomes about their partner.
Avoidant attachment
Avoidant attachment is an emotionally distant kind of attachment where individuals are most comfortable without opening up to their partners. People with avoidant attachment styles do not like deep or sentimental discussions and they fiercely value independence – for themselves and their partner as well.
Fearful attachment
You've heard of the "best of both worlds" but a fearful attachment style is kind of like the worst of both worlds – a constant back and forth between anxious and avoidant attachment styles.
Now that you have a general idea of the four attachment styles, let's look into what the most common ones are for our clients and their exes.
I had my own opinion based on my experience and that of the other coaches that a large majority of our clients have an anxious attachment style and their exes have an avoidant attachment style.
I decided to put my theory to the test with a poll in our private Facebook support group which is about 5000 members strong right now.
I asked one simple question:
What attachment style do you think your ex is?
I gave them the classic four options and here were the results:
As you can see, 264 votes were cast in total.
Avoidant attachment style was by far the most likely attachment style of an ex with 67% of the vote.
Next up were fearful, secure, and anxious attachment styles with 20%, 9%, and 4% respectively.
So, what does this all mean?
Well simply put there's an 87% chance that if you use the no contact rule on someone who dumped you, they're going to exhibit avoidant or fearful behaviors.
And we already know that fearful behaviors have an overlap of avoidant behaviors too so the likelihood of dealing with avoidant behavior is pretty high!
But what does this avoidant behavior look like?
Before we get into the actual behaviors/actions, let's focus a bit more on avoidant and fearful attachment styles as they seem to be the most common in our community.
An avoidant attachment style is marked by a fear of intimacy.
People with an avoidant attachment style have trouble getting close to and trusting others in relationships. They're most likely to be emotionally unavailable and in their minds, they should be pretty independent.
That last bit is often overlooked but I think it's very important to understand.
Someone with an avoidant attachment style is going to be very big on independence – their independence and also your independence.
So, if they're dating you, they expect you to be independent on your own which can cause some friction, especially if you're an anxious attachment style who wants to be a bigger part of their life.
Next up we have the fearful attachment style which is the rarest of them all.
In fact, people often confuse avoidant or anxious attachment for fearful attachment as it has elements of both.
Think of it like this – the fearful attachment style is a combination of avoidant and anxious. Avoidants are people who are going to ignore you, while anxious people are going to be those who can't imagine their life without you.
Anxious attachments will blow up your phone and make you the center of their lives while avoidant attachments will want you to live your own life and not coddle them too much.
Sounds like total opposites, right? Well, a true fearful attachment style is this pendulum constantly swinging between someone who's anxious and someone who's super avoidant.
Now let's get into the actual behaviors exes exhibit and how you can guess which one your ex might do based on their attachment style.
Three Most Common Behaviors We See Dumpers Exhibiting During No Contact
I want to preface this by saying that about 80% of our clients were dumped by their exes so we have seen a LOT of dumpers face no contact rules and these three reactions are pretty standard across the board:
Stubbornness
The first type of behavior is simple stubbornness. This fits perfectly into that avoidant type of attachment style. This is the type of person that says, "I'm not going to contact them, they're going to have to contact me."
We actually did another poll a few months ago where we asked our people who have completed no contact rule in our private Facebook group "how often have exes contacted you during the no contact rule?"
We found that the vast majority – around 66% – of people who used a no contact rule did not get a response.
This is exactly the kind of behavior an avoidant dumper would show. They wouldn't bother to take any initiative to reach out because they don't want to show any emotional vulnerability.
Guilting
The next most common behavior exes show when you use a no contact rule on them is actually guilting you.
This is inspired by one of the several crazy no contact stories that we see on our Facebook group all the time.
A woman had posted an email from her ex that was basically a long rant about how she was being immature by ignoring him and that he would never talk to her again if she refused to respond.
Here's the thing – who's actually immature here?
The one chilling and minding her own business or the one obsessively writing passive-aggressive emails?
An email like this can only be sent by someone who is going through their own pendulum swing of emotions – someone with a fearful attachment style.
One moment they're angry about the fact that you haven't responded to them because of no contact and the next minute they're telling themselves they don't need to talk to you ever again.
Classic fearful behavior of jumping from anxious to avoidant and back again.
Anger
Now we have the most common behavior and the response you're most afraid of – your ex getting angry with you. I was actually interviewing Anna, our head coach on ex-boyfriend recovery, ex-girlfriend recovery, and soon-to-be marriage recovery, and we were talking about this concept of what your ex becomes after a breakup occurs.
A lot of times I think people become sympathetic with their exes and here comes the question between empathy vs sympathy. We found that people who come to their exes with a sympathetic approach don't do as well as people who come at their exes with an empathetic approach. What's the difference?
Sympathy is not only understanding your ex's point of view but also feeling the exact same emotions and as a result trying to make your ex feel better. On the other hand, empathy is understanding and acknowledging your ex's point of view, but not feeling the same emotions and not trying to make your ex feel better about it.
So how does this fit into anger?
A lot of times women think "Oh my god if I use the no contact rule and it makes my ex angry that's gonna implode my chances of getting him back. I'm going to fail so why should I do a dumb no contact rule". Here's why you're wrong:
The game changes completely after you've gone through a breakup.
Your ex is no longer your lovey-dovey honey that you were potentially thinking to marry. They're nothing more than an acquaintance to you now and acquaintances don't get sympathy, they get empathy.
That's important for you to understand because one of the biggest mistakes you could make during the no contact rule is feeling bad for your ex, especially if the ex was the one who broke up with you.
Think about it- first, your ex dumped you and now they have the audacity to get angry or guilt trip you because you're not acting how they expect you to? That's on them, not you. They're the ones who created this situation. You owe your ex nothing. Do not put them on a pedestal, put yourself on a pedestal instead.
Conclusion:
Your ex's reaction to a no contact rule heavily depends on what kind of attachment style they have. So, your ex might be stubborn and totally ignore you back if they have an avoidant attachment style.
On the other hand, an ex with a fearful attachment style might even try to guilt-trip you by sending you messages with melodramatic ultimatums to talk to them or they will never talk to you again.