Today we're going to talk about why men give the silent treatment to you after a breakup.
Specifically we're going to be looking at the five core reasons for why they'd potentially do this.
It's An Avoidant Coping Mechanism
It's A Form Of Emotional Control
They Are Looking To See Your Reaction
Out of Sight, Out of Mind
The Reverse No Contact Rule
First things first though, what is the silent treatment?
The Silent Treatment Vs. The No Contact Rule?
The irony of me tackling this subject isn't lost on me.
I've long been a big proponent of the no contact rule for years and even though I've tried to be at the head of the "no contact isn't about your ex it's about you" movement but at its core most people believe that the no contact rule is nothing more than you weaponizing the silent treatment for your own gains.
But I do think there is a difference between a strategy like no contact and the silent treatment. Namely the fact that the no contact rule should only used after a breakup to "outgrow your ex."
The silent treatment occurs when one romantic partner refuses to communicate with the other partner but there's usually no defined end to it.
Perhaps an interesting insight into it is the fact that every generation has a different definition for the silent treatment.
Shunning
Stonewalling
Ghosting
They are all considered forms of the silent treatment and gain, each one of them have no defined end in mind. Compare that to the no contact rule and you'll find there are typically only ever three time frames,
21 days
30 days
45 days
And what you do during that time apart is key.
Yet what if I were to tell you that the reasons behind why men employ the silent treatment are far more complicated than you could imagine.
Let's start from the top.
Core Silent Treatment Reason #1: It's An Avoidant Coping Mechanism
Attachment styles are fast becoming one of our "go to" psychological explainers for why men do the things they do after a breakup.
But I'd only like to focus on one attachment style to explain the silent treatment, the avoidant style.
Do me a favor and watch this,
Generally speaking someone with an avoidant attachment style exists with this odd paradox surrounding their lives.
The avoidant wants love but they don't want to let anyone close enough to give them that love.
From a certain point of view someone with an avoidant fears getting hurt emotionally more than anyone else and if you operate with that assumption understanding why they act they way they do makes a lot more sense.
Our research has indicated that most of the women that enter our ecosystem have exes that exhibit insecure/avoidant attachment styles.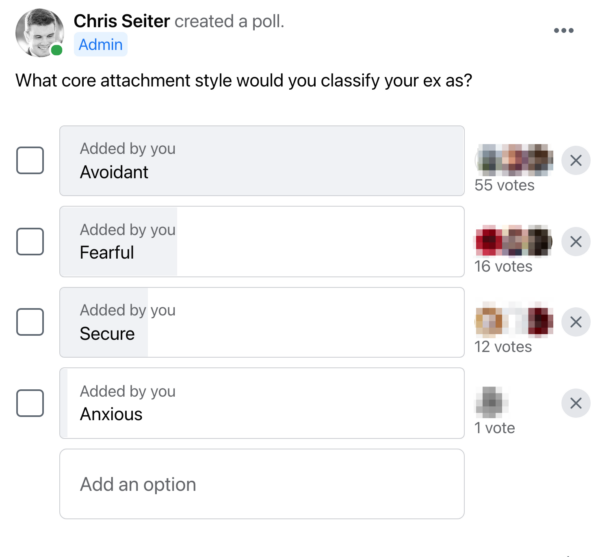 What this means is that often when a man is giving you the silent treatment after a breakup it's because they find it easier to cope with the breakup this way. They are more comfortable being alone even though they'll claim that they want to be together with someone.
Further adding fuel to the avoidant fire is the fact that they process the breakup at a different rate than you do.
Most of our clients will come to us complaining that their exes don't care about them.
"How can he treat me this way after all we've shared? Did I even matter to him?"
An avoidant really won't allow themselves to "miss you" or have nostalgia until after they feel safe and here's the rub, they only feel safe if they feel like there's no chance of a reconnection.
It allows them to keep their distance so they won't be hurt. So, they literally prevent themselves from feeling the pain of the breakup at the beginning by using the silent treatment as a way to protect themselves.
Core Silent Treatment Reason #2: It's A Form Of Emotional Control
A few years ago I wrote about this concept of "winning a breakup."
It turns out that a lot of men (including myself) have adopted this mentality and use the silent treatment as a form of emotional control to do just that.
I'll never forget one of my early breakups. After months of nonstop arguments and insecurities (mostly from me) I initiated a breakup with my girlfriend.
Yet I painted myself as the victim even though I was the one to break up with her.
Immature, right?
I rationalized it like this. Well, she made me break up with her and because of that I'm hurting so I want to make her feel the same way she made me feel. My idea was a simple one and one that I find is pretty common amongst exes.
I'll just not reach out to her until she reaches out to me first.
As if that will have any bearing on if someone cares about you but in my head at that time it did. The reality is that I was seeking validation that she cared about me and I set up these internal parameters that, if she would hit, would prove to me that she cared.
Her reaching out first was one of those parameters.
But I've seen real life exes create even more ridiculous parameters.
If she reaches out to me first five times then I'll respond
If she reaches out begging for me back then I'll respond
I won't talk to her until she apologizes because she knows what she did was wrong
What do all of these have in common?
They are literally a form of punishment for a person not acting the way you want them to. The person employing them needs some form of control because they feel completely out of control due to the fact that their emotions are going crazy.
Seriously, look at what breakups tend to do to your internally regulated chemicals,
What is cortisol responsible for?
The presence of Cortisol lessens the amount of Serotonin in the body. This means that the more stressed you become the more erratic your moods will be and the more out of control your life will seem.
So, they try to take back that loss of control by picking on the lowest hanging fruit.
I'll simply ignore my ex because I know it'll hurt them and inevitably they'll beg for me back.
Core Silent Treatment Reason #3: They Are Looking For Your Reaction
There are some exes who, even though they broke up with you, will have a hard time reconciling the fact that you cared about them at all.
I briefly mentioned this in the last silent treatment reason above so technically this is like an extension of that reason but I've seen it happen enough in real life to warrant it's own section.
Sometimes men will utilize the silent treatment to simply see your reaction.
While the majority of our clients are women dealing with their breakups from men I've seen enough of this "want" during the no contact rule within our own clients to talk about it here.
Simply looking at our private facebook group will give plenty of examples.
Take Olivia as an example,
She worries that even though she's doing a no contact rule her ex hasn't contacted her and worse has told her friends that they are "done" forever.
Every day women in our private facebook support group have this fear and these are women who are doing the no contact rule on their exes.
Sometimes it literally is as simple as a man using the silent treatment to test and see how much you care about him. After all, if you really cared you'd be reaching out to him, right?
Again, this is sort of an extension of the emotional manipulation I mentioned above.
Let's move on.
Core Silent Treatment Reason #4: Out of Sight, Out of Mind
I feel like I've been all across the attachment spectrum with my breakups.
My very first one I was incredibly anxious but some of my later ones I became incredibly avoidant to the point that I would literally block women just so I wouldn't have to see their faces on social media.
What's going on here?
Well, it's that whole out of sight, out of mind mentality.
The last thing some men want is a constant reminder on Facebook or Instagram of all the amazing stuff you're doing without them. They find it easier to simply cut you out of their lives so they can move on.
And this brings us to the silent treatment.
It could be that you are perceiving their silent treatment as this gigantic affront when the reality is that they are simply trying to move on from you and have decided to permanently ghost you.
How do you tell if that's the case?
Well, time is the great equalizer. If at some point they do end up reaching out to you then you probably know it wasn't this reason that they used the silent treatment on you.
Core Silent Treatment Reason #5: The Reverse No Contact Rule
Without a doubt this is the rarest of the reasons we've talked about today because I've only seen it happen a handful of times.
And those handful of times are only possible because I own two websites, Ex Boyfriend Recovery and Ex Girlfriend Recovery.
This means that women who are trying to get their exes back enter into my orbit via EBR and men who are trying to get their exes back enter my orbit via EGR.
Twice we've literally seen a situation where both exes wanted to get each other back and went to the accompanying websites and literally used the no contact rule on each other. It's fascinating because in this circumstance we aren't legally allowed to tell the other person that they want each other back due to client privacy reasons.
But usually once they see each other on the private facebook support group,
They get the hint.
The reason I include it here is mostly because I just wanted an excuse to talk about how cool it is and the fact that technically speaking your ex boyfriend could be using the silent treatment on you because he's doing a no contact rule on you.