How are you supposed to get an ex boyfriend back if he cheated on you? Do you even want to get him back? I'll admit that these are a few of the most asked questions I get on this site. Today I am going to do my very best to answer them both for you. If you are new to my site then just a warning, every single page I write goes far more in-depth than my peers. Every page draws upon in-depth research (from experts), stories from women who have had success and my own personal experience. So, rather than write more filler content I would prefer to talk about the stuff that can actually do something for you!
Getting A Cheating Boyfriend Back… Is It Possible?
Heck ya it is possible! Of course, the real question is do you even want him back? I have found that a lot of the women who I have worked with who have been cheated on decide not to get their ex boyfriends back because they feel a lot better about themselves after they read the process on this page.
Why Do Men Cheat?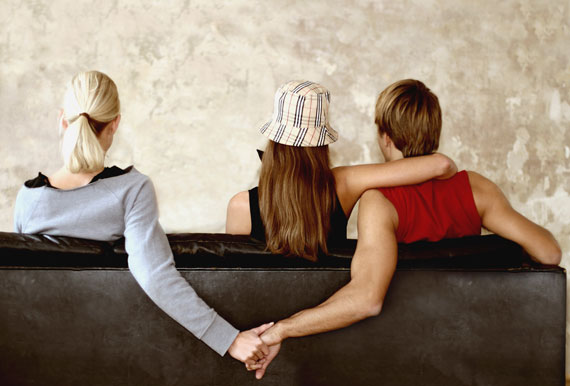 Understanding why your boyfriend cheated on you is important. In this section I am going to give you some insight into the male psyche so you can understand why a man will cheat on you. Obviously, there are a lot of different reasons that a man will ultimately decide to cheat on his girlfriend but I would have to say that the most common reason would be because he is just plain horny.
Basically, he sees something he wants and he goes and gets it. While, I think it is a horrible betrayal of trust to cheat on someone (why not break up with them before you move on?) I think a case can be made here that evolution plays a role in his "horniness." At his very core, a man is instilled with a primal need to replicate/reproduce. Humans were never intended to be monogamous creatures. While I think it says a lot about the advancement of humans that we have slowly developed into a race that seeks out a significant other we weren't originally intended to do so.
Now, I don't want you to sit there and feel like I am in any way "for" cheating because I AM NOT. I am simply explaining to you why your ex would feel a need to cheat on you. I suppose there is a little comfort to take in the fact that your ex didn't cheat on you because of something you did but because he can't properly his sexual urges. Which leads us to the next section.
Should You Even Try To Get A Cheating Boyfriend Back?
As I write these words I am little conflicted. A part of me wants to tell you to move on but another part of me wants to help you. You clearly came here because you want your ex boyfriend back and I want to help you do that but above all I want to help YOU. Sometimes that means telling you to run the other way. So, I am just going to say this:
The only way that I can justify giving you my help is if you have a legitimate reason for getting back together with your ex.
(I outline the legitimate reasons a lot more in my book found here.)
This means that I CAN NOT help you if you
Don't have a good reason for getting back together.
If he has cheated on you multiple times.
If you don't think you can do any better than your ex.
The relationship you had was physically or mentally abusive.
However, I WILL be willing to offer you my help if you.
Have a legitimate reason for wanting to get together again.
If the cheating was an isolated incident (AND WILL NEVER HAPPEN AGAIN)
Trusting Yourself
Here is the deal, before you try to get your ex boyfriend back (if he cheated on you) I am going to ask you to do something that may be a little unorthodox. I want you to implement a no contact rule. If you are familiar with my site then you know I am a really big believer in the no contact rule. Usually, the most powerful part of the no contact rule is it's ability to break a guy down and make him wonder why you haven't tried contacting him yet, making him really be on the edge of his seat for when you finally do decide to reach out.
BUT
You are in a very unique situation so I am going to ask you implement the no contact rule for an entirely different reason. I want you to use it as a sort of self check. As you read my page you may still be pretty close to your breakup, time wise. As you will probably realize, making big decisions like going back to an ex who cheated on you isn't a choice you should make when you are so emotionally unstable (no offense.) The normal no contact period is supposed to last one month or 30 days. That means you can't text, email, facebook, google plus or talk to your ex on the phone. You essentially cut off all communication. However, I would say that you up the no contact period in this case to 45 days
If after that amount of time you still want to get your ex back then I say you should go right ahead. Notice how you are going to be using the no contact rule on three fronts.
To get your ex a little worried that you will never contact him again.
To use the time to work on yourself (healing)
To decide if your ex is even worth getting back
Deciding If He Is Worth Getting Back
During your 45 days of no contact you are obviously going to have some thinking to do. As stated above, you are going to have to decide if you want to take your ex boyfriend back. You may find that after 45 days you just don't have the same desire you did to get him back when you first started the NC period. It that happens to you then you should probably move on to someone new.
Since we are dealing with someone who cheated on you the thing you really need to figure out is if he is the type of person that will cheat on a moments notice. Here are some qualities that cheaters tend to have.
Narcissistic (Selfish and only thinks of himself.)
Chronic Liars (Everyone lies but if someone does it over and over you may have to take a step back and decide if this is someone worth being with.)
Someone who gets jealous very easily (If he is constantly accusing you of inappropriate behavior.)
Constantly flirts with other girls (Every guy will flirt every now and then but if it is common behavior for him then be careful.)
If your ex has cheated in the past (Everyone is human, everyone makes mistakes but if he cheated in the past then that behavior is NOT a one time thing.)
Contacting Your Ex
The time has come, you have waited, hopefully 45 days, and it is finally time to try and start getting your ex boyfriend back. Now, before I go into some long explanation about each step you should take I do feel it is important to mention that I have put together a HUGE resource on how to get your ex back here. While I will talk about what you should do on this page I can tell you that the page I just linked to goes into way more detail (which you will definitely need.)
Alright, now that I have that out of the way lets dive in to how you should contact your ex boyfriend after 45 days.
Usually what happens is your ex will have contacted you at one point during the NC period. That is a really good sign because it means they are interested or concerned about you. Basically, they are feeling something towards you which is what you want. Now, the whole point of the no contact rule was to NOT contact your ex so you aren't exactly allowed to respond to them after they contact you during the initial 45 day period. Understand that you essentially ignoring them will make them really angry.  I AM HERE TO TELL YOU THAT YOU DON'T CARE HOW THEY FEEL. At least, not at this point.
What is going to happen is that when you finally do decide to contact them they are going to be filled with joy. They have waited all this time to hear from you and when that moment finally comes they are going to be so excited that they will probably run up and down the stairs and do all the things that guys do when they are happy.
Now, here is an interesting question. What is the best way to contact your ex boyfriend?
Choice 1: Calling (NOOOO)
Choice 2: Writing A Letter or Emailing (NOOOO)
Choice 3: Texting (YESSS)
Before I move on I am going to take a few moments to go through each of the choices and explain why texting is the way to go.
Calling – It's way too much way too soon. As I have said multiple times throughout this site, you have to earn the right to call your ex or in this case, your ex has to earn the right to call you. Besides, when you talk on the phone you don't have time to think. You have to say just the right thing at just the right time for things to work out the way you want them to. However, the biggest disadvantage for calling an ex is the fact that you could potentially get angry, raise your voice and start a fight if something is said that you don't like. Now, it may seem like I am swearing off calling altogether but I promise you I am not. In fact, there is a time and a place to use calling as a way to contact your ex but only after your ex earns the right for you to call them. I feel I do a good job of explaining when the proper time to call is in the link I provided at the beginning of this section.
Writing A Letter – It's creepy. Can you imagine getting a letter after 45 days of no contact from someone that you thought didn't want to talk to you? Besides, sending a letter is a bold statement that basically screams I STILL LOVE YOU. There is no way to that sending a letter is "light" it is basically an all or nothing kind of deal or as I like to say, it's a low percentage shot of getting your ex back.
Emailing- A couple of problems with this. First, does your ex even check their email? I can go days, sometimes months without checking certain emails (I have multiple.) Secondly, there is no way that you can get an instant response. With a text if your ex doesn't respond to you in a day then you can pretty much determine "ok, well that didn't work." However, with an email it can sometimes take 2-3 days for a response. I think you have waited long enough.
Texting- Texting is really the best option you have for a number of reasons. First off, it gives you time to think (which calling doesn't allow.) Every single text message you can craft with time and thought. It is also impossible to show you are angry by raising your voice through a text. Add in the fact that you can get a quick response and you are good to go!
What Do You Say To Them?
Alright great, so now you know that texting is the way to go if you want to get your ex back the question becomes "what do you say in your texts?" I am not going to pretend that this is the easiest thing to do in the world because quite honestly anyone who claims that is lying. Getting your ex back is not going to be an easy task. What I will say is that I have written a page that will help you make the "what to say" process even easier. Check out my texting guide that will help you through what to say to your ex boyfriend.