EBR 058: Why He Really Broke Up With You…
"I Can't Believe I Actually Have a Chance of Getting Him Back!"
Play Podcast EpisodeOpens Up Podcast Player
"How can I be reasonable? To me our love was everything and you were my whole life. It is not very pleasant to realize that to you it was only an episode." W. Somerset Maugham
It is said that when one goes through a breakup they go through a withdrawal period. Similar to that of a drug addict. It is also said that some breakups can be so devastating that you can feel a sharp pain in your chest. Similar to that of an heart attack.
Here's my point.
Going through a breakup is not easy. Which is why I make an active effort to help out as many people as I can through this website.
That's where McKensie comes into play.
You see, McKensie is fresh off a very painful breakup and finds herself at a point where she just wants answers for what the hell happened in her situation.
And that's what this episode is all about.
Providing her with those answers!
I prepped for this episode for an hour before recording it because I really wanted to have something insightful to say since McKensie's situation is pretty complex.
Enjoy!
I Am Going To Coach You… For FREE!
And that's where I come in!
What if I were to tell you that I have put together an "On Demand Coaching Class" where I am going to coach you for free?
All you need to do if you want to join my FREE coaching class is click the green button below,
Yes, I Want You To Coach MeSign Up For Free On Demand Coaching
I thought would be kind of cool to show you some of the actual results women have gotten through my "On Demand Coaching,"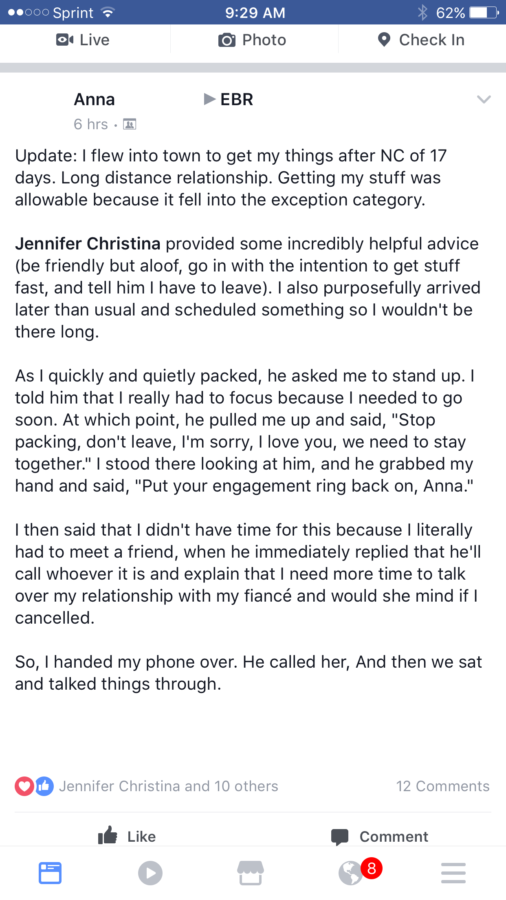 Oh, and if you were wondering "Jennifer Christina" is my wife 😉 .
This is another Facebook testimonial from someone who is on the Private Facebook Group.
I've got about 300 more Facebook testimonials just like this.
If you are interested in joining my Free On Demand Coaching please click the link below,
Video For Episode 58 (Why He Really Broke Up With You…)
How are the videos coming along in your opinion?
Slowly but surely the "Ex Recovery Headquarters" is coming to fruition. If you couldn't tell we got this epic glass dry erase board with our logo etched into it,
Plus a pretty awesome logo sign so we have a more professional look around the office,
Honestly, I can't wait until it's done!
But enough of that. You probably want to hear about McKensie's situation!
McKensie's Situation
She is currently on day 9 of the no contact rule
She dated her ex boyfriend for a total of 9 weeks
Both of them were 28 years old
They got serious very quickly
She was the first girl that he had ever introduced to his family (not sure I buy that completely)
A few weeks after introducing her to his family he started acting weird
He started saying "things just aren't right" and broke up with her
He removed photos of them on Facebook but left a few of her where she was tagged in but didn't actually appear in
Two weeks into dating he picked up two new roommates who were 22 and 23 years old
He recently tested positive for a heart mutation
Also, his workload is crazy
What We Talk About In This Episode
The role of him testing positive for a heart mutation played in the breakup
The "roommate factor"
Why his workload is an important aspect to look at
Taking Facebook pictures down is a common practice
Not to read too much into the Facebook pictures
GIGS
Becoming the best version of yourself
Do things that make YOU feel good
Important Links Mentioned In This Episode
Transcript For Episode 58
Click Here To Download The Transcript For Episode 58
"I Can't Believe I Actually Have a Chance of Getting Him Back!"
With over 7 million women just like you coming to this site ever year, I've seen about every situation you could imagine. Most of the time, I can just ask a few questions about your situation and know in seconds the chances that you have of getting back together with him. I've compressed all of that wisdom into a single calculator What Are Your Chances of Getting Your ExBoyfriend Back.
Take 4 Minute Quiz
And Find Out Your Chances!