Last year I talked a lot about avoidants. Specifically, what causes an avoidant to miss you after a breakup. I've been on record a nauseating amount of times stating that most of our clients believe their former partners are avoidants,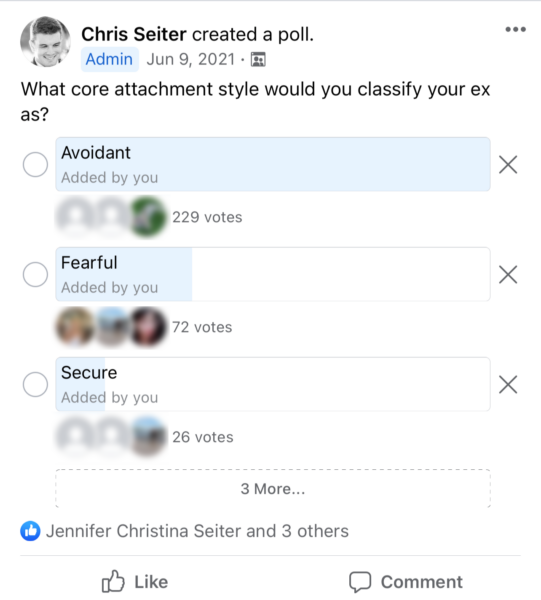 I mean, it's to the tune of about 70%.
But today we're going to be talking about something far more complicated. We're going to be talking about how you can make a fearful avoidant miss you.
However, in order to do that we need to first talk about the major differences between a dismissive avoidant and a fearful avoidant.
Dismissive Vs. Fearful
There are two types of avoidants.
The dismissive
The fearful
Everyone seemingly has a different "definition" of what separates the two. I've always found it easier to look at the difference between the two by taking a look at their core wounds.
A Core Wound: A though, event or action that triggers the insecure attachment to come to the forefront.
In truth, I can't take credit for this idea. One of our former coaches, Tyler Ramsey, was the first to simplify the confusing terminology.
Here's the way it was explained to me.
A dismissive avoidant has a core wound revolving around independence. If they feel that independence is under threat their avoidant side will trigger.
A fearful avoidant is actually trickier to explain because you need to also understand that they contain anxious attachment tendencies as well as avoidant attachment ones.
So, really the fearful avoidant attachment has two core wounds. The typical fear of losing independence and the fear of abandonment.
I've always made the analogy of fearful individuals being like the pendulum of a grandfather clock. Life events happen that trigger their avoidant side and they avoid. Then more life events happen that could swing that operating attachment back to the anxious side.
Back and forth they go.
This is often while I'll get clients in support or in our community talking about mixed signals or an ex being hot and cold.
So, how the heck do you make a fearful avoidant miss you?
Well, once again we need to look at the approach that typically works with a dismissive versus a fearful.
What Works On Dismissive Avoidants
My favorite YouTube video that I've ever filmed has to be this one,
That's the one where I first mentioned the idea of what actually works to make dismissive avoidants miss you.
In a nutshell, they want silence, they want space. In fact, they prefer it.
To quote Free To Attach,
Avoidants are free to long for an ex once that person is unavailable out of the relationship, and typically out of contact so they are untouched by actual engagement and their deactivation systems aren't triggered, revealing their long-suppressed attachment and switching their operating attachment wound from the fear of engulfment to fear of abandonment.
Contrary to what you'd expect, right?
Turns out the best way to make a dismissive avoidant miss you is to simply give them space and project that you are moving on from them.
This is actually why we've seen longer periods of no contact (45 days) be extremely effective with DA's.
So, this same approach should work with fearful avoidants, right?
Well… sort of.
Here's How A Fearful Avoidant Misses
Like a dismissive avoidant what ultimately makes a fearful avoidant miss you is space.
If they get it then they give themselves permission to "feel their feelings" which can ultimately end up in the exact same place as a dismissive, with them missing or longing you.
Sounds good so far, right?
So, what's the rub?
Well….
If they don't see that longing reciprocated, if they don't feel or believe that you are missing them as well it triggers their anxious side.
Remember that pendulum swing I was talking about above?
They get triggered, become super anxious.
And then do stuff like this during a period of silence or no contact,
Crazy, right?
However, if you don't acknowledge them or make them feel reciprocated in some way the pendulum swings back the other way and they shut down, going into protection mode.
This is actually why with fearful avoidants we find shorter periods of no contact being more effective (21-30 days) as opposed to the longer periods of no contact that are favored for DA's (45 days)
So, what's happening at a deeper level?
What Is The Thought Process Of A Fearful Avoidant When They Shut Down Like This?
Let's sit down for a moment and walk a mile in the shoes of a fearful avoidant. I want you to pay attention to how many emotional value changes they experience in a short span.
FA triggers a breakup (-)
They are happy to be alone, to have their independence (+)
You give them space and silence which causes them to miss you (-)
You continue to give them space which causes them to grow terrified of their own feelings (-)
They grow anxious and need to do something to let it out (+)
You continue to give them space which frightens them (-)
They shut down and protect themselves (+)
Can you imagine living a life where every few days it seems like your whole world is falling apart?
That's similar to what it's like to be a fearful avoidant in a breakup type situation.
But really fearful avoidants have had a tough time all of their life.
My wife, who actually got her degree in Early Childhood Education was the first person to turn me on to attachment styles.
It was once thought that your attachment style is formed in early childhood. However, I've heard stories of researchers believing that it can start as early as when you are in the womb.
But fearful individuals, they've had a rough go of it.
According To VeryWellMind,
Fearful-avoidant attachment is often rooted in a childhood in which at least one parent or caregiver exhibits frightening behavior. This frightening behavior can range from overt abuse to more subtle signs of anxiety or uncertainty, but the result is the same.

When the child approaches the parent for comfort, the parent is unable to provide it. Because the caregiver does not offer a secure base and may function as a source of distress for the child, the child's impulse will be to start to approach the caregiver for comfort but will then withdraw.
From childhood someone with a fearful attachment style has been subject to these insane emotional value changes. Thus, they've never seen or probably been in a relationship that wasn't subject to dramatic emotional swings.
For them, this is normal and the way they've learned to cope with it is to flip between anxious behaviors and avoidant ones.
The key to making them miss you isn't as simple as giving them space.
It's about learning when to give them space, and when to not give them space.
But the work can't just be done by you. It's also about showing them a better way to progress in a relationship by using secure attachment gravity,
With you exhibiting secure behaviors they can actually learn what it's like to be in a loving committed relationship. That's the part no one talks about.
Attachment styles are fluid and throughout our lives they are capable of changing. Sure, your childhood affects your core attachment style but that doesn't mean you can't succeed in turning your fearful fearful tendencies into secure ones.