This is a complete breakdown of what tends to happen when you stop chasing an avoidant.
In this in-depth guide you're going to learn,
What Usually Happens When You Stop Chasing An Avoidant
If People With Avoidant Attachment Styles Secretly Want You To Chase Them
Why They Give You Mixed Signals
Let's get started.
What Usually Happens When You Stop Chasing An Avoidant
We've found that out of the four main attachment styles avoidants need space more than anyone else. They often fall into this, "I want you, but go away" mentality which can lead a lot of our clients confused as to what they want.
In this section I'd like to talk specifically about the psychology of why it's so important for you to stop chasing an avoidant if you want to have a happy and healthy relationship with them.
First things first, what is an avoidant attachment style?
Simply put, you have an avoidant attachment style if you have a very positive view of yourself and negative view of others. You tend to avoid conflict or intimacy in relationship for fear of losing yourself in them. In some cases, you may actually deny the fact that you're doing this.
All in all, being in a relationship with these individuals can be difficult. One look at the comments of relevant videos on my YouTube account can tell us that.

Over the years as we've studied avoidants we've kind of learned exactly what works on them.
For instance, avoidants usually need more space than any other attachment style. The reasoning is simple, it makes them feel more independent and safe. If you want to get really technical we can even trace this back to their childhood.
According To Free to Attach (one of the best avoidant resources I've ever found)
Avoidants are protective of their own space and can withdraw totally, not always being present when together. Growing up, they were only able to get comfort or relief from anxiety by being alone, so they're used to being by themselves when upset and don't really know how to get relief or comfort with someone without getting space from them.
Their "safe space" is literally found "in space."
Now, that's a pretty simple concept to understand but there's one fly in the ointment. Most of our clients tend to anxious attachment styles and they are on the other end of the spectrum.
Their greatest fear is being abandoned and as a result they derive meaning in relationships through their closeness. So, a lot of times our work with anxious individuals is helping them recognize that they have to go against their internal programming if they want to see success with their avoidant partner.
Take a look at one of our more recent breakup success stories,
Heather, who I interviewed for close to 45 minutes readily admitted that she adopted our famous,
"When they pull back, you pull back"
Mantra in regards to her ex boyfriend and after an admittedly long period of time her ex ended up coming back citing that "she just got him." The truth is that Coach Anna, who Heather coached with, didn't exactly reinvent the wheel. All she ended up doing was explaining the basics to her in what works with avoidants.
So yes, it's important that you stop chasing an avoidant and give them the space that they crave if you want to be successful in any facet with them.
Of course, this brings up an interesting question.
Do Avoidants Secretly Want You To Chase Them?
Recently I've talked about the anxious/avoidant self fulfilling cycle which answers this query pretty well.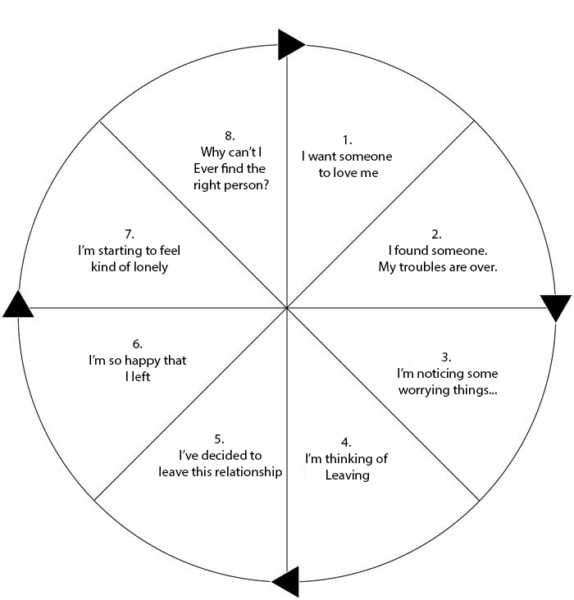 Here's how it works,
The avoidant thinks, "I just want someone to love me."
They hook up with an anxious attached person and think they've found someone and their troubles are over
Then they notice some worrying things. That anxious person won't give them any space
They start thinking of leaving
Then they actually leave
Then they are happy they left
Then the loneliness sets in
Leaving them to think, why can't I ever find the right person?
And around and around the avoidant goes.
It's a mistake to automatically assume that because an avoidant isn't great with emotional intimacy they don't want it. They do, they are just their own worst enemy when they let someone close. At the heart of every avoidant lies a simple paradox,
I want to let someone close but not close enough to allow them to hurt me.
But we're getting a bit off topic here.
The ultimate thing we're trying to determine is if an avoidant actually wants you to chase them and I think the answer to that is that they do but only on their own terms. For example, last year we really found out some interesting findings based on how they react to breakups.
After an avoidant breaks up with you they won't miss you until they feel like there's no chance of ever reuniting with you. Why? Well, it's because that's when they feel safe. There is no risk of losing their independence since the two of you are broken up with and as a result they can live with that nostalgic reverie hit.
We've even seen a few avoidants begin the chasing process again here because they fool themselves into only remembering the good times and forget all the close emotional intimate moments.
Admittedly that's more rare than common but it does happen.
Which leads me to my final point.
Why Do Avoidants Give You Such Mixed Signals In Relationships
I think the answer to this question is simple to hear but difficult to understand.
It's important to remind yourself that avoidants live with an inherent contradiction in their day to day life.
They want to let people close so they can experience love but they don't want to let people close enough that they could end up hurt.
If you look at their world in this way their "mixed signals" begin to make a lot more sense. I stumbled across a comment on a website the other day that I think perfectly encapsulates this mentality.
Here's the breakdown of her situation.
She dated a man that treated her really well.
After two weeks she married him
Then his entire personality began to change
He started hitting on other women
So, why the crazy shift in behavior?
Well, I've noted in the past how I believe every avoidant has certain "commitment tipping points" that set them off where you're likely to see a shift in their behavior.
Getting asked out on a date
Becoming "official"
Talking about moving in together
Actually moving in together
Talking seriously about marriage
Looking at rings together
Getting engaged
Getting married
Having a child together
You'll notice that each of these tipping points requires some new level of commitment or intimacy. In the case of the commentor above the tipping point happened around when they got married which is a huge commitment.
And I've seen this across the bored. Again, if you understand the psychology it makes sense.
The tipping points are essentially an expectation from the avoidant that they are going to lose independence and they rage against this. Of course, most anxious people try to solve the problem by doing what they do best, problem solving.
The issue is that problem solving won't work in this case. All it ends up doing is pushing the avoidant further away.
I'm very big into focusing only on the factors you can control which in this case is giving that avoidant space.
It's ok to let someone feel the way they want to feel.
Often an anxious individual can't cope with the fact that an avoidant may be having second thoughts and so they'll overcrowd the avoidant making them feel like they want to leave.
So, as weird as it sounds one of the smartest things you can do when you are in a relationship/going through a breakup with an avoidant personality is to let them feel how they want to feel.
Their entire lives they have learned how to cope with complicated emotions alone and no matter how great a love story the two of you have you aren't going to be able to reprogram a lifetime of practice in a matter of days.
When they pull back, you pull back.
It's as simple as that.