EBR 055: Should You Lie To Your Ex Boyfriend On Purpose?
"I Can't Believe I Actually Have a Chance of Getting Him Back!"
Play Podcast EpisodeOpens Up Podcast Player
Being a parent is tough…
Being a single parent is even tougher.
Such is the case for the woman who is featured on this episode of "The Ex Boyfriend Recovery Podcast"
FYI: The woman who is featured on this episode of the podcast wanted to remain anonymous so whenever you hear me referring to "anonymous" I am referring to her.
I Am Going To Coach You… For FREE!
And that's where I come in!
What if I were to tell you that I have put together an "On Demand Coaching Class" where I am going to coach you for free?
All you need to do if you want to join my FREE coaching class is click the green button below,
Yes, I Want You To Coach MeSign Up For Free On Demand Coaching
I thought would be kind of cool to show you some of the actual results women have gotten through my "On Demand Coaching,"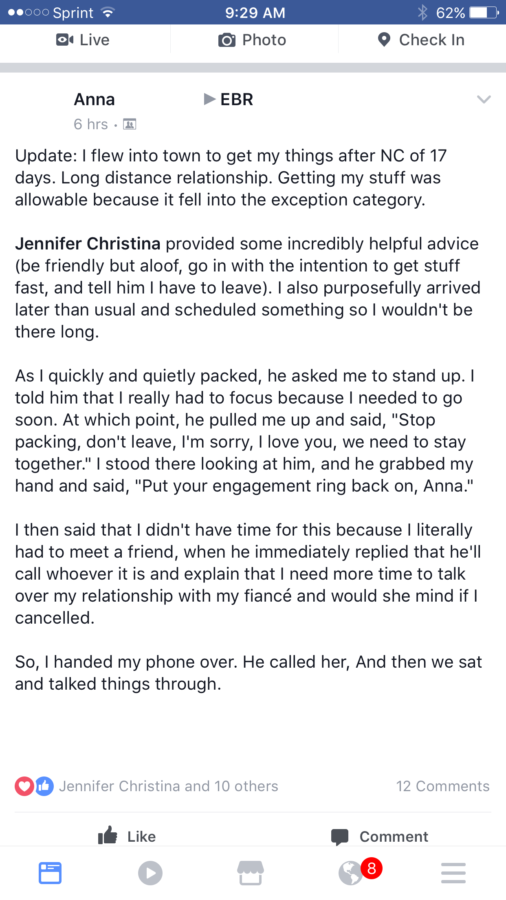 Oh, and if you were wondering "Jennifer Christina" is my wife 😉 .
This is another Facebook testimonial from someone who is on the Private Facebook Group.
I've got about 300 more Facebook testimonials just like this.
If you are interested in joining my Free On Demand Coaching please click the link below,
Video Of Episode 55 (Should You Lie To Your Ex Boyfriend On Purpose?)
I have a bit of a news with regards to the videos.
In the next episode you are going to be noticing some serious quality changes. One of the best things about filming these podcasts is that we are constantly learning new things. And as a result of learning those new things we end up creating higher quality content for you.
High quality audio…
Video…
Advice…
You get the picture.
So, make sure you keep an eye out for that.
Let's recap Anonymous' situation
Anonymous' Situation
She has been broken up with her ex for 3 months…
From what I can tell they broke up 1 month before the birth of their daughter
Their daughter is 2 months old
She started the no contact rule about a week and a half ago
Everything has been going great until today when her ex reached out to her because he want's to see the baby
So, she decided to text him this:
Of course, the whole text was a lie since she didn't have a date
She wonders if it's ok to lie to get an ex boyfriend back
What I Talk About In This Episode
Should you work lying into your game plan for getting your ex back?
The pickup artist mindset…
Is it ever a good idea to lie?
The risks associated with lying to your ex
The problem with the lie that anonymous told
The types of white lies I am willing to endorse
Important Links Mentioned In This Episode
Transcript For Episode 55
Click Here For The Transcript For Episode 55
Make Sure You Leave Us A Review
I just wanted to take a moment to make a shameless plus,
Just kidding…
Just kidding…
I would never do that 😉 .
On an entirely separate and unrelated note.
My podcast is just itching for some reviews.
Honest ones.
So, I thought I would ask you guys to hop on over to iTunes and review the podcast. I would love to hear what you think.
For those of you who want a link.
Check it out below,
https://itunes.apple.com/us/podcast/ex-boyfriend-recovery-podcast/id969200480?mt=2
"I Can't Believe I Actually Have a Chance of Getting Him Back!"
With over 7 million women just like you coming to this site ever year, I've seen about every situation you could imagine. Most of the time, I can just ask a few questions about your situation and know in seconds the chances that you have of getting back together with him. I've compressed all of that wisdom into a single calculator What Are Your Chances of Getting Your ExBoyfriend Back.
Take 4 Minute Quiz
And Find Out Your Chances!