A recent study conducted by Ex Boyfriend Recovery has found,
That on average it takes 5.2 months for an ex to come back after a breakup.
Today, we're going to look at why it tends to take so long for an ex to come back around after a breakup.
We believe it has something to do with these concepts,
Avoidants on average take longer reconnect with
Time dilation factors
Anxious behavior from our clients can extend the waiting period
Situational considerations
Let's dig in!
Avoidants On Average Take Longer To Reconnect With
Yep, it's old faithful, the avoidant attachment style.
There's a lot to talk about here but I think the best place to start is by giving you a broad blanket definition that we can apply to avoidant individuals.
The Avoidant Attachment Style: A person who protects themselves at all cost by valuing their independence over dependence. Generally when they enter into a relationship they are looking for an excuse to leave the moment that other person is perceived as threatening their independence.
Again, not the super complicated version of avoidants that you were probably expecting.
Here are a few truths about avoidant individuals you may not know,
In general they take longer to "get back" because they only really "fawn" after an ex when they feel safe.
And they only feel safe if they have moved on to someone else, you have moved on to someone else or a lot of time has gone by
Also, avoidants are typically very susceptible to a concept called the phantom ex syndrome where they basically fawn after an ex they broke up with a long time ago
Now, the reason I'm digging in so hard on avoidants is because a recent poll in our private facebook support group found that most of our clients exes are avoidant,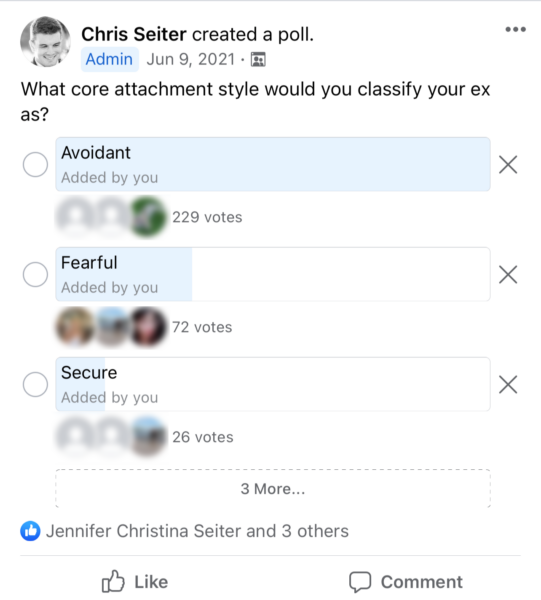 So, a lot of times when new clients come to us we actually have to undo their expectations on how long the process will take. Unfortunately, we often aren't the first stop people have during their breakup journey. They'll usually go to one of our competitors and get seduced by all of these "quick" success stories.
"I got my ex back in 30 days…"
"He came back during the no contact rule…"
"It was easy…"
These, while maybe true for our competitors aren't indicative of what we've actually seen in the field. Since we really try to ensure that every piece of advice we give is based on some type of internal or external research we are careful never to overpromise a timeline to someone.
Realistically, if you do everything right it's going to take somewhere between 3-8 months for the process to work. Why not sooner?
Time Dilation Factors
This isn't exactly a new concept but I figured I'd dig in a bit here since it's very relevant to our discussion.
A sort of time dilation exists with attachment styles. In other words, the way each attachment style perceives time is different. Let's look at each core style and use a time frame of 30 days to illustrate this point.
For a secure attachment style 30 days will feel like 30 days
For someone with an anxious attachment style 30 days will feel like 45 days
For someone with an avoidant attachment style 30 days will feel like 15 days
For someone with a fearful attachment style 30 days will feel like 15 days and then 45 days and then 15 days.
This is a relevant practice to perform because really there are two factors making it "seem" so long for an ex to come back.
Firstly your ex is probably avoidant so their perception of time is such that it's going to take longer for them to get to that place emotionally where they feel comfortable "fawning" over you from afar.
Additionally our research has indicated that most of our clients have an anxious attachment style (more on this in a second) so that probably means that not only are you dealing with an avoidant ex but your sense of time is probably altered so that 30 days is feeling longer than it actually is.
Combine these two sets of opposing time dilations together and you have a situation that feels a lot longer than it actually is.
Let's talk a bit more about the anxious attachment style.
Anxious Behaviors From Our Clients Usually Makes The Process Take Longer
The average coupling we see in our coaching practice is,
anxious (client) + avoidant (ex)
Usually this is the trajectory of their relationship,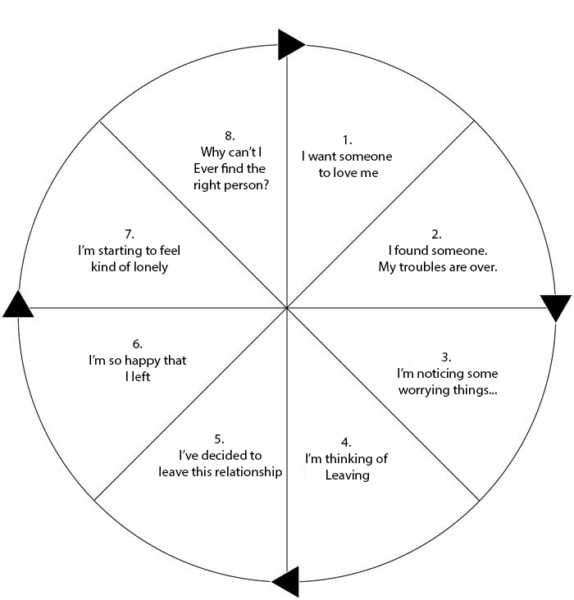 But in particular we're interested in this part of the cycle right here,
Assuming that your ex is indeed avoidant and you are indeed anxious then those worrying things are usually some type of "threat to your exes independence" brought on by an anxious' need for reassurance. It starts off small and insignificant but an avoidant is subconsciously looking for a way out and using any excuse they can get.
As such they are usually caught up in this cycle with an anxious,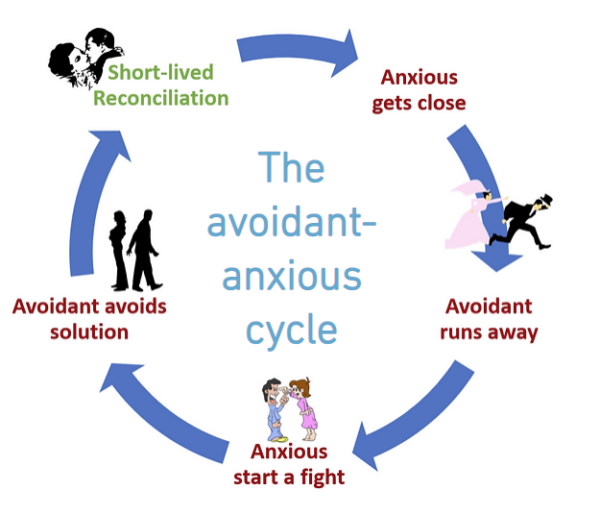 I'm not trying to shame anyone here or even say that the anxious person did anything wrong. Many times they are just reacting to an avoidant and trying to keep the relationship alive out of desperation. All I'm saying is that each time they try to get close an avoidant reads it as a threat to their independence and then ultimately runs away.
The more this cycle plays out the more trauma and bad experiences build within the avoidant so that by the time an actual breakup occurs the avoidant has filed away all these anxious associations about their exes and they will hold that against them.
What's even worse is that after a breakup is usually when an anxious person gets triggered because usually their worst fear has just come true. They've been abandoned and so they react to try to stop the way they are feeling which in turn just pushes the avoidant away and creates more trauma thus extending the time frame.
The absolute best thing you can do after a breakup with an avoidant is to simply leave them alone. It's not what you want to hear but it's what works.
Of course, there is one other interesting thing we need to talk about.
Situational Considerations
I started Ex Boyfriend Recovery back in 2012 and essentially half of my time was spent answering broken hearted individuals. After months of doing this you start to notice certain patterns. For example, one of the things everyone almost always says is that their situation is unique.

Most of the time people are wrong. Their situation isn't unique. It's just situational.
What do I mean by that?
Put simply, they aren't sure how to handle their specific situation. To make matters worse some situations will just naturally take longer than others to see success with. There's just a naturally longer timeline. This is also one of the reasons that it can take months for an ex to come back into the picture.
But what are those situations?
Any type of long distance relationship
A situation where your ex has a new boyfriend or girlfriend
Your ex has been deployed
You have cheated on your ex (takes time to rebuild trust)
Are you seeing a common theme here?
There's usually some obstacle whether it be person or distance that prevents a clean pathway back to you. It's not that these situations are impossible or we've seen no success with them. Believe it or not we do really well with long distance relationships and situations where your ex has moved on to someone new.
It's just that you need to temper your expectations. Go in thinking it's going to take a long time to see results as opposed to being seduced by the "get rich quick" schemes.
Get Rich Quick Scheme in this instance is falling for the "get your ex back in 20 days" claims by some of my peers.
If you want to do this right then it's going to take time, discipline and maybe even a bit of luck.