Today I'm going to show you why detaching from an ex can make them come back.
For years, my team and I have noticed an ominous phenomenon.
It looks something like this.
Our client comes to us desperate to get their exes back.
They try and fail
They then decide to give up
That's when the ex comes back.
Only when they've fully detached it seems that's when they come back.
Why?
Well, that's what we're going to figure out today.
Avoidant Ex Vs. Anxious Client Pairing
The most common attachment style pairing that we see in our coaching practice is,
Anxious (client) + Avoidant (ex).
If you need further proof here are a few polls I've done to prove that this pairing is prevalent.
Proof that most of our clients exes are avoidant,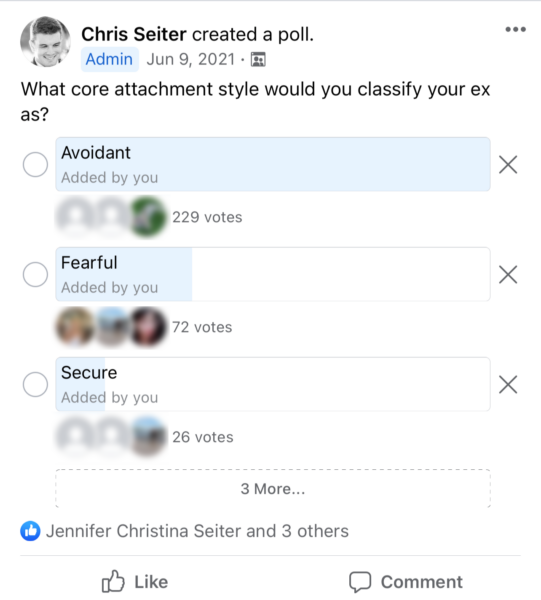 Proof that most of our clients are anxious,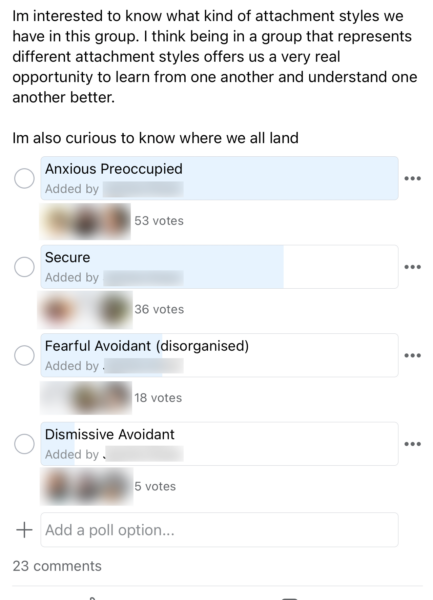 I've always found it's best to look at attachment styles in terms of core wounds. Each one, with the exception of a secure attachment style, has what I refer to as a core wound. Something deep in their psyche that causes them to act the way they act.
Avoidant Core Wound = A fear of losing independence
Anxious Core Wound = A fear of being abandoned
Fearful Core Wound = The worst of both worlds
Where this core wound concept becomes relevant for our discussion is when you really look at how anxious (you) and avoidant (ex) interact throughout a relationship. Generally speaking what unfolds is similar to this graphic,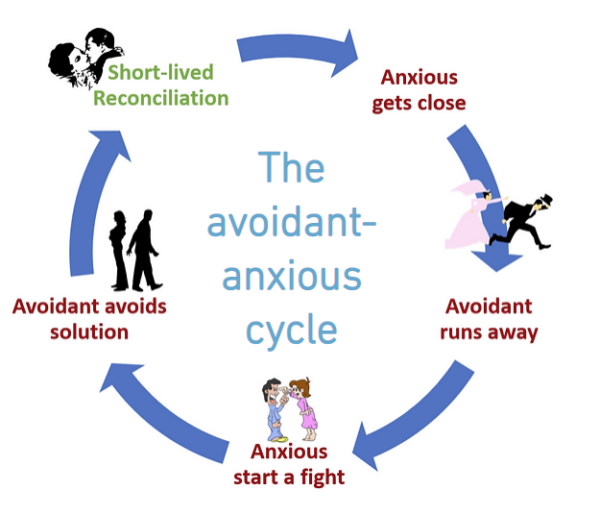 The anxious person gets close.
The avoidant, feeling their independence being threatened runs away
The anxious starts a fight (they feel like they are being abandoned)
The avoidant runs further away
And around and around we go until one of two things happen.
The anxious and avoidant make up

Or

The anxious and avoidant break up
So, where does "detachment" come into this process?
One of the things I've noticed is that avoidants do really well with secure individuals because secure individuals know when to give the avoidant space. They know when to detach. In other words, they aren't triggering that core wound of causing an avoidant to lose their independence.
THIS is why I believe detaching from most exes work. You aren't threatening their independence and as such they allow themselves to begin remembering the good times.
But the thing to keep in mind is that it's always based around the core wound.
There has been some evidence that this phenomenon is a known entity.
According to Free To Attach,
Without the danger of reciprocity (so particularly after an ex has moved on), liberation from the fear of engulfment finally gives free reign to an avoidant's latent romanticism.
Essentially move on, detach, and your ex will feel comfortable enough to begin missing you.
To FURTHER back this up I'd like to introduce you to a case study.
Success Story Trend: Appearing To Move On Makes Exes Want To Come Back,
What you see there is Lee. Probably one of the most "ungettable queens" I've ever met. Not only did her ex come back to her but after she got him back she was kind of like,
"Meh, I think I can do better."
AND SHE LEFT HIM.
But what's interesting about when I interviewed her was this statement she made,
And he literally goes to me and he goes, ya, what's going on in you life? I've been following you on social media but it's kind of hard to read what's going on. And I was like "Sucker." You know? Cause it's like, I'm posting little things like, "new apartment." I'm out with friends and he has no idea who they are. He just saw me and I think he felt I evolved.
And Lee really hits on the heart of the matter.
Being Detached Only Works If You Spend That Time Away EVOLVING
Let's say you have two people.
Person A goes through a breakup and makes no meaningful changes in how they approach life.
Person B goes through a breakup and makes significant changes in how they approach life.
Who is the ex more attracted to?
Person B, right?
It's not about "detaching from an ex" and expecting that to be enough. In many cases it's not going to be. It's all about evolving why you're detached.
And it's important that your ex ISN'T a part of it.
You need to evolve on your own otherwise your ex will take credit.
"Oh, they only evolved because of me."
This feeds into their ego and causes them to falsely believe they are above you.
But how do you actually evolve?
Is there a formula?
Well, kind of.
How Does One Evolve While Being Detached?
Perhaps if there's one strategy my clients rally around it would be that of "the holy trinity"
No, this isn't anything biblical. Rather, this is a way in which you can live your life to find fulfillment.
Most of our time in our lives can be spent engaging in the three following categories,
Health
Wealth
Relationships
If you want a quick idea of what these categories encompass then check out this graphic,
The main goal with the trinity is to ensure that you balance the three areas. What we tend to find is that when clients come to us they are too hyper focused on one area and neglected the others and like a rot, the areas neglected begin to wither away and lead to a lack of confidence.
But this doesn't really help us detach from our ex.
The only thing that I ever really found that actually works to help you do that is by finding something that you actually care about more than your ex. Living your life to ahceive a balance is great but even that can leave you unfulfilled if you don't have a purpose.
And that's why I've recently added on to the holy trinity component with something I call "the magnum opus."
The Magnum Opus Intersection
Now, a magnum opus is a legacy question.
In fact, it's defined as,
A large and important work of art, music, or literature, especially one regarded as the most important work of an artist or writer.
But what I've found is that most of my clients have a hard time "detaching" from an ex without some definitive goal to focus on. That's where the magnum opus comes in. What you are looking for is something that you can grow to care about more than your ex.
Something that intersects the holy trinity so that by working on it you also do something positive to each area of the trinity.
Something that makes you stronger physically or emotionally
That you can actually earn money from
That you can forge new relationships with
That is your magnum opus. That is what you should be doing to "evolve" while being detached.
What are some examples?
I'll use myself as a Guinea pig.
I've talked a bit about this before but I'm writing a book. Like seriously writing a fantasy novel.
I hired an editor
Artists
Even a composer
To bring this world to life.
Embarking on this endeavor has done wonders for my depression. It's given me something to focus on. My intention is to earn money from it, to sell it to a publisher or start a grass roots movement to build an audience so that I can go "full time" with it.
But by doing this I've also met some really cool people and made one of my best friends.
THIS is my magnum opus.
You have health (dealing with depression)
Wealth (the intention to make a full time income)
Relationships (making new friends)
The intersection is there. If you were to find your own version of a magnum opus. Something that you cared about MORE than your ex I can almost promise you that you put yourself in the best position possible to have an ex fawn over you again.
And the best part, is the more you embark upon your magnum opus you'll get notice.
Not just from your ex.
But from others.
It becomes a domino effect that ultimately leads with you feeling great about yourself and others wishing they had something they cared about as much as you.
So, what are you waiting for?
Detach.
Evolve.
Find your magnum opus.